Harry Redknapp's knees have just about had it. They've come to the end of the road. As a top-flight football manager, has their owner?
Judging by the reaction of QPR fans on a radio phone-in I listened to on Tuesday evening, the answer is yes. Tired old talk of car windows and wheeler-dealers was noticeably absent; instead the two words supporters most chose to associate with their departed boss were, 'Jurassic' and 'Dinosaur'.
At 67 years of age, Hoops fans aren't mourning his loss and seem to think Redknapp (even when he's back on his feet with a new pair of knees) is no longer fit for purpose in the modern game.
What do you think?
Many will agree; especially those who believe Redknapp's managerial abilities have always been more mythical than magic.
Yes, there have been undeniable highs. A 5th place finish with West Ham in 1999, promotion to the Premier League with Portsmouth four years later, and an FA Cup triumph with the same club in 2008. Steering Tottenham Hotspur from the bottom of the table to two top four finishes (no mean feat) and also QPR to promotion last May all have to rank as notable achievements.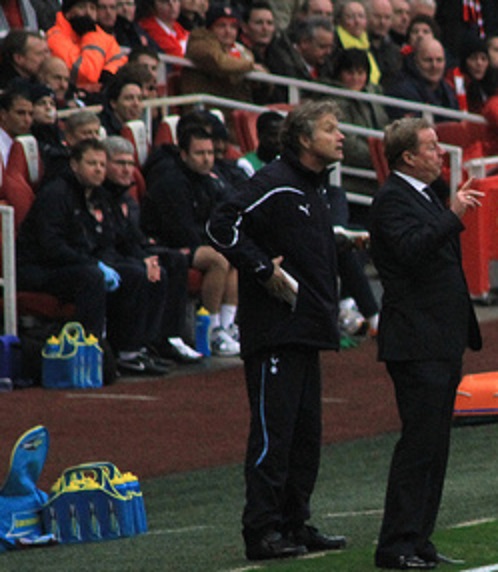 Yet the haters will always hate, and they claim he was lucky at West Ham to inherit gifted youth team graduates Ferdinand, Carrick, Lampard and Cole; that he was bankrolled to success at Fratton Park with money the club couldn't afford to spend, and that at White Hart Lane the brilliance of Luka Modric and Gareth Bale disguised his deficiencies.
Trendy types will probably nod their heads in agreement.
A contemporary head coach is expected to make presentations to the board and marry himself to a certain style or philosophy, and Redknapp isn't interested in that.
His mantra is a simple one. He selects players he trusts, gels them together as a group, and sends them out to play with simple instructions. As ideologies go it isn't a fancy one.
These days a lot of clubs don't even want their manager to sign his own players anyway. Desperate to align themselves with a certain style or identity instead, they are employing more and more 'head coaches' that solely focus on a philosophy of playing, and coaching the team.
Redknapp's management techniques are beginning to seem old fashioned. It's easy to see why people think we've seen the last of him.
Is Harry a wily tactician? No, not really.
At Spurs, Rafael van der Vaart openly joked about the sight of his 'empty' white board at team meetings.
Does he have a special eye for a player? The jury's still out. There have been as many hits as there have been misses down the years. For every Paolo di Canio there's been a Pascal Chimbonda.
And does he play an attacking brand of crowd-pleasing football? At Spurs there was plenty of swashbuckle, but elsewhere you'd have to say that sparkle was often in short supply. The quality of his players has tended to dictate the style he deploys.
But here's a thing – how many managers out there know more about the pro game than Harry Redknapp?
You don't spend the best part of 32 years in the dug-out without learning a thing or two about in-game management, or on how to make people tick – and that feel for the game is something a million chalkboards and databases can't teach the philosophical young upstarts that will competing with him for jobs if he decides to return.
If something needs changing in a match, Harry can see it and do it instinctively. And more often than not, that decision will work, because he's been through it all a thousand times before.
Redknapp can read people too, and that's not always a trait younger bosses possess. I was impressed with the way he disposed of QPR's mercenary rubbish, before rebuilding a sensible hardworking bunch that could take the club back into the Premier League this time last year. Do we just forget that?
I accept that Sandbanks' famous resident isn't perfect. He's certainly no long-term strategist, and in a way his reputation has always been a touch over blown.
However, Redknapp isn't a fool. He's no footballing dinosaur either.
It may not have worked for him at QPR this season but players have always liked working with him because he's an uncomplicated, common sense manager. Give him your best, and he'll look after you. What's the point in being trendy, if all you do is confuse the dressing room?
At 67 with plenty of cash in the bank, Harry Redknapp doesn't need to work again. In his position most gaffers would stroll off into the sunset and enjoy their retirement. He says he's not ready for that just yet.
Do you think he'll be back next season? I do. And someone somewhere would be wise to acknowledge that he still has something left to give.
Photo credits – Flickr (Creative Commons – Attribution 2.0 Generic (CC BY 2.0))
Comments
comments