Is darts a glorified pub game or fully-fledged sport? It's a question that's been argued about a million times, ironically, often at the local watering hole.
I accept it's still waiting for a seal of approval from the International Olympic Committee but in my view there's no debate to be had. So much so, that if you sit in the 'pub game' camp, I'm not sure we can be friends anymore!
Of course darts is a sport – and it happens to be one of the best we have too.
It lacks athleticism granted, but let's face it there are plenty of bona fide sporting heroes that aren't capable of running the four-minute mile.
To become a top professional darts player, bucket loads of practice, skill, technique, fighting spirit and full-on bottle are required. Surely that's enough to qualify as a sport?
The jazzy nicknames, gorgeous walk-on girls and the fact that most of the crowd are intoxicated by a heady mix of lager, fancy dress and the chance to dance wildly to 'Chase The Sun' by Planet Funk every time there's a TV ad break, are all part of the razzamatazz but don't be fooled into thinking that's what it's all about.
Once the two players are alone together on stage, the duel they share is incredibly pure and gladiatorial.
It's just them, their arms, their arrows, and most of all their nerve
I've seen countless slugfests down the years that have toyed with my emotions from beginning to end, and Raymond van Barneveld's epic 7-6 win over Phil Taylor in the 2007 final, having earlier trailed 3-0, stands out as possibly the best of all-time.
Two gifted sportsmen at the peak of their powers, Barneveld and Taylor produced a gripping combat so overflowing with brilliance and mental bravery that it left most observers gob smacked. For me, it was one of the greatest sporting battles there has ever been.
A pub game it was not.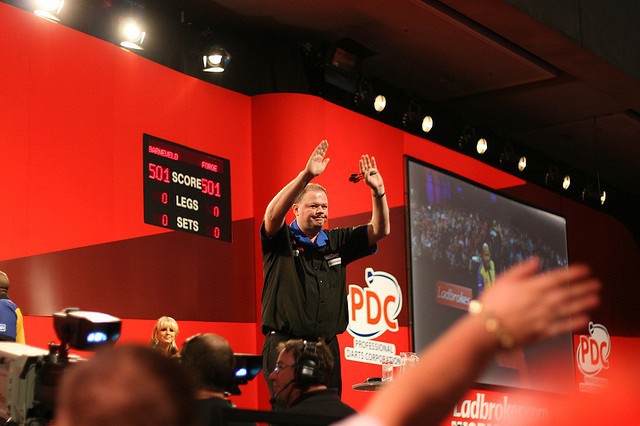 Starting today, the planet's finest arrow throwers are in town for the PDC World Darts Championship, held at the iconic Alexandra Palace.
At the ripe old age of 54, Phil 'The Power' Taylor is the 15/8 bookies favourite, and rightly so. He may not be as hungry as he once was, but no player can hold his nerve better over a 17-day period than the 16-time champion.
Defending champ is Holland's Michael van Gerwen, and the 25-year-old world number one is a prodigious talent. The question is, can he handle the weight of expectancy that comes with defending your title?  We'll soon find out.
Doubts also hang over third favourite Gary Anderson too. The Scot might be the form player, but his inner confidence has been exposed on the Alexandra Palace stage more than once before when things haven't gone his way.
Two outside bets worth considering, are 11/1 shot Adrian Lewis, a protégé of Taylor's from the darting hot bed otherwise known as Stoke. He's seeking his third world title.
The other is James Wade. The Phil Mickelson of darts, with his wondrous left-handed shot making, the eight-time Major winner and two-time World Championship semi-finalist (16/1) appears as relaxed as he's even been as he prepares another assault on the holy grail.
Should the winner comes from outside those five, it will be a major surprise.
If you're still not convinced darts is a proper sport I implore you to try and catch some of this year's PDC World Championship on TV. For drama and excitement, especially in the latter stages, it won't let you down.
If you've never taken an interest in darts before but like a spot of drama, drinking, singing and dancing, then my best advice is to get a ticket for next year's Ally Pally extravaganza.
I've been three times before, and I wish I was heading back this Christmas.
Did you hit the bulls eye with your last darts bet and wonder what else you can wager on? Have a look at the many different sports on our sports betting page at Grosvenor Casinos.
Photo credits – Flickr (Creative Commons – Attribution-ShareAlike 2.0 Generic (CC BY-SA 2.0))
Comments
comments