Horse racing provides a buzz like no other. Whether you're watching it on your television or you've travelled to the racecourse, the highs and the lows can be unparalleled compared to other spectator sports.
The drama and excitement help to make it one of the most popular sports to bet on and, with the Cheltenham Festival 2020 approaching, we're giving you the lowdown on how to make the most of your betting experience.
There are 28 Cheltenham races over four days, culminating in the most famed of them all – the Cheltenham Gold Cup.
All the latest Cheltenham Festival odds are available on our website.
The basics
If you want to know how to bet on horses, you can't go far wrong by starting with how horse racing odds work. If you're a total novice to horse racing betting, then navigating your way through the terms, numbers, and calculations can seem daunting. Luckily, it's not as complex as it may seem. Let's start with an example.
If a horse has odds of 3/1 for a particular race, then for every pound you bet (your stake), you will make £3, while also getting your £1 stake back.
Most of the UK sports betting industry works with fractions, but occasionally some use decimal odds and all that would mean is that 3/1 would be 4.00 – which would be your total returns for every £1 you bet with.
How do horse racing odds work?
It can be tempting to bet on horses based on the colour of the silks or the name of the horse, which can be a fun, fuss-free way to enjoy the experience.
But if you're more interested in profit when it comes to horse betting then it's worth taking heed of a few calculated, easy steps that can get you on your way.
If you want to place a horse racing bet, start with learning how the odds work, which is pretty simple.
Sometimes there will be a race where there is an 'odds-on' favourite and the odds would be, for example, 1/8. So, for every £8 you put on you will get £1 back. Your return on an £8 bet on a horse at these odds would only return £9 – a £1 profit. You will hear these kinds of odds referred to as eight-to-one-on.
Types of horse racing bets explained
So, let's look at the different types of horse bets you can place.
Win
This is the most common bet placed in horse racing betting and, in its simplest form, you are betting on one outcome – the horse to win the race.
Each way
With an each way bet, you are effectively placing two bets. One for the horse to win and another for the horse to place.
Whether a horse places or not is contingent on the number of horses in the race. The general rule of thumb, though, is that you're betting on a horse to finish in the top-three. The difference is that it pays a fraction of the main odds.
Cheltenham's traditional opener is the Supreme Novices' Hurdle, with Shishkin the current favourite in our latest racing odds. A £5 each way bet at Cheltenham 2020 on Shishkin at 4/1 will cost you £10 with £5 placed on the win and £5 on the place. If it wins then both bets win, so you get £4 x 5 = £20, plus your £5 stake for the win option. You also get the each way bet too. 1/4 of 4/1 is 1/1, or evens, so you get £5 plus your £5 stake, so £10 altogether. In total you will get £35 back.
Each way bets are generally placed on horses at long odds, rather than favourites. If you do an each way bet on a favourite then there is the potential to still lose money if it only places.
Straight forecast
A straight forecast in horse racing betting odds requires you to pick two horses in a race and get the finishing order correct, with the odds set for that particular outcome.
Reverse forecast
A reverse forecast is similar to the straight forecast, but the two horses you have selected do not have to finish in a specific order. Like the each way bet, this is effectively two bets, so a £5 reverse forecast would cost £10.
Tricast
The rewards for a tricast can be massive but it takes courage because you have to pick the first three horses in the correct order.
How to bet on horse racing online
Grosvenor Sport makes betting on horse racing online as simple as it can be. Here's what to do:
Select the horse racing markets for a list of all the upcoming races at that time.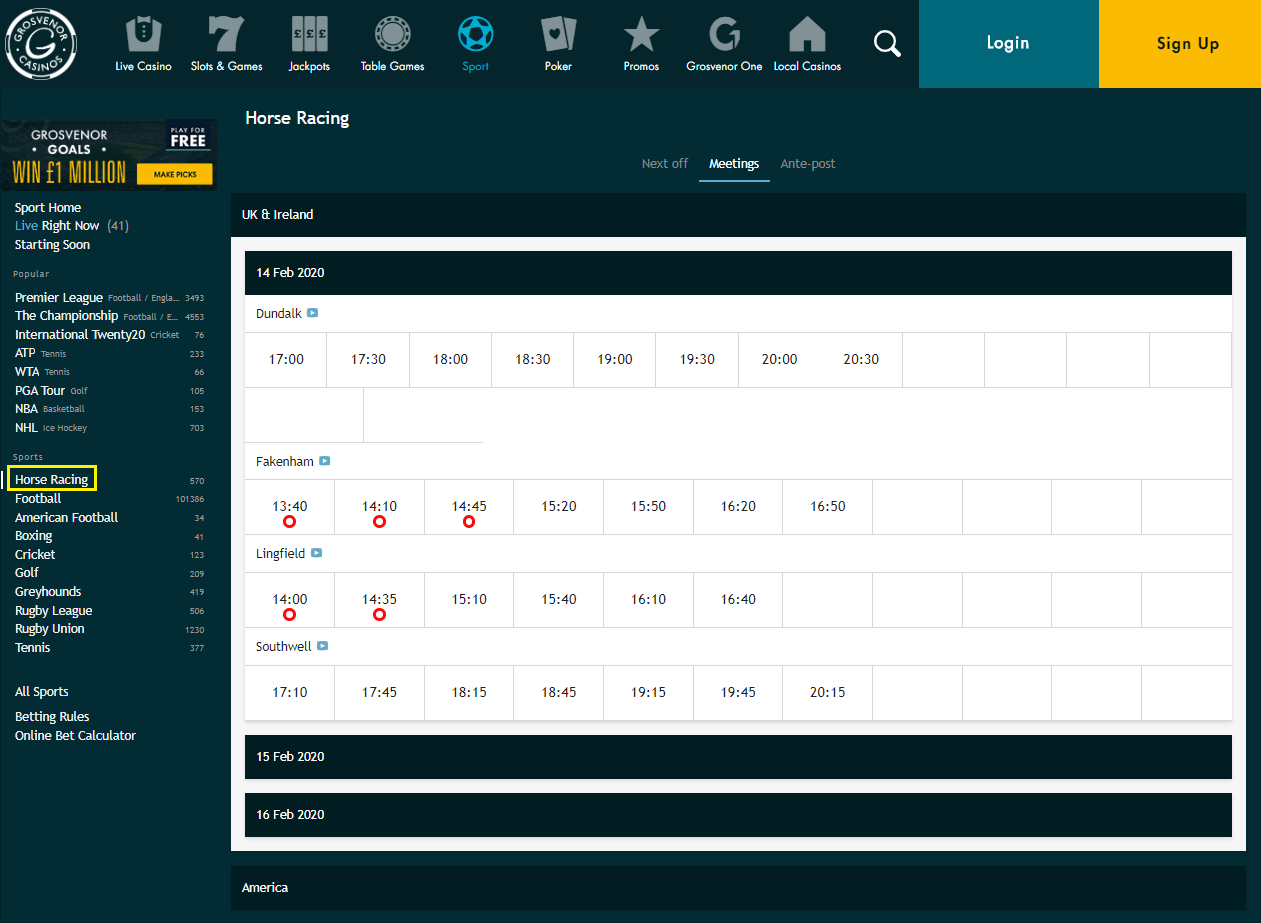 After selecting your meeting you can look at some information on the runners in the race and a list of the odds of each horse, starting with the favourite and going all the way down to the outsider – the horse least expected to win.
Once you have chosen the horse, it will appear in bottom-right corner where you can then decide upon the type of bet you would like to place on that horse.
You may opt to place it as a single bet, or to increase your potential winnings by including other horses from that or any other race to form an accumulator.
Horse racing bet calculator
Want to find out how much a potential bet on the horses could earn you?  Look no further than our easy-to-use bet calculator.
When using the calculator, you can change the bet type, how the odds are displayed (fractional, decimal or American) the stake, and whether or not the bet will be each way.
For example, if you picked three horses in separate races to win at prices of 1/4, 7/2 and 3/1 for a £5 stake, with the bet calculator you will find out how much your bet would return, as well as the total profit.
How to pick the winning horse
So it's time to pick your horse. There are a few ways you can go about doing it, but if you're not sure then here are some tips that can help you make your decision for your online horse betting.
Consider the odds – Study the odds of the horse in the race. With Grosvenor Sport you can see if the odds have increased or decreased over time, which could indicate that a horse is proving popular ahead of the race and is one of the favourites.
Favourites are horses with the lowest odds, which is based on past form over the course, distance and recent results. A horse isn't guaranteed to win the race just because it is the favourite.
Jockey – The person riding the horse. A high-profile jockey like Harry Skelton will have a better chance of winning because he would be unlikely to take rides on horses that he doesn't think have good chances of winning.
Past performances – Study the form of the horse and consider how it performed in its last few runs. Also, look to see whether the horse has a liking to the course and the distance of the race.
Superstitions – Sometimes you just get a hunch about a horse and there's little wrong in following it. This could be based on its name, colour, number, or the jockey's silks.
Trends – Ahead of the bigger races, it's very easy to find trends to help you whittle down the field and find your winner. It could be the number of horses aged seven to hit the places first time out at Cheltenham, or how many times Harry Skelton has ridden a winner in the race. For example, all of the last 17 winners of the Cheltenham Festival Gold Cup have been aged nine or older.
Head to the paddock – Look at the horse before it's in the stalls. Its behaviour and appearance round the paddock can be telling. If it's agitated or sweating, then these could be signs to steer clear. However, for some horses it's just natural.
Most popular horse racing fixtures in the UK
The UK is home to many big races on the calendar, which generate plenty of online and print coverage in the build-up.
Flat racing's big races take place throughout the year and include the Epsom Derby and Oaks, St Leger, 1000 and 2000 Guineas, to name just a few.
The Cheltenham Festival in March is the next big one to look forward to and you can find our Cheltenham Festival 2020 day-by-day guide
Another look at the horse racing calendar and you'll see that The Grand National at Aintree will be just around the corner in April.
Comments
comments