How to bet on horse racing | UK racing betting guide


Horse racing is one, if not the most popular sport to bet on, providing you with drama and nail-biting finishes whether it be flat racing or over the jumps.
A late surge from your horse could see you win, or a fall at the final hurdle may end up with you grabbing defeat from the jaws of victory.
During this  guide we give you all the information you need to start your horse racing betting journey.
How do horse racing odds work?
To the untrained eye, betting on horses can look very complex and many would not know where to start and instead base their bet purely on the name of the horse.
That may not be a bad idea at times, but here are a few simple steps which can help you get started.
Before anything you need to know how the odds work, and this is thankfully quite straightforward.
If a horse has odds of 4/1 in a race, then for every £1 you bet you make £4 profit (plus you get your stake/bet back), so in total you get a £5 return.
Most of the UK sports betting industry work with fractions, but occasionally some use decimal odds and all that would mean is that 4/1 would be 5.00 – your total returns for every £1 you bet with.
Sometimes there will be a race where there is an 'odds-on' favourite and the odds would be, for example, 1/8. So, for every £8 you put on you will get £1 back. Your return on a £8 bet on a horse at these odds would only return £9 – a £1 profit. When these odds are spoken you will here them referred to as "8 to 1 on"
Types of horse racing bets explained
There are plenty of different types of bet you can place, and here we will run through each one and explaining how they work.
Win
This is the most common bet placed and in its simplest form, you are betting on one outcome – the horse to win the race.
Each Way
Here you are effectively placing two bets – one with the horse to win, and one for the horse to 'place'.
Place terms are dependant on the number of horses in the race, though the general rule of thumb is you are betting on a horse to finish in the top three. The difference is that it pays a fraction of the main odds.
A £5 each way bet on a horse at 4/1 will cost you £10 with £5 placed on the win and £5 on the place. If it wins both bets win, so you get £4 x 5 = £20 plus your £5 stake for the win option. You also get the each way bet too a ¼ of 4/1 is 1/1, or evens, so you get £5 plus your £5 stake, so £10 in total. In total you will get £35 back.
Generally, each way bets are placed on horses at long odds rather than favourites. If you do an each way bet on a favourite there is the potential to still lose money if it only places.
Straight forecast
This requires you to pick two horses in a race and get the finishing order correct, with the odds set for that particular outcome.
Reverse forecast
Similar to the straight forecast, but the two horses you have selected can finish in any order. Like the each-way bet, this is effectively two bets, so a £5 reverse forecast would cost £10.
Tricast
The rewards for a tricast can be huge, but you would have to be a brave person to go for it. You have to pick the first three horses in the correct order.
How to bet on horse racing online
Betting on horse racing online with Grosvenor could not be simpler. Here we run through the steps to place a bet.
Having selected the horse racing home page you can then see a list of all the upcoming races at that time.
Alternatively, you can select the 'Meetings' tab at the top which will bring you a list of all the meetings taking place that day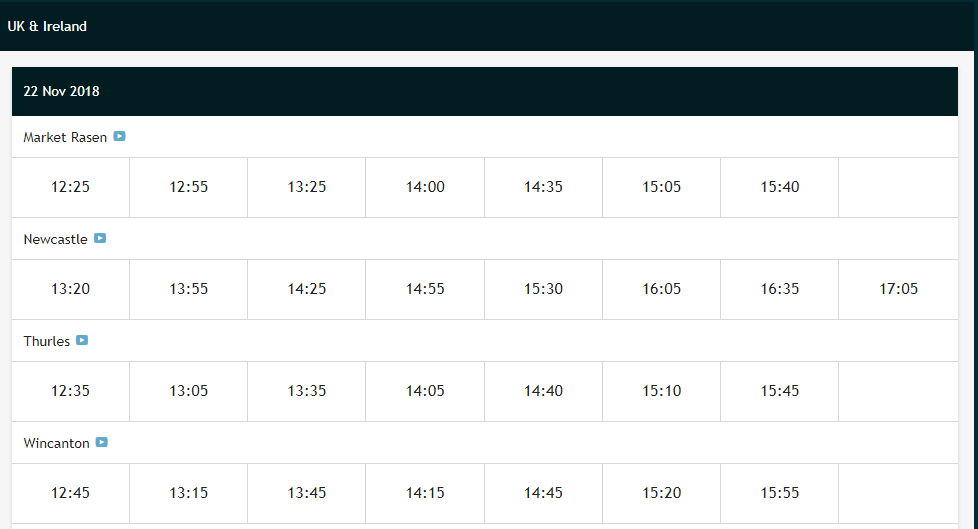 Once you have selected your meeting you can look at some information on the runners in the race and a list of the odds of each horse, starting with the favourite and going all the way down to the outsider – the horse least expected to win.
Once you have selected the horse it will appear in bottom right corner where you can then choose the type of bet you would like to place on that horse.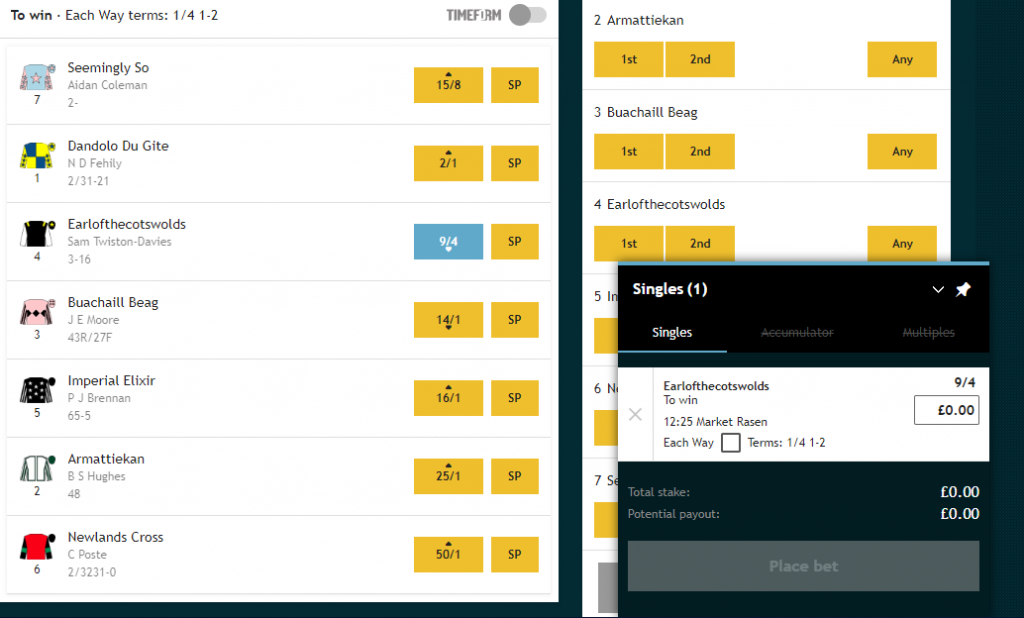 You can then place it as a single bet, or to increase your potential winnings, you can include other horses from the race, or any other race to form an accumulator.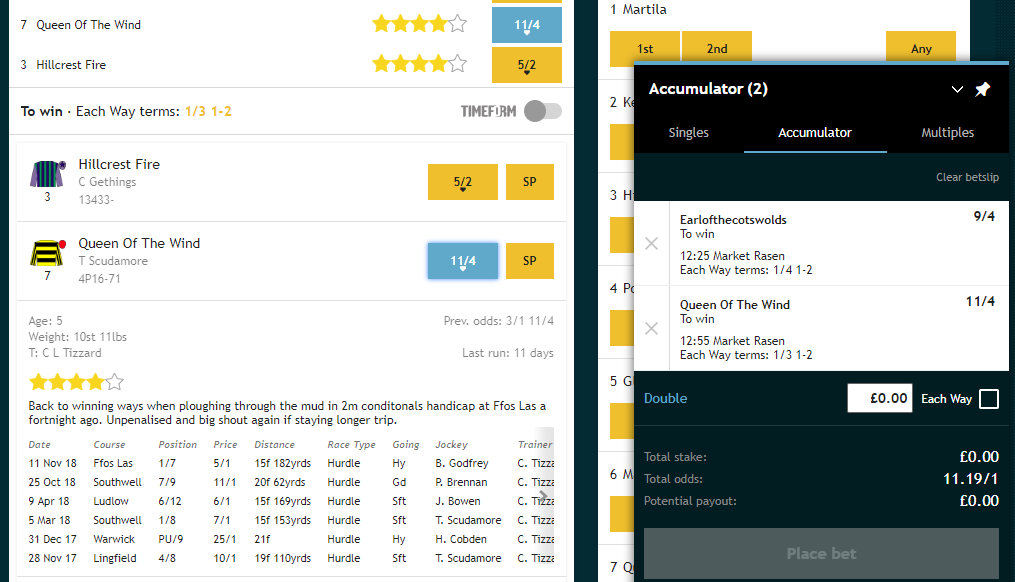 Horse Racing bet calculator
Want to find out how much a potential bet on the horses could earn you if it comes again?  Look no further than our horse racing bet calculator.
When using the calculator you can change the bet type, how the odds are displayed (fractional, decimal or American) the stake, and whether the bet will be each way or not.
For example, if you picked three horses in separate races to win at prices of 1/4, 7/2 and 3/1 for a £5 stake, using the tool you will find out how much your bet would return, as well as the total profit.
How to pick the winning horse
There are many different ways of picking your horse ahead of the race, and here's just some of the top tips
Consider the odds – Study the odds of the horse in the race. On Grosvenor Sport you can see if the odds have increased or decreased over time and that may give you an indicator as to whether a horse is proving to be popular ahead of the race.
Favourites are the horses with the lowest odds and is based on past form over the course, distance and recent results.  Despite having the favourite tag, this doesn't always mean they will win the race.
Jockey – Look at who is riding the horse and generally those with a high-profile jockey – such as Ruby Walsh and Frankie Dettori – will have a better chance of winning because the jockeys themselves will not take rides on a horse which they do not think will win.
Past performances – Study the form of the horse and consider how it has performed in its last few runs. Also, look to see whether the horse has a particular liking to the course and the distance of the race.
Superstitions – Sometimes you just get a hunch about a horse and it is absolutely fine to follow that. It could be based on its name, colour, number, or the colour of the silks worn by the jockey.
Head to the paddock – If you are attending the race meeting, or watching it on TV, look at the horse you are considering in great detail. Look at it's behaviour round the paddock and see if it looks agitated or is sweating – that can sometimes be a sign to steer clear, but for some horses it's just natural as well.
Most popular horse racing fixtures in the UK
There are a lot of big races which take place in the UK, and they often generate the most interest with plenty of coverage online and in newspapers in the build-up, while they are also races which a lot of people bet on.
Flat racings big races which take place throughout the year include the Epsom Derby and Oaks, 1000 and 2000 Guineas, St Leger to name just a few.
We are now well into the jump season and as we head into the new year, there is the three-day Cheltenham Festival in March, which is followed by the biggest race of them all The Grand National at Aintree in April.
Horse Racing Guide to 2019
Now you know how to bet on horse racing, check out our complete guide to 2019 horse racing in the UK. If horse racing is just one of your many interests, then check out our other online sports betting options here.
Comments
comments