I'm not sure if I was at Cheltenham for three days or Alton Towers! It was a bit of a rollercoaster, that's for sure.
Read below to find out my thoughts on what was a crazy weekend at Cheltenham.
My Drogo
He was very unlucky; it was just a novicey mistake. I wouldn't have ridden it any differently, we were well balanced and in control. I saw a nice stride and he just knuckled over. Horses fall, I'm sure he'll learn from it. We're over it now, he was ridden out on Saturday morning and he's absolutely fine.
I was very happy with his jumping through the race. He was clever when he needed to be and seemed assured in what he was doing. He wasn't guessing. At the top of the hill, he had a good blow but as soon we jumped three out, he was hard on the bridle again. These things happen, we'll look for another novice chase in the near future. We know he's a very good horse.
I got a nice call on Friday night from someone I respect highly. I'm lucky I've got great people looking out for me. He picked up the phone and you just listen. I really appreciated it.
Third Time Lucki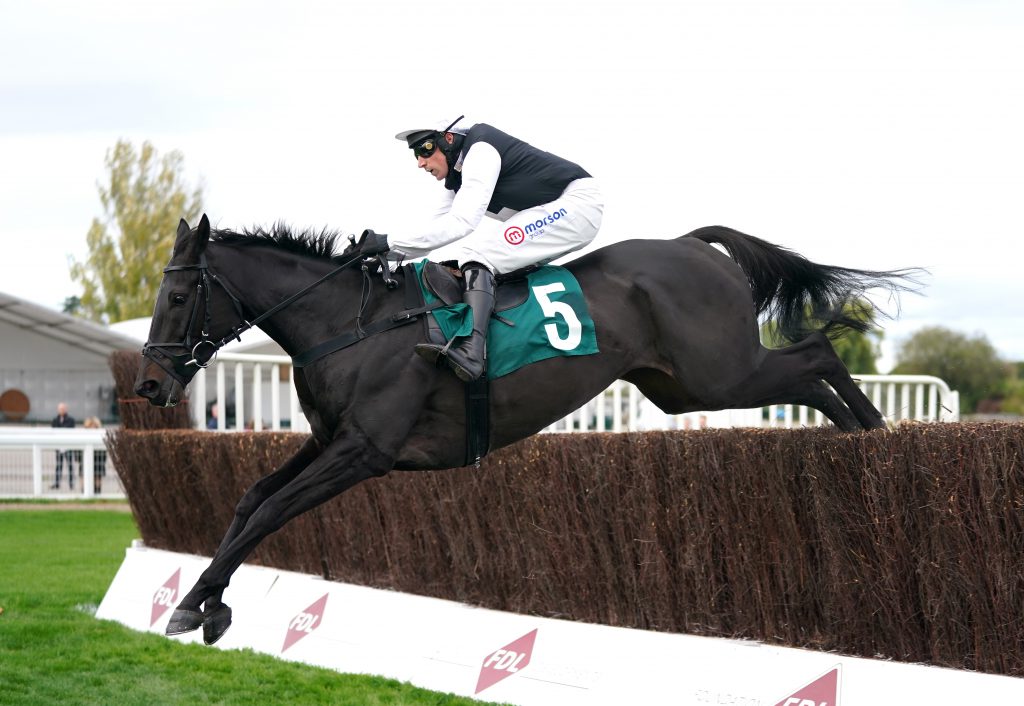 What happened on Friday didn't affect the way I rode him – he was foot perfect the whole way round. He has so much natural speed, I don't think I've ridden a horse as quick as him. I didn't have to let him go and use his jumping to see what he can do, but you all saw that jump four out.
I had a look around after three out and could see we were in control, so I brought him right back under me to slow him down. We almost show jumped over the last two, but I then had to pick him up again after the last because I'd taken all the pace out of him. We were so far clear I could afford to do that.
Really nice ground is where you'll see him at his absolute best. It was a bit tacky – you get heavy dews at this time of year and it just holds in the ground.
He's made the perfect start, he's two from two over fences and all options are open, but all roads lead back to Cheltenham in March. Look, we know there are a lot of good horses to come, but we're looking forward to it. We certainly won't be shirking the issue, we'll be there giving it our best shot.
Protektorat
He ran a hell of a race under top weight, staying on really strongly up the hill. We've always seen him as a three miler and he's that bit older, more experienced and professional now. I just wish it had rained a bit over night as that would have helped him.
From the water jump I was in top gear and it was his jumping that held his position. At the top of the hill I was squeezing along and I moved out a bit because once I got rolling I didn't want to get stopped. He galloped all the way to the line, it was a great run.
I'm not sure where we'll go with him. The Many Clouds Chase is an option and we can also look at Ireland. We'll work back from March, but we don't know which race yet.
Proschema
I felt like he was travelling well enough when he fell two out, but the way the race went he would have had to stay very well. Sporting John is a Grade 1 winner over fences and he could be the new three miler on the block. Proschema's a bit stiff, it was a heavy fall, but we'll regroup and go again. We'll be looking at any races between two and a half and three miles.
Nube Negra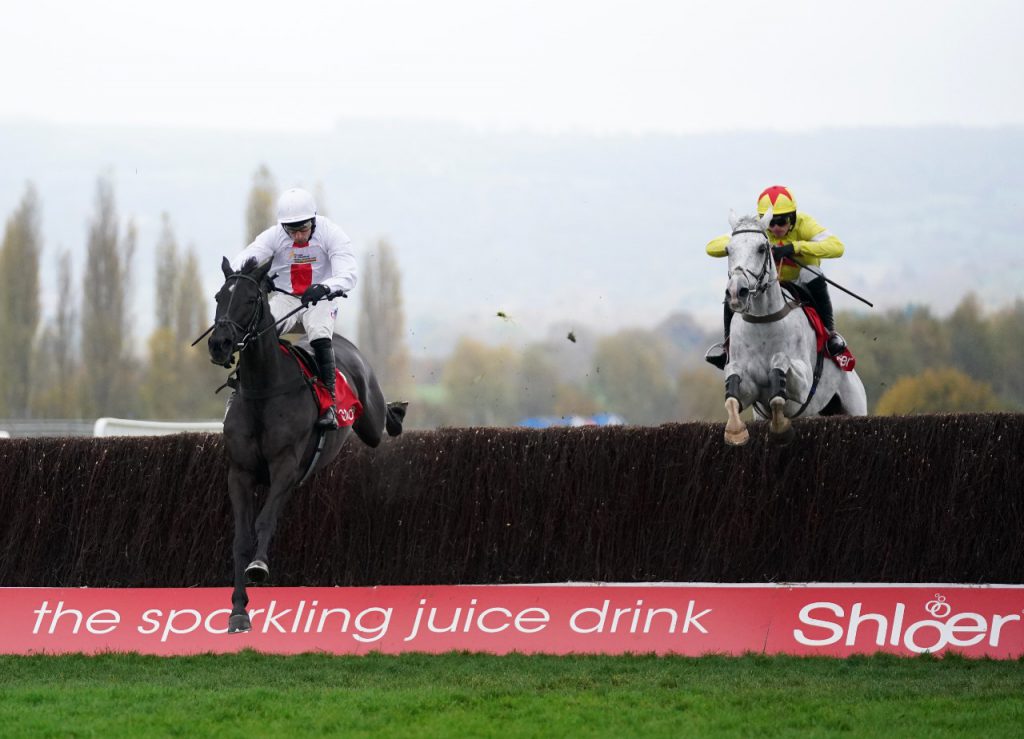 It was a brilliant performance. Dan was very keen to run him because of the way the ground has been. He made the decision three weeks ago and we didn't want to leave the door open. He's so good fresh, he gave me a dream ride. He jumped well, was always in first gear and picked up from two out. We couldn't have been happier.
There's one race we want to have him spot on for and that's the Champion Chase. We're not sure where he goes between now and then, but I'd say he'll have one more run before March.
Make no mistake, we know what's coming. Shishkin, Energumene, Chacun Pour Soi, the list goes on, but Nube Negra is ours and he ran a great race in it last March.
He's hitting the line really strongly and he clearly loves it round Cheltenham. Dan has done a great job with him, he's never overraced him and he's now producing what he can. He's a big horse and we had to give him time to become the finished article.
West Cork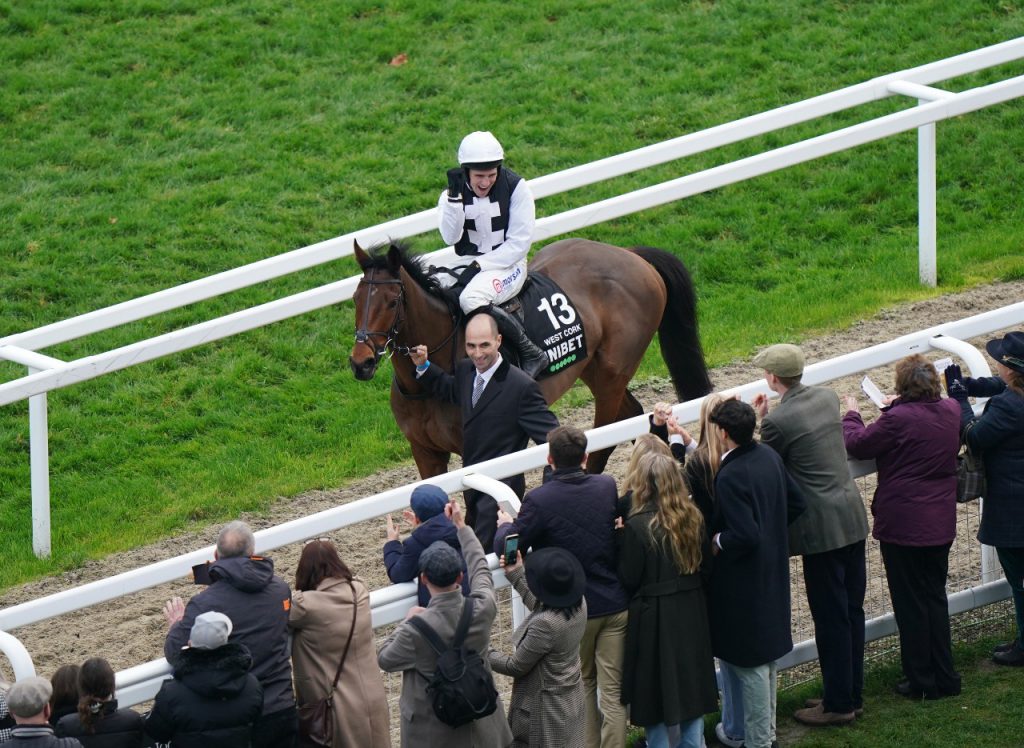 Another great training performance by Dan after 630 days off. We discussed it a few weeks ago and thought we'd have a crack. He's always had a bit of a class. He was second in the Dovecote and it was just a freak injury that forced him to miss last year.
He's an older, stronger horse now and two miles is his trip off a strong pace. He comes home really strongly and he'd been working really well at home. We'll probably go for the big two mile handicap at Ascot before Christmas and then onto the County in March.
He was in great form on Monday morning, he certainly knew he'd won – he was absolutely bulling!
That video with Dan
I thought it was brilliant and it showed what it means. We wear our hearts on our sleeves and we do it for those days. We put a lot of work in, a lot of our hours, and we have a lot of bad days. You have to enjoy the good days – you never know when the next one will be.
All about the team
There were some great performances by the horses over the three days and they're in flying form which is testament to the team. You need good people around you, horses don't feed themselves or ride themselves out. We're like a family, we're all very close and everyone works so hard because they love horses. Everyone was absolutely buzzing on Sunday night, we all enjoy it together.
The week ahead
We've got a few at Warwick on Wednesday and then Ascot on Friday. I'll be heading up to Haydock on Saturday where we're looking forward to running Calico in a valuable handicap hurdle. He was disappointing first time out in the Welsh Champion Hurdle but we hope he can bounce back from that.
Comments
comments