Last weekend was pretty satisfying. We had three winners in two days, our Cheltenham Festival winner, Love Envoi, won on her reappearance, and we had a good second in a Grade 1 with Boothill. I suppose we didn't get the rub of the green with Revels Hill, but that's Racing. It's probably fair to say we had a bit of a pep in our step on Sunday morning, but you don't stand still in this game, so we were up early and looking at declarations for Tuesday. You have to take the rough with the smooth, and unfortunately, we lost a lovely 4yo Walk In The Park gelding first thing on Monday morning. You're up and then you're down. They're the hardest calls to make, so it's important to enjoy the good moments and some nice winners as sadly in this game you're soon back down to earth with a bump.
WEEK IN REVIEW
Credrojava – 1st Fontwell, Tuesday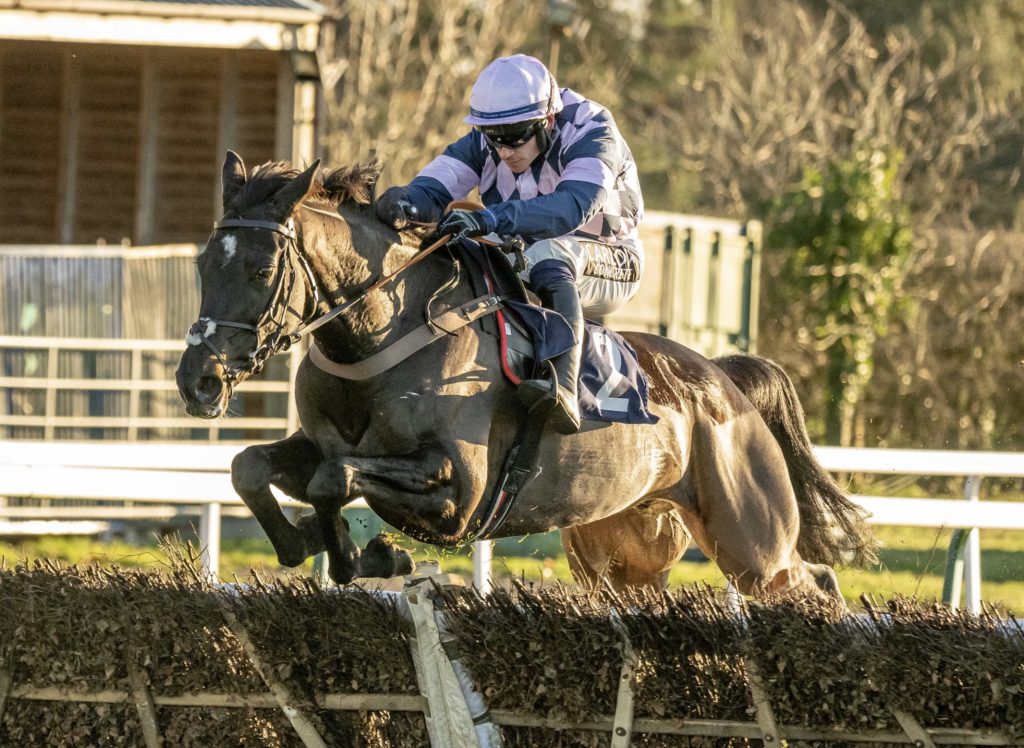 She's always schooled well and that's why we didn't waste any more time in bumpers and kicked straight on over hurdles. We felt that she was capable of doing what she did on Tuesday and that's opened up some nice options for us now. We hope to go to Taunton on the 30th of this month for a Listed Mares' Novice Hurdle. That will be back in trip over two miles, but I don't see it being a problem whatsoever and potentially if she came through that we'd possibly be looking at the Mares' Novices' Hurdle at Cheltenham. She's a lovely mare, that's confirming all the promise she has shown us at home so far and hopefully she can continue in the same vein she's started in.
Revels Hill – 4th Sandown, Saturday
I must confess it took me an hour to stop sulking post-race. It's the nature of the game, but we just didn't have any luck in running. The winner has obviously won well, whether we'd have beaten her is another matter. But we were definitely short of luck and did well to stand up when we were badly interfered with on the first circuit and again a circuit later. We were always on the back foot. It sadly didn't happen for Revels Hill on the day, but he's come out of it okay. He's a horse who has done well in the Spring, so we'll probably give him some time and you mightn't see him again until February, with the target being something like the Midlands National in March. There's nothing set in stone yet, but we're thinking of plotting a nice race in the Spring with him over an extended staying trip.
Love Envoi – 1st Sandown, Saturday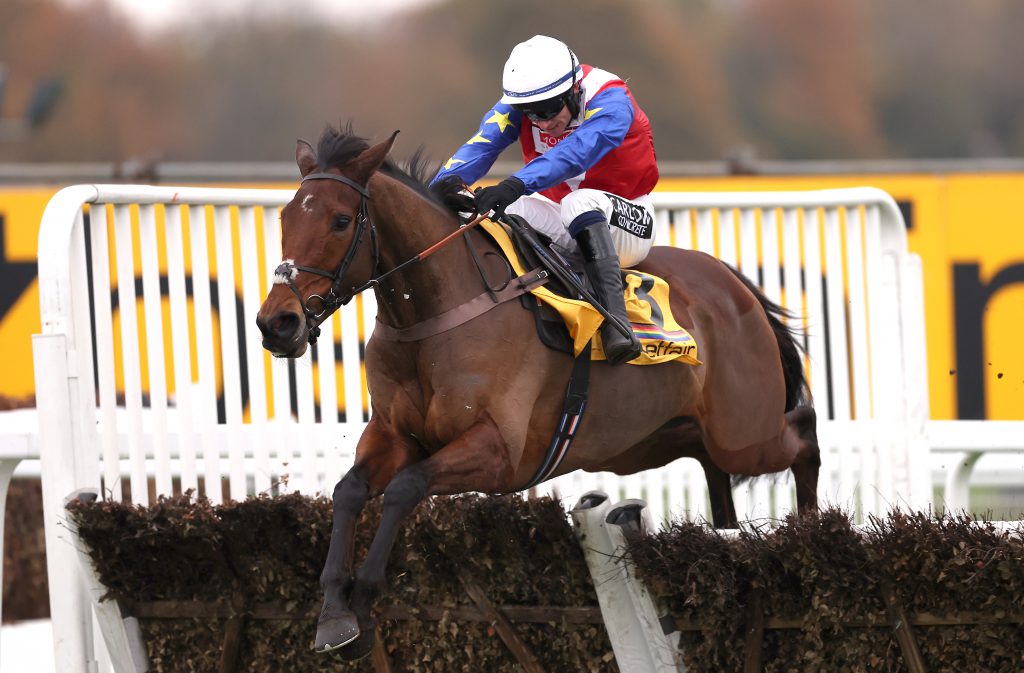 For me watching in the stands, it all seemed to go quite smoothly, although Johnny (Burke) felt she wasn't traveling quite as well as he had hoped, but she answered every call. And when he was leading turning in and went to quicken going to the second last I thought well it's going to take a serious effort to get past her because she is as hard as nails, and she doesn't know what it is to get beaten. She will give her all and once she met the second last well and I know the runner-up was closing going to the last, she picked up and went again and that's what's so brilliant about her. She only does what she has to do. It's enough to get you out of your seat and cheer her home as I believe was portrayed on ITV and I heard Ciara was also caught on camera chasing her up the hill on the inside of the track, so she certainly didn't lack encouragement!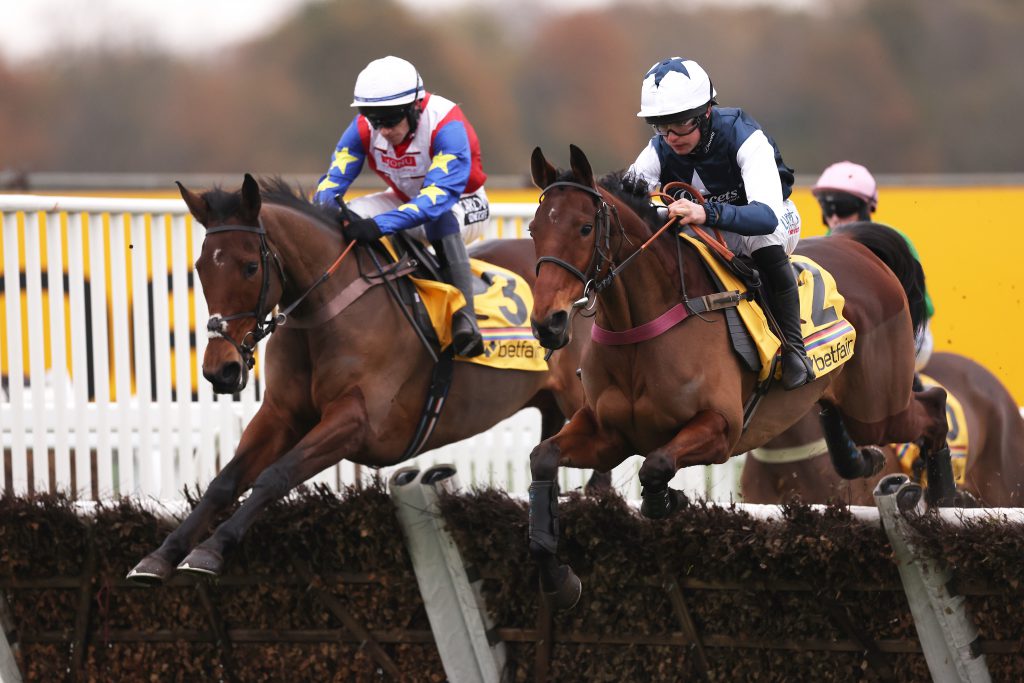 It was a career best effort to carry that weight against geldings, giving the runner-up a stone, 12Ibs to the 3rd horse, and a stone and a half to the 4th horse home. She was giving a lot of weight away. She's now up to 144. She's only a 6yo and we hope there's more improvement to come and on the evidence of Saturday, there should be. She's a joy to train and we're very lucky to be associated with her. All being well she'll go back to Sandown in early January for a Listed Mares' Hurdle over two and a half miles, and she'll have no problem with that distance. That fits in nicely as it will be five weeks post last Saturday and then you've got another five weeks until the race at Warwick and then that leaves us just over four weeks to Cheltenham. Those races come at ideal intervals. Last year she thrived on her racing and she's that sort of horse. Obviously, it's something of a debate about how often we see these top-class horses, and sometimes less is more, but for her racing regularly does suit. The targets mentioned lead nicely to hopefully a crack at the Mares' Hurdle at the Cheltenham Festival.
Boothill – 2nd Sandown, Saturday
We were delighted with him. The handicapper thinks he's run a career best, by putting him up another pound to 148. There was a reason Jonbon was 2/1 favourite for the Arkle before the race. He's a hugely talented horse.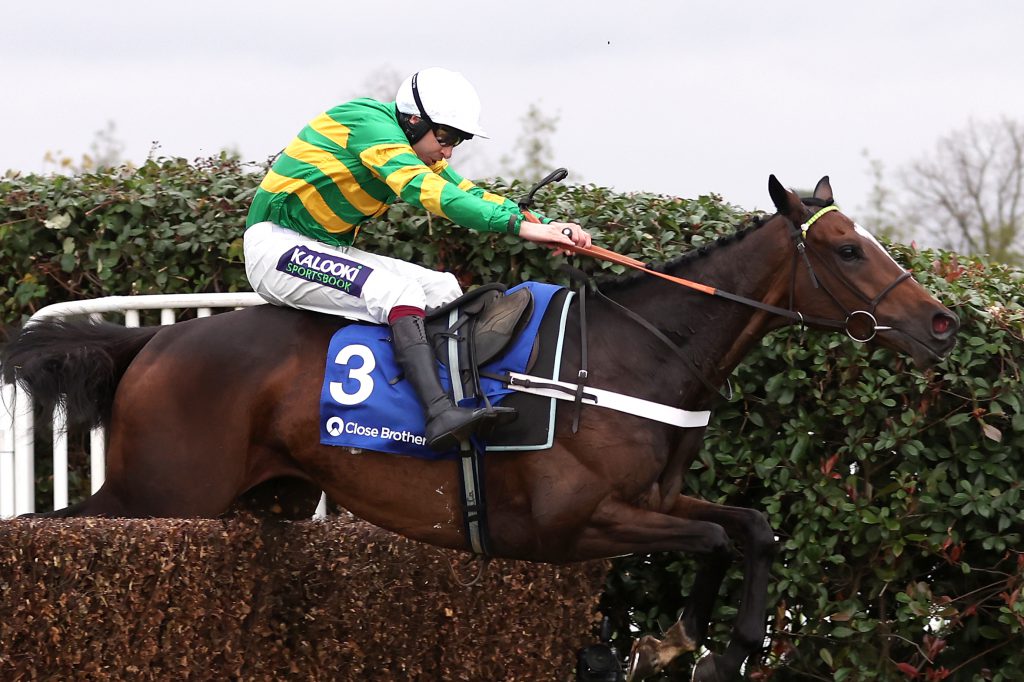 We weren't good enough on the day, but we certainly didn't disgrace ourselves. Our fella ran a really solid race, albeit there was one too good, we were miles clear of the 3rd horse. So, all being well, we're still planning on running him in the Wayward Lad Chase at Kempton on December 27th. He seems to have come out of the race well. After Kempton, we'll probably give him a bit of a break and potentially miss Cheltenham and target a Grade 1 Novice at Aintree instead on Spring ground. He's a typical Presenting in that he does like better ground, so we wouldn't be looking to run him in January or February on what has at least traditionally been more testing conditions.
Whitehotchillifili – 3rd Sandown, Saturday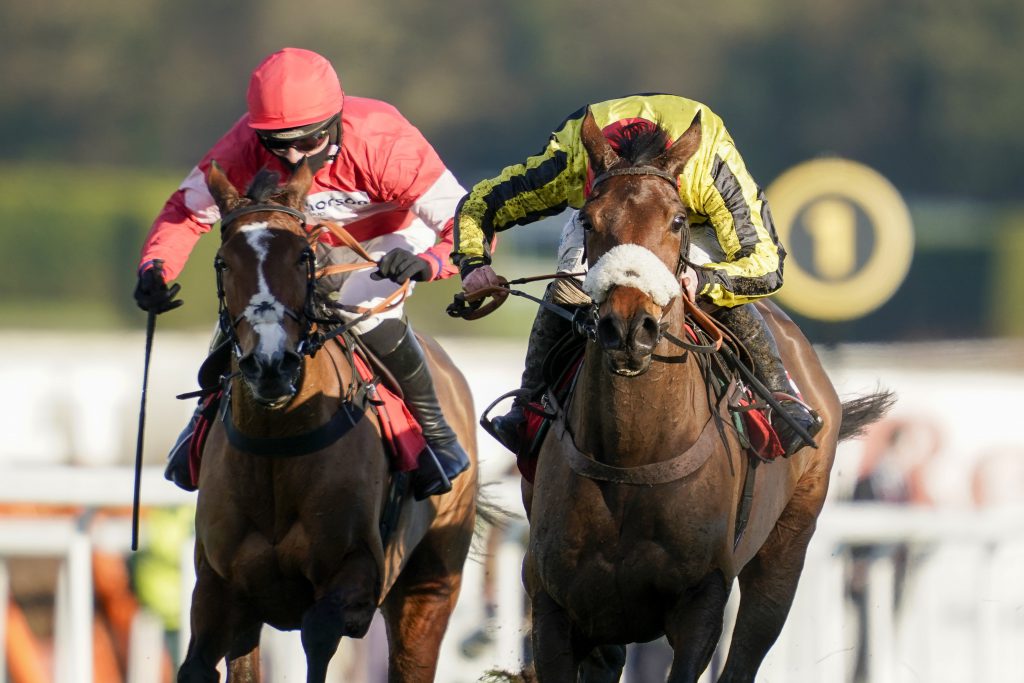 She ran a nice race on her reappearance. It must be said the winner was given a well-judged ride by Aidan Coleman from the front. He dictated the tempo and quickened where he wanted, nicked a few lengths around the bottom bend and everyone had to try and work hard to catch him up the straight. In many ways we were a bit like the peloton in a cycling race, someone had to try and drag back the lead rider and we were the ones that did this and probably used up our finishing effort trying to get back on terms with the winner. Our filly ran a solid race. We'll probably step her back up in trip at Kempton on December 27th in another mares' handicap. She ran well in a Grade 2 over 3 miles at Ascot last January, so the trip shouldn't be a problem and hopefully she's on a mark that she can be competitive.
Whisky Express – 6thSandown, Saturday
I had alluded to it last week she doesn't make the jockey's life easy, and she was true to form! We'll probably look to go left-handed with her, although she has won right-handed, she hung left throughout at Sandown. I thought she did really well to get as close as she did, considering how she ran. She's a work in progress and we've got to straighten things out, quite literally! When horses hang, they do it for a reason, so we've got to try and get to the bottom of that. And try and make sure that when we turns up at the races the next day, the jockey is able to ride a race as he sees fit, as opposed to being dictated to by the horse. She's had two runs this season and not helped the jockey one bit on both occasions, so it's very much a case of back to the drawing board.
Ree Okka – 5th Exeter, Friday
It didn't go according to plan. A horse jumped across him at the first, which resulted in him landing into the back of it, and he got unnerved. He ended up with no space after that, got trapped in a pocket and was much further back than we wanted. The omission of some fences didn't help, that changed the complexion of the race. He didn't build on the promise of his good runner-up effort on debut over fences at Aintree. I like to give him the benefit of the doubt and he's a horse that we still have high hopes for over the larger obstacles. We'll probably go back into novice company and step him up in trip at Chepstow on Welsh Grand National Day, where there's a 2 mile 7 furlong novices' handicap chase at a course that he won at over hurdles.
How Will I Know – 3rd Exeter, Friday
It was his first run over hurdles after almost a year off the track and we were very pleased with his performance. That run should bring him on nicely. He was very straight forward, jumped really well and will be suited by a step up in trip. He'll hopefully go back to Exeter on New Year's Day for a maiden hurdle over slightly further (2 miles 2 furlongs) and on that the back of Friday's run hopefully he'll take a bit of catching.
Walk On High – 4th Exeter, Friday
He travelled really well, but I think we'll see him running on a flat track the next day, a Wincanton, or a Taunton, because Johnny (Burke) said he's all speed. He just didn't quite finish up the hill as well as he had hoped. Exeter is quite a stiff finish. So we'll be aiming him more at a speed track, a maiden hurdle in early January and hopefully he can build on the promise of last Friday's run.
Will Victory 1st& Monjules 1st – Sedgefield, Friday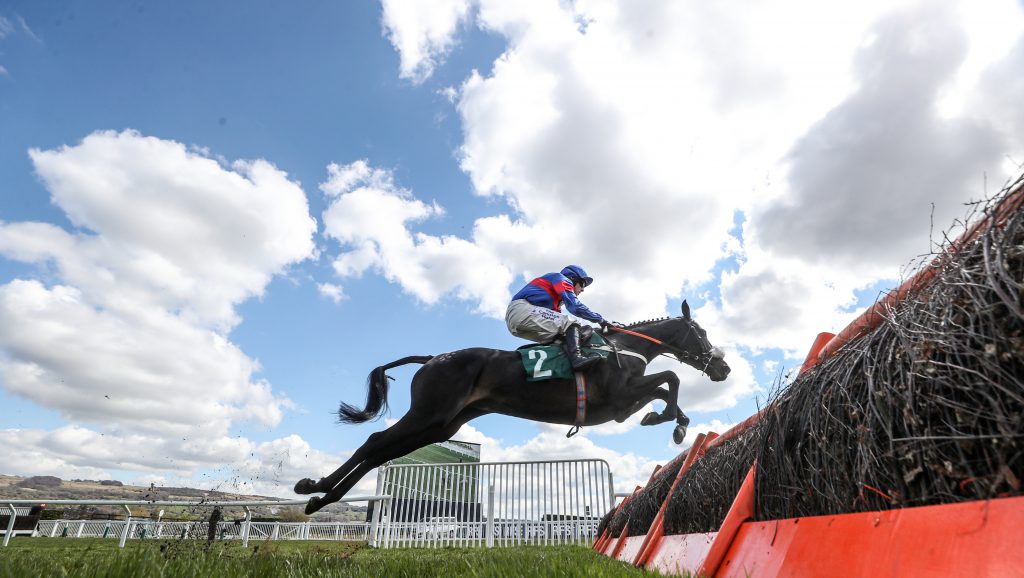 We felt that Will Victory had improved for her reappearance in that she had gained confidence in her jumping with a completion, as she had failed to complete on her previous run. So we went out there and rode her positively and Ben (Bromley) just kept it very straight forward, and with the exception of the last flight of hurdles, it was a pretty smooth watch to be honest. We were delighted to see her progress, as we hoped she would from her first run. I think I mentioned it last week, but we felt the handicapper had been fair to both her and Monjules in dropping them when they hadn't been winning.
It had been Monjules' first start for us, he had been a course and distance winner and Lorcan (Murtagh) gave him a lovely ride. When you send two horses on an overnight 700-mile round trip, you're obviously hoping one makes it worthwhile, so for both to oblige, we couldn't have asked for anymore. We won't be turning either out under a penalty, so we don't have any immediate plans for them. The Sedgefield trip was very much targeted. We're just delighted that they got their heads in front.
WEEKEND PREVIEW
Friday
Fortunes Melody – 13:50 Cheltenham
We were delighted to get her head in front earlier in the Autumn. She was put up a fair hike by the handicapper for winning at Worcester and unfairly given what she beat, okay the 3rd horse did go and win afterwards, but that was off a mark of 112 at Fakenham. We'd only beaten her just under three lengths and the runner-up was subsequently well beaten. We just felt 128 was plenty high enough, and possibly 125 is too. We've got top weight and are thinking that something will be better handicapped than her on Friday. She has got the experience and seems in good form at home, so if she was to run into a place, we'd be very happy with that.
Saturday
Lady Adare – 15:35 Cheltenham
We had her ready to run, but we couldn't quite get conditions to suit. We've had this race in mind for her all along, potentially as a second start in her campaign, but the way it's worked out, she'll start her campaign on Saturday, if the weather doesn't intervene. She's done nothing wrong so far, she's unbeaten in all her starts, won three times over hurdles for us last season. She's a 6yo that we hope is open to progression. She's going to have do just that on Saturday against some proven mares and other unexposed progressive horses. It's Cheltenham, so it will be competitive, but we'd like to think she has as good a chance as any and can mix it with the best of them. I think her mark of 130 is fair and we hope she proves to be better than that.
NEXT WEEK – ONE TO WATCH
Monday
Our Nell – 15:35 Plumpton
She is one to keep an eye on early next week. We're hoping that she can show the benefit of that experienced gained at Warwick. You'd like to think that Plumpton wouldn't be quite as competitive as a Warwick bumper, but in saying that you've got Mr King, Henderson, and Nicholls all with debutants potentially and the Tizzard's as well so it's sure to be a good race. But our lady has come out of the race well. I wouldn't necessarily have the same confidence I had when I put up Credrojava last week. But on the back of what she did at Warwick, I think she'll run a nice race.
Have a great weekend.
Good luck,
Harry
Comments
comments