The second half of my week beside the seaside started with the Tuesday £300 two-dayer.
This has always been among the toughest events at this buy-in, and this was no different, with some star names among the 80-odd entrants.
I got a good start early, flopping a pair and nut flush draw and getting there against Tim Hickling, but as the last level of day one was about to start, I lost a monster pot, raising with KT and flopping two pairs on an AKT board, only to fold the river after correctly putting my opponent on JQ.
I got my 10bb all in soon afterwards, again with KT suited, and couldn't improve against the big blind's A8.
Another day, another comp.
At least I got to wake up to this beautiful view every day: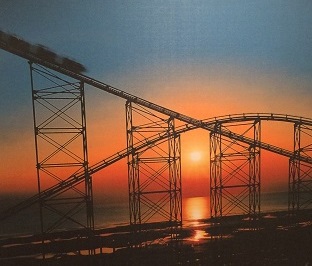 To be fair, that was the picture on my wall in the Big Blue hotel, outside it was wetter than an otter's pocket.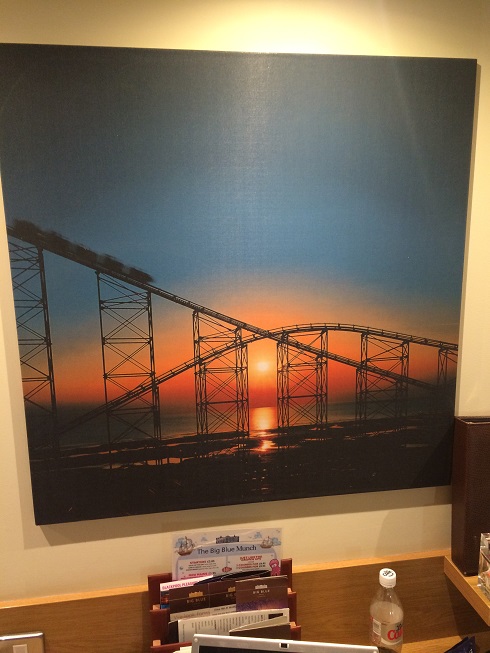 Still, it was warm and welcoming in the G Casino, and off I trotted for the Wednesday six max, but it was a bit of a car crash for me.
I lost most of my stack early raising J9 on the button and coming off second best to the big blind's 45 on a J9554 run out before getting my short stack in preflop with AK and was flopped (just about) dead by the button's J8 on a 79T board.
A decent run in the £150 PLO came to an abrupt end with two tables left in a way only I could find to get knocked out.
The big stack under the gun +1 was looking at what was going on on the other table and despite a mad dash, just didn't get back in time to stop his hand being killed. He had a look at it and flipped it to his neighbour and said "I'm glad you won't let me play that hand".
The guy to my right, who had three bet folded two of the previous three hands, three bet a weak player's open again. I had KQT8 double suited and decided he was steaming and we were deep enough for him to fold again. I four bet, he moved in, I had to call and he had me dead with KQJ8, flopping two jacks for good measure.
As the board ran out, the big stack said he had aces and would have had to raise, the guy who knocked me out obviously would have three bet again and I wouldn't have lost a chip, if only he was half a second quicker at running back to his seat!
Still, the atmosphere was building as the main event had already started that day.
There were some excellent travelling pros around, including online stars Rick Trigg (the Claimer), the defending champion, and the number one ranked online player in the world, Patrick Leonard (Pleno1).
What makes Blackpool special though is the locals, some of whom you only ever see at this leg of the tour (or any tour for that matter).
If it's not played in Blackpool they don't play!
Local legends like Simon Zach, Womble, Mick Fletcher, Nick Slade and of course the Magician, Howard Plant, who even treated us to some of his magic tricks on Saturday night to clear away the bust out blues!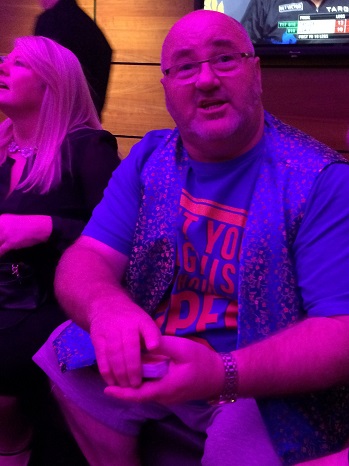 These guys make the tour what it is, and I was thrilled to read Pleno's blog detailing his reasoning for travelling to his first GUKPT, admitting it was one of the tournaments on his bucket list, perhaps even more so than the WPT.
He wrote: "I loved my entire experience at Blackpool, it was without doubt an incredibly soft tournament that I wouldn't feel bad about selling a 1.8 but the whole experience and atmosphere was great."
That's a pretty glowing recommendation from one of the best in the business!
Pleno was right too, with over 60 qualifiers from the casino, there was plenty of less experienced players and plenty of atmosphere in the tournament room and bar too. And of course with £29k added, more value than ever before!
I busted out of the Main Event in level three. I probably made a mistake to get down to 8000 chips early, peeling the second cold four bet I'd faced from Kev Steel (two time Sunday Million winner) and flopping top pair, getting in a bit of a mess and ending up folding the river.
However, I still felt pretty unlucky to get it all in preflop with AK v KQ to get back to around starting stack and forget that mistake, Mulla, who got me in the six max, getting me again, flopping a queen.
I went for a walk outside to cool down before deciding to re-enter.
I was drawn on just about the toughest table in the room.
Trigg was in every pot, Ben Jackson, who was second here a couple of years ago, was two to my left, and Alex Lindop, an online high stakes cash player, was chipped up to my right.
I didn't find any hands or spots, so was happy just to maintain my starting 20k stack and make it through to day two, which was starting at 400/800.
I liked my day two starting table, but we quickly broke and I was moved to the left of a chip monster who was in every pot.
With blinds now at 500/1k I knew I had to find a hand to stick it in over the top or him. A fellow short stack did just that, shoving 13k over the big stacks 2300 open, and was amazed he got called by KJ. His J4 was in bad shape, and I'm not sure he understood fold equity, or his lack of it, but he hit a 4 before he needed to worry about it.
Regular readers can therefore guess who knocked me out!
After more than an hour at this table I decided to open raise for the first time, finding KT of spades in the cut off.
I made it 2600, and was called by the button and the J4 guy in the big blind.
The window card was a beautiful queen of spades, and when the jack of diamonds and three of clubs joined it I knew with 16k back and 9k in the middle this was a hand I was betting and going with.
J4 guy checked, I noticed the button had his cards held ready to fold anyway and bet 6200. The button did indeed fold, but the big blind moved all in.
I obviously couldn't fold, and stuck the rest of my stack in.
He'd trapped me with…J2 offsuit. Wow.
He'd found maybe one of two hands I bet here and he beats (AK being the other) and avoided my 11 outs plus backdoors, toasty!
I made my way to the commentary box just in time to watch an amazing hand played by Pleno that saw him fold a full house on the river. If you get a chance, watch that hand and see how the best in the business get it done, I'll tweet a link once we've dug the hand out and cropped it!
There's definitely worse places to be stuck when you've busted than Blackpool, and with Strictly Come Dancing in town, we could go talent spotting too!
After commentating we had a few beers, but back at our hotel, where all the Strictly stars were staying, the bar was rocking with the good and the great. Didn't see any of them in the famous Ma Kelly's though!
We were not invited to the party, but on Sunday morning, as the crowds gathered outside, we had breakfast with all the dancers and stars.
I made a special effort to go and get another tea while Frankie from the Saturdays was there, and nearly simultaneously scalded myself and dribbled down my chin!
All of Sunday was spent in the commentary box with the Tower, and after a great final, and a fabulous week, it seemed apt that a local player, Justin Astley, took the Main Event crown, much to the vociferous delight of the watching crowd.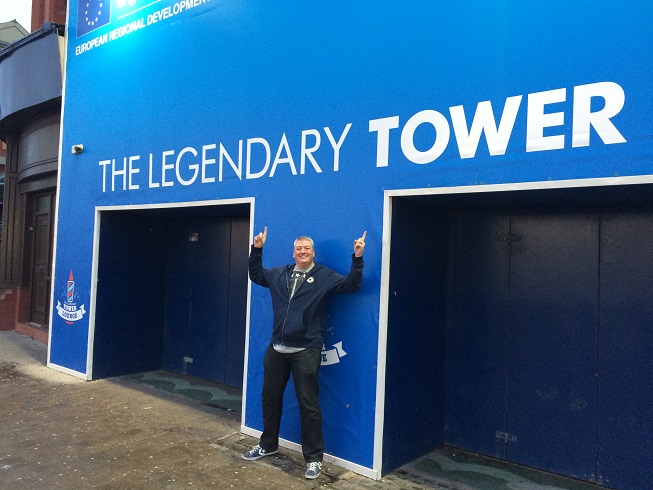 The Grand Final of the GUKPT starts this Sunday with the 10 seats guarantee satellite at the Vic. I'm looking forward to a week off before another week packed full of great value and fantastic fun events, culminating in the biggest date in the UK poker calendar, the £400k guaranteed £2k Grand Final.
Comments
comments