This year's UK Student Poker Championships got underway at the Ricoh Arena, Coventry and once again broke records!  This year 801 poker-loving students entered bright-eyed and bushy-tailed ready for the top student poker tour in the country (a whopping 80% more than last year's), all ready to play hard and potentially win some cash!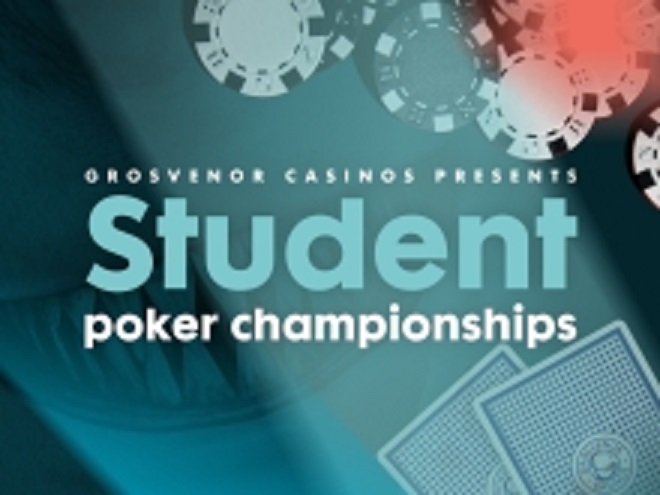 Champions of the Student Poker Tour don't just receive a pat on the back (and a wad of cash), they get a great opportunity to take a seat at some of the highest profile poker tournaments across the UK as a result of their win. The winner this year was University of Hull student Cillian Berragan, pocketing £6,190 in the Main Event, an additional £550 GUKPT entry, a £120 entry into Grosvenor's Goliath tournament, as well as the coveted UKSPC trophy.
Berragan's win came after a chip lead on the final day, taking him to the final table where he met University of Exeter student Peter Brankin and University of East Anglia's Will Jarman. Here they battled tooth and nail for four hours until Jarman lost out with his King Ten against Berragan's pocket Queens. It eventually came down to just Berragan and Brankin, and it wasn't until Berragan crushed his opponent with A7 and gained an impressive chip lead that the game was called officially over.
In addition to the cash prizes Grosvenor Casinos very generously gave each final table player a free buy-in to Grosvenor Casinos' £250,000 guaranteed event, Goliath, taking place this August at the Ricoh Arena.
You can find the full list of final table players and prizes below.
UKSPC 2015 Final Table Results
1st – £6,190 – Cillian Berragan – University of Hull
2nd – £4,280 – Peter Brankin – University of Exeter
3rd – £2,520 – Will Jarman – University of East Anglia
4th – £1,560 – James Charnley – University of Exeter
5th – £990 – Owen Davies – Leeds Beckett University
6th – £650 – Gerard Anderson – University of St Andrews
7th – £480 – Josh Davis – Bournemouth University
8th – £380 – Dan Welsford – University of Northampton
9th – £320 – Jack Le Frenais – Aberystwyth University
As always, the UKSPC has opened the doors for yet another thrilling Grosvenor poker event with the Goliath coming to the Ricoh Arena, Coventry on August 8th. It's sure to be a real tough set of competitors this year – all looking to clinch the coveted title as Goliath Champion.
You can qualify for the upcoming GUKPT, Goliath and 25/25 series by visiting the GUKPT site. All the information you need about the events can be found on the site too.
Comments
comments