Some of you that have been playing a while will remember the crazy poker explosion of the early and mid 2000's caused by the growth of online poker and poker on TV. Recent times have seen an amalgamation of brands online with many online rooms closing down – even some big name ones. It's not just the online poker market either, even some live tours have disappeared too.
There is one firm bucking that trend – Grosvenor Poker! Since its move from the troubled i-poker network grosvenorpoker.com has grown in just about every measurable way possible. The money, time and people invested is really paying off and many players who had stopped playing, or forgotten a bit about online poker, are coming back.
It's also a great feat that Grosvenor Poker live are also delivering record breaking events and bigger numbers for live festivals.
We recently played GUKPT Leeds which had a record entry of 308 players; the last GUKPT there in 2015 (in 2016 there was a flood) had 249 – nearly a 25% increase in the prize pool! Over 60 players qualified in online satellites.
Here's my 1st VLog about #Leeds #GUKPT Please like/comment/share😀 @GrosvenorPoker @MainEventTravel #Poker #KeepItFun https://t.co/dkPVEWdLYI pic.twitter.com/S9HARY6qJt

— Katie Swift (@SwiftlyNow) September 24, 2017
The 2017 Goliath in Coventry had a record breaking 6,385 entries; 2016 had 5,232 and 2015 4,192. There were record numbers of cash games at the Ricoh too and everything ran so seamlessly, the people working on the floor and in the background have certainly got this one right.
I have also been playing a few more of the side events at GUKPT festivals and I played my first ever Win The Button tournament in Leeds. As I don't play many pots I don't win many buttons- it's more important that the player two to your right is a nit too, or else you'll be paying the big blind over and over again. The player two to my left is always happy. It was a fun event and I managed to make the final table with fellow Grosvenor Pro Katie Swift (she was luckily (for her) sat two to my left haha) . We finished 5th and 6th.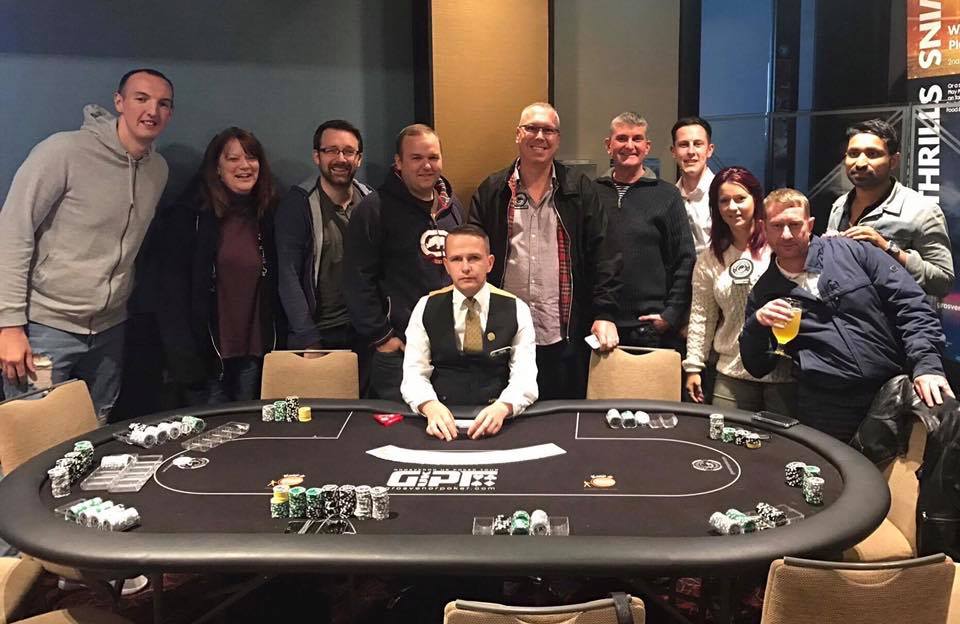 Grosvenor listen. We recently had a meeting about the side events at GUKPT festivals and how they could be improved. We canvassed player opinion and we even asked for feedback during live commentary on the GUKPT regarding this. We think we have come up with a few tweaks and improvements and I am quite excited by one of the ideas (well it was mine lol).
One other live success has been the amazing growth of the 25/25 series.
Grosvenor Casinos' 25/25 Series is the fastest growing poker tour in the country! And it's easy to see why all thanks to its affordable buy-in, extensive satellite offering, desirable structure and the fact it reaches more UK destinations than any other poker tour in the country!
25,000 chip stack and a £25,000 guarantee with a £200+£20 buy-in.
I counted 45 of these events on the 2017 schedule.
Grosvenor Poker online are coming together with the live 25/25 events and for Bolton, Cardiff and Leeds later this year they will be hosting online day 1s. This means you can comfortably qualify from your own home and might mean you play an event that otherwise would have been too great an expense.
On Mondays and Tuesdays they will now be guaranteeing 10 seats, with super satellites on grosvenorpoker.com. That is 20 x £220 seats GUARANTEED. There are sure to be overlays and these will be great value. Get involved.
Comments
comments