It's the final time this season we can say this – Gameweek 39 of Grosvenor Goals is open! Simply select the first goalscorer correctly in our 10 selected games, and you'll win £1M! Last week, we gave away a guaranteed cash prize of £5,000 to the player who selected the most first goalscorers. 
This week, there's a guaranteed cash prize on offer again to whoever picks the most correct goalscorers, with that person winning £5,000, and of course, if you select any three correctly, you win a £10 free bet. Fancy your chances? Entries close at 3:55PM SUNDAY JULY 26TH.
Below are this week's 10 selected fixtures for Grosvenor Goals, and we at Grosvenor Sport have made our predictions for the first goalscorer in each of the 10 selected fixtures.
Game 1: Chelsea vs. Wolves
Sunday, July 26th, 4PM
First Goalscorer Pick: Christian Pulisic
In a game with huge ramifications in the race for Champions League and Europa League football, Chelsea go into their game with Wolves knowing that only a win guarantees a spot in next year's Champions League. After coming off the bench to record a goal and assist in the 5-3 defeat at Liverpool on Wednesday, Christian Pulisic will be looking to end the season on a high.
Game 2: Arsenal vs. Watford
Sunday, July 26th, 4PM
First Goalscorer Pick: Alexandre Lacazette
Watford know that they'll need to better Aston Villa's result if they are to stay up this season, but a trip to Arsenal is going to be difficult for the caretaker duo of Graham Stack and Hayden Mullins. Arsenal, with an FA Cup Final place to look forward to, could secure a top eight finish with a win, and Lacazette will be eager to add to his 10 Premier League goals.
Game 3: Burnley vs. Brighton
Sunday, July 26th, 4PM
First Goalscorer Pick: Chris Wood
Brighton have secured their place in the Premier League for another season and have nothing on the line when they travel to Burnley on the final day, with Sean Dyche's side a point away from recording their highest-ever points tally in a Premier League season. Chris Wood has scored in his last two games for Burnley and will be hopeful of bagging again.
Game 4: Crystal Palace vs. Tottenham
Sunday, July 26th, 4PM
First Goalscorer Pick: Lucas Moura
Tottenham can still finish as high as sixth entering the final day which would be enough for a place in next season's Europa League, and Lucas Moura impressed in the win over Leicester last time out, providing two assists.
Game 5: Everton vs. Bournemouth
Sunday, July 26th, 4PM
First Goalscorer Pick: Richarlison
Bournemouth need a win at Everton with results elsewhere going their way if they are to beat the drop this season, but the Toffees will be keen to end the season on a positive note, with top scorer Richarlison, who has netted in three of his last six games including the winner last time out, eager to find the net once again.
Game 6: Leicester vs. Manchester United
Sunday, July 26th, 4PM
First Goalscorer Pick: Anthony Martial
In a true winner takes all game, a spot in the Champions League is on the line when these teams meet on the final day. While only a win will do for Leicester, United can scrape through with a draw, and they are unbeaten in the Premier League since January, helped largely by the goals of Anthony Martial through the middle.
Game 7: Manchester City vs. Norwich
Sunday, July 26th, 4PM
First Goalscorer Pick: Gabriel Jesus
Manchester City have been steam-rolling teams in the Premier League post-Lockdown, winning six games by a margin of 3-0 or greater, and will be looking to pile up the score on an already relegated Norwich side who have one of the league's worst defensive records. Gabriel Jesus has opened the scoring for City on seven occasions this season in the Premier League – more than any other player.
Game 8: Newcastle vs. Liverpool
Sunday, July 26th, 4PM
First Goalscorer Pick: Roberto Firmino
Liverpool were awarded the Premier League trophy on Wednesday night, and who knows what sort of hangover there will be heading into the final day. Roberto Firmino scored his first Premier League goal of the season at Anfield last time out and will be confident of adding to his seasons tally at St. James' Park.
Game 9: Southampton vs. Sheffield United
Sunday, July 26th, 4PM
First Goalscorer Pick: Danny Ings
The only man out there who can realistically deny Jamie Vardy of the Golden Boot is Danny Ings. Ings' 21 goals so far this season puts him second, two behind Vardy in the league and Ings will be having sleepless nights about his missed penalty in their win over Bournemouth last time out. Regardless, Ings will look to cap of his finest season of his career with a goal against a SheffIeld United side who can't finish any higher than eighth.
Game 9: West Ham vs. Aston Vila
Sunday, July 26th, 4PM
First Goalscorer Pick: Michail Antonio
Aston Villa's shock win over Arsenal saw them move out of the relegation zone entering the final day courtesy of Manchester City's dispatching of Watford. Safe as it stands by one goal, Aston Villa know that they must equal or better Watford's result to say up – providing Bournemouth fail to win as well – but it's hard to look past a West Ham side who have only suffered one defeat in their last six, with Michail Antonio having scored eight goals post-Lockdown, more than any other player.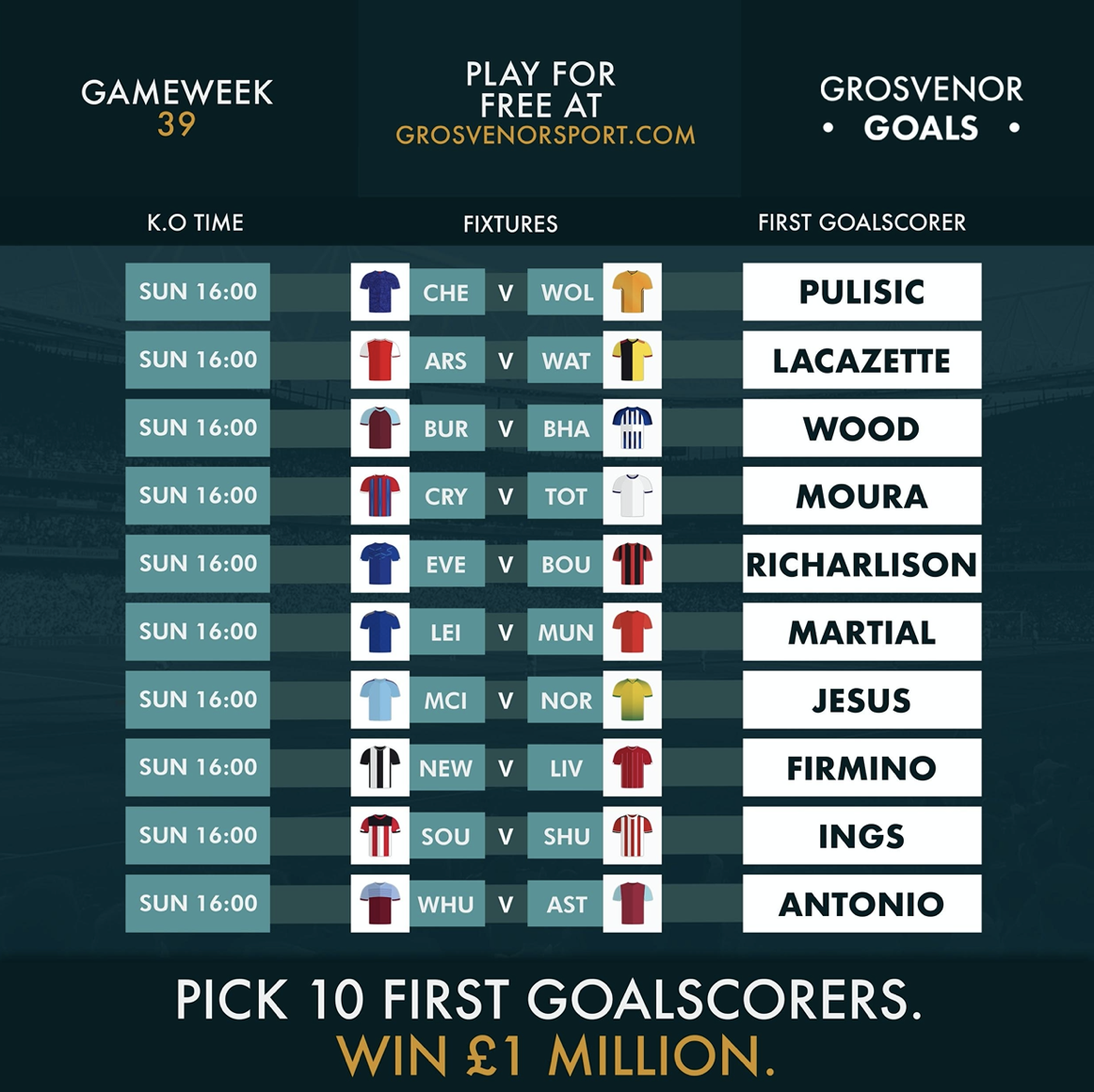 Here's a look at our first goalscorer picks. How do you feel about our Grosvenor Goals selections this week, and who are you picking to be your 10 first goalscorers? There's a GUARANTEED £5,000 to be won on this week's games for the player who picks the most first goalscorers in the selected games, and a £1M jackpot if you get all 10 correct, so make sure you get your entries in. It's free to play and the deadline for entries is 3:55PM SUNDAY JULY 26TH.
Comments
comments