"You wouldn't want to be stuck behind Andy in a post office queue" – Joe Beevers
Most of my life has been spent stuck behind a computer screen. Ten years ago I had a decent career as a computer programmer. I've always liked card games, but I barely knew the rules of poker. My interest in the game was piqued by watching the late night poker shows on TV, featuring now household name Vicky Coren, and the late Dave 'Devilfish' Ulliot.
One of the players I distinctly remember watching on TV was Joe Beevers, so it's surreal now to hear him commentating (favourably) on my play.
Praise is nice, but I'm more comfortable quoting somebody poking fun at me. Taking flak can be rather entertaining, and I confess having always derived a degree of amusement from sharing edited highlights of online punters' chat-box tirades with my friends.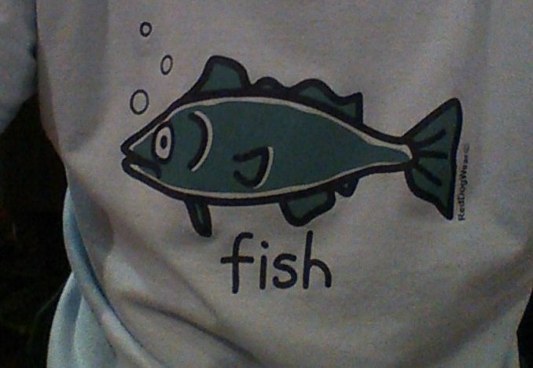 Flak Attack
Often the more scathing remarks come from poker players who aren't as good as they think they are. Here are two bona fide nuggets of unsolicited criticism I've drawn recently, face-to-face at the felt:
From a guy who harbours the belief you should never, EVER bet into a dry side pot—"I thought you were a good player until you did that."
From a man who peeled 6-5 suited in the cutoff from his 10bb stack, jammed for less than pot on an A54 flop when I checked to him, and was eliminated when I called with A2—"I thought you were good enough to fold that hand."
Mild snideness aside, most poker players are relatively civil when not hiding behind their computer keyboards. Online is another matter—at least, I've yet to be told to "stfu snaggle tooth retard UK rat c***sucker" at the casino.
Joe is right, I am a bit slow. Even online, where pot and stack sizes are clearly indicated as numbers, I'm not the quickest decision-maker—I don't play nearly so many simultaneous tables as the newer generation of twenty-something pro grinders, and even so, I frequently obliterate my time-banks.
Computer programming and poker aren't a world apart, and both are good fits for my personality. They require logical deduction, patience, discipline. However when you're a software developer, nobody stands behind you with a stopwatch and tells you to iron out a computer bug in the next 90 seconds, or else you will have your wage docked!
I'm a bit slow, but I do get there in the end. And fittingly this is also how my quest for a major tournament title seems to have unfolded. After eight years of grind, I finally got there.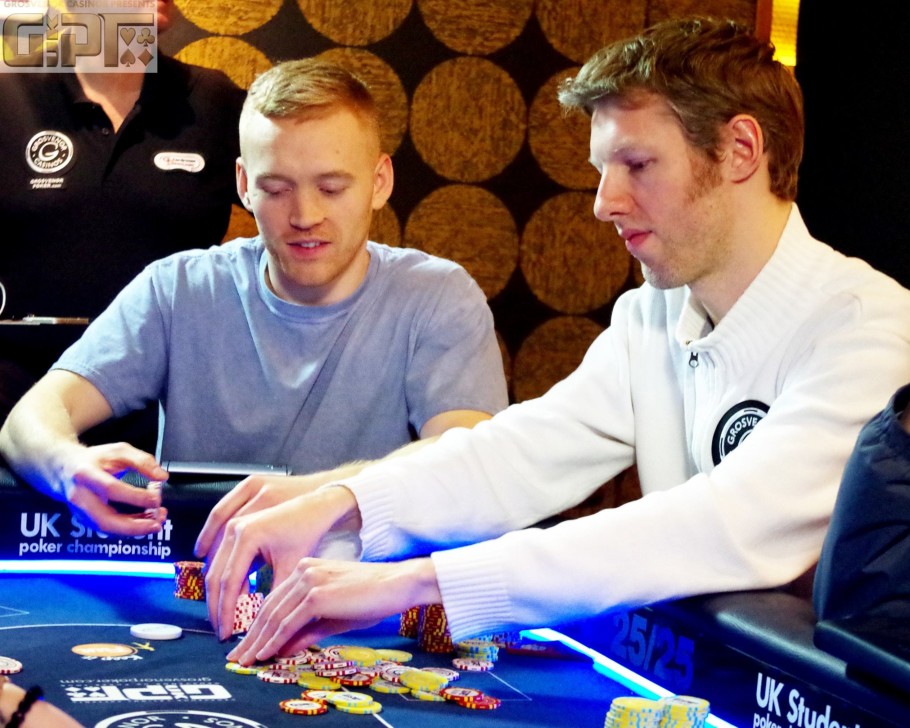 Study Buddies
I was just a donkey when I started out playing micro-stakes cash and SNGs online, but I bought some introductory strategy books and tried to figure out the correct thing to do in each situation. A turning point was when I started dabbling in multi-table tournaments (MTTs). The standard of play back in 2008 was woeful by modern standards, and when I had a crack at playing online MTTs full-time (just a few tables at once) I made a profit almost every month—a decent regular income, not life-changing, but comparable to my previous wage as a software developer.
I soon made my first poker buddy, a Glaswegian called Marco who voluntarily gave me some tournament tips in the chat box, and we would end up regularly discussing poker situations online via Messenger. (I would finally meet Marco in the USA in 2011, after we both won Las Vegas packages through online qualifiers.)
In 2011 I started working with Allan Peers, who to this day is my main study partner, and has become a close friend. Al and I travel to live events together, rail one another online, and talk about hands day-in-day-out. He's an incredibly accomplished and hard-working poker player. He's also my biggest fan! At times, Al has had even more belief in my potential than I do. A support network is hugely beneficial when you grind poker tournaments, as the variance can be so punishing and the downswings can truly test your confidence and morale.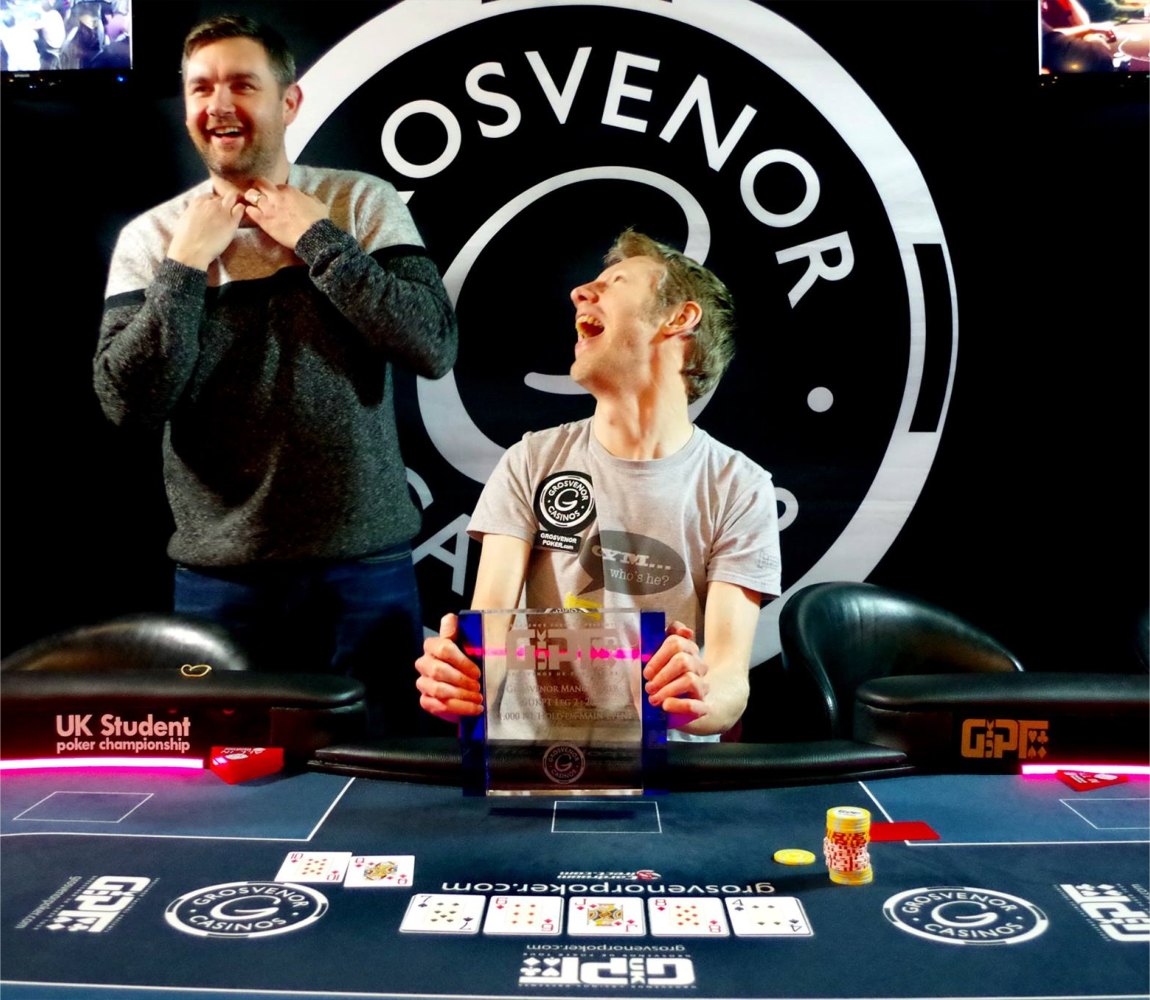 Both Al, and my friend Laura, came to the Manchester G Casino to rail me for day three of the GUKPT Main Event. Along with fellow pro Lee Taylor, they have shared many of my poker highs and lows over the years. Even though I've played 20,000+ tournaments and proven myself a steady winner, I'd never managed to win what I would consider a major tournament title.
Several years ago I finished 3rd in a tough online six-max for $17,500 USD, and in 2016 surpassed that score by winning a Grosvenor "25/25 Series" comp for £15,500 GBP. But I've always been an also-ran in the big Sunday games online, and when I compete in a major live tournament festival, I'll sometimes win a side event but generally brick the main event, or cash for an amount that isn't going to pay the bills.
You find yourself questioning: am I doing something wrong? Missing a trick perhaps? Am I having too many blow-ups? Am I not handling the pressure well in the bigger competitions?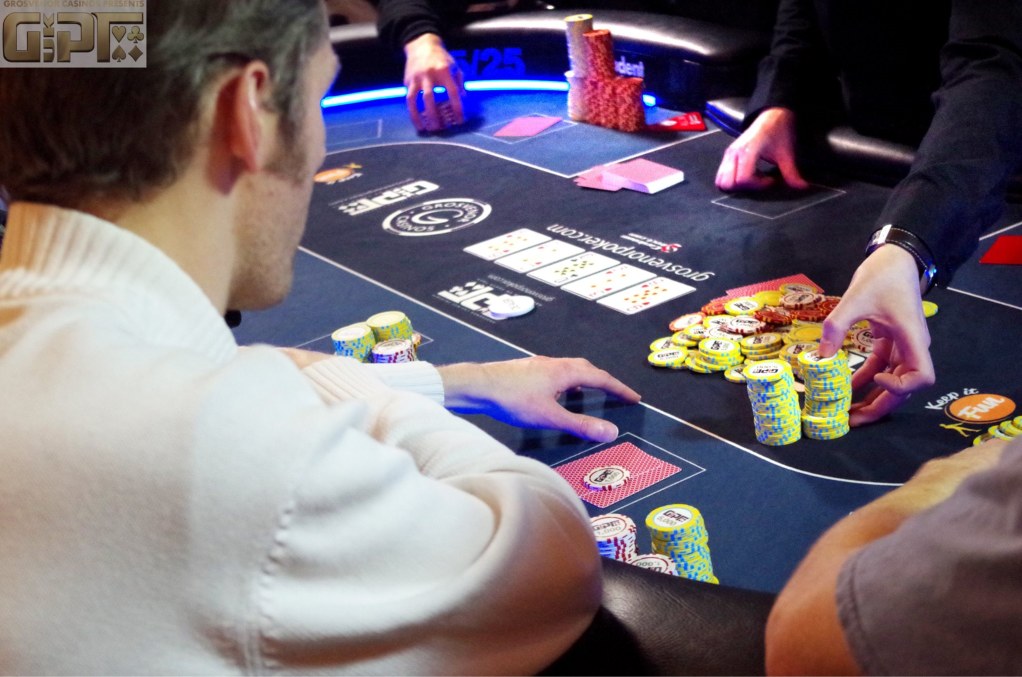 Under Pressure
Allan gets even more nervous than me—for years now he's been anxious for me to win something like this. It's said that "insanity is doing the same thing over and over again and expecting different results" so I guess you have to be slightly insane to grind poker tournaments. It's one thing to be intellectually aware of the nature of tournament variance, but another to immunise yourself from it emotionally. It's easier said than done to avoid any feelings of self-doubt (when you know you made mistakes) or entitlement (when you believe you played well) each time you finish 6th, or 9th, or 11th in a big game.
We can reframe this. Firstly, the sample size of the results we're talking about is not great: I've played thousands of smaller tournaments, but far fewer large tournaments. Further, I have no illusions that the outcome of any one given tournament—even a biggie—does, or should, validate one's ability as a poker player. Consistency is king.
Nevertheless, for a while now this has felt like a gap on my poker résumé; a monkey on my back.
I had a lot of support at Manchester from friends and family on the virtual rail, watching the feature table live on the internet. My parents are immensely supportive of what I do, though my mum says spectating the bigger games is nerve-wracking. It was touching to be swamped with good luck wishes via Twitter and Facebook, including from several people I've not met in person but who have 'followed' and rooted for me for a number of years.
I hope this helps to convey how badly I wanted to win that title and trophy, for myself, and for my rail…

My next live event will be GUKPT Walsall which kicks off on Sunday 23rd April, the £550 Main Event commencing on Thursday 27th April.
Comments
comments