Goliath 2017 is over but after 11 days of records broken, huge fields, poker fun and frolics, it will live long in the memory.
Elliott Marais was the lucky man to spin his £120 entry into the first prize of more than £85k, but a superb week of poker left everyone feeling like winners.
We knew something special was happening when the special supersized 25/50 got underway on day 1 of the 11-day Goliath Festival and the numbers were huge.
The 25/50's £50k guarantee was smashed, with over 500 runners in total boosting the prizepool to over £120k.
Team Grosvenor descended on the Ricoh Arena for day 1A of the 25/50 and after a good start I ended up somewhat crawling through to day 2 with 15bb. I was joined in day 2 by both Katie Swift and Joe Beevers, and while both of them made the money, I came up just short.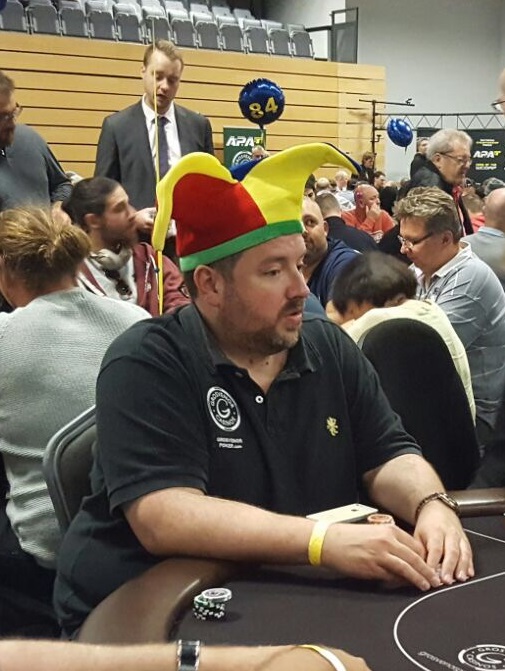 It was only afterwards I realised I'd not had a hand better than jacks in the whole day and a half I played (when I had them I flopped top set, my only set in the whole comp, and got it in against a slow-played pair of kings, only to see the board run out J879T to split the pot), I hadn't had AK once and generally I'd had to get by with absolutely no cards before bowing out shoving 11bb with AQ and losing the race to pocket threes.
Afterall that time without any cards, I decided to take the positives. I hadn't really had a chance at the £30k first prize but surely I wouldn't be so card dead again, onwards and upwards!
As the first weekend arrived it became obvious just how much Goliath has grabbed the imagination of the UK – and further afield – poker community.
Numbers were huge, 882 took their seats on day 1A compared to 657 in 2016, up 34% (225) as all those who do all the planning behind the scenes, led by Ian Bryan, were able to sit back and enjoy the fruits of their hard work that had included countless meetings and problem solving.
Better than Vegas?
We have world class dealers – believe me, after seven weeks in Vegas these guys leave their American counterparts for dead – a fine team of tournament directors, including our GUKPT regulars Janis, Dena, Raj and Mike, and a fantastic location with palm trees and a waterfall that looks so good some people try and jump in after a beer!
The tournament room, akin to the Amazon Room at the Rio Hotel, site of the WSOP, looked even more spectacular this year, with the feature table centrally located, raised on a stage and surrounded by big screens looking amazing.
I joined the day 1A players and actually spun up quite a stack. I'd started aggressively, but all three times I'd 3bet in the early levels I'd either shown down rubbish or folded to 4bets. It therefore felt a bit unlucky for George, the player two to my right who had twice folded sets and once an overpair, all correctly, when he got caught in the crossfire of another pot which really got me going.
George, one of the players I'd 3bet previously and folded to a 4bet, opened again at 200/400 and I 3bet him. The player in the big blind, probably aware that I'd been in plenty of pots, shoved his 20k in with AQ and left George, with about the same 30k stack as me, with a decision.
He thought forever but eventually called with QQ, got the bad news I had KK and after a clean run out I was up to 80k.
I was already feeling like I was going to make day 2 at the first attempt, and wondering what I would do rather than play the other six day ones, when it all went a bit wrong.
Accidents happen
Of course the accident happened against the only player at the table who had my 110k stack covered.
At 800/1600 I made it 4k to play and only the big stack, who was on the big blind called. The flop of K94 with two clubs was okay for my QTo holding, but when I c-bet 4k, the big blind check-raised to 9k.
With a draw to the nuts I made the easy call, and my hand improved further when the ace of clubs brought a third club, and gave me the nut flush draw, on the turn.
The big blind checked and I decided that I could bet here to both build a pot with two nut draws in case I hit, and also in the knowledge that if my opponent had top pair on the flop, he'd struggle to call both turn and river if I could find a couple of barrels.
I bet 10k and he quickly called.
The river was the 4c, bringing four clubs on the board, and my opponent led out 28k. I had around 50 total and figured I might get a crying call from a worse flush, so shoved for the extra. He called with his pocket nines which had rivered nines full, and I was out of there. From penthouse to outhouse in one short hand!
Commentary kings (and Queens)
I went to join Katie in commentary, something we'd do a lot of through the week as the excellent media team of Phil the Tower, PK, Mikey and Dave, led as ever by Andy Booth, put on a great show throughout the week.
Grosvenor had asked their pros to help out with some expert analysis and chat with the live stream running 13 hours a day for nine straight days, and me and Katie especially took the chance to get in there and help out the team.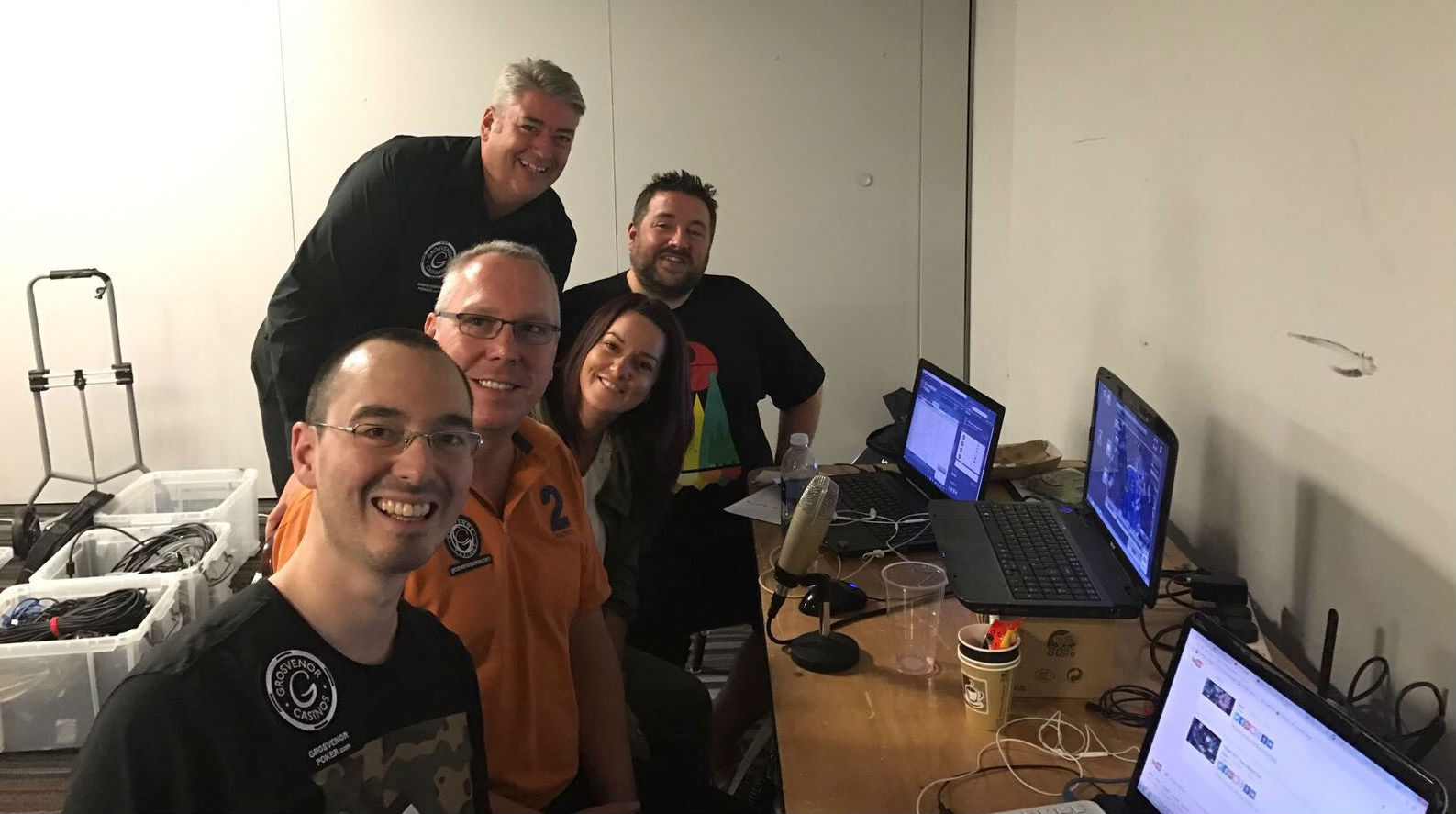 With Sunday day two of the 25/50, and Monday a day of mostly commentary as the team needed us, we didn't get to play the Goliath again until Tuesday.
Goliath grows
Numbers had been through the roof each day – Sunday's day 1B up 27% or 147 (550 to 697), Monday's day 1C up 56% (233 rise – 417 to 650) and we joined Tuesday's day 1D up 23% (119 rise – 507 to 626). This trend went on through the week, with Wednesday's day 1E up 47% (265 rise – 562 to 827), Thursday's day 1F up 7% (78 rise – 1082 to 1160) and Friday's day 1G up 6% (86 rise – 1457 to 1543).
In all 6,385 players took part, up 22% or 1153 from last year's 5,232, making Goliath 2017 the biggest live poker tournament held outside of Las Vegas!
Fortunately Tuesday was my second and final bullet, a great day's poker seeing me get through with a lovely stack of 308k.
I'd found a seating position you only find in Goliath, sat in between a WSOP bracelet holder and a professional boxer!
Boxing Clever
Lawrence Gosney won $483k for taking down a $2k entry WSOP tournament in 2005, while Christos Ioannou is 3-0 in his fledgling pro boxing career that should have seen him on the Joshua v Klitschko undercard but for injury. It takes all sorts!
Lawrence lasted just one hand, though he was in a big cash game so didn't seem like he was too fussed, getting it in with two pairs on the turn only to get rivered.
Christos was a tougher proposition, but he was another who got caught in crossfire!
A new guy, who I later found out was called Rory, had moved to our table with 100k and been in every pot and quickly became my target to pick up chips.
I played one hand where I raised under the gun with pocket jacks, received calls from the new guy and one other as well as the big blind.
A flop of 932 with two hearts seems safe, so when the big blind led out 3k (it turns out with 72hh for a pair and a flush draw), I made it 8,500 only to see the new player all in for over 100k!
We all passed and he claimed he had an overpair and was happy to get it in, oh to have flopped a set there!
He made a few other really big moves as dinner approached before we played the big pot that saw Christos depart.
He made a small raise in early position and with us sat so deep, I decided to 3bet 77 on the button. Christos came along, as did Rory.
A flop of 762 was what dreams are made of. Rory led out for 600, a min bet into the 8k pot, and I raised to 5k. Christos quickly made it 20k with 40-odd back, and Rory got out of the way.
I moved all in and though he hated it, Christos really had to call having raised the flop with 99 and he was knocked out, though only at the poker table, never yet in the boxing ring, and let's hope that continues.
With 150k at dinner and going back to 400/800I had dinner with Katie and her family and mentioned to her husband Dean that even though I have 150k and a lovely stack, I'll either finish on 400k or 0 given the way this guy is playing on my table and how in play his big stack is! I was determined to go after the big stack, get in a lot of pots with the other big stack and try and build plenty of chips to take me on a deep run.
Within a level of dinner, my chance came.
Make the nuts and get paid
Rory raised to 3,500 in early position and I called the small blind with 89o. It's not a call I'd make from this position as a rule, but the chance to get into pots and potentially get the full double up made this correct in my book, something I'm amazed some online players questioned when this hand was later shared online.
Generically saying 89 offsuit isn't a defend in the small blind in a vacuum without ever considering any other circumstances and the history at the table is naive to say the least.
But each to their own, I decided to play a pot here, and flopped the up and down straight draw on 267.
As expected, Rory c-bet and I can only check-call here as he hadn't been a player to bet and give up to raises.
I turned the gin card, an offsuit 5 to give me the nuts, and again I felt checking was the right move. Some players will check for pot control, but Rory had shown a tendency to keep on barrelling and act quickly and possibly regret later.
I quickly check-raised 18k to 46k and he snap called. With two black flush draws out there, I thought in my mind 'a red king would be perfect' and what should hit the river but a red king.
Again I didn't want to slow the action and give my opponent any chance to consider his action or my ranges. I moved all in and as it happened the king had given Rory's K6 two pairs. He snap called again, I got the full double up to over 300k and everything was very rosy.
My new Grosvenor teammate Will Kassouf moved one to my right, and after he'd tried to sell everyone a t-shirt and say 'Like a Boss' in 16 different languages, I got on with the task in hand of taking his chips.
When the last level started at 2k/4k, and Will had long gone, I had over 400k and was intent on getting past half a million, but I got rivered in two small pots and then two hands from the end called the cutoff's 80k all in with AJ, he had A8 but hit an 8 to knock me down to 308k. Little did I know but I'd won my last hand of the whole tournament in level 15 on day 1!
One Wild Event
With a couple of days off I had the Joker is Wild side event to look forward to, as well as more time in the booth!
This side event is great value, with £2,000 added by Grosvenor, half for high hands and half in the form of bounties.
The Grosvenor pros – me, Katie, Joe and Will were joined by Grosvenor Online's Tom as random bounties. We didn't know whether we'd be worth the best prize, a £550 GUKPT seat, or the worst, as I was last year, a Bounty chocolate bar.
As it turned out, I was last man standing of the bounties and by then we knew I was worth the top prize, a £550 seat, and was therefore a marked man!
I was moving tables regularly and knew when I got to my new table with about 15 or 20bb and a big stacked Joey Townsend to my left as soon as I put a chip in he would isolate for the lot, but it just meant I had to play tight.
Emma, one of our Grosvenor Vegas qualifiers was on the table and I thought when I picked up QQ after her UTG raise she might have the hand to take me (and Joey, who instantly shoved blind) on, but she eventually folded.
I showed my hand, Joey revealed his hand one at a time saying 'Please give me an overcard, just a king will do' and sure enough he found K5o and hit a king to take the bounty.
To say day 2 of Goliath didn't go to plan is an understatement. It's a funny day, with the bubble due to burst just a couple of levels in.
I started off trying to bully short stacks but it just didn't really work out. I didn't have any hands, raise and folded to 3bets three times and then lost a massive pot against one of Team Mushroom.
He raised in mid position, I peeled A7ss in the cutoff and the button annoyingly came along too.
It came J65 with the 56 of spades and I decided now was the time to use the big stack and put my opponents, who were both shorter than me, under pressure.
Team Mushroom c-bet 18k and I raised to 51k. He didn't take long to move all in for 100k more with AJo, I called and missed my outs to lose more than half my stack.
With that, it was just a matter of making sure I made the money before gambling, and when I did, the blinds were up to 5k/10k after a long bubble.
I shoved my 90k in with 77, was called by AQdd and got as far as the river before a third diamond gave my opponent a flush and send me out for a min cash. Not what I'd hoped for but I was more annoyed that I was out and I couldn't play any more, I love Goliath so much!
Cash action
There was cash action galore, nearly 40 tables at one stage, but I headed to the commentary box and mucked in with the team.
I really enjoyed the final, loving the battle between the aggressive Levan Reid and the cool and composed Tai Hoang, but it was Scunthorpe brickie Elliott who came through to take top prize….nearly £86k for a £120 entry!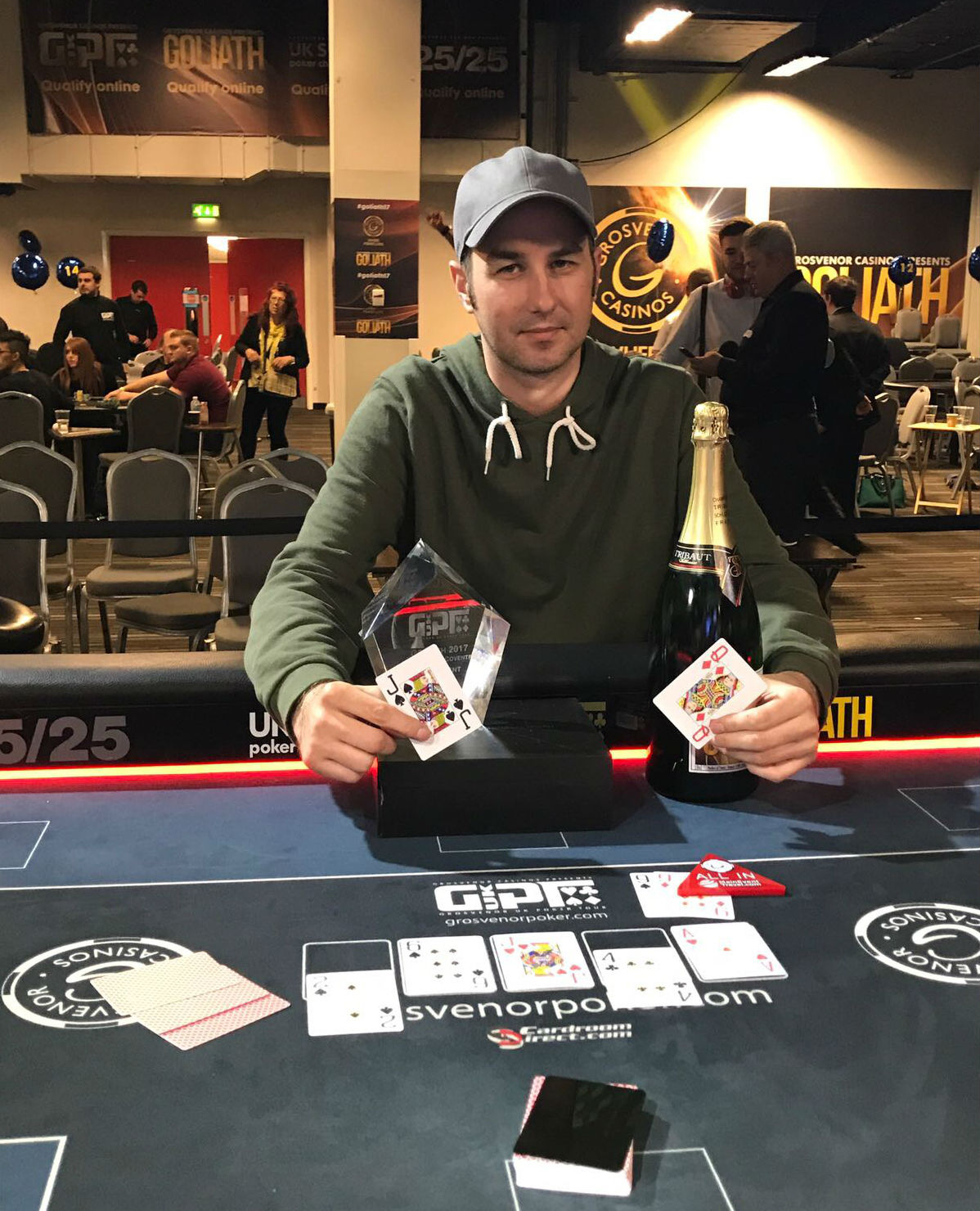 I mentioned earlier the amount of planning that goes into putting on the Goliath Festival by the team led by Ian Bryan.
Well they've already announced the dates for Goliath 2018, July 26 to August 5, and the first planning meeting is scheduled for next week!
It's not easy putting on the best low stakes tournament in the world, breaking records and making everything go so smooth. They just make it look it!
Comments
comments