"Huge", "enormous", "massive" are all words that spring to mind when you hear the word "Goliath". It's a word that resonates with poker players in the UK and further afield. The feeling of magnitude, accompanied with a buzz of excited anticipation and the impending possibility of topping such monstrous proportions. That's exactly the impact the Grosvenor Poker's flagship Goliath tournament generates when it arrives each summer. It's certainly not set to disappoint this year either, with a gigantic £100,000 guaranteed top prize, plus it could again break its own record for being the largest live poker tournament held in the world (outside of Las Vegas). It's a dream tournament for all players, recreational, newbies and pros alike. It mimics the WSOP Main Event, but with a much more affordable buy in, making it one not to be missed.
I'm pretty sure the majority of people have heard of the famous story of David and Goliath; where a normal man takes on, and somewhat surprisingly, successfully overcomes the incredibly large super beast. Strength alone wouldn't have been enough to conquer Goliath. Skill, intelligence, stamina, determination and belief all played a part in the victory. Mirroring these same qualities will be required by the eventual winner of #Goliath18 no doubt.
Tips to tackle the beast
So, how do you tackle such a large event that attracts a colossal field?
In 2015, during my first ever experience of Goliath, I almost achieved the ultimate. I was pipped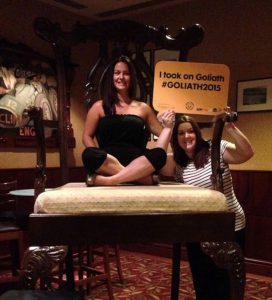 to the post by the talented Miikka Toikka who beat Goliath and claimed the title, trophy and top prize of £70,000. However overcoming 4,209 players to finish 2nd, was no mean feat and didn't feel like a failure in the slightest. I was totally delighted and mega proud of my accomplishment. Although, in total honesty, it wasn't until the following year, walking through those big doors into the main hall on one of the day 1s that the reality of what I had achieved hit me. It was huge!
Since my initial 2nd place result, I have cashed every year I've played – a 100% record that I hope stays in tact this summer. Coincidence? Luck? Possibly in parts, but I like to think there is an element of skill, careful planning and strategy too. So here are my top tips for tackling Goliath:
Qualify online at grosvenorpoker.com cheaper. Getting into a tourney for a fraction of the price, not only takes the pressure off, but it also makes a min cash amount much more valuable. Remember you can qualify multiple times and have several tickets as it is an unlimited re-entry tournament. These tickets don't expire and can easily be transferred to other players.
Register early. Especially if you can only play one of the later day 1s, on the Thursday or Friday. Numbers increase as the week proceeds, meaning longer registration queues and alternate lists. Registration is already open online and at all Grosvenor Casinos across the country, so best to get in now. Planning in advance is key to being relaxed on the day.
Don't be put off by alternate lists. If you do find yourself on an alternate list, please don't let it put you off. The year that I came 2nd, I was actually on a long alternate list for the very last day 1 flight, only taking my seat a couple of hours after late registration had actually closed. Proving that you can still go (almost) all the way if you do jump in late or find yourself on an alternate list and starting later than you would ideally like.
Arrive early, spend some time in the main hall and observe the scene before actually playing. Maybe travel a day or two before you intend to play so you can absorb the atmosphere and excitement. When you eventually sit down to play your Goliath you'll be ready and more aware of levels, times, the large fiend of players and the expectations.
Play side events. It's a good to get a feel for players, chips, rules, format and even the room and lighting. Playing a smaller event before the main event is always a top tip of mine. It really settles both the nerves and excitement simultaneously. The side events are fantastic ice breakers and the schedule this year is amazing, with new editions "Women's Championship" and the "Seniors Championship" events joining the popular 25/50, tag team, PLO and High Roller to name a few of the favourites. It really is a fabulous festival week of poker to suit everyone.
Play your "A" Game
Don't rush. It's all too easy to sit down and want to start the action swiftly. However it's best to get a feel for your table first to work out the players. The Goliath has a decent structure, with a 40 minute level clock duration. Spending the first orbit or two prepares a good solid foundation for later plays. It's a far better investment to skip an early orbit at the cost of the lowest price blinds, build a good table image and then win higher value blinds later.
Respect your chip stack. It's so easy to get sucked into playing splashy and loose, especially if you have additional tickets you have won and can use. It's easy to leak chips but harder to recover, so protect your stack and respect the value those chips hold, they are your only ammunition to scooping the £100,000 top prize.
Focus on your table and forget the rest of the room. This may seem hard initially with the atmosphere buzzing, the sheer volume of chips being riffled, the vision of the raised feature table stage set in the centre, not to mention the noise of people in one hall. It's important to not let it overwhelm you or alter your normal poker emotional balance. Perhaps spend some time in the main hall earlier, to absorb the scene, before playing and to adjust. Music can also help, which is what I opt for in just one ear, so I can also follow the action of the table and hear what's going on.
Focus, concentration and stamina. In such a friendly environment it's easy to socialise and be at ease, which is brilliant. Always keep an eye on that top prize though and concentrate on the game too. Far better to celebrate after bagging, cashing or winning!
Look for information even when you're not involved in the pot as it may help you with key decisions later when you are involved in a big hand. It's so easy to be distracted, but tracking the game is extremely wise.
Bubble time. Goliath is slightly unique when it comes to the bubble due to the super large field. There are so many tables still playing as the bubble approaches that "hand-for-hand" play usually commences a few players before the official bubble. This is to encourage fair play and prevent players slow playing hands. Try to be aware of some statistics before the bubble approaches. You are likely to receive less hands per level during "hand-for-hand" play, meaning your stack will effectively be worth less quicker. Forward thinking this can be the difference to min cashing or cashing super deep and reaching that dream final table.
Take your time in the limelight
Feature Table. If you're selected to sit on the feature table, don't worry or change your game. Feature table sessions change every couple of hours, unless you have reached the final table! Utilise the session the check your reads and hand ranges for players, but don't rely on it solely. Trust your gut and ability. It's worth viewing some live stream recordings from previous feature tables from the GUKPT that the team at cardroomdirect.com supply. You'll feel more at ease when playing on it.
Remain balanced. By this I mean try not to tilt. Go in with realistic expectations. You will lose a hand – fact. Its likely you'll have a bad beat, but it's how you deal with it that is important. Rebalance, refocus and remain calm to rebuild your stack. Switching gears and managing varying stack sizes, cards, players and being aware of the tournament position, is paramount to success.
Goliath 2018 will be unmissable!
Have fun! Something I always say to my Son is to "have fun!".  I sincerely believe that if you enjoy something then you're halfway there to success. Be positive and smile. There's only one GOLIATH 2018 – enjoy it, be a part of it even if you can't beat it!
Don't miss it!  If you haven't already planned to play, get it in your diaries. You can't win it if you're not in it!
See you from the 26th July, where I will be aiming to go one better than my personal best! 😊
Comments
comments