As the sun began to set on a glorious Sunday evening, so too did the second Grosvenor Championship of Online Poker draw to a close. A Sunday teeming with value, bulging with big bucks and brimming with expectation as the final four GCOOP events took place. By the end of the night we had our Main Event winners each taking home whopping payouts, our sponsored pro leaderboard winner and of course our three GCOOP: Road to Vegas £3,500 #TeamGrosvenor Vegas Package Winners!
GCOOP Main Event Lo £10,000 GTD, £30 Buy-in
The GCOOP main events had monster boosted prizepools, and as if that wasn't incentive enough to give them a go, they were also worth double leaderboard points. 175 players took to the virtual felt for the GCOOP Lo main event. Resident sponsored pro Jeff 'JaffaGUKPTCake' Kimber managed to make the final table but couldn't find enough love from the poker gods to take him further than 5th.
5th in #GCOOP Lo Main event and 5th in #GCOOP £30r, out button v blinds shoving on me in both, ATdd v K8cc in Main to go 1st of 4 left, 8 on river, AK v A2 in rebuy to go 2 of 4,, AA2xx board. Ugly ends to nice runs

— Jeff Kimber (@jeffkimberpoker) 6 May 2018
Well played to 'LickaLilly', the eventual winner who took home a colossal £2,825 for their £30 buy-in! 'HugeMyth' came 2nd, adding 240 valuable points to their leaderboard total.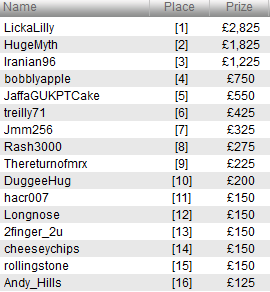 GCOOP Main Event Hi £30,000 GTD, £110 Buy-in
The flagship tournament of the Grosvenor Championship of Online Poker, the Main Event Hi, saw 176 hopefuls competing for their share of the bolstered £30,000 prizepool. There was a huge amount of value for all participating players as the chunky overlay proffered free money for the winners. Two of grosvenorpoker.com's very own pros reached the final two tables with Andy Hills finishing 12th and Joe Beevers bubbling the final table in 9th. All of the top 6 took home more than a grand for their efforts but it was 'qwertyuiop124' that championed the field winning the top prize of £8,475!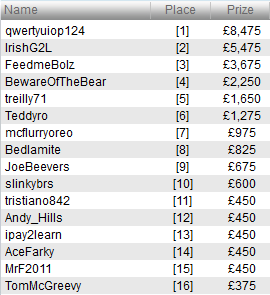 On top of the mammoth GCOOP prizepools, Grosvenor poker guaranteed over £10,000 in added value to the tournament series in the form of three £3,500 Las Vegas packages. The 3 players that topped the GCOOP Road To Vegas Leaderboard will all be joining #TeamGrosvenor in sunny Las Vegas for a week of poker and fun this June! The packages include 7 nights stay at the Linq hotel perfectly located on the Vegas strip, $1,500 entry to the Millionaire Maker at the World Series of Poker where 1st place is guaranteed to win at least $1million and a whole of other activities. The GCOOP package winners will be joining their fellow Grosvenor poker players that won their tickets through the Road To Vegas satellites, as well as the entire Grosvenor poker sponsored pro roster and the Grosvenor Poker online team.
It was extremely close at the top of the leaderboard. Just 20 crucial points stood between 4th place and a £3,500 Vegas package! Well played but commiserations to 'bigleague' on a heroic GCOOP performance falling agonisingly short of the top 3 places.
Congratulations to our winners 'HugeMyth', 'Eclipse101' and 'Hollie1990'! We look forward to taking on Sin City with you all this summer!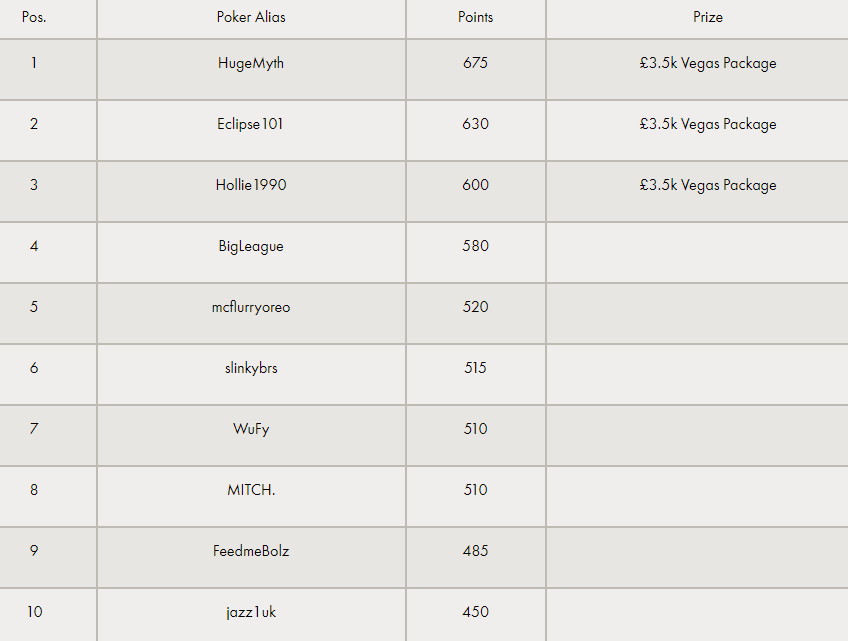 GCOOP Sponsored Pro Leaderboard
Our sponsored pros were all in friendly yet fierce competition throughout GCOOP, hoping to top the leaderboard both for the bragging rights and to reward those players that had supported them in the Back Your Pro holding tanks. To make it an even playing field, only the top 5 scores form each pro counted towards their leaderboard total.
Rick Trigg took an early and seemingly insurmountable lead in the early stages of GCOOP, hitting 3 final tables in 2 days. However, reigning GCOOP pro champion Andy Hills rose to the challenge. Despite missing the first 7 tournaments while on international travel, Andy came back in fiery form, making deep run after deep run. Andy managed two 2nd place finishes in 2 days and built a huge points total on that foundation. Congratulations to the 41 players in the #TeamHills BackYour Pro tournament. You'll all be playing the £1,000 freeroll on 13th May, 8pm!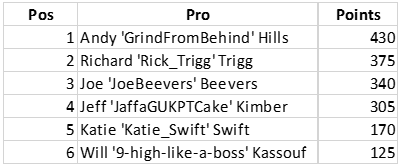 Thank you to all 798 players that took part in the second Grosvenor Championship of Online Poker. We hope you enjoyed the series and will be back for next GCOOP!
Comments
comments