The second edition of the Grosvenor Championship of Online Poker is now officially underway! Grosvenor Poker's signature online tournament series exceeded all expectations in its first running at the end of last year, and now it's back again, with over £10,000 in added value in the form of THREE £3,500 Vegas packages on the GCOOP: Road To Vegas Leaderboard. The opening events had MONSTER guarantees with a £10,000 prizepool for a £30 buy-in and a £3,000 prizepool for a £5 buy-in! The race for the Vegas packages is well and truly on…
GCOOP: #1-Hi £10,000 GTD, £30 Buy-in (1R)
The opening GCOOP High event saw 253 unique players competing for the lion's share of the mammoth prizepool. One player reigned supreme at the end of the tournament, 'Monkey47', the 'chimp leader' if you will, swinging to victory and netting a £2,700 payday! That's a 90x return on their £30 investment – top banana!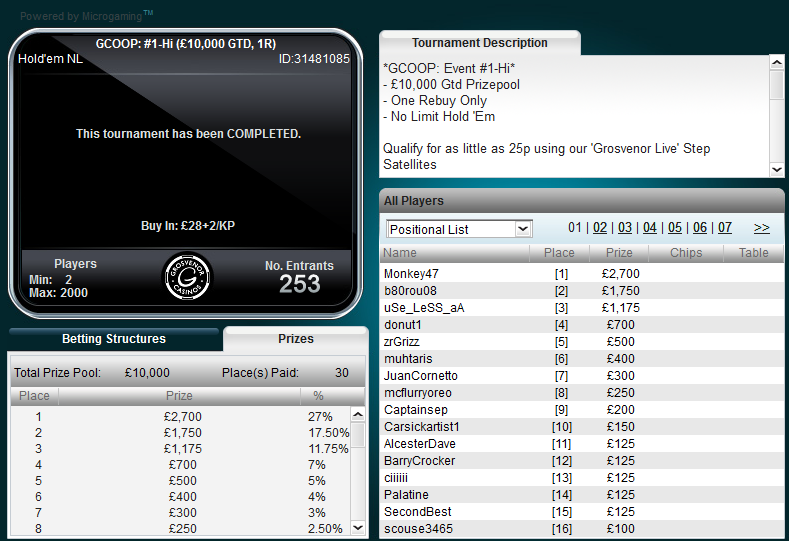 GCOOP: #2-Lo £3,000 GTD, £5 Buy-in (1R)
GCOOP's opening low event saw some chunky value for all the players involved. 317 players and 143 rebuys all contributed their £5 to the prizepool but the £3,000 guarantee remained unbeaten. Up to his old 'triggs' was grosvenorpoker.com sponsored pro 'Rick_Trigg' who stacked his way to the final table.
Checkout Rick @theclaimer1984 Triggs interview below where he outlines how to crush in the upcoming GCOOP- Road to Vegas festival, taking place next week only on https://t.co/1SveFo6wkH pic.twitter.com/sRdk4yqzjn

— Grosvenor Poker (@GrosvenorPoker) 26 April 2018
Yet it was 'glaxy88' with an out of this world performance, spaceshipping the tournament for a £787.50 win!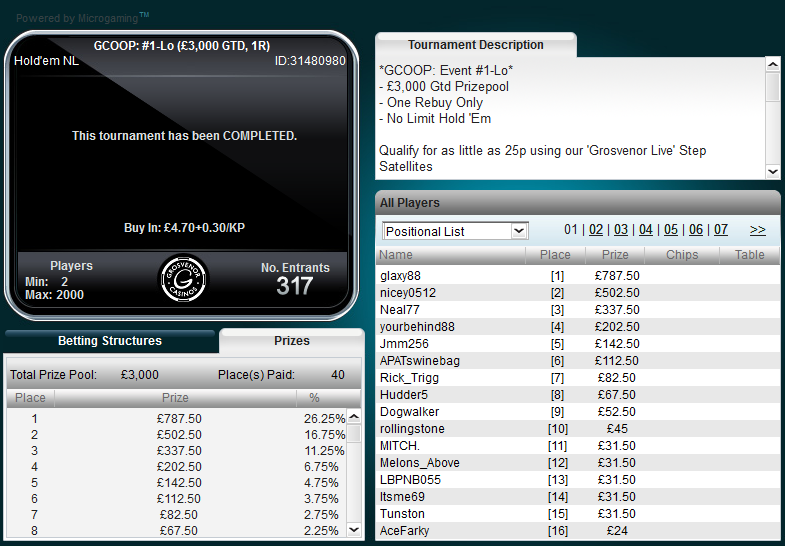 With the first two GCOOP events complete, we can take an early look at the Road To Vegas Leaderboard. No surprises that the two opening event winners are in the #1 and #2 spot with the runners up from both tournaments tied for 3rd place. There are some familiar faces (well, aliases) cropping up in the leaderboard with last year's GCOOP Leaderboard runner-up 'ciiiiii' sitting in 18th, a healthy start to his Road To Vegas campaign. There are still 6 more days of tournaments to go, with thousands of points up for grabs so the leaderboard is far from decided. We witnessed 'D4V1D_G33' surge up the leaderboard on the final day of last year's GCOOP with multiple final tables to ultimately top the table, proving that it really can all change in a single night. To join #TeamGrosvenor in Vegas this year, playing the Millionaire Maker and mingling with the pros, you just need to finish in the top 3 on the leaderboard and it just takes a couple of good tournaments to rack up those points!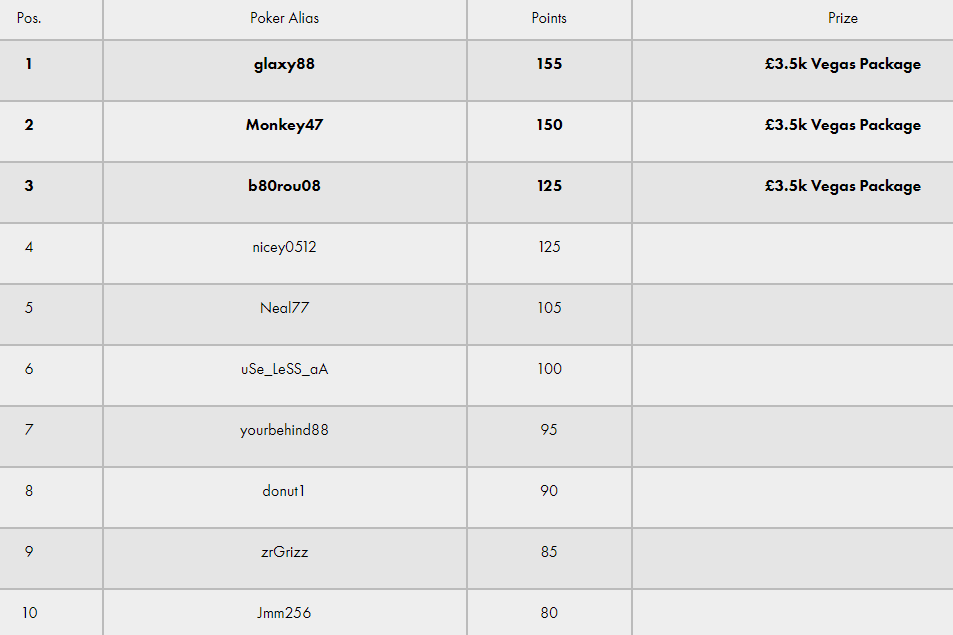 GCOOP Sponsored Pro Leaderboard
Our resident sponsored sharks wasted no time in securing some early GCOOP leaderboard points. Those of you in the #TeamTrigg Back Your Pro holding tank can enjoy his early ascendancy in the pro leaderboard with a 7th place finish in the Lo event. Jeff Kimber and Katie Swift also bagged some healthy points scores that they will no doubt build on as the series progresses. International jet-setter Andy Hills is unfortunately missing the opening few days of GCOOP whilst on poker-related travels, however he will return mid-week to no doubt stage a fierce and fiery comeback!
As fully expected the #TeamGrosvenor resident Online Pro, who achieved his top result last week for over $700k, ends the night top of the Pro Leaderboard. Well done @theclaimer1984 – Fab night at the virtual tables, see you all same time tomorrow. @GrosvenorPoker #GCOOP #Poker pic.twitter.com/xiDvIItcFQ

— Katie Swift (@SwiftlyNow) 30 April 2018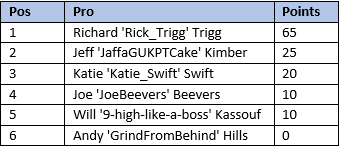 Tonight's Events – 6-Max
Tonight's GCOOP events are all 6-max. 6 players per-table, nowhere to hide. Typically this format favours more aggressive players as you cannot just wait for aces when you're in the blinds 33% of the time. So don your raising caps, get that bet sizing in line and straighten up those c-bets!
7pm – GCOOP: #2-Hi 6-Max (£5,000 GTD, 1R), £30 Buy-in
8pm – GCOOP: #2-Lo 6-Max (£3,000 GTD, 1R), £5 Buy-in
Tonight witnesses the first ever GCOOP High Roller event tonight, a £225 buy-in £10,000 GTD High Roller 6-Max. £225 25/25 tickets are valid for this tournament.
7pm – GCOOP High Roller 6-Max Feeder (3 x £225 Seats GTD), £30 Buy-in
8pm – GCOOP: #3-High Roller 6-Max (£10,000 GTD, Freezeout), £225 Buy-in
Good luck and happy grinding!
Comments
comments