What a week! The inaugural Grosvenor Championship of Online Poker is now officially over. 7 days of mammoth prizepools, colossal player fields and jumbo pay-outs; truly, a poker championship to remember. Just as it started, GCOOP went out with a bang. The £50,000 main event, the biggest tournament in Grosvenor Poker online history, closed the action, granting the winner over £13,000, and, finally, the nailbiting drama of the £12,000 GUKPT Passport leaderboard was settled.
GCOOP Main Event Hi £50,000 GTD, £110 buy-in
The £50,000 main event was grosvenorpoker.com's most ambitious tournament yet and testament to the extraordinary journey of growth it's made over the last couple of years. 327 players  took to the felt to compete for the monster prizepool, enjoying some tasty overlay in the process. The 8 final tablists each locked up over £1,000 for their troubles, but there could only be one winner.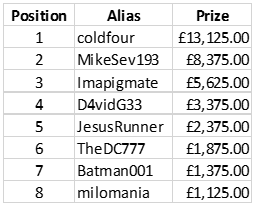 The first casualty of the Hi Main Event final table was 'milomania' who shoved their 3 big blind stack from the button holding Q♥8⋄. 'D4vidG33' made the call from the big blind with 6♣7♥. The river brought a fourth club to the board giving 'D4vidG33' a flush and busting 'milomania' in an impressive 8th place.
'Batman001' was next out after calling the button shove of 'MikeSev193' in the big blind. 'MikeSev193' turned over the pocket rockets A⋄A♣ meaning 'Batman001's Q♣10♣ had a lot of catching up to do. The flop hit both players, 9♣A♠K♣ giving 'MikeSev193' a set of aces and 'Batman001' a flush draw and gutshot straight draw. No love for 'Batman001' on the run out though as the 2♠ turn and 5♠ river brought an end to their tournament in 7th place.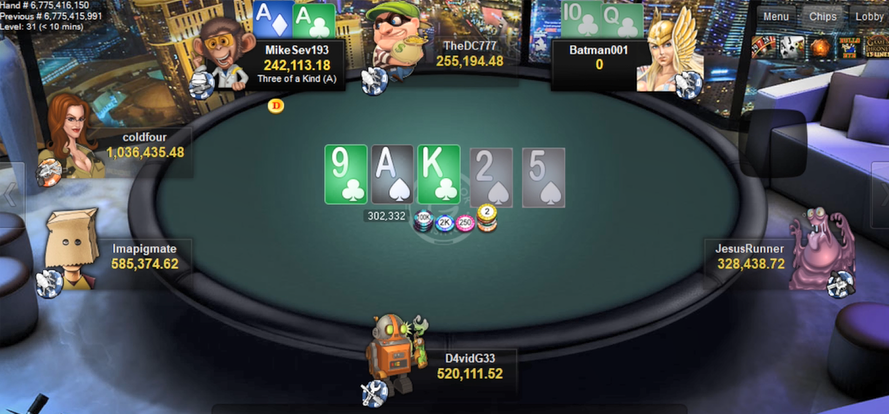 'coldfour' scored the next elimination after calling 'THEDC777's 3-bet shove. 'coldfour' tabled 7♥7♣ flipping against the A♣10⋄ of 'THEDC777'. It was far from a fair fight after the flop though – 7⋄J♥J♠. A full house for 'coldfour' saw the end of 'THEDC777' in 6th.
Soon after, on the biggest GCOOP stage, 'JesusRunner's tournament life came to a cruel end. Their A♣K⋄ all-in pre-flop against 'MikeSev193's K♣Q♣ couldn't hold as 'MikeSev193' spiked one of their 3 outs on the 3♠9⋄Q⋄ flop.  The board bricked out and 'JesusRunner' exited in 5th place. There aren't many worse feelings in poker than getting it in good on a final table with thousands of pounds at stake and getting out-flopped. You have our sympathies 'JesusRunner'.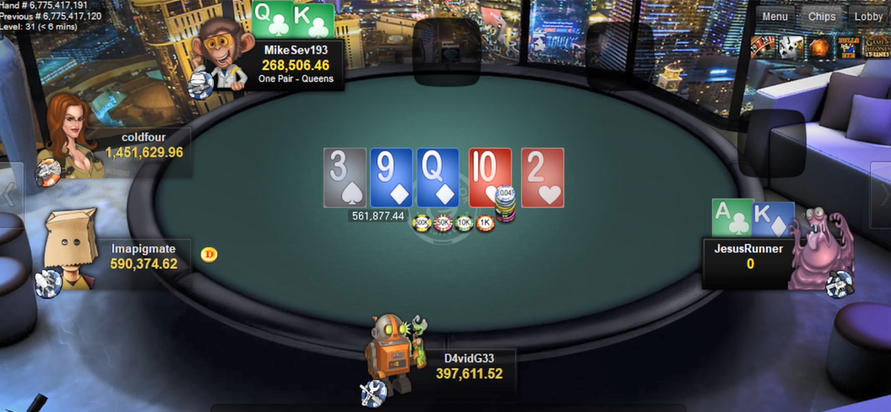 The very next hand it was 'D4vidG33's turn to be out-flopped by 'MikeSev193'. 'D4vidG33' called all-in for his tournament life with A♥8♣. He was ahead pre-flop against the J♠Q♣ of 'MikeSev193' but it didn't last. A 7♣7⋄Q♠ flop left 'D4vidG33' with a mountain to climb. 'MikeSev193' ended up pairing their jack on the river as well, wrapping up 'D4vidG33's Hi main event in 4th. The deep run paid dividends not only with the £3,375 prize money but also with 180 points for the £12,000 GUKPT Passport leaderboard.
With 3 players left fighting for the lion's share of the £50,000 prizepool, the contest was tense. The penultimate  elimination took place when a draw-heavy flop landed, resulting in both player's getting their stacks in the middle. On a board of 4♥6♥5♣ 'Imapigmate' was holding 4⋄3♠ for bottom pair and an open-ended straight draw. 'coldfour' held Q♥9♥ for two over-cards and a flush draw. It all went in, and it was up to the deck to determine the bronze medalist. A killer 8♥ turn saw 'Imapigmate' drawing dead to 'coldfour's flush and that was that. GG to 'Imapigmate' for 3rd place in the first GCOOP event that they had played, good enough for a cash of £5,625!
'coldfour' and 'MikeSev193' were heads up for the GCOOP main event title and the £13,125 first prize. The final hand was a typical heads-up coin-flip decider, but with a huge amount at stake. The 5♣5⋄ of 'coldfour' needed to hold against 'MikeSev's Q♥9♣ for the grand finale of GCOOP to come to a close. A dicey flop for 'coldfour' of 10♣7♥7⋄ kept them in front but added 3 more cards to 'MikeSev193's outs. The turn 2⋄ changed nothing and 'coldfour' was suddenly 1 card away from GCOOP glory. It seemed an agonising wait for the river – the all-important deciding card… It landed, the 8♣ and it was all over. A spectacular, roller-coaster final table, fitting for such a momentous occasion, and we had our winner. Well played to 'MikeSev193' for a hard-fought 2nd place and over £8,000.
Congratulations to 'coldfour' on winning the biggest online tournament ever held on Grosvenor Poker! An impressive feat, overcoming 326 players to claim the £13,125 1st place prize money. Well played indeed.
Huge congrats 'coldfour' who eliminated me in GCOOP event #8, bagging a £110 Main Event ticket…
then went on to WIN the Main 🏆 taking the lion's share of the huge overlay. WP!
🔥£13,125🔥 in the bag!#payday #GCOOP17 pic.twitter.com/quQZWfk4rh

— Andy Hills (@GrindFromBehind) December 4, 2017
GCOOP Main Event Lo £10,000 GTD, £30 buy-in
The GCOOP Lo main event saw some huge prizes paid out from just a £30 buy-in. Incredibly, we also witnessed a dual main event final tablist – 'D4vidG33'!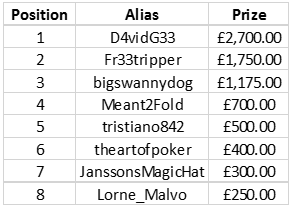 With 4 players remaining, the next pay-jump was a big one, taking the prizes above the £1,000 mark. 'Meant2Fold' limped from the button holding A♣K♣. 'Fr33tripper' moved all-in with 9⋄9♥ and 'Meant2Fold' snap called. A classic race ensued as 'Meant2Fold' looked to hit their over-cards. 6♣10♥5♠ on the flop changed nothing. 8♥ on the turn left 'Meant2Fold' with 6 outs on the river, any ace or king. The final card was the Q⋄ and 'Meant2Fold' was eliminated in 4th place.
3-way play saw huge swings in stack sizes. 4 all-in calls passed before we got our next bust-out. 'bigswannydog' found themselves with just under 10 big blinds in the small blind holding A♣5♠ and looking at a min-raise open from 'D4vidG33'. 'bigswannydog' pushed all in over the top and 'D4vidG33' made the call with Q⋄10⋄. A dream flop for 'D4vidG33' of 10♠4⋄2⋄ saw them hit top pair and a flush draw. The turn 6⋄ sealed things, completing D4vidG33's flush and leaving 'bigswannydog' drawing dead. An impressive performance from 'bigswannydog' earned them 3rd place and a £1,175 payday.
While simultaneously running deep in the Hi main event, 'D4vidG33' was heads-up with 'Fr33Trigger' in the Lo main event. Oh and did I mention that 'D4vidG33' also reached heads-up in the Lo side event? Well I'll get to that shortly. The final hand that crowned our GCOOP Lo main event champion occurred when 'Fr33tripper' found themselves in the unfortunate position of having their K♣J⋄ all-in pre-flop and dominated by 'D4vidG33's K♠Q♥. The 3⋄7♣6⋄ flop brought no help to 'Fr33tripper' as they still needed to find one of the 3 remaining jacks in the deck. The turn 7⋄ more than tripled their outs, giving 'Fr33tripper' a flush draw. The river 10♥ was not what 'Fr33tripper' was hoping for though and the tournament was over. 'Fr33tripper' earned a sizeable pay-out of £1,750 for a well-earned 2nd place.
Congratulations to 'D4vidG33' on taking down the main event and joining the exclusive club of GCOOP winners. 'D4vidG33' earned £2,700 for their troubles and added a further 300 points to their £12,000 GUKPT Passport leaderboard total. It was a very high scoring day for 'D4vidG33'.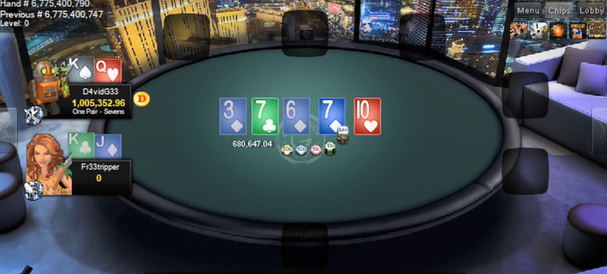 GCOOP #9-Hi Side Event  £5,000 GTD, R/A
75 players took to the felt for the Hi side event, hoping to add some valuable leaderboard points to their totals and take a slice of the £5,000 GTD prizepool. The prizepool ended up a juicy £6,216 and a star-studded final table fought it out for the top spot.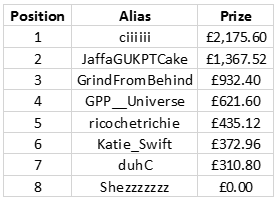 3 of our resident sponsored pros reached the final table alongside yesterday's double final-tablist 'ciiiiii'. Katie Swift reached her first final table of GCOOP, a nice reward following some brutal bust-outs in the preceding 6 days. Her exit in this tournament ultimately came when she put 'ciiiiii' to the test blind vs blind by shoving all in for effectively their tournament life with Q♣10♣. 'ciiiiii' went deep into the tank, using their entire time bank before eventually making the huge call with A♥8♣. Katie couldn't get there after a the flop brought 9♥A♠K♣ and she exited the tournament in 6th place for a well-earned £372.96 cash.
♠️♥️Wow!♣️♦️#GCOOP has been amazing & tonight I made my 1st final table, great to end in profit & on a high, even after busting ME.
Thanks to @GrosvenorPoker & the online team for creating a fab week of #OnlinePoker.
🎉#Congratulations all winners🏆& those that cashed💷 pic.twitter.com/b3iEIVpdbH

— Katie Swift (@SwiftlyNow) December 4, 2017
'ciiiiii' continued to pick off our sponsored pros one by one, busting Andy Hills in 3rd after making another big call. 'ciiiiii' opened from the button with K♠Q♥ only to greeted with an all-in shove from Andy Hills for the vast majority of 'ciiiiii's stack. Again, 'ciiiiii' went long into the tank before eventually finding the call button. Andy Hills tabled A⋄J⋄ for the better starting hand but 'ciiiiii' took the lead on the 5♣Q⋄3⋄ flop. Andy still had a flush draw to go along with his over-card to give him the win. The board favoured 'ciiiiii' though as it ran out 3♥6♣. Andy Hills left the tournament in 3rd place, earning 100 leaderboard points and locking down the top spot on the sponsored pro leaderboard.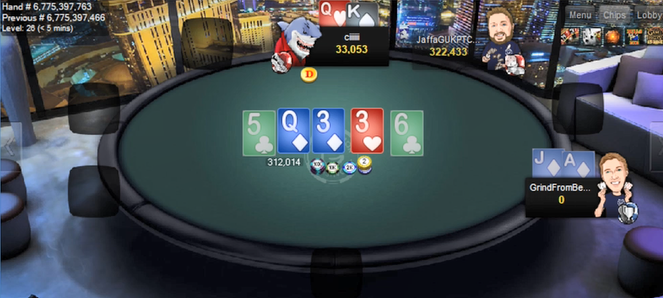 Heads-up play saw Jeff Kimber, on his first final table of GCOOP, take on 'ciiiiii' who was on his fourth GCOOP final table. Jeff had been chip leader for most of the final table but he met his match when the two went toe-to-toe.  'ciiiiii' chipped away at Jeff's stack until things finally came to a head with the two getting it all-in pre. 'ciiiiii' held K⋄6⋄ and Jeff Kimber held 5♣8♣. The board ran out A♣Q⋄9⋄10⋄10♣ giving 'ciiiiii' a flush and his second GCOOP tournament win! Well played to Jeff Kimber on bagging 2nd place and a chunky £1,367.52 payout.
#GCOOP is over for me, 2nd in the £30r for £1367 gets me out of it for the week and up the Pro Leaderboard a bit but well done to @GrindFromBehind who wins it.

Great well of online poker, gl to those still in the Main Event, enjoy the lovely overlay!! #TeamGrosvenor pic.twitter.com/bBDJ5wiRx4

— Jeff Kimber (@jeffkimberpoker) December 4, 2017
GCOOP #9-Lo Side Event £1,000 GTD, R/A
Yet another deep run for 'D4vidG33' last night as they battled the 123 player field, reaching a tough final table. Among the finalists was  yesterday's runner up 'Bluffalert' and Mr Speech-play Will '9-high-like-a-boss' Kassouf.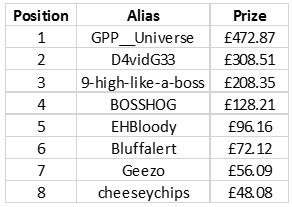 Mr Kassouf's tournament came to an end when his K♣J⋄ came up against the A♠9⋄ of 'D4vidG33'. Neither player hit anything on the 3⋄3♠6♣2⋄7♣ run out and 'D4vidG33's ace high sent '9-high-like-a-boss' to the rail in 3rd place.
'D4vidG33's tournament eventually came to an end at the hands of 'GPP__Universe'. It was a cruel bust-out as 'D4vidG33' got his short stack in with the best hand A⋄J♥ against the A♠5♠ of 'GPP__Universe'. Both players flopped an ace on the 7♣A♥8♥ board. 'D4vidG33' looked set to double on the turn 3♠ but the river had other ideas as it slapped down the 5⋄ giving 'GPP_Universe' two pair. Well played to 'D4vidG33' on the runner up spot, and congratulations to 'GPP__Universe' on locking up 1st place!
Just won my first GCOOP title oioiiii and on the final of another. Got three @GrosvenorPoker 'pros' @GrindFromBehind @SwiftlyNow @TheJaffacake here too. Making a last ditch effort for top 5 of that leaderboard!!! @ThrillOfPoker pic.twitter.com/4Q5V7qghdE

— Amatay (@Amatay1) December 4, 2017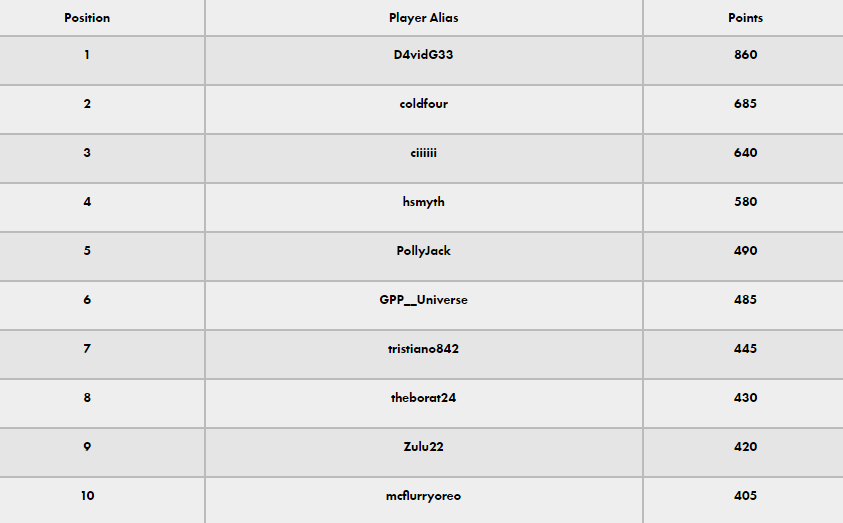 We have our confirmed top 10!
Despite taking down the Hi side event, 'ciiiiii' couldn't improve on his #2 spot from yesterday. An amazing performance over the course of the series, with 4 final tables and an amazing 2 GCOOP tournament wins, sees 'ciiiiii' finish in 3rd place, winning a £560 GUKPT ticket.
By winning the GCOOP Hi main event, 'coldfour' propelled themselves up to 2nd place on the leaderboard. The win was the only way they could go ahead of 'ciiiiii', 2nd place wouldn't have been enough. An amazing result and 'coldfour' adds a £1,110 GUKPT ticket to his winnings. 'coldfour', previously went by the alias 'trebetlite' and famously finished 2nd on last year's GUKPT Passport leaderboard to Andy Hills. A truly staggering achievement and testament to their versatile mtt game.
Congratulations to 'D4vidG33' on a heroic final day performance. 1st in the Lo main event, 4th in the Hi main event and 2nd in the Lo side event is truly a phenomenal achievement. Those incredible results saw 'D4vidG33' jump up from 23rd in the leaderboard to claim the top spot. In doing so, 'D4vidG33' wins the £12,000 GUKPT Passport giving them entry into every 2018 GUKPT Main Event. We wish you all the success in the 2018 GUKPT events and look forward to you joining #TeamGrosvenor!

The pro leaderboard was a well-fought contest that came right down to the last day. Deep runs for Will Kassouf, Katie Swift, Jeff Kimber and Joe Beevers saw them all build on their points totals but weren't quite enough to dethrone last year's passport winner. The 3rd place finish in the Hi side event was enough to secure the top spot for Andy Hills. Congratulations to all those that joined the #TeamHills Back Your Pro holding tank prior to the start of GCOOP. You will be entered into the £1K Back Your Pro freeroll this Sunday 10th December at 7pm.
#TeamHills triumphs—tho it was close at the end!
TY all who voted for me. I'm told the £1k freeroll will be Sun 10 Dec. GL!https://t.co/IyXra7ChAP

— Andy Hills (@GrindFromBehind) December 4, 2017
GCOOP 17 IS COMPLETE
The first ever Grosvenor Championship of Online Poker was months in the making. It's something that Grosvenor's online poker team had always spoken about, and finally making it a reality was a huge risk but a brilliant experience. We are very thankful to the 1164 unique players that took part over the course of the 7 day, 20 event, £100,000+ poker extravaganza. We hope you all enjoyed the week and are looking forward to the next GCOOP. In the meantime, there is a packed schedule of great value tournaments every day, and some huge events in the very near future on grosvenorpoker.com.
Good luck, play well and run better!
Comments
comments