A long long time ago, in a galaxy far far away, the first ever Grosvenor Championship of Online Poker took place.
Well, actually it was only 3 years ago, and it was in the UK. But when we look back and see how far Grosvenor Poker online has come in that time, it seems an age ago that GCOOP made its debut appearance.
Legacy of GCOOP
Since GCOOP 1, we've grown and grown and grown some more. In that time, Grow-venor Poker online has qualified than 1,300 players for GUKPT tournaments, more than 2,500 players for 25/25 tournaments and over 3,000 players for the Goliath. We've given away more than £250,000 in cash game profit leaderboards, given 45 package winners the chance to play the WSOP in Las Vegas with #TeamGrosvenor, taken over 150 players to MPNPTs all around Europe, introduced 25/25 and Deepstack online day ones, introduced the online GUKPT £10k and even introduced stand-alone online GUKPT Heads Up and 6-Max events.
Good luck to the final table of the Grosvenor UK 6 Max Championship.

Who is going to take it down? pic.twitter.com/hLgJ6iQx7a

— Grosvenor Poker (@GrosvenorPoker) November 27, 2019
It's been a time of expansion and great change. But the core ethos remains the same – give players the opportunity to qualify for big poker events for a fraction of the buy-in, and have a shot at some serious money. GCOOP encapsulates this perfectly.
Passport Fever
22 poker tournaments. £120,000 in GTD prizepools. One very special leaderboard.
One of the key reasons that GCOOP sparkles so tantalizingly in the poker calendar, is the top prize for the Player of the Series – the GUKPT Passport. This jaw-dropping prize grants the winner entry into every 2020 GUKPT event, plus expenses. Totaling more than £12,000, this offers a taste of the professional poker player lifestyle, and an honorary position in #TeamGrosvenor. Previously, Andy Hills won the coveted GUKPT Passport and has since gone on to become an established Grosvenor Poker sponsored pro, winning poker tournaments all over the world. His hendon mob is a sight to behold – flagtastic!
The Aruba $1700 Main Event final table represents my 43rd live cash of 2019

(vs 39x ITM in 2018, 34x in 2017)

+ I have the all-important
🇦🇼 #FlagInTheBag 😍 pic.twitter.com/X12sVtW4Ov

— Andy Hills (@GrindFromBehind) November 23, 2019
With a prize that could quite literally change your life, it really is all to play for.
The stage was set. GCOOP V the battlefield, the GUKPT Passport the ultimate glory. Combatants at the ready. Shuffle up and deal.
GCOOP V Results
The action was fast and frenzied in GCOOP V, with over 750 players fighting it out across the series. The beauty of GCOOP is that the schedule is specifically designed to give players of all bankrolls a shot at the title. Winning a £5 event earns you the same points as the £530 Super High Roller. And of course it's possible to qualify for each event from as little as 25p.
'AChipAndNoHair' made a bold start, clinching the first GCOOP High Roller for £5,400. As did Grosvenor Poker Sponsored Pro Joe Beevers, who chopped down a forest of 350 players to win event #2.
Not a bad start to #GCOOP #TeamGrosvenor #TeamBeevers @GrosvenorPoker 1st/350 pic.twitter.com/55rvN5Cept

— Joe Beevers (@joebeevers) December 2, 2019
The leaderboard really started to take shape after day 3 when 'DarthVader69' and 'ABC_Geriatric' reached the final table of both GCOOP events that night, catapulting them both to the top of the table.
'ottilieangela' then came into a tremendous run of form, reaching 3 final tables in 3 consecutive days, making the leaderboard a very close affair.
Joe Beevers was dam-ned if he was going to settle for 1 GCOOP victory. He toppled the £30 Heads Up event, beating 'PascalChimbonda' in the final and cementing his position atop the Sponsored Pro Leaderboard.
Lightning strikes twice! Another victory @GrosvenorPoker #GCOOP 1/93 in the heads-up. #TeamGrosvenor pic.twitter.com/9zusQLZ1pJ

— Joe Beevers (@joebeevers) December 7, 2019
Sneaking up the GCOOP leaderboard with impressive consistency was 'RipCheader' who had a victory in the 6-max and multiple other high point-scoring finishes. They were 'reading the pack' as we headed into the final day.
The final Sunday of GCOOP boasted a whopping £45,000 in guaranteed prizepools including a £20,000 GTD Super High Roller, and the all-important £20,000 GTD Main Event. The main event was worth double leaderboard points. Less than 100 points separated 1st from 10th in the leaderboard. It was anybody's game, and the GUKPT Passport was there for the taking.
'otillieangela' put on an excellent show, finishing 6th in the novelty GCOOP Donkament but it was 'ABC_Geriatric' that pipped him at the post with good runs in both the GCOOP Main and the Super High Roller.
Honorable mentions go to all the players from 2nd to 9th who each earned a prize. But there could only be one winner. In the end, the victor emerged:
Massive Congratulations to Phil 'ABC_Geriatric' Green!

*GCOOP V: Player of the Series & GUKPT Passport Winner for 2020*

Phil topped an extremely close leaderboard this year, with so many players in with a chance of the £12,000 passport going into the Sunday events! pic.twitter.com/HbbtvG1smL

— Grosvenor Poker (@GrosvenorPoker) December 9, 2019
The Champ: Phil 'ABC_Geriatric' Green
We caught up with our GCOOP champion for a few brief questions.
1. How does it feel to win the GUKPT Passport and be representing #TeamGrosvenor in 2020?
Always good to take down this type of competition. There were some excellent players immediately behind me. I'm delighted to represent #TeamGrosvenor. I know one of your sponsored pros very well, and have shared a table with others. I've played previous GUKPT events at London and Reading, and thoroughly enjoyed the structure.
2. Not to add pressure at all, but what would you see as successful return off the back of the £12k Passport in 2020?
A successful return would be more than £12k, including a final table. I've been playing long enough to know that nothing is guaranteed though, and winning £0 is also possible.
3. What inspired the alias 'ABC_Geriatric'?
The name "ABC_Geriatric" was coined by Tony "Tikay" Kendall. When I won a biggish tournament on another site, he commented:- "This result gives everyone hope. If that ABC-style Geriatric can win, anyone can".
Always good to have friends…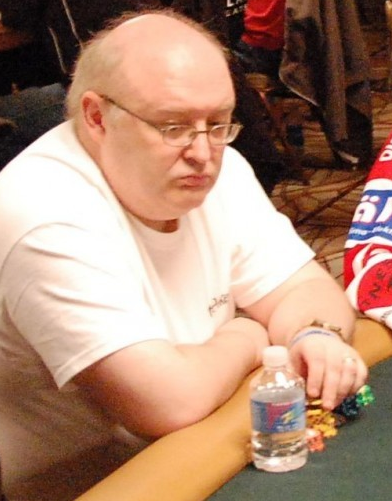 We look forward to seeing our GCOOP champion Phil Green on the GUKPT circuit in 2020. Hopefully on a final table or two!
Grosvenor Poker in 2020
2020 will be an exciting year for Grosvenor Poker. We'll continue to expand and grow our online offering. We'll be taking Grosvenor Poker to a new home, meaning new and exciting software. And most importantly, we'll be sending more UK poker players than ever before to poker events up and down the country, and also the world.
We'd like to take this opportunity to thank everyone who took part in GCOOP and indeed all of our online Grosvenor Poker players.
Before we welcome in the new year, don't forget we have our festive Christmas Treerolls every single night this December, with a sur-prizepool between £50 and £1,000. Who wouldn't fancy winning some free cash at this time of year!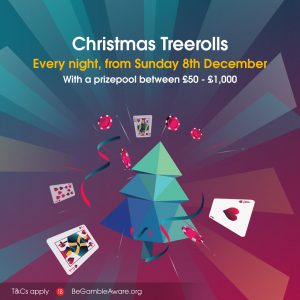 Happy Holidays!
Comments
comments