The inaugural Grosvenor Championship of Online Poker would not have been complete without a day of bounty tournaments. For the first time in GCOOP, it was not only the sponsored pros with bounties on their heads. Every knockout was a bankroll boost, creating an interesting dynamic as players had to factor in the value of the bounty versus the value of laddering up the £12,000 GUKPT Passport Leaderboard.

GCOOP #8-Hi Bounty, £10 For Every Knockout, £30 buy-in
Some familiar names wound up on the final table of the 150-player tournament, including resident GUKPT commentator and all-round Grosvenor personality Phil 'TowerInDaHouse' 'The Tower' Heald. Yet another deep run for #TeamBeevers saw the pro add to his points tally on the sponsored pro leaderboard. Hot off the back of victories in yesterday's GCOOP events, both 'hsmyth' and 'ciiiiii' also managed to secure final table spots and add to their impressive leaderboard points totals.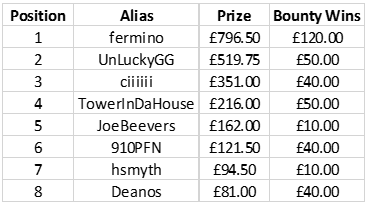 Down to 5 players, 'JoeBeevers' found himself in the unfortunate blind vs blind position of shoving his 10 big blind stack into 'fermino' who woke up with A⋄J⋄. The Q♣J♠ of 'JoeBeevers' needed a lot of help. As the board read 6♣10♥4♣A♣, Beevers had 12 outs, any club or King to save his tournament life. The river couldn't deliver anything better than a 4♠ and the pro exited the tournament in 5th place, closing the gap between himself and Andy Hills on the sponsored pro leaderboard.
'TowerInDaHouse' was the next player to fall victim to 'fermino' who had amassed over half of the chips in play by this point. 'Fermino' opened under the gun with a min-raise, 'TowerInDaHouse' made the call off his 5 big blind stack from the big blind. The flop came down A♣K♣A♥ and 'TowerInDaHouse' checked it over to 'fermino' who set the rest of 'TowerInDaHouse's less than pot-sized stack in. 'TowerInDaHouse' made the call with 10♣Q♥ for a gustshot broadway draw. 'fermino' showed K♠4♣ for two pair. The board ran out 9⋄ 10♠ and we lost The Tower in a commendable 4th place.
'ciiiiii' fought back from 3rd of the 3 remaining players to gain the chip lead. Their stack was then crippled however when they ran pocket 5s into the pocket 8s of 'UnLuckyGG' who scored a double up. A few hands later 'ciiiiii' busted in a teasingly cruel fashion. 'ciiiiii' was all-in pre with 2♠2♣ against the 5♠5⋄ of 'fermino'. The flop brought a bingo card for 'ciiiiii' – 2♥4♠3♥. A set for 'ciiiiii' against the open-ended straight draw of 'fermino'. However, just as quick as 'ciiiiii' had gained the advantage, they lost it on the A♥ turn. The board didn't pair on the river and 'fermino's straight held to score another elimination and a further £10 bounty. GG to 'ciiiiii' who bowed out in 3rd place, and also secured fourth spot in the Lo event. A double final-table night after a 1st place yesterday has launched 'ciiiiii' up to 2nd spot on the £12,000 GUKPT Passport Leaderboard.
Rollercoaster hand as 'ciiiiii' busts the #GCOOP Hi Bounty in 3rd place 😶 pic.twitter.com/ZaxIaql9OX

— Kit Goodman-Edwards (@Kitmaaan) December 3, 2017
Heads-up play lasted 10 minutes as both 'UnLuckyGG' and 'fermino' looked to win the coveted GCOOP #7-Hi 1st place. Eventually the dual was settled when 'UnLuckyGG' pushed all-in with A⋄8⋄ over the top of 'fermino's min-raise. 'fermino' made the snap call with J♠J♣ and it was up to the deck to determine our latest GCOOP victor. The board ran out 9♠Q♥K♠3⋄6♥ bringing absolutely no help to 'UnLuckyGG' who finished in 2nd place, their best GCOOP score yet following their 3rd in GCOOP #5-L.
Congratulations to 'fermino' on taking down the first and only GCOOP event they have played so far. A payday of over £900 was well earned!
GCOOP #8-Lo Bounty, £2 For Every Knockout, £5 buy-in
184 players gave the Lo bounty a go for the small buy-in of £5. Among the final 8 players were 'bluffalert', on their 2nd GCOOP final table, and 'ciiiiii' on their 2nd GCOOP final table of the night.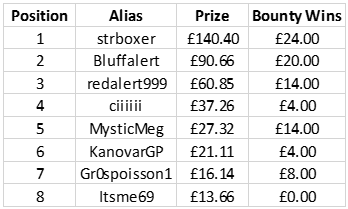 The final table was a fascinating study in ICM and short-stack tournament strategy. The looming significance of the £12,000 GUKPT Passport leaderboard points made every elimination critical to the remaining players and created a dynamic where the bigger stacks could assert their dominance. 'strboxer' exploited this, holding over 60% of the chips in play with 4 players left.
'ciiiiii' ended up getting J⋄3♠ all-in pre-flop from the big blind for their remaining 2.5 big blinds against the A♥5⋄ of 'strboxer'. The A⋄ on the flop held for 'strboxer' who eliminated 'ciiiiii' from their 2nd final table of the night in 4th place.
'redalert999' went out next after having their stack crippled in a flush draw versus two pair pot with 'Bluffalert'. With just over 4 big blinds remaining, 'redalert999' called the all in shove from 'strboxer' while holding the less than desirable 7♠2♥. 'strboxer"s 9♠10♥ ended up making the nuts and 'redalert999' busted in 3rd.
'Bluffalert' and 'strboxer' went toe-to-toe in heads-up play for 20 minutes before a winner could be crowned! The final hand saw 'Bluffalert' all in with J♥10♥ against the A♠3♠ of 'strboxer'. The board came out 3♣7♠Q♣8♠K♥ making 'strboxer's pair of 3s the best hand. GG 'BluffAlert', a hard-fought and well-earned 2nd place. Congratulations to 'strboxer' on joining the GCOOP winners club!
Sponsored Pro Bust-outs
Congratulations to the following players who won the last of the sponsored pro bounties. Each player wins a £110 ticket to tonight's £50,000 GCOOP Main Event – the biggest and most ambitious tournament EVER on grosvenorpoker.com.
'fermino' > Joe 'JoeBeevers' Beevers
'nerraw' > Richard 'Rick_Trigg' Trigg
'DGGB' > Will '9-high-like-a-boss' Kassouf
'Scissorman66' > Jeff 'JaffaGUKPTCake' Kimber
Well done to huge stacked Scissorman66, on fire🔥🔥 in tonight's #GCOOP Bounty, got my AJ with his KJ all in pre to get the £10 bounty and £110 Pro Bounty, entry into tomorrow's £50k Main Event!! Gl all left in pic.twitter.com/f26oHG4ECv

— Jeff Kimber (@jeffkimberpoker) December 2, 2017
'coldfour' > Andy 'GrindFromBehind' Hills
Congrats 'coldfour' whose QQ held vs TT + my own ATo, to win a £10 bounty AND my £110 'Pro Bounty' in tonight's £30 GCOOP event.#GCOOP17 @GrosvenorPoker

— Andy Hills (@GrindFromBehind) December 2, 2017
'Thedude14' > Katie 'Katie_Swift' Swift
My final Pro bounty goes to "Thedude14" Good luck for #GCOOP Main Event tomorrow.
NO MORE PRO BOUNTY KNOCKOUTS! Surely this means no more bad beats & everyone gunning for me! 😂😂😂😂
Concentrating on accumulating points for #TeamSwift #Leaderboard #UnderDog @GrosvenorPoker

— Katie Swift (@SwiftlyNow) December 2, 2017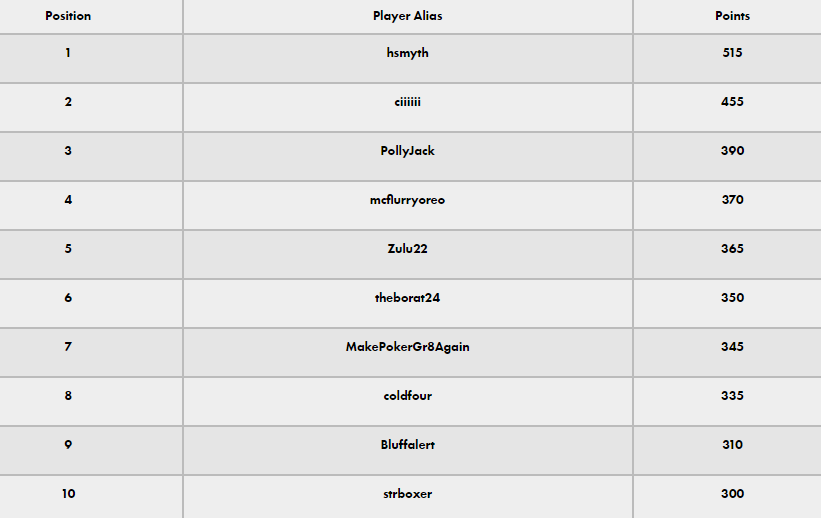 'hsmyth' has held on to his #1 spot after making another final table. Close behind is 'ciiiiii' after making both of the night's final tables. 'coldfour' has dropped to 8th but it's all very close. The leaderboard will all be decided tonight after the main events are completed. The main events are each worth double the standard leaderboard points, and with two side events there are a possible 900 points available to be won by a single player! A victor will be crowned tonight and earn themselves the £12,000 GUKPT Passport, giving them entry into every 2018 GUKPT Main Event.

#TeamHills remains in the top spot but #TeamBeevers has closed the gap significantly following another deep run. #TeamKimber is currently bottom of the pro leaderboard but tonight could change all that. A deep run in either of the main events could see any of the pros clinch the top spot. It all comes down to tonight….
The Final Day of GCOOP – The BIG ONE
Tonight grosvenorpoker.com is hosting the BIGGEST tournament in its history. The £50,000 GCOOP Hi Main Event. It is truly unmissable. To go alongside that, there is also the £10,000 GTD Lo Main Event, another great value tournament. Expect tasty overlay, huge paydays and a truly exciting night of online poker!
Sunday at 7pm—don't miss the #GCOOP17 Main Event
(exclusive to @GrosvenorPoker online)

There are LOW (£30) + HIGH (£110, £50K GTD) editions.

WHY YOU NEED TO PLAY…… pic.twitter.com/lmmhNVYhrG

— Andy Hills (@GrindFromBehind) December 3, 2017
♠️♥️GCOOP MAIN EVENT DAY! ♣️♦️
High 7pm: £110 – £50k guaranteed!
Low 8pm: £30 – £10k guaranteed!
Grosvenor Poker has gone BIG!@GrosvenorPoker #Poker #MainEvent #GCOOP #Leaderboard #Points pic.twitter.com/gJwSEIvNxt

— Katie Swift (@SwiftlyNow) December 3, 2017
⋄ 7pm GCOOP: Main Event -Hi £50,000 GTD, £110 buy-in, 3 hours late reg
⋄ 7pm GCOOP: Main Event -Lo £10,000 GTD, £30 buy-in, 2 hours late reg
⋄ 8pm GCOOP: #9-Hi Side Event R/A £5,000 GTD, £30 buy-in
⋄ 8pm GCOOP: #9-Lo Side Event R/A £1,000 GTD, £5 buy-in
Good luck, play well and run better!
Comments
comments