Day 4 of the Grosvenor Championship of Online Poker bore witness to a truly extraordinary Pot Limit Omaha performance. 'hsmyth' managed to achieve the implausible, winning BOTH GCOOP #6 PLO events! A first ever GCOOP double crown! Take a bow 'hsmyth' and enjoy two chunky payouts to go along with your current top spot on the £12,000 GUKPT Passport Leaderboard. The Redtooth freezeouts also saw two new names added to the GCOOP winners roster, 'ciiiiii' and 'afin66', the latter of which scooped a £1200 Redtooth Vegas Package to go alongside their winnings.

GCOOP #6-Hi PLO £5,000 GTD, 1R, £30 buy-in
124 players and 55 rebuys generated a prizepool of £5,012 for the first ever Pot Limit Omaha GCOOP event. Resident pro Will '9-high-like-a-boss' earned himself a 7th place finish for his best GCOOP score so far, but our final 6 made up the final table.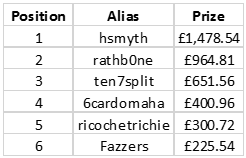 It was a tense affair as chip stacks oscillated and the stakes began to ramp up. It was 'rathb0ne' who scored the penultimate elimination that brought the tournament to heads-up play. On a board of 7♣K⋄5♠, 'ten7split' pushed all-in over the top of 'rathb0ne's pot-sized bet. 'rathb0ne' called and tabled 9⋄4⋄9♠5⋄ up against the 5♥6⋄6♣8♣ of 'ten7split'. 'rathb0ne's 60% chance of winning the hand was confirmed as 100% when the board ran out 2⋄ 7♥ and we lost 'ten7split' in an impressive 3rd place.
Heads-up play was extremely close until a deciding hand doubled 'hsmyth' up, leaving 'rathb0ne' with 5 big blinds. 'rathb0ne' went all-in on the flop with a king high flush draw and a gutshot straight draw, 'hmsyth' made the call with two pair and an open ended straight draw. 'hsmyth' was able to hold and then took out 'rathb0ne' next hand with another two pair. GG to 'rathb0ne' on a stellar display and winning a healthy prize of £964.81.
Congratulations to 'hsmyth' on converting £30 into £1,478.54 and 150 leaderboard points, winning their first GCOOP title. Emphasis on the word 'first'…
GCOOP #6-Lo PLO £1,000 GTD, 1R, £5 buy-in
Climbing to the top of the 138-player field were our final tablists. And no, that's no mistake in the #1 spot…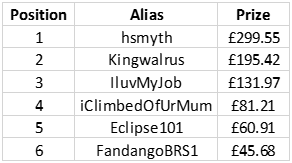 'hsmyth' wasn't satisfied having just binked the GCOOP PLO Hi event; their thirst for PLO success would only be satiated with a win in the Lo. 'Kingwalrus' made this no easy task though. The heads-up battle was epic, chips flying back and forth, stacks fluctuating and neither player willing to concede an inch without a fight.
The final hand was an agonising one for 'KingWalrus'. It all went in pre-flop, 'KingWalrus' holding J♠5⋄Q♣J♣ and 'hsmyth' holding 3♥Q⋄K♣6♥. The flop came down J⋄6⋄5♣ and 'KingWalrus' was a 92% favourite to double up with a set of Jacks. The hand seemed locked up. But such is the dizzyingly maddening game of poker, 92% is not always enough. The turn came down 7⋄, giving 'hsmyth' a gutshot and 10% to win. BOOM! River 4⋄. That was that. A painful exit for 'Kingwalrus' in 2nd place, but a phenomenal second GCOOP PLO victory for 'hsmyth'!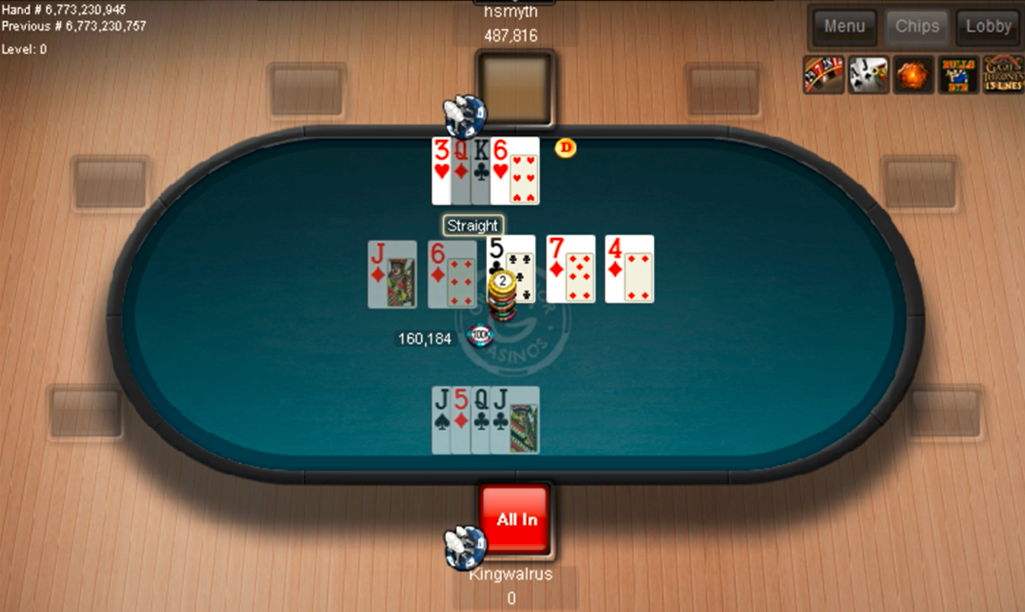 'hsmyth' will go down in the GCOOP history books, the first ever GCOOP double crown holder, on the same night, within the space of half an hour. Truly extraordinary.
GCOOP #7-Hi Redtooth, £1,500 GTD, Freezeout, £22 buy-in, £1200 Vegas Package for 1st Place
A deep run for another of our sponsored Pros saw Richard 'Rick-Trigg' Trigg making the final table of the 188 player field. Alongside the prizepool of £3,760, a £1200 Redtooth Vegas package was up for grabs for whoever could conquer the tournament.
That honour went to 'afin66' following another brutal hand for 2nd place finisher 'Quadrinator'. Both players went all-in pre-flop in a classic race situation. The 7♣7♠ of 'Quadrinator' flipping against the A♠Q♠ of 'afin66'. The flop and turn left 'Quadrinator' in a very favourable situation as it read 10♣3♣2♠J♥. Just one more card to get through for a complete double up. But the river is well-known for breaking hearts and delivered the crushing blow of the A♥. 'Quadrinator' was out in a commendable 2nd place and 'afin66' took home the top prize, over £1,000 in tournament prize money AND a £1,200 Redtooth Vegas Package. Congratulations!
Congratulations to Redtooth Poker Player Afin66 who has picked up £1062.20 & VEGAS100 guest seat to join us @orleanscasino in May 2018!!
Many thanks to everyone for supporting our events and @grosvenorcasino for involving us in #GCOOP #smashingit #lovepoker #pokerfun pic.twitter.com/v3GrWKoyi3

— Redtooth Poker (@redtoothpoker) December 2, 2017
GCOOP #7-Lo Redtooth, £1,000 GTD, Freezeout, £5 buy-in
The GCOOP Redtooth Lo event hosted a field 169 players, all competing for the £1,000 prizepool and the all-important £12,000 GUKPT Passport leaderboard points. The final table featured GCOOP #1-Hi winner 'PollyJack' but they could not overcome 'ciiiiii' who shipped their first GCOOP title.
'ciiiiii' put on an admirable and disciplined display, staying composed to come back from a position of bottom of the pack from 7 players down to 3, until finally emerging victorious eliminating their final two opponents. After knocking out 'Royaltiger' with Ace high to go heads-up, it was this same hand that ended 'AthinLine's tournament life and brought 'ciiiiii' the GCOOP title.
Having steadily increased their chip lead, 'ciiiiii' then limped from the button, only to be greeted by a 5x raise from 'AthinLine'. 'ciiiiii' took this opportunity to put 'AthinLine' to the test with an all-in shove. 'AthinLine' made the snap call with K♥8♥ and was up against the A♣7♥ of 'ciiiiii'. A flop, turn and river later and 'ciiiiii' still held the best hand with Ace high, good enough for 1st place and 150 precious leaderboard points.
The final hand as 'ciiiiii' scoops 1st place and a GCOOP title! #GCOOP #GCOOP17 pic.twitter.com/uyhvuMvMMZ

— Kit Goodman-Edwards (@Kitmaaan) December 2, 2017
Congratulations to 'ciiiiii' on joining the GCOOP winners club!
Sponsored Pro Bust-outs
Congratulations to the following players who all earned their £110 GCOOP Main Event tickets by knocking out our sponsored pros in the Hi events. Tonight's GCOOP Bounty tournaments are the last opportunity to earn a £110 GCOOP Main Event ticket by eliminating our sponsored pros.
'JakeSteel' > Richard 'Rick_Trigg' Trigg
'3bet4bet5betfold' > Jeff ' JaffGUKPTCake' Kimber
'JakeSteel' > Joe 'JoeBeevers' Beevers
'bigcityd69' > Katie 'Katie_Swift' Swift
'KanovarGP' > Katie 'Katie_Swift' Swift
Congratulations to "KanovarGP" who done a double elimination in the High PLO #GCOOP earning my chips & bounty! "bigcityd69" was the winner of my bounty prize in the High #Redtooth game. Well done & good luck in the #MainEvent coming up on #Sunday evening. @GrosvenorPoker pic.twitter.com/186tyIPUv9

— Katie Swift (@SwiftlyNow) December 2, 2017
'lgg' > Will '9-high-like-a-boss' Kassouf
'Quadrinator' > Andy 'GrindFromBehind' Hills
'ten7split' > Will '9-high-like-a-boss' Kassouf
'd1gbethdan' > Andy 'GrindFromBehind' Hills
Congrats 'Quadrinator' & 'd1gbethdan' who took my bounties tonight.
More £110 bounties—and GCOOP leader board points—to be won tomorrow.#GCOOP17

— Andy Hills (@GrindFromBehind) December 2, 2017
'ten7split' > Joe 'JoeBeevers' Beevers
'ricochetritchie' > Richard 'Rick_Trigg' Trigg
'rathb0ne' > Jeff 'JaffaGUKPTCake' Kimber
£12,000 GUKPT Passport Leaderboard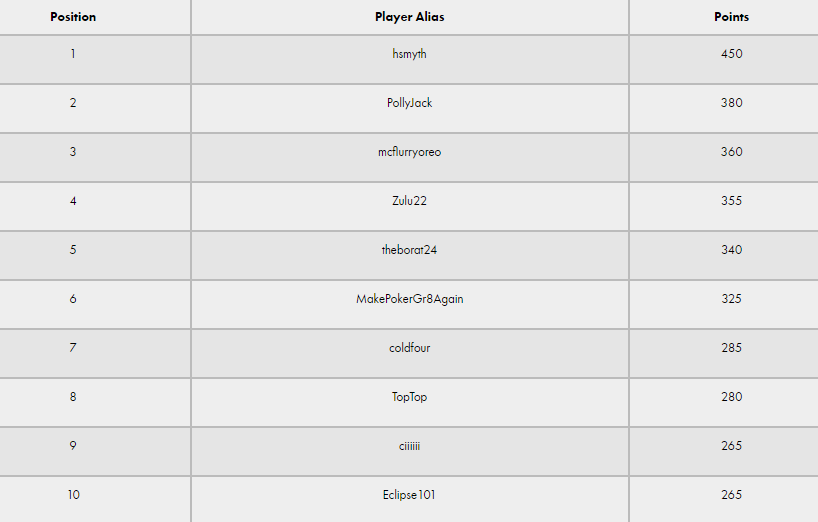 'hsmyth's two GCOOP PLO victories launch them straight into 1st position on the leaderboard. 'PollyJack' sits below in 2nd place following yet another deep run. With a GCOOP victory under their belt, 'ciiiiii' sneaks onto the top 10, tied for joint 9th with 'Eclipse101'.
The two main events on Sunday are both worth double the standard GCOOP scoring points. With the current leaderboard as it is, those final 2 events could prove critical to the eventual winner.

#TeamHills remains in top spot but Joe Beevers and Will Kassouf are bearing down on him. With a final table finish, Rick Trigg is also just a couple of deep runs away from taking the lead. It is still very much all to play for with our sponsored pros, nothing is decided.
No joy in GCOOP tonight, but reached two final tables on @GrosvenorPoker online.

2/94 in a small Turbo comp for €264
🏆 and shipped a Six-Max for €858. pic.twitter.com/93udtDjsyK

— Andy Hills (@GrindFromBehind) December 2, 2017
GCOOP Continues
Tonight is the penultimate night of GCOOP. The 2 events on the schedule are both Bounty tournaments where, alongside a prizepool, you also win money instantly for each player that you eliminate from the tournament. It's also the last chance to win the Main Event tickets as bounties for eliminating the Pros.
⋄ 7pm GCOOP: #8-Hi Bounty (£10 for every KO) £30 buy-in
⋄ 8pm GCOOP: #8-Lo Bounty (£2 for every KO) £5 buy-in
Good luck, play well and run better!
Comments
comments