Day 4 of the Grosvenor Championship of Online Poker was a fast and frenzied affair. The deepstack turbo structure of the night's two events left no room for complacency as the blinds rapidly and mercilessly increased. Players were forced to adapt their play, shifting from big-stack to short-stack mentality as the average chip stack swung from 500 big blinds down to 15 big blinds in less than a couple of hours. The two tournaments ploughed ceaselessly onwards amidst the chaos until our two GCOOP victors were crowned.
GCOOP #5-Hi Deepstack Turbo £5,000 GTD, Freezeout, £30 buy-in
193 players took part in the Hi event, generating a £5,404.00 prizepool. The high-speed structure of the event meant the field was whittled down to a final table long before the strike of midnight.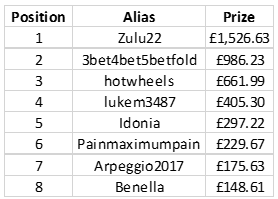 'Zulu22' was eliminating players for fun in this tournament! Having already taken out 2 of our sponsored pros (earning themselves 2 £110 Grosvenor Live tickets), they then scored 3 of the 4 knockouts as the final table went down to 4 players.
At 25,000/50,000 'lukem3487' raised from the small blind to 150,000 off of a 1.3m stack. 'Zulu22' made the call with their 1.6m stack and they were heads up to a flop of 7♣8♣9♠. 'lukem3487' put out a half pot bet of 160,000 and 'Zulu22' made the call. The action heated up on the turn J♣ which completed possible flush and straight draws. 'lukem3487' fired out another half pot bet, only for 'Zulu22' to push all-in over the top. A snap-call from 'lukem3487' and the cards were on their backs. 'Zulu22' showed 10♠8♠ for a straight while 'lukem3487' tabled 7♠8♥ for bottom two pair. 'lukem3487' needed to find a 7 or 8 on thew river to boat up, but the deck only provided the 3♣, adding another knockout to 'Zulu22's tally.
With 3 players left 'hotwheels' shoved their 6.5 big blind stack from the button with Q♠3♠ and faced a call from 'Zulu22' in the big blind with A♣9⋄. The flop A♠5♥6♠ hit both players, giving 'Zulu22' top pair and 'hotwheels' a flush draw. 'Zulu22' was able to hold through the J♣ turn and 8♣ river and 'hotwheels' bowed out in 3rd.
Heads-up play lasted all of 1 hand. 'Zulu22' min raised and '3bet4bet5betfold' made the call. The flop of K⋄Q⋄2♥ saw '3bet4bet5betfold' check to 'Zulu22' who bet out half pot. '3bet4bet5betfold' then instantly raised all-in and 'Zulu22' called. The cards were made face up and the GCOOP title hung in the balance. '3bet4bet5betfold' showed J♠Q♠ for second pair, whilst 'Zulu22' held K♥6⋄ for top pair. '3bet4bert5betfold' needed some help… and that's exactly what the deck delivered on the J⋄ turn. Two pair for '3bet4bet5betfold' but 'Zulu22' now had a flush draw to go along with top pair. It all rested on the river card. Well, 'Zulu22' was not about to stop knocking players out. The river landed as the 10⋄ completing 'Zulu22's flush and crowning another GCOOP winner. Well played to '3bet4bet5betfold' on a 2nd place finish in the only GCOOP event they have played so far.
Congratulations to the KO king 'Zulu22' who took out 6 players on the final table for the 1st place finish and a payday of £1,526.23.
GCOOP #5-Lo Deepstack Turbo £1,000 GTD, Freezeout, £5 buy-in
The GCOOP deepstack turbo lo event saw one player, BowieEffect, bulldoze their way through the 267 player field to arrive at the final table with around 50% of the chips in play. Such a monstrous chip lead saw 'BowieEffect' playing seemingly 95% of hands and proffering a reward of 5 of the 6 knockouts before heads-up play began. It was an inexorably dominating performance, however that final knockout remained elusive.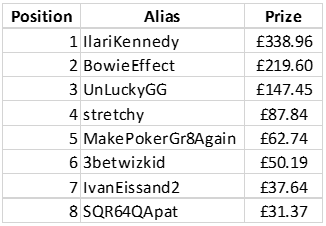 As heads-up play began, the GCOOP title seemed all but won for 'BowieEffect' with their 30:1 chip lead. 'IlariKennedy', with a little help from the deck, had other ideas. Watch the video in the tweet below to see possibly the greatest comeback since Matt Damon's vanquishing of with Teddy KGB:
What a comeback! 'IlariKennedy' claws back from a 30:1 chip deficit before eventually shipping the GCOOP title! #GCOOP #GCOOP17 pic.twitter.com/lxzhJ6OZPl

— Kit Goodman-Edwards (@Kitmaaan) December 1, 2017
After winning 4 consecutive all-ins, 'IlariKennedy' achieved the impossible and took the chip lead from 'BowieEffect'!
Following that, a true heads-up battle commenced as both players traded the chip lead, fighting for a breakthrough. 'IlariKennedy' fought his way to a 3:1 chip lead before the final hand ended things.  'BowieEffect' shoved Q♣9♣ and 'IlariKennedy' made the call with K⋄J♣. Neither player hit anything as the board ran out 4♠6♥4♥7♠7⋄ leaving 'IlariKennedy's king high the best hand and completing the David-vs-Goliath-esque comeback. GG to 'BowieEffect' for a remarkably dominating tournament performance until the last hurdle.
Congratulations to 'IlariKennedy' on a 1st place finish, adding 150 valuable leaderboard points for the £12,000 GUKPT Passport Leaderboard.
My turn to win a GCOOP! Got my ticket to the main, my plan is to ship that passport!@GrosvenorPoker @GrindFromBehind @WilliamKassouf @joebeevers @SwiftlyNow pic.twitter.com/xpsCCsLTGG

— Nick Kennedy (@IlariKennedy) November 30, 2017
Sponsored Pro Bust-outs
Congratulations to the following players on busting our resident sharks in the Hi event and winning a £110 GCOOP Main Event ticket:
'ABC_Geriatric' > Joe 'JoeBeevers' Beevers
'Zulu22' > Jeff 'JaffaGUKPTCake' Kimber
Winning the battle to find out who runs worse in #GCOOP – bust AK v K4 two places before the points to move up the table….lucky there's more to play tomoro!!

At least my chips went on to win even if I didn't. Well done zulu #TeamGrosvenor pic.twitter.com/oJTCtjJnDw

— Jeff Kimber (@jeffkimberpoker) December 1, 2017
'Zulu22' > Katie 'Katie_Swift' Swift
Swift exit in #GCOOP 😔Low JJ>QQ High started well, up to 28k, with AA & KK, moved 5 times, joined @GrindFromBehind & got dealt QQ, rivered set, simultaneously giving a straight & sealed my bounty being gifted to "Zulu22", who eventually won the comp, nice result. @GrosvenorPoker pic.twitter.com/mDCOGMTh07

— Katie Swift (@SwiftlyNow) December 1, 2017
'Xedos' > Richard 'Rick_Trigg' Trigg
'Road_Dog' > Andy 'GrindFromBehind' Hills
Congrats to Road_Dog whose ATss top-pair held vs my combo draw, to take the last of my chips & bag my bounty in GCOOP event #5.

The reward—a £110 entry into the #GCOOP17 Main Event (£50k Gtd) on Sunday! Good luck mate. @GrosvenorPoker pic.twitter.com/nMm8g93NY9

— Andy Hills (@GrindFromBehind) November 30, 2017
'MyH3r0' > Will '9-high-like-a-boss' Kassouf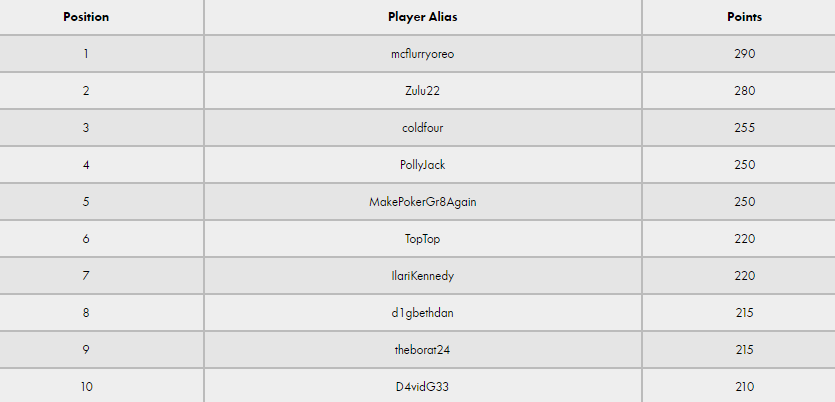 'mcflurryoreo' remains in the top spot but 'Zulu22' shoots up the table into 2nd place following their Hi victory. 'coldfour' is still lurking around the top 3 while 'PollyJack' managed two decent scoring performances last night to land at 4th.
There are 4 GCOOP events scheduled tonight which means a possible 600 points could be won by any individual player. With this in mind, our top 10 could be looking very different this time tomorrow.

Andy Hills continues to rule the pro leaderboard but Joe Beevers is quietly adding to his points total. This is by no means a 1 horse race and anything can happen in tonight's 4 tournaments. As it stands, #TeamHills supporters will be playing the £1k Back Your Pro freeroll but we shall see if he can hold his position over the rest of GCOOP.
GCOOP Continues
4 GCOOP events are on the schedule for tonight: 2 Redtooth freezeouts which are open to any and all players, and 2 Pot Limit Omaha tournaments.
⋄ 7pm GCOOP #7-Hi Redtooth £1,500 GTD, Freezeout, £30 Buy-in ADDED VALUE: £1,200 Vegas Package for 1st!
@grosvenorcasino are giving away a guest ticket into the VEGAS100 2018 & £1500 GTD #gcoop Play with the pros @joebeevers @SwiftlyNow & @WilliamKassouf ONLY 15 PLAYERS REGISTERED MASSIVE VALUE!! #getinvolved #VEGASGUESTSEAT #grosvenorpoker #VEGASfor22quid pic.twitter.com/qCEZ3KQo0O

— Redtooth Poker (@redtoothpoker) December 1, 2017
⋄ 7pm GCOOP #6-Hi PLO £5,000 GTD, 1R, Buy-in £30
⋄ 8pm GCOOP #7-Lo Redtooth £1,000 GTD, Freezeout, £5 Buy-in
⋄ 8pm GCOOP #6-Lo PLO £1,000 GTD, 1R, £5 Buy-in
Good luck, play well and run better!
Below, Joe Beevers shares his experience playing GCOOP and offers his thoughts on the modern online game:
GCOOP – 'Blue on Blue' – Joe Beevers
'Origin. C20: from the colour used to mark a country's own troops and allies on a military map. '
Those of you who know me will know that I grew up playing live poker – in fact the internet didn't really exist when I played my first live poker tournament. Lots has changed since then, the game is very different.

When I first started out there was only one tournament in the calendar that had a 10,000 starting stack and that was the WSOP Main Event at Binion's Horseshoe in Las Vegas. Starting stacks were generally a lot shallower and the tactics employed were very different too. Those of you who have listened to Andy Hills and I commentate on GUKPT live coverage will understand what I am talking about. Stack leverage, size of pre-flop raises, number of limpers and even things like the percentage of raises actually on the flop (far fewer these days with more players just calling with things like over-pairs) are vastly different, so much so that the game is unrecognisable sometimes.

Andy is very much 'new school' – even his mum doesn't understand his Tweets. And I'm very much old school – my mum doesn't know what Twitter is. But I feel we can both contribute and I feel we can both learn from each other.

This week started on Monday with the first ever GCOOP, the Grosvenor Championship of Online Poker (and not 'getting called out of position' as someone might have thought). Aggressive guarantees, free-rolls and generous bounty prizes had a few executives a little nervous but the truth is, sat here on Friday morning, they smashed it! Every target has been beaten and online poker is back!

There are six of us 'Grosvenor Pros' playing the events. Although we are all friends off the felt, and in the bar, there is no room for prisoners when chips are at stake. Will 'The Mouth' knocked me out of one of my first events, I got Andy 'The Analyst' in the £5 heads up event and Jeff got Trigged yesterday in the deepstack turbo. There are no friends at the poker table.

Anyone that knocks one of us out of a £30 'high buyin' event automatically gets their entry ticket to the Championship Event on Sunday December 3rd; £110 buy in with a massive £50,000 guarantee. There could certainly be overlay there although you just don't know with the success so far.
My online chat box had a bit of a dust for the first time in a while. Most players just ignore that these days. With GCOOP though it has been different with more of a community, lots of fun chat and a few sly digs here and there – but all, as Kenny Everett would say, 'in the best possible taste'.
We only have a few events left. The overall winner for the best player overall gets a GUKPT Passport with entry to all the 2018 GUKPT main events plus expenses. With double points for the main GCOOP event on Sunday plus the other events still to come this great prize could be anyone's.

You get 150 points for a win, 300 for a main event win and points from 40th place upwards so it really is still very open.
We also have a fun side leader board for the six pros (Grosvenor Pros can't win the passport). Andy Hills is still top after winning the £30 head up event but we are close behind on his tail and he won't win this one easy (well maybe).
I hope you are all enjoying GCOOP. Very best of luck in the Championship Event!
Cheers and stay out of my pots,
Joe
Comments
comments