Day 3 of the Grosvenor Championship of Online Poker saw packed schedule of 4 simultaneous events. Players gunning for the £12,000 GUKPT Passport, that will grant them entry into every 2018 GUKPT main event, will have found themselves multi-tabling 2 heads-up tournaments and 2 APAT freezeouts – no small feat. It was another BIG night of online poker as all but one of the guarantees were smashed and the players and pros alike went toe-to-toe on the virtual felt for juicy paydays, leaderboard points and, of course, bragging rights.
GCOOP #3-Hi APAT £1,500 GTD, Freezeout, £30 buy-in
180 players sunk their teeth into this tournament, more than tripling the guaranteed prizepool to £5,040. Two of our resident sponsored pros made deep runs, Katie Swift and Will Kassouf finishing 17th and 13th respectively, but neither quite made it to the final table.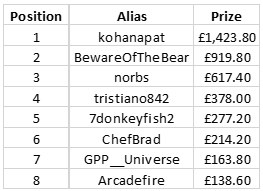 With four players remaining, 'tristiano842' got it all-in pre-flop with A♣K♠ agasint the J♥J♠ of 'kohanapat'; the classic race of a pair versus two over-cards. In this situation 'kohanapat' would just be desperately hoping to see the board run out without an ace or a king… But quads will also do the job!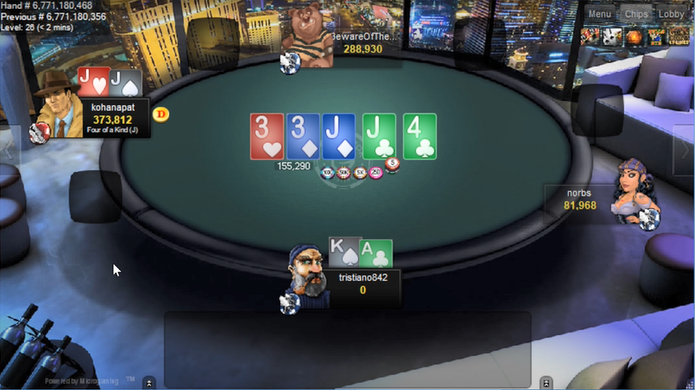 'kohanapat' continued to make more hands than a mannequin factory as they got it all-in pre again against 'norbs'. This time it was anything but a coin-flip as 'kohanapat's A♠2♠ was dominated by the A♥K♠ of 'norbs'. Unfortunately for 'norbs' a the 2⋄ in the window flipped the tables immediately and 'norbs' was left needing to find a King. The board ran out 9♥7⋄2⋄10♥J♠ and we were down to heads-up.
It didn't take long for 'kohanapat' to convert their 2:1 chip lead into a victory. 'BewareOfTheBear' shoved all-in over the top of a pot-sized bet from 'kohanapat' on a flop of 3♥4♣7♠. 'kohanapat' made the call with just two over-cards to the board, A⋄9♠. 'BewareOfTheBear' tabled 7⋄5♠ for top pair and a gutshot straight draw but couldn't hold on as the crushing A♥ hit the river. GG to 'BewareOfTheBear' out in 2nd place and congratulations to the APAT Hi champion 'kohanapat', winning £1,423.80 from a £30 buy-in.
GCOOP #3-Lo APAT £1,000 GTD, Freezeout, £5 buy-in
Last year's GUKPT passport winner Andy 'GrindFromBehind' Hills became our first sponsored pro to make a GCOOP final table as he found himself among the final 8 of the 242 player field. A total prizepool of £1,137.40 was generated, the lion's share of which was distributed among the below players.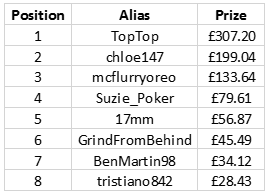 Down to 4 players, 'Suzie_Poker' found herself in the unfortunate position of getting her 10 big blind stack in from the button with A♠7♥ and being up against 'chloe147's A⋄10♠. The 10♥4♥4♣ flop left 'Suzie_Poker' needing running hearts or 7s. The K♠9♠ turn and river were no help and 'Suzie_Poker' went out in 4th place.
So after a slow start made a final table 🙌🏽 alongside @GrindFromBehind finishing 4th in tonight's #GCOOP17 Low event, adding a bit extra to the bankroll 💸💸💸 and racking up an extra 90 points 🤓♠️♥️♣️♦️👌🏼@GrosvenorPoker

— Suzie (@Suzie_Poker) November 30, 2017
Next out was 'mcflurryoreo' after making their 3rd final table of GCOOP so far! Their all-in shove from the button with A♠5♠ was greeted with a call from 'chloe147' in the big blind with A♣8♣. The board ran out 'K⋄9♥8♥6⋄4⋄ bringing no help to 'mcflurryoreo' who bowed out in 3rd for 100 leaderboard points, ranking them currently 1st on the £12,000 GUKPT Passport leaderboard!
The tournament was decided when 'chloe147' shoved all-in with Q♣9diamond; and 'TopTop' made the call with J♥J♠. 'chloe147' managed to turn a pair of 9s as the board read 3♥K♣2♠9♣ but the river 8♣ ended things. GG to 'chloe147' on 2nd place and congratulations to TopTop who toppled the 242 players to top the tournament and become a GCOOP victor!
GCOOP #4-Hi Heads Up £3,000 GTD, £30 buy-in
Heads-up is a unique and testing tournament type. There's no place to hide. It's just you and your opponent in a 1 vs 1 contest trying to outwit and outdraw one another. Well, 149 players felt up to the test in the GCOOP #4-Hi tournament, crushing the guarantee and generating £4,172.00 to be won. The victor was a familiar name…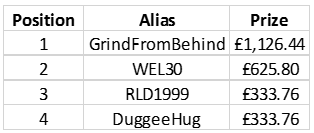 'WEL30' navigated into the final round after knocking out 'DuggeeHug' with pocket 9s. 'DuggeeHug' check shoved on the 4♥7⋄3♥ flop with 7♠6♥. 'WEL30' snap called with the overpair and managed to hold.
Andy 'GrindFromBehind' Hills defeated 'RLD1999' after getting it all in pre-flop with A⋄8diamond; against A♣5⋄. The better starting hand was also the best hand on the river and the round was over.
Momentum was on Andy 'GrindFromBehind' Hills' side in the final round as he took the chip lead early and never gave it up. With a 10:1 chip lead, Andy Hills finished the tie once again getting it in with a dominating ace; his A♣7⋄ against the A⋄2⋄ of 'WEL30'. Both players paired their side card on the board of 7♣J♠8⋄2♣J♣, but with the higher pair Andy 'GrindFromBehind' Hills shipped his first GCOOP title!
🔥🔥 BOOM! 🔥🔥
Shipped the GCOOP heads-up shootout (1/149) for over a grand! 💣#TeamHills #GCOOP17 @GrosvenorPoker pic.twitter.com/cCysAPUbZ1

— Andy Hills (@GrindFromBehind) November 30, 2017
GCOOP #4-Lo Heads Up £1,000 GTD, £5 buy-in
209 players tried their luck at the Lo heads-up event with the top 4 players each seeing a substantial return on their £5 investment.

A brutal hand between 'John1962' and 'Saul0fTarsus' saw the latter lose the vast majority of their chips. It all went in on the river as the board read Q♠4♥J♣8⋄6♣. 'Saul0fTarsus' tabled 8♠8♥ for a turned set of 8s, but 'John1962' had turned a straight with 9⋄10⋄ and scooped in the pot. Down to 3 big blinds, 'Saul0fTarsus' was eliminanted in the next hand.
The other semi-final was settled when 'MakePokerGr8Again', holding A♣9♣ called 'theborat24's all-in shove pre-flop. 'theborat24' showed 8♠ 6♠ and flopped the better hand on the J♠J♥6⋄ board. The A♥ on the turn put 'MakePokerGr8Again' back in the driver's seat and the river 9⋄ sealed the hand, busting 'theborat24'.
The final round of the tournament was over within the second level when 'John1962' caught 'MakePokerGr8Again' bluffin' with his muffin. On a flop of 7♠2♥6⋄, 'MakePokerGr8Again' check raised the 75 chip bet of 'John1962' to 225, holding 8♣4♣. 'John1962' made the call with 10♣10⋄. 'MakePokerGr8Again' lead out on the turn J♠ for 405. 'John1962' made the call. On the river 6♠ 'MakePokerGr8Again' put it all on the line, shoving for their remaining 1,545 stack. 'John1962' didn't buy into the story 'MakePokerGr8Again' was telling and found the call to end the match and the tournament. Well played to 'MakePokerGr8Again' on a 2nd place finish and kudos for the courage to pull a 3-street bluff for your entire stack in the final round! Congratulations to 'John1962' who joins the exclusive club of GCOOP winners.
Sponsored Pro Bust-outs
Congratulations to the below players who all pick up a £110 GCOOP main event ticket for taking out our pros in the Hi events.
'GPP_Universe' > Will '9-high-like-a-boss' Kassouf
'Rick_Trigg' > Will '9-high-like-a-boss' Kassouf
Unlucky last night @WilliamKassouf Ace high like a boss no good #GCOOP #GCOOP17 pic.twitter.com/7QpKQ227BM

— Kit Goodman-Edwards (@Kitmaaan) November 30, 2017
'kohanapat' > Katie 'Katie_Swift' Swift
'Scissorman66' > Katie 'Katie_Swift' Swift
Double bounties awarded tonight in #GCOOP Well done to "kohanapat" who cracked my AK all in pre with K9 in the #APAT high event, knocking me out 17th & congratulations to "Scissorman66" who won a race in the #HEADSUP high event, busting pocket 55s with his A10o. @GrosvenorPoker pic.twitter.com/uLOB5AD4o3

— Katie Swift (@SwiftlyNow) November 30, 2017
'ChefBrad' > Andy 'GrindFromBehind' Hills
'geezo' > Jeff 'JaffaGUKPTCAKE' Kimber
'UnluckyGG' > Jeff 'JaffaGUKPTCAKE' Kimber
dimsevic > Richard 'Rick_Trigg' Trigg
'Sirepil1' > Richard 'Rick_Trigg' Trigg
9-high-like-a-boss > Joe 'JoeBeevers' Beevers
WEL30 > Joe 'JoeBeevers' Beevers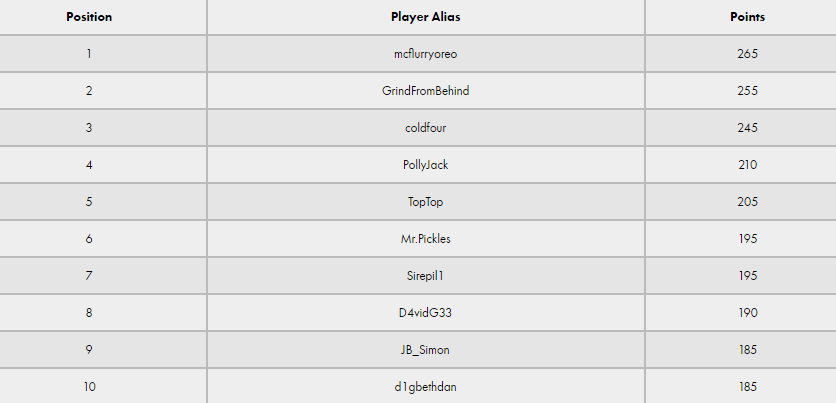 With 3 final tables locked up already, 'mcflurryoreo' sits in pole position on the leaderboard. An incredible night for Andy 'GrindFromBehind' HIlls, with a win and a final table, sees him soar to 2nd on the leaderboard, however Pros are not eligible to win the £12,000 passport. 'coldfour' has only dropped to 3rd after picking up 55 more leaderboard points last night. 'TopTop' is currently placed 5th but no doubt they'll be looking to live up to their alias and climb the table.

Rick Trigg took out Will Kassouf in the heads-up hi event last night but it's the leaderboard that does the talking today. Joe Beevers had an excellent night with a deep run in the lo heads-up and scoring performances in the hi heads-up and lo APAT. Beevers actually elminated Andy Hills in the lo heads-up by turning a set of 4s, but its #TeamHIlls that has shot to the top of the leaderboard following a 1st and a 6th place finish. No doubt the other pros will be looking to dethrone the previous passport winner in tonight's Deepstack Turbo events.
GCOOP Continues
The GCOOP #5 events take place tonight in the form of Deepstack Turbo tournaments. This means players begin with a much bigger starting stack, but the clack has been halved.
⋄ 7pm GCOOP #5-Hi Deepstack Turbo £5,000 GTD, Freezeout, £30 buy-in, 20,000 starting stack, 5 min blinds
⋄ 8pm GCOOP #5-Lo Deepstack Turbo £1,000 GTD, Freezeout, £5 buy-in, 10,000 starting stack, 4 min blinds
Good luck, play well, and run better!
Comments
comments