And we're off! Grosvenor Poker's first ever online poker series, GCOOP, started with one hell of a bang. 613 unique players took part in the opening day of GCOOP, smashing the guarantees of both the Lo and Hi events and generating Grosvenor Poker's biggest ever tournament prizepool of £14,028!
GCOOP: #1-Hi £10,000 GTD, 1R, £30 buy-in
GCOOP #1-Hi was Grosvenor Poker's first ever £10K GTD non-freeroll online tournament and, as such, overlay was anticipated. Well all expectations were blown out the water as the tourney hit guarantee within an hour of starting. 385 unique players and 116 re-buys all contributed to the juicy £14,028 prizepool – a Grosvenor Poker online record!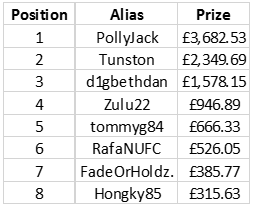 8 players made it the official final table but a special mention should go out to 'Largie' who bubbled the final table of BOTH events, the Hi and the Lo, finishing 9th in each one. Both commiserations and congratulations are in order I suppose?
The final table got underway with 'PollyJack' as the chipleader and 'Hongky85' the short stack. First hand, 'Hongky85' moved all in from middle position for 20k, or 1.5 big blinds holding K♥6♣. The creatively named 'FadeOrHoldz' then raised to 80k from the button with K♠Q⋄ and was met by a reshove from 'RafaNUFC' in the small blind with 10♠10⋄ for a further 30k. The board ran out 3♠A♠A♥3♣9♥ bringing no help to 'Hongky85' who busted in 8th and 'RafaNUFC' scooped the pot.
Next to bust was 'FadeOrHoldz' after shoving 15 big blinds from the cut-off with 8♣8♥ and getting called by the A♣J♣ of 'Tunston'. 'FadeOrHoldz' couldn't improve after the A♥ on the flop and went out in 7th.
6th place went to 'RafaNUFC' when a painful K♠ hit the river; leaving their pocket sixes no good versus the K♥J♠ of 'd1gbethdan'.
The river continued to show no mercy as 'tommyg84's A♥4♥ fell to the K♥J♥ of 'd1gbethdan' on the 10⋄2♣8♣9♣J⋄ board for a 5th place finish.
'Zulu22's K♣8♠ couldn't get there againsts the A⋄J⋄ of 'Tunston' earning a 4th place finish.
A 3 way battle then ensued between 'Tunston', 'PollyJack' and 'd1gbethdan', constantly swapping the chip lead until the deadlock finally broke. 'd1gbethdan', for their tournament life, called 'PollyJack's button shove with A♣J♠. 'PollyJack' turned over Q♣9♣ and the stage looked set for a 'd1gbethdan' double up. The flop had other ideas, however, bringing A⋄9♠9⋄. The turn 10⋄ and river 4♠ changed nothing and 'd1gbethdan' exited the tourney in an impressive 3rd place.
Heads up play was a short affair, 'PollyJack' using his 2:1 chip advantage aggressively, putting 'Tunston' to the test. The final hand saw it all go in pre-flop with 'Tunston' holding A♣8♥ and 'PollyJack' holding K♣Q♥. The flop came down K⋄K♥10♥ giving 'Tunston' little to cheer for. The turn 3⋄ left 'Tunston' drawing dead. When the river Q♣ hit the felt 'Tunston' won £2,349.69 for a well-earned 2nd place.
GCOOP #1-Hi Final Hand! #gcoop pic.twitter.com/0DsG7ZlgLT

— Kit Goodman-Edwards (@Kitmaaan) November 28, 2017
Congratulations to our winner 'PollyJack' for turning his £30 entry into a whopping £3,682.53!
Sponsored Pro Bust-outs
Congratulations to the below players who each earned themselves a £110 GCOOP Main Event ticket by knocking out our sponsored pros in the Hi Event:
'TheAce' > Andy 'GrindFromBehind' Hills
Congrats to 'TheACE' who just won a £110 "GCOOP Main Event" ticket by eliminating me from GCOOP #01. THAT EASY!

Registration is still open for the £30 tourney, & the £5 'Low' event is just about to start. #GCOOP17 pic.twitter.com/W4sveDzRzy

— Andy Hills (@GrindFromBehind) November 27, 2017
'IBossU' > Joe 'JoeBeevers' Beevers
'Jazz1UK' > Will '9-high-like-a-boss' Kassouf
'PokerElite6446' > Jeff 'JaffaGUKPTCake' Kimber
'PokerElite6446' got me in #GCOOP event 1 AK<99 and wins a £110 GCOOP Main Event seat, well done fella….still plodding along in the low event tho!

— Jeff Kimber (@jeffkimberpoker) November 27, 2017
'SetSmasher' > Katie 'Katie_Swift' Swift
Congratulations & goodluck to "SetSmasher" who knocked me out JJ>QQ & has won my £110 #GCOOP Main Event bounty.@GrosvenorPoker

— Katie Swift (@SwiftlyNow) November 27, 2017
'ReniG' > Richard 'Rick_Trigg' Trigg
You can win your £110 GCOOP Main Event ticket, and a shot at the £50,000 prizepool, by knocking out  one of our sponsored pros in tonight's GCOOP #2-Hi 6-Max event.
GCOOP #1-Lo £3,000 GTD, 1R, £5 buy-in
The opening Lo event saw 493 unique entries and 220 re-buys, again smashing the ambitious £3,000 guarantee. The incredible turnout saw players using their £5 entry to compete for a £3,351.10 prizepool with eventual champion 'JB_Simon' winning £846.31 –  169 x the buy-in!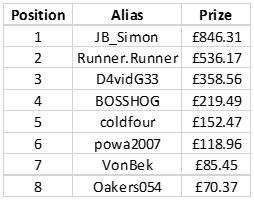 The first elimination on the final table took place when 'Oakers054' shoved his 8 big blind stack under the gun holding Q♥J♠, running into the A♣Q♣ of 'BOSSHOG'. The 3♥K♥6♣K♣A♥ board brought no help and we lost 'Oakers054' in 8th.
A brutal cooler then occurred blind vs blind as 'VonBek' shoved his 3⋄3♠ from the small bind into the 10♠10⋄ of 'BOSSHOG'. A seemingly miracle flop of A♠3♣A♥ breathed new life into 'VonBek's hand but the turn A⋄ gave 'BOSSHOG' a bigger boat and it was bye bye 'VonBek' in 7th.
Next out was 'powa2007' who got it all in on the 6⋄2♠9♠ flop holding J♥9♥ against the 6♠4♠ of 'JB_Simon'. The turn Q♠ made 'JB_Simon's flush and 'powa2007' busted in 6th.
'coldfour' exited the tournament in 5th place in a "cooleriffic" hand. 'coldfour' shoved from the button holding A♣K♣ only to be greeted by the mighty Solomons K♠K⋄ of 'JB_Simon'. 'coldfour' hit the A♥ on the river… but the K♥ was already out on the flop meaning it was GG for 'coldfour'.
'Runner.Runner' then went all in pre-flop with A♥10♠, getting called by the 6♠6♥ of 'BOSSHOG'. The flop of 3♠2♠8♣ looked good for 'BOSSHOG' but the turn 10⋄ gave 'Runner.Runner' the higher pair. The river A♠ rubbed salt in the wound, making 'Runner.Runner' two pair and ending 'BOSSHOG's tournament in 4th.
'D4vidG33' fought valiantly with the short stack when they were down to 3 players. 'D4vidG33' made a big call in the big blind for their tournament life as 'JB_Simon' shoved Q⋄8⋄ from the small blind. 'D4vidG33' called and tabled K♣7♣. Getting it in good is not always enough in poker though as the board ran out A♠Q♣4♥9⋄Q♥, making 'JB_Simon' trips and ending 'D4vidG33's tournament in 3rd.
And so began a fierce and lengthy heads up battle between 'JB_Simon and 'Runner.Runner'. They traded the chip lead numerous times both playing aggressively, determined to take down the title. The clash culminated with a little bit of a cooler and a little bit of luck, as so often heads up games do. Both players got it in pre-flop holding an ace, 'JB_Simon's A♠3♣ dominated by 'Runner.Runner's A♣9♣. The flop came 4♥2♣10♠ giving 'JB_Simon' 4 outs to the wheel draw and 3 outs to hit a '3'. The turn 3⋄ was enough for 'JB_Simon' to take the lead and as the river 4♣ landed we had our second champion of the night.
Well played to 'Runner.Runner' on the 2nd place finish and a big congratulations to 'JB_Simon' on the win!
'JB_Simon' currently sits top of the leaderboard after a 1st place in the Lo worth 150 points and the 5 points for playing the Hi. 'PollyJack' is just behind with 150 points. After a very impressive performance, finishing 9th in both the Hi and the Lo events, 'Largie' now sits in 9th on the leaderboard. These players have got off to a dream start for winning that £12,000 GUKPT 2018 Passport but it's still early days. They'll have to continue to make deep runs in the upcoming 18 GCOOP events to protect their positions.
All is square on the sponsored pro leaderboard after day 1. Katie Swift ran deepest overall in the tournaments but it wasn't enough to earn her more points on the leaderboard. As the competition heats up, check out Katie Swift's short video about clashing with her fellow pros:
@GrosvenorPoker #GCOOP starts tonight! Check out this little video I've created to get in the mood……… See you at the tables! 😁 #TeamSwift https://t.co/pIDmxs92vK

— Katie Swift (@SwiftlyNow) November 27, 2017
GCOOP Continues
Tonight's GCOOP events take the form of 6-Max. A faster, more aggressive game variant that favours the brave. With only 6 players at each table there's no place to hide and no time to wait for the pocket rockets. Try your hand at the GCOOP 6-Max tournaments for  a shot at the big guarantees, points for the £12,000 GUKPT Passport Leaderboard and even a £110 ticket if you take out a pro in the Hi.
⋄ 7pm GCOOP #2-Hi 6-Max £5,000 GTD, 1R, £30 buy-in
⋄ 8pm GCOOP #2-Lo 6-Max £1,000 GTD, 1R, £5 buy-in
Good luck, play well and run better!
Comments
comments