As you've guessed from the title, we've got another bumper weekend of boxing in store, with two notable British boxers in action and a world title (well, of sorts) on the line.
With coverage starting from 19:00 on Box Nation, Tyson Fury effectively risks his mandatory world title shot against heavyweight kingpin Vladimir Klitschko by facing Christian Hammer at London's O2 Arena in the main event on Saturday evening.
Before Fury takes on Hammer, though, we've got a WBA interim (I know, a ridiculous title) world title match between defending champion Dmitry Chudinov and challenger Chris Eubank Jnr.
Chudinov v Eubank Jnr Tale of the Tape
Born in Russia, Dmitry Chudinov is a 28-year-old boxer who holds an undefeated professional record of 14-0-2 (9 KO). Quite honestly, I've never seen him fight on TV and had to watch a couple of his bouts via You Tube (what a creation) to gain an impression of his skills, but he looks to be a decent, come-forward boxer who likes to stalk his opponents down.
Of course, Gennady Golovkin is the real WBA middleweight champion, and he likes to stalk his opponents down too, but whist Chudinov can only fight who's put in front of him and is not as far into his career as GGG is, he doesn't look to be in the same league as the Kazak fighter, and looks like a tough but suitable opponent for Eubank Jnr.
The entire boxing world is familiar with Chris Eubank Snr and a lot of the general public will be too. Like I said in the successful Saunders v Eubank Jnr betting preview, Eubank Jnr displays many of his father's mannerisms – in and out of the ring – and looks set to be a future world champion.
Eubank Jnr does, however, have a blemish on his professional boxing record after being beaten on points by Billy Jo Saunders, but this was as expected and there are some fights where you can gain as much in defeat as victory, and that was one of them.
Indeed, 25-year-old, now 18-1 (13 KO) Eubank Jnr lost a close fight to a more experienced, world-class fighter and after throwing few punches and consequently losing the first few rounds in that match with Saunders, he went on to win the second half of the fight. It's a 'have a few more fights, win whatever title belts possible and then have a mega-fight rematch with Saunders down the line when they're both world champions type theory' – he can improve and come again.
Chudinov v Eubank Betting
Chudinov is offered around 10/3 and Eubank Jnr is available at 4/11 and shortening. In terms of method of victory, Chudinov is rated at 7/1 to win by KO/TKO or DQ and the same price to win on points, while Eubank Jnr is 2/1 to win by KO/TKO or DQ, or 11/8 to win by a scorecard verdict.
The Chudinov v Eubank Betting Verdict
Eubank likes to land hard single shots, particularly uppercuts, and Chudinov's come-forward style should therefore suit the Briton, who can sit back, pick his shots and counter. Now, the downside is that we don't know how well Chudinov can take a punch – he looks quite tough, as most European boxers are.
But, all in all, style make fights and while I've only taken a medium sized bet on Eubank Jnr winning within twelve rounds, at the price it's worth a punt. I certainly expect Eubank Jnr to win the fight – he has to and surely knows it.
Worth a punt: Eubank to win by KO/TKO or DQ at 2/1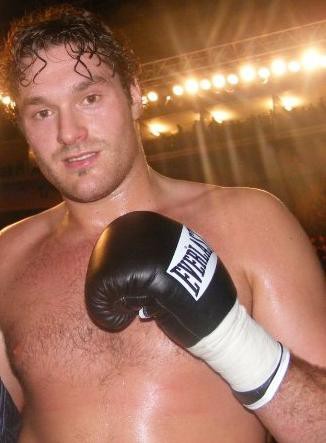 Fury v Hammer Tale of the Tape
I've spoken about Fury's background and amateur career when I previewed his last bout – a rematch with Derek Chisora – so we can get to the point quicker this time. In short, 23-0 (17 KO) Fury is 6ft 8 inches tall, undefeated and a strong contender to win a world heavyweight title – he has all of the tools and is the 'real deal.'
In his last bout, Fury demolished British rival Derek Chisora slowly and methodically, eventually winning after Chisora's corner pulled him out late in the fight – he was getting beaten up that badly. To boxing fans, this was impressive as Chisora is a good but not elite boxer and he didn't get a 'look in,' it was unexpectedly one sided.
The winner of that bout became number-one contender to Klitschko's WBO title, but let's just say that it usually take a while for such bouts to materialise, and also that – like Carl Froch eventually did with his IBF super-middleweight rather than face James DeGale – a champion can always just vacate his belt rather than face a mandatory challenger. Notably, Klitschko has a few world titles and if he gives one up he'll still be viewed as the undisputed champion until he's beaten in the ring.
Given the above, Fury has opted to stay busy by fighting 27-year-old Christian Hammer, who is the WBO's fourth-ranked heavyweight contender, and a few inches shorter than Fury, standing at 6ft 2 inches. Born in Romania but fighting out of Germany, Hammer has a 17-3 (10 KO) professional boxing record, with two of his three losses coming via knockout.
Fury v Hammer Betting
Fury is offered around 1/14 and Hammer is available at 10/1. In terms of method of victory, Fury is available at 1/4 to win by KO/TKO or DQ, or 9/2 to win on points, while Hammer is 18/1 to win by KO/TKO or DQ, or 25/1 to win by a scorecard verdict.
The Fury v Hammer Betting Verdict
Fury has a lot more to lose and could easily safely outbox his opponent from distance, but it's also important that he puts on a good performance and stops someone that's been beaten twice by the same method in order to create further hype and public demand for his future fight with Klitschko, or indeed WBC champions Deontay Wilder.
Hammer has nothing to lose and might as well try to knock the taller Fury out or he's going to eat a stiff, hard jab all night, so if he 'goes looking' for Fury and doesn't try to keep his distance then I would expect Fury to knock him out.
The problem is that Fury to win by KO/TKO or DQ is just not worth betting on at 1/4, but I expect Eubank Jnr to win full stop, and also Carl Frampton to win his bout on ITV (around 9/10pm), so if you treble the three together it's worth a punt and gives you a bet for the main event on each card.
Of course, whether you do or don't opt for a wager, have a great weekend and feel free to contact me on Twitter via @JCLaLiga if you have any questions or feedback.
Photo credits –Wikimedia (This work has been released into the public domain by its author, Adamj1987 at English Wikipedia)
Comments
comments