Get ready for a fun week playing online, as GCOOP returns! Enjoy some friendly competition, great value, have a chat in the lobby and still be in bed by midnight after taking down a comp and winning some real money. It's an online festival week that has proved popular in the past and isn't set to disappoint this time round!
With GCOOP returning for a week ‪from Sunday 25th November – Sunday 2nd December, it's worth checking out the numerous satellites, plus £5000 worth of freerolls being offered in the week leading up to it. Qualify for free and enjoy some warm up practice at the virtual felt in the process.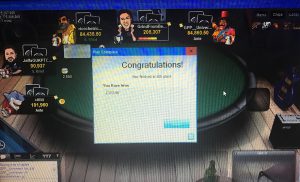 Follow in my fellow Sponsored Pro's, Andy Hills, famous footsteps and win yourself a £12,000 GUKPT Passport sponsorship package for 2019. David Gee won it last year and has converted his opportunity into a successful year playing the GUKPT events during 2018, notably recently finishing as runner up in the Leeds GUKPT Main Event. Topping the GCOOP leaderboard to win this fantastic promotion really is a huge opportunity not to be missed.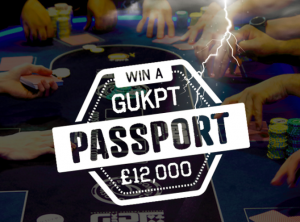 In total there is £15,000 of added value kindly being given away by the Grosvenor Poker online team, including £30 tickets on all the Sponsored Pros heads during every event during GCOOP. Best of luck trying to knock us out to claim those bounty prizes!
Additionally, there is the ever popular "back your pro" freeroll, simply register in ONE lobby for the Sponsored Pro that you think will perform the best during GCOOP week. Select wisely, as all those that are correct will play in their own comp completely free. Make sure you only register for one lobby as those that "hedge their bets" and register in multiple tanks will be disqualified. Each sponsored pro can be easily recognised by our own personalised Grosvenor Pro avatar, but just in case you aren't familiar, here's the names:
Katie Swift (Katie_Swift)
Joe Beevers (Joe_Beevers)
Rick Trigg (Rick_Trigg)
Andy Hills (Andy_Hills)
Jeff Kimber (JaffaGUKPTCake)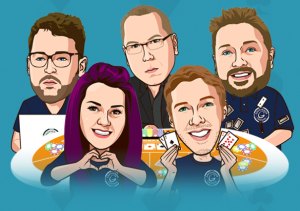 I'll be trying my best to be the Pro at the peak of the leaderboard by playing in all 22 events. I have worked hard this year to be able to comfortably multi-table different variants of poker games online and am looking forward to putting this into practice again. I love the schedule where buy ins range from £5 to £500 and provide a good mix of NLH, PLO, Heads Up format events, some are pure freezeouts, others are rebuys. There are also bounty comps, deepstack turbos and 6 max styles. So there really is something for everyone and a great way to test all your poker skills or even try out a new variety of poker you haven't played before, especially with the security and knowledge that every event has its own guaranteed prizepool.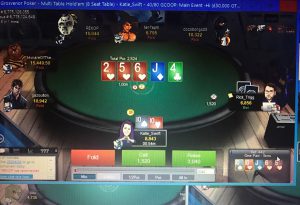 The previous two GCOOPs, during the last year have built up a fabulous following, with lots of recreational, new and regular players joining in the mix – with playing online and engaging on social media. I particularly enjoy this interaction and I try to help with posting as much information, schedules and leaderboards to my social media accounts to help. To get involved or see these updates you can follow me on Twitter (@SwiftlyNow) or Facebook or Instagram (Katie Swift). During this GCOOP I am even planning to "go live" on social media with some of my games, which will be an interesting twist and new experience! I hope you enjoy.
At the beginning of May during the second GCOOP series, I was away on my son's football tour and found myself faced with the challenge of playing up to four tables simultaneously on my mobile for the last 4 days of the week. Admittedly, it was far from ideal, yet I still managed to bag a few results. However, for this third series with full concentration I am determined to have my best GCOOP week to date. Having had some recent success, deep runs, big cashes and with momentum and  confidence on my side I'm ready to battle! GCOOP is a fixture I don't miss, I thoroughly enjoy the entire experience, I hope you all do too.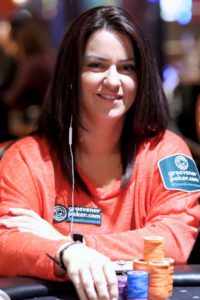 All information, the full schedule, exact leaderboard points system and satellite details can be found here, be sure to check it out in plenty of time and plan ahead.
I look forward to seeing you at the virtual tables! Good luck, remember to enjoy and have fun!
Comments
comments