Screened live on Eurosport between the 19th January and the 1st February, the 2015 Australian Open taken centre-stage over the course of the next two weeks, and I've got a few bets worth considering. Before we get to them, however, let's have a look at the history of Australia's most famous tennis tournament.  
Originally billed as the Australasian Championships and first held in Melbourne, Australia at the Warehouseman's Cricket Ground in 1905, the Australian Open Grand Slam tennis tournament has gone through many changes over the years.
Now, I used to play tennis as a youth, have always watched the sport and even have a tennis assistants coaching badge, but there are a lot of things that I didn't know about the history of this tournament and it's been an interesting read finding out.
I knew that the tournament, like Wimbledon in London, England, was played on grass until the late 1980's, that it was held in the midst of the Australian summer and incorporates  two – the Rod Laver and Hisense Arena's – courts with retractable roofs to counteract the climate, but I didn't know that it had twice been held in New Zealand!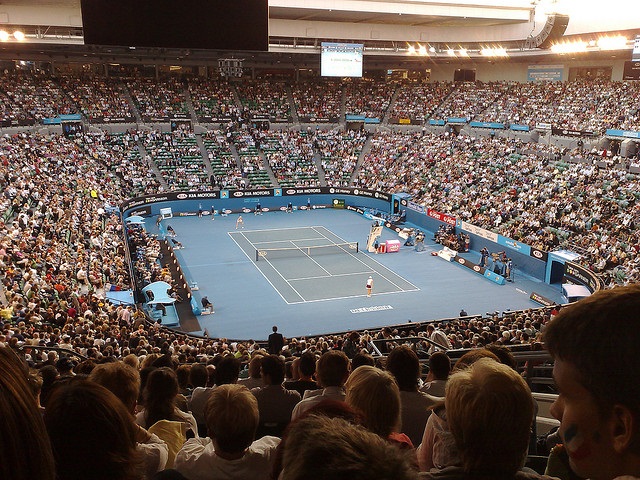 Not so much the Australian Open then, but the tourney didn't change its name from Australasian Open to Australian Championships until 1927 and didn't, indeed, even become the Australian Open itself until 1969 – when both professional and amateur players were allowed to compete.
Overall, the tournament, under its various guises, has been held in seven different cities: Melbourne (55 times), Sydney (17), Adelaide (14), Brisbane (7), Perth (3), Christchurch (New Zealand) and Hastings (New Zealand.
Long Journey Down Under
Most interestingly, though obvious when you think about long distance travel in those days, very few foreign players opted to compete in the tourney until the second half of the 20th century as boat travel from Europe, for example, took around 45 days each way!
In modern times, it takes around 24 hours to fly from England to Australia and that's painful enough – I can assure you having made the trip. But to be away for over three months to play in a financially unrewarding tournament that you could be knocked out of in the first round was an unappetising prospect for most.
Given the size of Australia and with the notable exceptions of all time greats Rod Laver, Ken Rosewall and Roy Emerson, many Australian tennis players didn't even enter the Australian Open until commercial air travel was affordable and commonplace.
Put off by the remoteness, pre-mentioned low prize money and a tournament that was often held around Christmas and New Years day, even legendary foreign players such as Ivan Lendl, Matt Wilander and John McEnroe only made their tournament debuts in the 1983 Australian Open.
Wilander, who you'll often find commentating/interviewing for the satellite television channel Eurosport, is the only player to have won the tournament on both grass and rebound ace – the hard court surface used between 1988 and 2007.
In 2008, the high bouncing, vibrant green coloured rebound ace was replaced with a blue Plexicushion surface – very similar to what is used in New York at the US Open. Serena Williams and Roger Federer are the only players to have won the Australian Open on both hard court surfaces.
Of course, prize funds have gradually increased over the years, with a total of 40 million Australian dollars set to be distributed in the 2015 edition.
The 2014 Australian Open
Beating Rafael Nadal 6-3, 6-2, 3-6, 6-3 in the final to win his first ever career Grand Slam singles title, Stanislas Wawrinka was a surprise winner of the 2014 Australian Open men's title. In the 2014 women's final, Na Li won her second career Grand Slam singles title after defeating Dominika Cibulkova 7-6, 6-0.
Fast forward to 2015 and world number four Wawrinka is a 16/1 outsider to successfully defend his title, while Na Li retired at the end of last season due to nagging injury problems.
2015 Australian Open betting
Of course, as you would expect, world number one Novak Djokovic (11/10) is the top seed for the 2015 men's singles Australian Open title, with four-time winner Roger Federer (6/1), two time runner-up Andy Murray (7/1) and 2009 Champion Rafa Nadal (9/1) making up the top four in the outright betting market.
For the women's singles 2015 Australian Open Championships, world number one and record five-time (open era) winner Serena Williams (5/2) heads up the betting, with 2008 victor and current world number two Maria Sharapova rated as a 11/2 chance to win her second Australian Open crown.
So, who do I think will win, who should we bet on, you might ask?
One last Grand Slam win for the Fed-Express?
I'd like to say it's Andy Murray in the men's tournament and I really do hope that the Scotsman wins, but he's been in inconsistent form for some time and has had a lot of injuries to contend with. Put simply, there are too many unanswered questions about Murray to make him worth chancing.
Another suffering with injuries and a lack of fitness is Rafa Nadal, so we'll chalk him off the list too. Now, world number one Novak Djokovic is rightly the favourite, but I like an each way bet and his price doesn't allow for that.
Arguably, Roger Federer is past winning Grand Slam's at this stage of his career, but he made the semi-finals of the 2014 US Open and therefore very nearly gave me a return on the each-way bet I had on him to win that tournament, so the Swiss is still definitely a contender and is again worth considering as an each-way (1/2 odds) shot at 6/1.
2014 US Open runner-up Kei Nishikori is my second and final betting offering in the 2015 Australian Open men's singles tournament. The first ever male Japanese tennis player to feature in the ATP's top ten, Nishikori won four ATP singles tournaments in 2014 and holds wins over Djokovic, Federer, Murray and Ferrer.
Sharapova's the each-way value in Aus
As for the women's 2015 Australian Open winner, I've sided with Maria Sharapova at 11/2. As is the case in the men's tournament, I want an each-way bet, and at half the odds for a place and with the Russian avoiding Serena Williams until the final, it looks like a smart play. Indeed, Sharapova looked to be back to her best in 2014, winning the French Open and rising back up to number two in the world rankings.
Ex-colleague, current sports trader and top tennis bettor Wesley Kelly managed to get a bet on Sharapova each-way at a chunky 7/1 last month, and the fact that her price has shortened since then whilst Serena's continues to go out suggests that we're onto something here.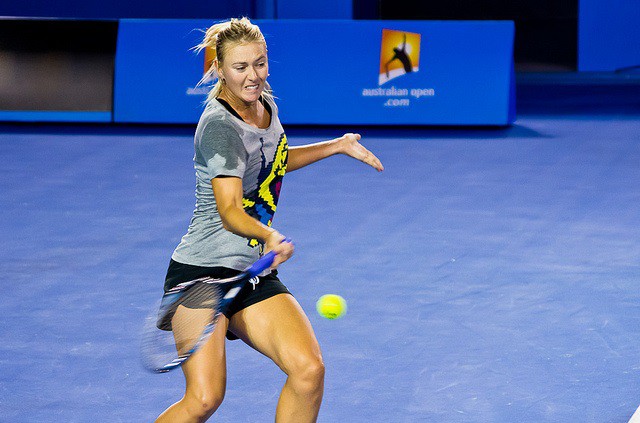 Finally, Wesley tells me that he's betting heavily against Simona Halep (7/1) and Caroline Wozniacki (10/1) as both are carrying injuries and shouldn't go far in the 2015 Australian Open as a consequence – something to consider now and when the draw's made.
Betting recommendations:
Men's 2015 Australian Open winner: Roger Federer at 6/1 (e/w), Kei Nishikori at 14/1 (e/w) – half stake on each.
Women's 2015 Australian Open winner: Maria Sharapova at 11/2 (e/w) – full stake.
Photo credits – Flickr (Creative Commons – Attribution-ShareAlike 2.0 Generic (CC BY-SA 2.0)), Flickr (Creative Commons – Attribution-ShareAlike 2.0 Generic (CC BY-SA 2.0))

Comments
comments