It's been a busy few weeks, with trips to Newcastle for the GPS and Nottingham for the UKIPT, but despite a couple of day twos, as David Gower would say, I didn't manage to trouble the scorers.
Both tournaments held a minutes silence in memory of the Devilfish, Dave Ulliott, who sadly recently lost his battle with cancer.
He was a divisive character, and could be brash and loud and loved being the centre of attention, but whether you were a fan or not, there's no doubt he was a trailblazer for poker players, especially in the UK, and without him, the poker landscape would look a lot different, and not for the better.
Every person who plays poker in the UK, be it at your local casino or as a sponsored pro, should be thankful the Devilfish did what he did, loved the game and made it more and more high profile.
Don't forget it was only 15 years ago you'd struggle to find a game of poker anywhere, something Devilfish, who drove the length and breadth of the country looking for action, knew only too well.
Now we're spoilt for choice, every town has multiple casinos spreading games, there's a variety of tours with big guarantees and lovely structures, and of course there's a whole other world of online poker when you switch on a computer.
I met and played with the Fish many times, in many locations around the world.
In fact, the very first time I played live poker (I'd only played online before that), I met the Devilfish in Barcelona, and about 10 of us ended up on a bar crawl along the port opposite the casino there.
There was a band on in one, and of course he paid the lead singer/guitarist to take a break so he could get up and sing with them, the first time in many I'd see that trick.
A couple of tourists walked in as the Fish was belting out "Johnny Be Good" and uttered a line that will always stay with me:
"Isn't that the Dogfish off the telly?!"
We cruised around the Caribbean with Ladbrokes and played in Turks and Caicos in the Johnny Chan Invitational, a time when there was quite a lot of down time for the 10 or so Brits to hang out by the pool, and ended with me coming second in the tournament and turning up in a local bar to see only two white men in there, Skalie singing "The Devil Came Down to Georgia" on the karaoke and the Fish spinning round, hands aloft, on the dancefloor, while the locals looked on with the kind of bemusement usually reserved for long lost Amazonian tribes.
My last trip to DTD had seen me share a starting table in the £500 PLO with Dave, and as usual, especially in PLO, he played excellently, always knew where he was, and could tell you what his opponent had before he turned it over, whether it was a w inner or not.
That day ended with a Scandi making a terrible call with just a draw against the Fish's obvious set and a send-off of "At least I can tell my friends I badbeated the DevilFish".
I first got into this game watching Late Night Poker.
I didn't even know the rules, but I liked the guys with the sharp suits and cool nicknames who always had it when called and never had it when they weren't. The best then and one of the best ever was the DevilFish. RIP Dave.
So, after fruitless trips to Newcastle and DTD, it was back to the oldest and best tour, the GUKPT in Edinburgh.
It's one of the prettiest train journies in the world up from Newcastle to Edinburgh, and the Scottish capital is one of the best nights out you can have, but I also had some unfinished business here, having got it in four handed last year with QQ v 99 for the chip lead. This year I wanted to do even better than fourth.
Everything had started swimmingly, I'd won just about every pot I'd played, and though they were all pretty small, I'd managed to get my starting 20k up to about 45k when a massive pot kicked off.
A guy in early position raised, another called and I looked down at two tens on the button. I can 3bet here but I decided to call, in the knowledge that any squeeze behind would smoke out any real hands and I could reassess as and when that happened.
The preflop raise was 550, but after the three calls, the small blind decided to bump it up and made it 2100.
This was by far the biggest preflop action we'd seen.
It was the 100/200 level after all and I certainly didn't think the reraiser, an older Scottish guy, was squeezing with no hand.
After the two other players in the pot called, I felt it a pretty simple call in position, and loved the flop, which came T97.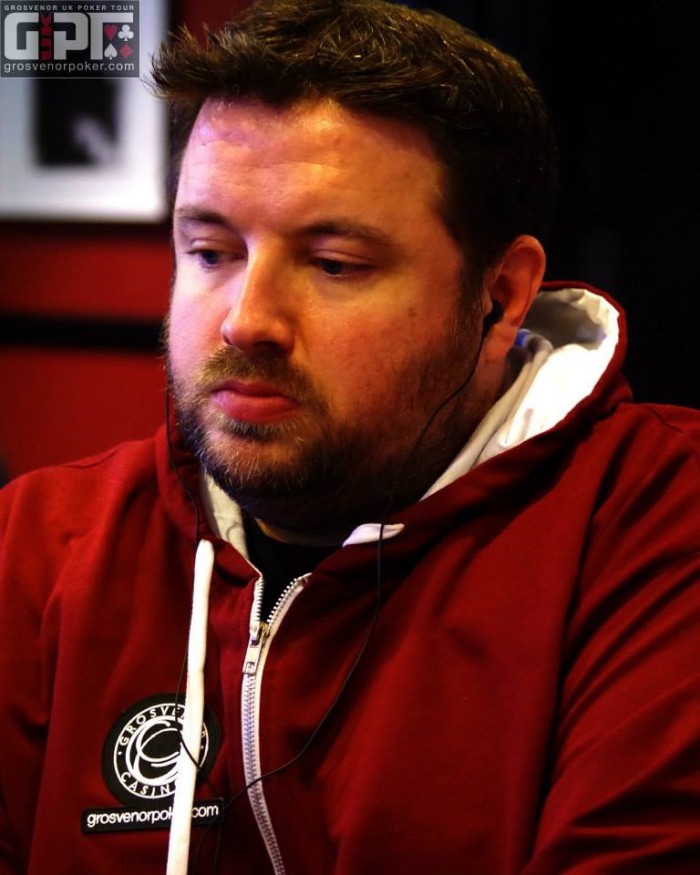 The preflop three bettor led out for 5500 and it was folded to me. I just wanted to get it in, not because I feared I was losing or would get outdrawn, but because I was pretty sure he had an over pair he wouldn't want to fold, and there was a lot of turn cards that could slow down the action if the board straightened.
I raised and he begrudgingly got it in saying "I hope you have jacks!" Sure enough he had QQ and I just had to avoid the two queens to take a massive chip lead.
Or so I thought.
The turn came a king to give him a gutshot, and sure enough the river jack sent the 50k pot spinning to the opposite side of the table and left me with just 25k when I was within a whisker of 75k.
I was fuming, not at his play, though he'd put it in knowing he was almost certainly losing, but at the bad luck. Still, it was a great table and I'd chipped up earlier easily enough, it was just time to do it again.
I got back up to 50k pretty quickly, and then won a crucial race against Chris Vernon, who recently came second at the UKPC at DTD, my AK outrunning his jacks.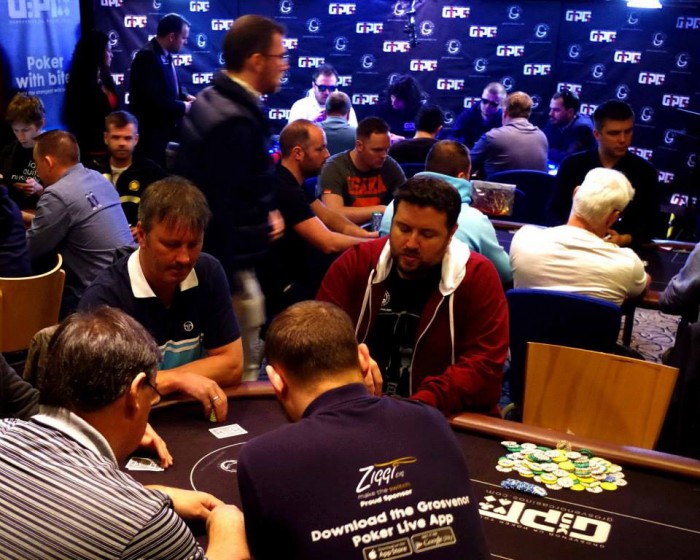 I got there in a strange pot where I raised the button with 88 and 3bet the flop after being check raised on 975 with two hearts. I'd been playing fairly aggro and felt the big blind was only playing back at me with a flush draw.
He just called and I turned a set of eights, so even though I was pretty confused about where I was, I now had to call his turn open shove, and was delighted to see I'd got pretty lucky against J9hh which had flopped top pair and a flush draw.
As the river bricked, the guy sat beside the departing big blind shouted "JUSTICE" almost in his face! This was the guy who had got there with the QQ against me and was obviously trying to show he was pleased for me that I was getting my stack back, but I'm not sure the big blind was loving it as much as I was!
From there I picked a few spots but was pretty happy to bag up a top 10 stack of 81k.
Day two started brilliantly, I flopped trips in the big blind second hand of the day to win a hefty pot, and having bemoaned the seat draw, one to the right of chip leader Colin Wu, I'd almost matched his 150k stack by the time he'd fought through the traffic to get there half an hour late.
I hadn't played Colin in a couple of years, he travels far less these days with a young family, but it's always fun. He makes lots of moves and always has you on your toes. His timing was off on this day though, as twice he made plays against me when I had pocket kings, resulting in me winning big pots both times, one against my Grosvenor teammate Joe Beevers, who had jacks, and once with a preflop 5bet all-in.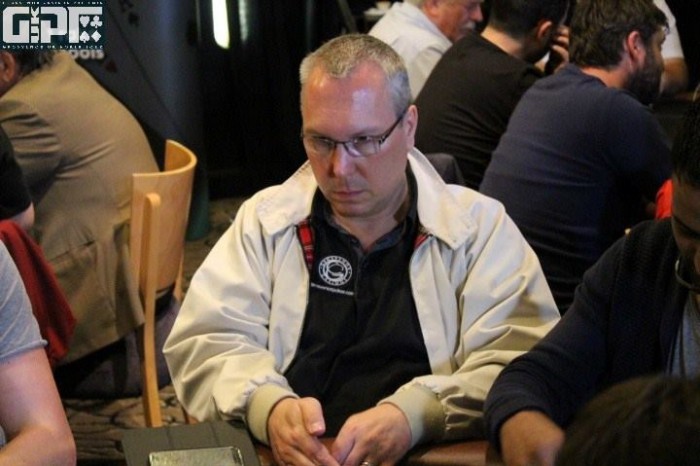 At dinner break I was second in chips, but from there the wheels came off.
Id 3bet Colin's UTG raise a hand earlier from the big blind, and next hand, when the button raised I did the same, this time with pocket tens.
When the button raiser 4bet all-in, I called fairly quickly, and felt a bit unlucky to be up against, and lose to pocket aces.
On reflection I think I should be a bit smarter and preserve my stack better.
Even though I had 210k at 1k/2k, I don't think I should be losing 75k here to an older guy who probably isn't 4betting all-in that light. The action went raise to 5k, I 3b to 15k, Colin passed and the button shoved 75k. I think given that situation again I'll 3bet a bit smaller and be prepared to be bluffed if they have it in them! I realise I'm not doing very well against a range that includes few/no bluffs!
Still, as our table broke I had an average stack, and when I got the aces on my new table, I fancied I might get my stack back.
At 2k/4k I raised to 9k, everyone passed to the big blind, a local guy who had been splashing about a bit.
He defended off a 20bb stack with 79 offsuit, and to cut a long, and very sad, story short, he found the old 568 flop.
I managed to get my stack back up to 15bb at 3k/6k as the bubble approached, but when I shoved from the sb with A7, the young active guy in the bb, who I suspected might set me in or make life difficult if I did anything other than move in, found two kings.
I couldn't hit an ace, and for the second GUKPT running, I departed around 10pm on day two, just before the money having played well for two days.
As ever, I will look at the big hands again and think about what I will do different next time, but I feel like I'm running up big stacks and I'll win another GUKPT sooner rather than later!
Congrats to James Mitchell, who added a GUKPT title to his Irish Open, and defeating Colin heads up in a great final.
See you all in Cardiff next month!
Comments
comments