I've become hooked on playing poker in new locations. I can't quite pinpoint why—I've always had hermit tendencies, never having been very adventurous when it comes to travel, and have always immersed myself in rather reclusive pastimes. My poker life began as a solitary, single-minded pursuit, and I can still quite happily lock myself away in a room and play poker online for weeks on end, only leaving my computer to sleep and eat. (Plus the stuff every proficient tournament pro must cram into the hourly 5-minute break.)
My forays into the outside world have steadily ramped up over the years as I've increasingly tackled live competitions, and latterly I've run up a few air miles. There's actually a lot of choice in the UK these days, and thanks to a healthy market Brits are spoilt with low rake and amazing tournament structures. However, when there's a lull I'll get on SkyScanner and see where I can punt some euros/crowns/dollars.
Grinding 'Round the Globe
Looking at upcoming live poker schedules gives me the same buzz of anticipation as scanning through online tournament lobbies on a Sunday afternoon…perhaps even more so. One of the many interesting things about competing somewhere new is the distinct variation in playing styles. I've always said that people's personalities come out in their poker, and until I've made specific observations, I will make certain default assumptions about how an Italian, or a Russian, or a Frenchman will be likely to play.
The atmosphere at the baize, the level of camaraderie, the eagerness to talk 'strat', and indeed the prevalence of table-thumping histrionics, vary considerably from nation to nation. It's all part of the rich tapestry of life as a poker tourist.
I'm often asked where's my fave place to play—a question which unwittingly invites a rambling, romantic, wide-eyed monologue—and invariably the subject of Las Vegas will come up. Then the clichés promptly began to flow, about how it feels like my 'second home' and how each day I feel like a 'kid in a sweetshop' as I decide which casino will receive my custom…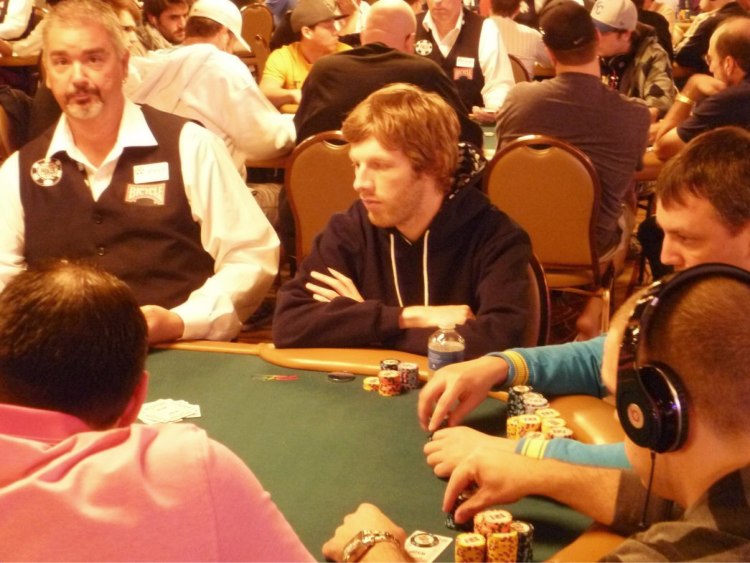 Sin City
Vegas is loud, tacky, obscene, and I love it. Katie Swift has penned an excellent blog about the sights and activities you can get up to. I won't repeat her here, so instead I'll offer an alternative slant—the perspective of a pokeraholic.
The most famous festival is the World Series of Poker. The WSOP has a long history, and the WSOP bracelet (the gold bracelet awarded to the winner of each event) has long been perceived as the ultimate accolade. Well, no tournament junkie is immune to the allure of a huge title and the dream of a mega bink!
Every self-respecting tournophile who goes to Vegas must flick in at least one WSOP event for the experience. Beg, borrow, blag, sell action, satellite in, do whatever is necessary! The games have a unique atmosphere, from the pre-game hype and fanfare (get there before the start) to the bracelet award ceremonies, where they play the national anthem of the winner. In any given WSOP event there's a very real sense that this is the biggest game of the year for many of the participants.
Don't do what my mate Al did in his first ever bracelet event though (he busted set-under-set in the first orbit. Ouch!)
A deep run at the WSOP is not easy, but it's as exciting as it gets. I clocked in with my own best effort two years ago, when I was in fact the last surviving English player from a field of 7000+ in the $1500 "Millionaire Maker" event, finishing 64th for $16,300. (I was outlasted by one Brit, a certain Niall Farrell who placed 11th for $90k.) Reaching the last eight tables of an event like that—63 spots from potentially winning $1,200,000—was all at once nerve-wracking, daunting and exhilarating.
Back down on planet Earth, Vegas isn't all about dream-chasing. There are tournaments to suit every budget, and a devout grinder like myself is spoilt for choice. The Wynn, Venetian, Aria and numerous other casinos all offer poker schedules to compete for our hard-earned. It's not all about the $1k+ buy-ins; there are plenty of options in the $150 to $600 region.
Vegas Tips
I'll be returning to Vegas (for the sixth time in eight years) this summer, to pound on the tournaments and proudly represent #TeamGrosvenor.
I've compiled a few tips that will hopefully be useful for Vegas newbies:
1. Stay on the main 'strip' the first time you go.
2. Download all the schedules. Every year Kenny "SpaceyFCB" Hallaert compiles all the tourney schedules into a single spreadsheet which you can download for free.
3. It's hard to recommend any tournaments under $100. Many casinos do offer sub-$100 dailies, but the structures are dire and the rake extortionate.
4. Take a hoodie/pullover. Outside is desert heat, but most casinos are rather too enthusiastic with the air-con!
5. You need to adjust to the difference in playing styles. Broadly speaking, recreational players from the US play a more passive style of poker than Europeans, and are less zealous pre-flop.
6. If the WSOP buy-ins are a little pricey, consider the satellite route. Single-table turbo sit'n'gos run round the clock in the Rio. The structures are fast but there are lots of extremely inexperienced players.
7. Cherry-pick the best games at the WSOP, such as the Monster Stack and the Millionaire Maker, but make sure to look elsewhere too. Many of the other casinos have more character than the Rio and the playing experience is better.
Good luck, and hopefully see you in the desert!
Comments
comments