It has many names, such as 'El Clasico,' 'El Gran Clasico' and the 'derby of all derbies,' and is arguably the biggest game in world football. Of course, I'm talking about Real Madrid vs Barcelona.
With the current World Player of the Year, previous World Player of the Year, world's most expensive player, 2014 World Cup's Golden Boot winner, Brazilian wonder-kid Neymar and Luis Suarez all potentially on display this weekend, the first Spanish Clasico of 2014/15 is sure to attract worldwide TV audiences of over 500 million viewers and is live on Sky Sports 5 at 17:00 in the UK on Saturday.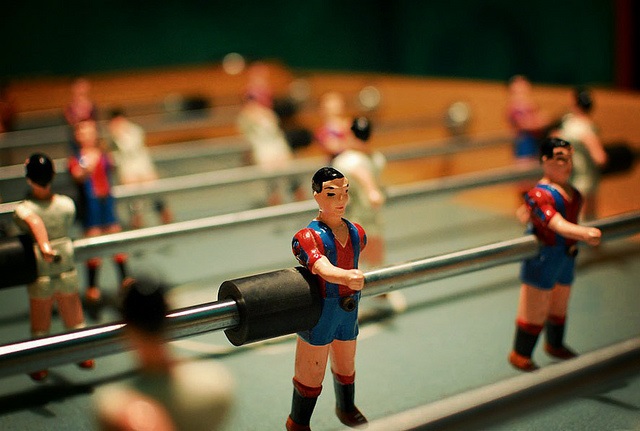 Politics
But where did it all begin? How did it become such a heated rivalry between the two biggest cities in Spain?
Well, I won't go into vast detail, but Real Madrid were the favoured club of fascist Spanish dictator Francisco Franco back in the 1930's and so, due to Franco's influence, were a team viewed as representing Spanish nationalism.
Barcelona, on the other hand, didn't want to be part of Spain and represented Catalonian nationalistic beliefs. As such, they felt Franco's wrath on a number issues, like banning the Catalan language and imprisoning and executing the Barca director in 1936, who was part of the opposing Republic Left of Catalonia group, all without a trial.
The Pig's Head
In modern times, far less serious controversy occurred when current Barcelona coach Luis Enrique saw out his Real Madrid contract to move to the Catalan club in 1996 on a free transfer, but Luis Figo's move from Barcelona to Real Madrid four years later created an uproar that shocked the world and created a famous on-pitch image.
At the time, Portuguese winger Luis Figo was a key player at Barcelona and was even revered above home grown talents like Pep Guardiola, and Brazilian superstar Rivaldo. He continually spoke of being proud to represent the club, and was seen as symbol of the Catalonian region and proud fighter of their cause on the pitch. Internationally, when people thought of Barcelona, they thought of Figo.
Figo was the hero, but in a world record transfer deal in 2000, the Portuguese completed a shock transfer to Real Madrid. He'd betrayed Barcelona and sold out to the big money offered by Real Madrid president Florentino Perez who, to the Barcelona fans – was a traitor.
Famously, the first time Figo was available to play for Real Madrid away to Barcelona. The Camp Nou crowd loudly booed his every touch and constantly threw objects at him on the pitch.
When he went to take corners, the TV cameras showed coins, bottles, phones and other objects raining down on the winger from all angles, but most notably someone threw a pig's head onto the pitch – and that, indeed, made a strong and lasting image for worldwide media.
Head-to-Head
Moving fully over to matters on the pitch now and, to date, Real Madrid hold the advantage over Barcelona in head-to-head meetings, recording 91 wins to the Catalans 88, with 48 finishing as draws.
In 2013/14 the two teams played each other on three occasions, of which Barcelona won two – 2-1 at Camp Nou and 4-3 at the Bernabeu in La Liga – and Real Madrid won one – a 2-1 Copa del Rey Spanish cup final victory.
Suarez Expected to Play a Part in Clasico
Transferred from Liverpool to Barcelona for around 81 million Euros in July 2014, Luis Suarez's latest biting ban has been completed and the Uruguayan is almost certain to play a part in this weekend's Real Madrid v Barcelona Clasico match – for publicity if nothing else, even if he isn't match-fit.
Winner of the Premier League's 2013/14 top scorer award with 31 goals in 33 games, and joint-winner of the European Golden Boot with Messi and Ibrahimovic, Suarez is undeniably gifted and one of the best players in world football, but his temperament is his obvious letdown and he'll certainly be involved in a fiery clash this weekend.
Real Madrid v Barcelona Betting
Hosts Real Madrid are priced around 29/20, the draw is 11/4 and a Barcelona victory is offered at 21/10. For goals bettors, the popular over 2.5 goals market is available at 11/20, with both teams to score set around 4/9.
Sure to be popular and likely to yield profit if past clashes are anything to go by are Real Madrid's Ronaldo to score at anytime (10/11) and to score two goals or more (13/2), with Messi priced up at 7/5 and 7/1 in the same markets and likely to be just as – if not more – popular.
So, who am I backing to win the latest Clasico, you ask? Well, despite correctly predicting the outcome of plenty of these games in the past through various outlets, I decided a year or so ago that picking a winner was spoiling my viewing.
I mean, game after game would be filled with goals, cards and comebacks, and on the rare occasions that preview picks would lose I'd think to myself… why not just recommend that readers bet on goals so you can sit back and not care what happens, so long as there are goals?
Amazingly, both teams have scored in the last 16 clashes between Barcelona and Real Madrid. Now, looking at current form, Barcelona are top of the La Liga standings and have yet to concede a goal in league action, but then the general feeling in Spain is that they've yet to play a team with strong attackers in domestic action, and they conceded three goals in defeat to PSG in the UEFA Champions League a few weeks ago – thus demonstrating that their defence is not as it seems and that their general feeling is correct.
Of course – as mentioned in previous blog posts – Lionel Messi will soon become the all-time top scorer in La Liga and is now only one goal short of levelling the record of 251 goals and two shy of breaking it.
Notably, Messi is already the all-time top scorer in Clasico matches with 21 so far, while third placed Real Madrid's Ronaldo – who's averaging two goals per game right now and has already netted several hat-tricks this season – has 13.
Add James, Bale – if cleared fit to play – Neymar, Suarez and Benzema into the mix and there's undoubtedly enough talent for both teams to score and three goals or more on Saturday evening.
Overall and without doubt, the both teams to score bet is a punters most likely route to profit in this game, but the bad news is that you'll only get a 4/9 price about it. If you can accept that price – and many will considering how often it has won in these games – then BTTS is a must-bet.
Now, given the above BTTS dynamic, if you do want to bet on a team to win – or just the draw – then you might as well chance one of Real Madrid to win and both teams to score (3/1), Barcelona to win and both teams to score (15/4), or a score draw (7/2).
Finally, it's surely time for Messi to at least level the all-time La Liga goalscoring record and doing it at the ground of Barcelona's most hated rivals seems apropos indeed. Priced around 7/5 to score at anytime during this weekend's Clasico, Messi anytime scorer is the second must-bet.
Of course, whether you do or don't opt for a wager, have a great weekend and feel free to contact me on Twitter via @JCLaLiga if you have any questions or feedback.
Photo credits: Flickr (Creative Commons – Attribution-ShareAlike 2.0 Generic (CC BY-SA 2.0))
Comments
comments