Last month Harry Redknapp told a national radio station that England 'ought to give up' if they don't win Euro 2016.
Steady on 'Arry I thought, but the 67-year-old did at least go on to clarify that given the quality of our emerging talents, he felt a place in the last four (not victory per se) had to be a bare minimum target in France next summer.
To be perfectly honest, I still think that's a push. I mean, how many semi-finals have England qualified for down the years?
With qualification all but guaranteed though, this week's competitive match against Lithuania – and friendly with Italy – gives the coaching staff a great chance to work on the formula they believe will bring the side success in next year's tournament.
I don't expect major changes, but even though the qualification campaign is going smoothly, that's exactly what I think we need. And now. Not in the run-up to the tournament itself.
What should we do?
I believe the England team requires a system and pattern of play that not only suits our star players but one that also compensates for our weaknesses too – a factor that a string of England managers have roundly ignored.
There are two long-standing problem areas that have never properly been addressed; a) England don't have a natural defensive midfielder of international repute, and b) England are still light on quality central defenders at the highest level. These are cracks that need protecting.
When we swot aside the likes of San Marino we look fantastic, but you have to go all the way back to 2002 to find the last time England beat a genuine world heavyweight when it mattered in a major tournament; when David Beckham's penalty proved the difference against Argentina.
Hoping for a bit more luck, putting square pegs in round holes and praying it works, or waiting for a gifted youngster to come along and save the day isn't the way forward. We need a plan to ensure opponents can't target England's soft underbelly too easily.
Hodgson's new 4-4-2 with a diamond midfield is a step in the right direction but I'd go one step further and try a 3-4-2-1, just as Brendan Rodgers has done at Liverpool.
Why? If England don't have a centre-back pairing that's good enough or quick enough to cope with the best the Spanish or Germans can throw at us, why not play three of them instead.
It's a safety in numbers approach that also doubles up as a remedy for the lack of defensive nous in midfield. If required, a 'spare' central defender can always step into midfield to mark opponents that have escaped attention, or to pick up the slack if a runner has got free. With four at the back that's far more difficult to execute.
We've got tons of young, attack minded fullbacks too.
Using them as wingbacks who fly forward offering width in possession, that can also drop off to form a back five when top class teams are pushing us back, makes perfect sense to me.
With six defenders (including the keeper) Hodgson has the freedom to select five attack-minded match winners, and that excites me. We have plenty of them too. It's not unfeasible to imagine an England team containing Harry Kane, Wayne Rooney, Raheem Sterling, Alex Oxlade-Chamberlain and Jack Wilshere all at once – and with Daniel Sturridge, Danny Welbeck, Theo Walcott, Ross Barkley and Adam Lallana also in contention, there is depth too.
Form in football changes all the time, and so would my chosen XI I'm sure, but as it stands today this is the kind of team I'd love to see England go with at Euro 2016.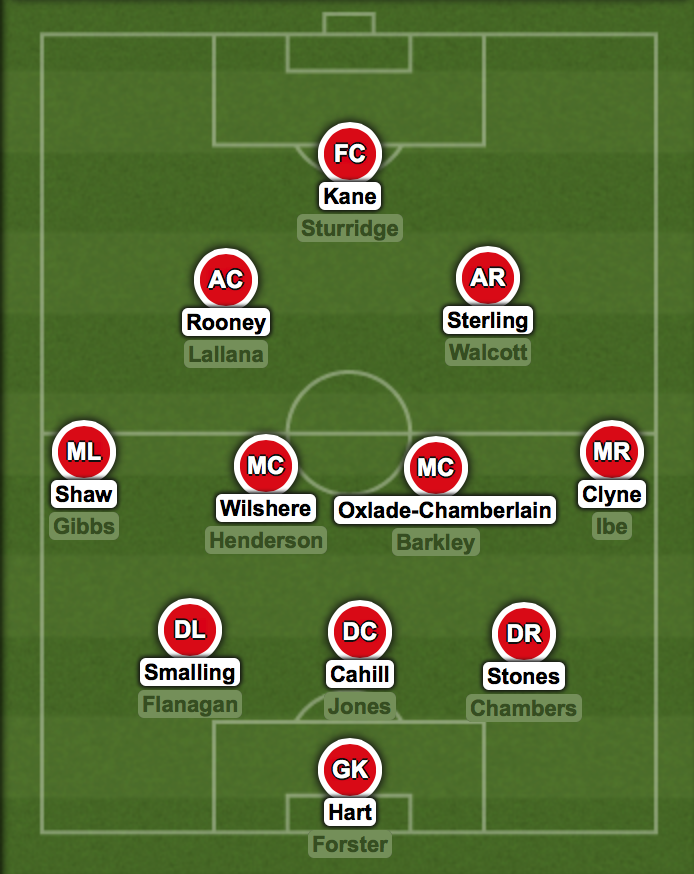 I don't think it would win us the tournament, but I do think it would give us a better opportunity of reaching the last four, just as Redknapp expects.
This is what I'd do. Which XI would you choose to give us the best chance of claiming glory next summer?
Photo credits – Line Up Builder
Comments
comments