As the man himself would say, "Surprise, surprise. The King is back."
Love him or hate him, Conor McGregor is the biggest star in the history of mixed martial arts. With no exceptions.
A perfect tonic of outstanding physical ability in the octagon and irrefutable charisma catapulted the Dublin-honed brawler from UFC obscurity to superstar status in just a matter of months as he put together a run the likes of which the fight-game has so rarely seen.
Ahead of his return to the octagon to face 'Cowboy' Donald Cerrone, we reflect on Conor McGregor's story.
Head over to our website for all our UFC 246 odds.
Dreaming it into reality
Perhaps it is the stoicism with which McGregor approached his dream that attracts people to his story like moths to a candle. By all accounts, few people at the time believed him when he said he would win a UFC title. After all, there is no clear path for a young boy from Dublin to become a UFC champion. Or at least there wasn't.
McGregor's dad Tony, a hard-working Irishman, was desperate for Conor to get a real job. He had him working on building-sites as a trainee electrician as soon as he could, but Conor refused to accept normality. He was special. One morning he refused to get up for work and never looked back.
In truth, it was his now-wife Dee Devlin who was the first person to see what Conor saw. Together they pictured the bright lights and adoration before it manifested itself. She became his taxi-driver, chef, fitness coach and confidant, allowing Conor to focus entirely on his dream. In interviews from the time, you can hear the confidence in his voice:
"You will see me fighting in the UFC in the near future."
It's easy to see why. Despite the fact his opponents were looking across at a young, spotty upstart with a shaved head and wearing beach shorts, it was clearly still boys fighting against men. Conor's superior movement, hand speed and power were evident even then. After a few dominant performances and a couple of what become trademark first-round knockouts, followed by winning Cage Warrior titles at both featherweight and lightweight people began to talk. The UFC beckoned.
Fancy another short and sweet fight against Cerrone? Under 1.5 rounds is 10/11.
Aside from UFC fanatics, few people knew who McGregor was before his debut fight with Marcus Brimage, who himself had impressed during his time with Team Bisping in The Ultimate Fighter. It was a far different story afterward, however.
McGregor dismantled Brimage. From the first bell, he created incredible angles and Brimage simply had no answer to his speed and power. A barrage of uppercuts during just over a minute of action was all it took for a TKO stoppage win and fight of the night. Despite the ruthlessness of his performance in the octagon, it may have been his performance on the microphone afterwards that really announced Conor McGregor to the world. He looked down the camera, delighted with his first major MMA payout and said:
"Dana (White)! 60 G's baby!"
It seems trivial given how much money McGregor has made since, but at the time, this was a truly life-changing performance.
McGregor followed this up by comfortably beating future world champion Max Holloway on points in his second bout before an ACL injury delayed his progress through the featherweight ranks.
A points victory for McGregor on Saturday is available at 12/5.
Not here to take part…
What followed his injury lay-off was arguably the greatest run seen in the history of the UFC, only somewhat rivalled by Jorge Masvidal's run in 2019.
It began with a bout against fearsome Brazilian Diego Brandao in Conor's hometown of Dublin, Ireland. McGregor put on his most dominant performance yet, making his experienced opponent look rather amateurish as the shots reigned in from all angles.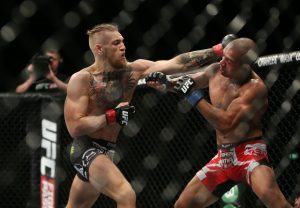 As the Irish fans in attendance lifted the roof off the arena, it was clear to all that the UFC's first superstar had been born and once again Conor only reaffirmed this in his post-fight interview as he called for 'football stadiums and world titles.' He would then end the interview with one of his most famous lines:
"We're not here to take part, we're here to take over."
Just eight weeks later, McGregor was back in the octagon to take on Dustin Poirier. Although the heavy underdog at the time, Poirier has since gone on to show the world just how good he is, earning a title shot against Khabib Nurmogomedov in 2019.
This was also the first insight we were given into the mind-games for which McGregor would become renowned. Throughout the build-up, the Irishman did everything possible to annoy and disrupt Poirier, with the two proving rather animated throughout the weigh-in.
As for the fight itself, Conor landed his famous straight-left at will, as Poirier tried to occupy the dead-space. Although he got McGregor's attention with a couple of shots, it was clear he wasn't yet capable of sharing the octagon with someone with McGregor's footwork.
As predicted, another first-round stoppage. Mystic-Mac was born.
With just another 12-week break, McGregor then beat Dennis Silver in January 2015 to finally cement his place as the main contender for Jose Aldo's featherweight title, which he'd held for over five years.
Can Conor replicate his second-round stoppage win over Dennis Silver against Donald Cerrone? He's 3/1 to win in Round 2.
Finally, it was on. McGregor would face Jose Aldo for the title in July 2015. Or so we thought anyway.
Conor jumped straight into the mind games, giving Aldo no respect. Once again doing his upmost to rattle his opponent and get inside his head. It appeared to work. Just a few weeks before the fight, Aldo withdrew with a fractured rib.
McGregor would instead fight Chad Mendes for the interim featherweight belt. For the first time, McGregor would have to overcome an opponent with far superior wrestling skills than himself.
True to form, Mendes tried at every opportunity to get McGregor to the ground and take away the base from which his knockout power comes. Conor, however, showed his resilience, throwing some enormous elbows from the bottom and really preventing the damage Mendes was able to do whilst they were on the ground. If anything, Mendes was emerging from the clinches worse-off than his opponent.
He had to weather a few storms during the fight, with Mendes nearly getting his neck towards the end of the second round, but McGregor would have none of it. He slipped Mendes gripped, jumped to his feet and went right back on the offence. With just 30 seconds remaining in the round, he began to land that cannonball left hand regularly. With a right uppercut and a solid straight-left, that was all she wrote, as Mendes dropped to the ground, McGregor needed no second invitation to finish.
#OnThisDay in 2015:

Conor McGregor becomes a #UFC World Champion for the first time with victory over Chad Mendes 🙏 pic.twitter.com/Wtrf6vrmO7

— GrosvenorSport (@GrosvenorSport) July 12, 2019
An exhausted and clearly very emotional Conor McGregor finally had UFC gold draped over his shoulder, however, his story was far from over.
McGregor is 3/1 to win in round two against Cerrone on Saturday.
13 seconds…
It looked over during the two ring walks. Conor bounced, strutted, smiled. He looked loose and without a care in the world. Aldo, though, was rigid and stern-faced. He looked like he was dragging the weight of the world into the octagon with him. Even Joe Rogan on commentary thought it was odd that the pound-for-pound king looked rattled compared to a challenger preparing to for his first real title match.
McGregor had played the famous mind games of course. The first thing he did after the Mendes win was jump the cage and head straight for the watching Aldo. He looked the champion in the face and screamed him down. There was no fear and Aldo knew it. Forget a wave, McGregor was riding a tsunami and one of the best fighters that the UFC has ever seen was about to sweep away with it.
Mystic Mac had told him the plan. He was going to lay traps and draw him into them. Aldo would overextend with a right hand and McGregor would be waiting to make him pay. Nobody though, not even Mystic Mac could have predicted that it would only last one exchange.
13 seconds and one perfectly timed left-hand was all it took. The prediction had been unerringly accurate. McGregor was the undisputed UFC 145lb king.
Conor McGregor to win via KO,TKO or DQ in Round one is 19/10.
That's the fight game…
McGregor's stock had never been higher. He had his eyes set on a move to 155lbs to fight lightweight champion Rafael Dos Anjos. Once again though the fight was booked for March, and then cancelled after Dos Anjos broke his foot in training.
Ever the competitor, McGregor was adamant that he would fight any opponent would not cancel the date. The choice of replacement was between Nate Diaz, Donald Cerrone and Frankie Edgar, with Diaz getting the nod and taking the fight on just 13 days' notice.
It was also decided that the fight should be held at welterweight so that Diaz did not have to try and cut down to 155lbs, which may have ultimately counted against McGregor, who had never fought at 170lbs before.
It was clear from the first bell that this fight was a different one to Conor's other fights. Diaz, a veteran fighter and former welterweight title contender with incredible stamina and an iron-chin, took the shots that had dismantled others and kept walking forward. After failing to make a significant impact in the first, McGregor got caught by one of Diaz's famous 'Stockton slaps' which changed the fight significantly. After a failed takedown attempt, Diaz forced McGregor onto his back, and as Conor scrambled desperately, Diaz reigned in a volley of shots from above, forcing McGregor to give up this neck in order to protect himself. Diaz needed no second invitation, and set a rear-naked in deep, forcing McGregor to tap.
Nate Diaz had shocked the world.
Think 'Cowboy' Cerrone could follow Diaz's example? He's 25/1 to win by submission in round two.
Making Adjustments…
It's not uncommon for top UFC fighters to take a loss. In fact, most of the top competitors do. It's not quite like boxing in this sense. If anything, a truly great test of an MMA fighter is whether or not they can go away and make adjustments after losing to a particular opponent.
When the inevitable rematch did come, Conor had certainly made those adjustments and came in with a much clearer gameplan of how to overcome somebody like Diaz. In total McGregor knocked Diaz down three times during the second fight, but each time he did not go for the finish and allowed Diaz to recover. He wouldn't give Nate the opportunity to wrap him up this time.
In the end, it was a war; a fight that truly lived up to its considerable hype. The two slugged it out on the feet for five rounds, with Conor edging it with a majority decision. At the time, it was the UFC's biggest selling PPV event of all time.
McGregor's fight with Cerrone is 12/5 to be decided via decision.
I dreamt this…
Like most of his thoughts, McGregor had made no secret about his ambitions to be a duel-weight world champion. He had the pedigree after all, having arrived from Cage Warriors with two belts Now the speedbump-loss to Diaz had been avenged, he could now get back to his real goal.
Former two-time Bellator lightweight champion Eddie Alvarez had beaten Rafel Dos Anjos to win his first UFC world title earlier in the year and a fight with McGregor was booked for November 2016.
Once again, Conor dominated what looked to be a close fight on paper. McGregor really was at the peak of his powers, flooring the champion with a left-cross twice in the first round. His slick feints and movements looked to baffle Alvarez, who in truth never really manage to force any offence on Conor.
The finish proved beyond doubt that McGregor had a skill set like nothing the UFC had ever seen before. An elite boxer, with lightning hands and perfect footwork, McGregor controlled the fight for the whole eight minutes before unleashing an incredible four-punch combination to put the champion away. Alvarez was once again stunned by the left-cross, but this time McGregor followed up with a straight right, an overhand left to the ear and a right hook for good measure. The former-champion was pretty much out before he hit the canvas.
McGregor is 17/20 to win inside the first two rounds again on Saturday.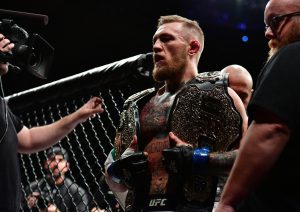 Since returning from his ACL injury in July 2014, McGregor had fought nine times in two years, decimated the featherweight division, avenged a huge loss and become the first fighter to hold UFC world titles in two divisions simultaneously.
He was suitably pleased in his post-fight interview. The apprentice-electrician from Dublin had risen from an unknown brawler to UFC dominance, becoming an international superstar along the way and he made sure to remind everybody that he had dreamed the whole thing into existence:
"I dreamt this so clearly, so precisely, and so frequently that it has manifested itself into reality."
Comments
comments