Back in May, you may remember we interviewed Kit Goodman-Edwards: just one of 20 lucky poker players who each won an all-expenses paid trip to play the Colossus tournament in Las Vegas.
Kit was excited at the prospect of entering the biggest poker tournament on the planet, and hoped to take down the $1,000,000 first prize. While we're sad to say that none of our team were lucky enough to make it to the final table, one of our players finished in a very respectable 161st place.
Blair Matheson was the highest finisher of our 20 qualifiers, wading through a monolithic field of 18,054 people to cash $5,199. His deep run also earned him a seat at the GUKPT – not bad for initially registering through an online satellite!
We caught up with Blair to find out about his experience of playing The Colossus, and how he ran so deep.
Have you ever played in any tournaments of the same magnitude as Colossus?
Definitely not. Up until now, my biggest tournament would have been the Student Poker Championships at Coventry. The Colossus was just on another level.
The buy in for the Colossus allows such a wide range of players to enter without putting too much at stake. At Colossus you get the buzz and adrenaline of playing a WSOP bracelet event.
Did you have a particular strategy going into the tournament?
Focus. Focus was my main thought over everything going into this tournament. When you sit down at the table, completely observe your opponents for what they do every time they put chips in the pot, how they position their cards once looking at them and just get to know your table. This allowed me to know how tight or loose players were being, and meant I could lay down hands I would normally play. Take each hand as it comes and I looked at the pot odds a lot more seriously.
Throughout the whole tournament I only knew what blind level I was on, I wasn't focusing on average stacks or what the payouts were when I got there. I had no idea what they payout level was at the end of day 1 or where the pay jumps were on day two.
I feel not worrying about these things really allowed me to play a stronger game and just play to the best of my ability.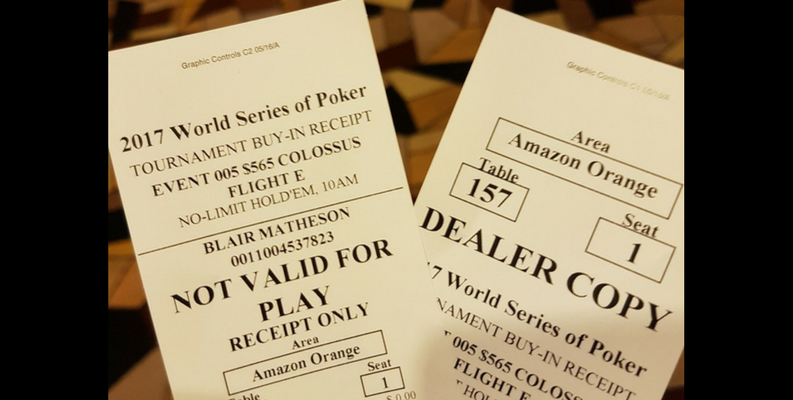 Were there any hands in Colossus where luck was on your side?
On the first few levels on day one, I was playing quite tight to just get to grips with my table, and get over the nerves of playing in a WSOP event.
When I was playing hands, I was hitting so many flops and scooping up decent sized pots and this continued throughout the day. It got to the stage that I could play more loose with my cards and see more flops and use my stack as my advantage.
As the day was approaching the end, my table stated that I should have been in a knockout tournament instead as they believe I had eliminated at least 10 people from the table throughout the day and were actually avoiding being involved in hands with me. It was such a surreal experience.
What was your most memorable hand from Colossus?
My most memorable hand was probably memorable for me in a bad way. It was early on in day two and I was sitting comfortably in chips and I raised in middle position with K9 off suit to 30k (I think), which was my standard raise at this time with blinds at 5k/10k/1k.
Folded round to the small blind where he 3 bet up to 64k and the big blind jams behind him all in for around 78k. In my head, I was going to initially call the SB raise, however the BB shove made me think twice.
My pot odds were there for me to call and I have no idea why I didn't. After tanking for a couple of minutes I decided to let it go and the SB and BB turn over their cards. SB has Ace rag off suit and BB has pocket queens. The flop comes King high and holds. BB got a double up and around about 5 hands later ended up taking around 104k off me in a big hand. I
feel this probably put me on tilt and my play from that point on just wasn't the same. It was a lesson learnt and I aim to learn for the mistakes made from that hand. I feel if it wasn't for that hand I probably could have made a deeper run.
Did you learn anything from the other 19 players who won seats at the tournament?
We all had completely different styles of play I feel. I got chatting to Dan Welsford, who had won his ticket to Vegas by winning the UKSPC this year, just to see if he had any tips and tricks up his sleeves but when you get to a table, everything changes and you really just need to take it one hand at a time.
"I'd just really like to shout out and thank Tom Hudson and Imran Shiraz for everything they did throughout the trip. The support they had for me throughout the week was amazing and I couldn't thank them enough. Hoping for a team reunion at next years WSOP!"
The support from everyone going forward to day 2 was amazing however. It was pretty surreal having Jeff Kimber, Will Kassouf and Joe Beevers all rooting for me to do well.
However, flopping a full house with 2 all in's behind me in another hand was a pretty good feeling.
What do you plan on spending your winnings on?
Use it as a bit of a bank roll for bigger tournaments, there are so many great tournaments around the country that I have wanted to play for quite a while and my winnings from Vegas allow me to attempt these games and give it my best. I've got the Goliath next month which I really can't wait to play and then I've got the Leeds GUKPT in September.
Who are your poker idols?
I've always been a massive fan of Daniel Negreanu for quite some time; I feel he's really changed his style and play in the past couple of years and is great with his fans and well deserved of his Player of the Year titles.
My Vegas experience was made even better when I got to meet the man himself whilst railing the One Drop tournament. Apart from that it's always good to support the local lads like Niall Farrell from Glasgow. Managed to randomly meet him in O'Sheas whilst playing beer pong so that was fun.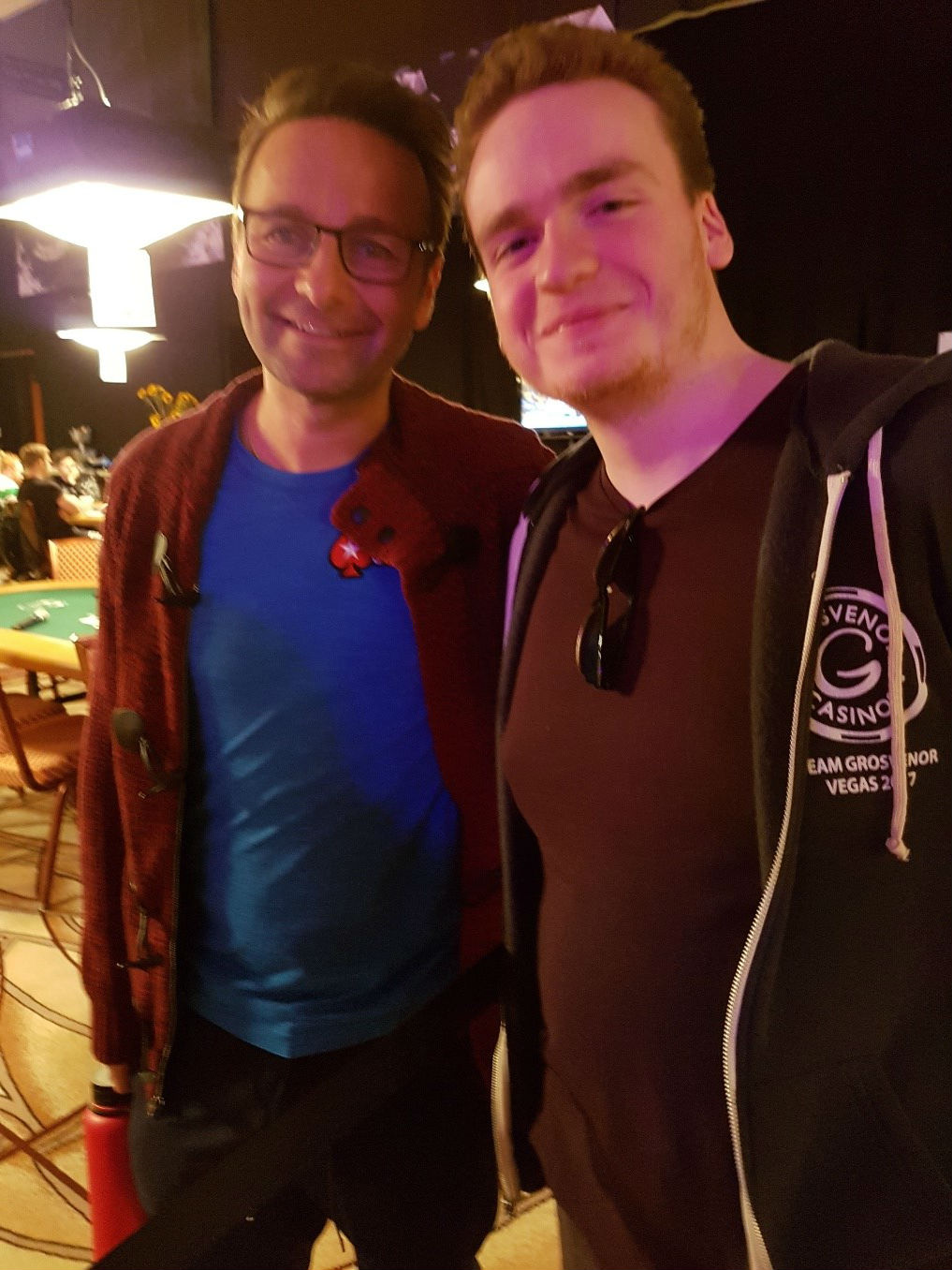 What are you looking forward to most at GUKPT?
I think the experience really, there is such a buzz around these tournaments and I missed the opportunity to play the GUKPT in Edinburgh so winning my seat to the Leeds GUKPT was a great feeling. I often follow the coverage and streams when they are on and it seems like a great atmosphere full of great play. I would love to see if I could handle the pressure of the feature table.
Will you be taking a seat at GUKPT Leeds? Let us know what you're looking forward to most in the comments section!
Remember, we have 10 seats guaranteed to the GUKPT every week, with satellites every Tuesday and Sunday, you can get involved for a fraction of the buy-in, only at Grosvenor Poker.
Comments
comments