Inspired by the heavenly Chicken Breast Escalope that's on the menu at Grosvenor Casino, we've created this fabulous recipe for you to try at home.
Chicken Breast Escalope with a rosemary crumb, served with Mediterranean couscous (serves 2)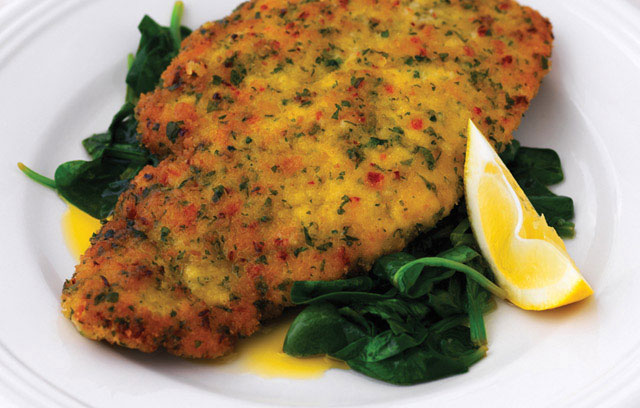 For the chicken
2 chicken breasts
6 tbsp breadcrumbs
1 tsp rosemary
1 beaten egg
2 tbsp olive oil
For the Mediterranean couscous
150g couscous
160ml boiling water
Half a teaspoon of Ras el Hanout
1 tablespoon pomegranate molasses
Small bunch of fresh coriander, chopped
3 spring onions, sliced
25g roasted pine nuts
Method
Begin by preparing the salad. Pour the couscous into a bowl and pour boiling water over the top of it. Fluff with a fork from time to time.
Mix together the pomegranate molasses, Ras el Hanout, spring onions and preserved lemon. Pour this mixture over the couscous and stir well. Cover the bowl in foil to keep the couscous warm.
Place the chicken breasts between two sheets of cling film and bash them as flat as you can using a rolling pin.
Mix together the breadcrumbs, chopped rosemary, salt and pepper. Spread the breadcrumb mixture out onto a plate.
Put the beaten egg into a shallow dish and dip the chicken breasts in them before coating them evenly in the breadcrumbs.
Add one tablespoon of olive oil to a frying pan and heat until hot. Fry the chicken pieces for two minutes each side. You'll probably need to add more olive oil before frying the second escalope.
Before serving, stir in the chopped coriander and roasted pine nuts to the couscous salad, then season with salt and pepper.
Serve each escalope with a pile of couscous. Add warm crusty bread if you're feeling hungry.
Photo credits – Ocado
Comments
comments