It's a bold statement, but I'm going to make it anyway: the Ryder Cup is the greatest sporting event on the planet.
I know that's what you're thinking… What about the Olympics?
Too much going on at once; too tainted by cheats.
OK, the World Cup, then?
Too many nondescript games; too drawn out.
The Super Bowl – what a one-off spectacle that is?
You're joking, right?
Nope. I'm not for swaying here. Incontrovertibly, it has to be golf's chef-d'oeuvre that tops the lot.
It's sport's truest masterpiece.
For starters, the world's finest play in it for free. How often can we say that in a professional sport?
That's correct. Not a penny of prize money will be on offer at Gleneagles when the 40th Ryder Cup tees off in Perthshire on Friday morning. For the 24 millionaire superstars involved, the pride of representing their continent is ample reason to show up, and play as hard as they humanly can.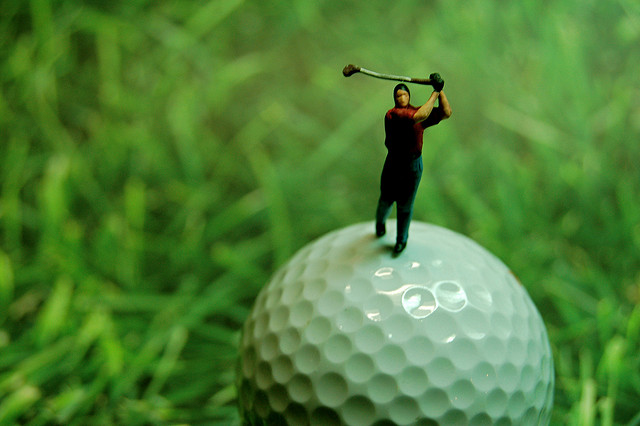 The event is extraordinarily distinctive too.
Golf can be insular. It's you against the course, with players only ever concentrating on themselves and how they're performing. Yet in Ryder Cup week, those involved must learn how to become team players.
The fear of not letting the side down grips each and every one of them, while the prospect of delivering a heroic point for their pals and their continent, is as addictive and enticing as anything they're ever likely to experience.
Wearing 'the shirt' (not just that of their sponsors) isn't something golfers are accustomed to, and we see certain character traits emerging from the pores of each star name.
Take Tiger Woods for example. He's absent this week through injury, but it's well known he doesn't thrive in the environment. Often appearing bemused, rattled, drawn or aloof, being part of a team is an alien concept he struggles to handle.
Europe's Ian Poulter on the other hand, morphs into a fiery sporting dragon that's driven on by (in his own words) "an absolute and pure hatred to lose." This determination and thirst for team glory inspires those around him. The Englishman's phenomenal Ryder Cup win record (80%) obliterates that of 14-time major champion, Woods (44%).
The formula is also utterly fantastic.
Building to a crescendo with two days of fourballs (where attacking brilliance is rewarded) and foursomes (when fine teamwork comes into play), the singles extravaganza that decides matters on the third and final afternoon is a perfect climax.
With every shot counting until the 14½ points mark has been breached, it's genuine can't-take-your-eyes-off-the-TV entertainment, irrespective of whether you're into golf.
Those who witnessed 1999's 'Battle of Brookline' or 2012's 'Miracle of Medinah' (or 'meltdown', depending on your preference), when the USA and Europe each won 8 ½ points from a possible 12 on a dramatic last day, to pinch the Ryder Cup by a point, would testify to that.
Even the publication of each session's matches delivers a buzz. Selecting the pairs and the order they play in 'blind', neither team captain knows who their players will come up against until it's announced by the organisers. The choices Paul McGinley and Tom Watson make, are likely to have a significant impact on the result.
And then there's good old-fashioned needle of course…
While we've seen incredible acts of sportsmanship down the years – best illustrated than when Jack Nicklaus generously conceded a two-foot putt to Tony Jacklin on the final green to guarantee a draw in 1969 – the heated rivalry between Europe and the USA is very real.
The sight of US players and their wives joyously bounding across the 17th green in celebration of a 45-foot putt from Justin Leonard in 1999 (while his opponent still had a chance to halve the match) is an iconic moment many refer back to, but even without that unsavoury episode, it's always been a competition that's bred animalistic behaviour.
The fans kind of ensure it stays that way. With heckling and partisanship encouraged, the golfers don't encounter an atmosphere like it anywhere else, and this affects them in different ways.
Four years ago I was at Celtic Manor in Wales, to taste the Ryder Cup for myself, as a fan, and it remains the most brilliant sporting event I've witnessed in the flesh.
This competition isn't about a dozen Europeans and Americans, expertly guiding their 1.6 ounce balls around 7,000 yards of beautiful golfing scenery, in the heart of Scotland.  It's about tension, teamwork, technique, nerve, patriotism, trust, confidence, skill, character, leadership, passion and fist-pumping sporting excellence of the highest degree.
Every drive, every chip, every putt is as intense as a penalty shoot-out.
It's a three-day maelstrom of match play that bares the soul of each individual involved. It's the ultimate test.
If you like your sport pure and full of gladiatorial conflict, then cancel your plans for this weekend immediately.
Europe versus USA for the Ryder Cup is something else. In fact, there's nothing to touch it.
Photo credits: Flickr (Creative Commons – Attribution 2.0 Generic (CC BY 2.0))

Comments
comments