Daniel Corbett's Blackpool GUKPT Main Event victory last weekend makes him the latest in a long line of GUKPT winners who managed to be in for the min and win the max with online satellites on grosvenorpoker.com
This isn't Daniel first poker success. He reached the final table in this very event in 2011 – taking away £14,000, won a 25/25 leg in Manchester in 2015 – netting £17,000 and came 10th in the 2016 Goliath – with winnings of £6,400. A regular Vegas visitor, last week was Daniel's time to shine.
The 25-year-old from Blackburn overcame a monstrous field in Blackpool to net an impressive £87,280. Daniel currently lives with his girlfriend and plans to use his winnings to move out, but not before treating his mum to a new bathroom…
We spoke to Daniel about his victory, how he plans to use the winnings and his thoughts on poker, satellites and value.
I see you won your seat online, how did you manage that?
My main event ticket came from just a £30 investment. I entered a satellite online for £30 and won a £110 GUKPT super satellite ticket. I then won the super satellite and claimed my £1,100 GUKPT main event ticket.
Why did you enter the satellite?
Satellites on grosvenorpoker.com are a lot softer than on other sites, plus there is often a good chance of overlay.
What do you think about the standard of play in GUKPT events?
The standard of play is incredibly varied. You'll often find few good spots and some obvious value, but then there are also some very dangerous players. The blend of all types of player makes range estimating hard.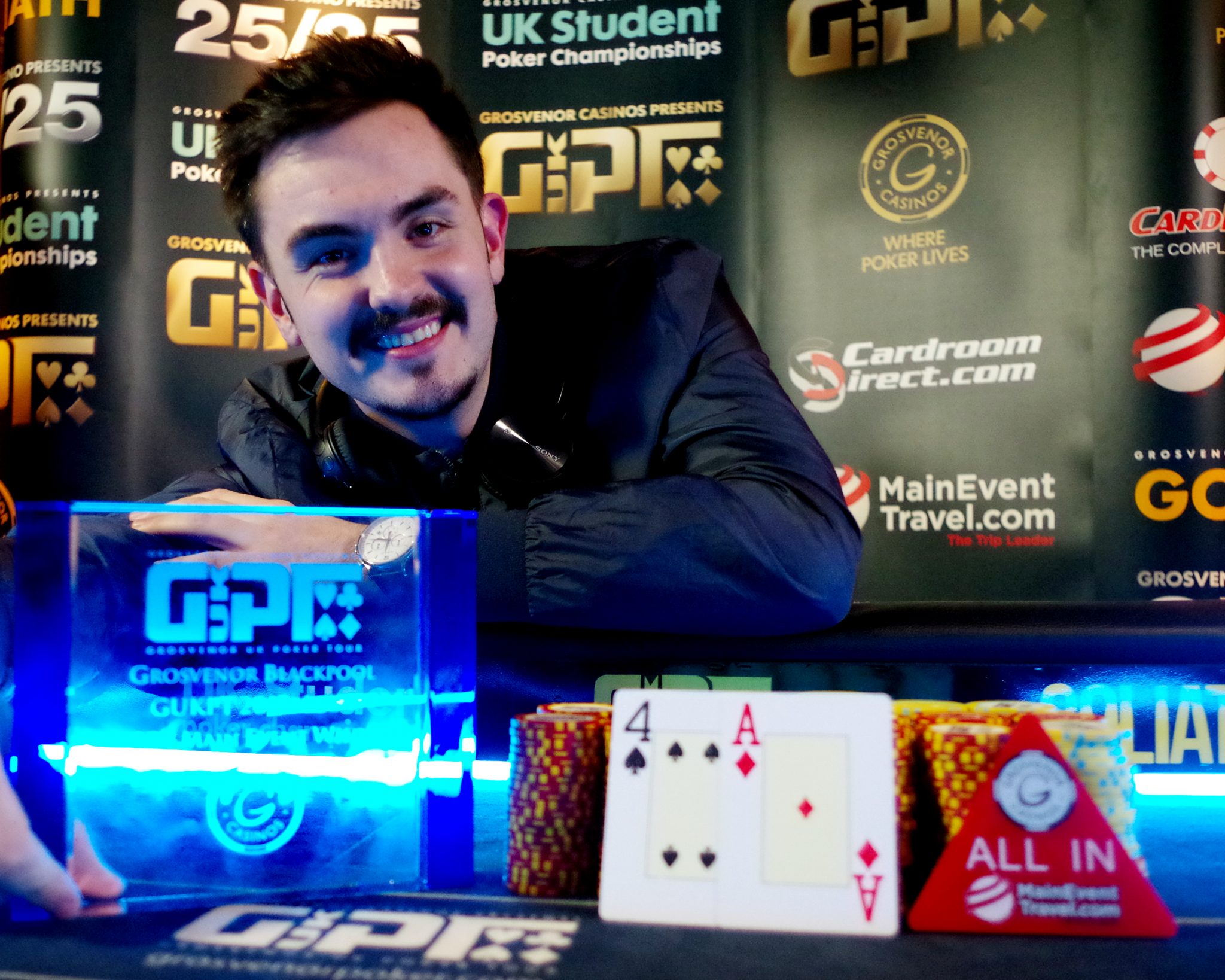 Do you plan on entering any more events this year? Will you be playing in the GUKPT Grand Final?
I plan on playing a few more events this year, I'm trying to find the time to play the GUKPT Grand Final in London. I'll actually be playing the Grand Final satellite tonight to try and win my seat online.
I see you've previously won a 25/25 in Manchester and you've also come 10th in the Goliath. Now with a GUKPT title, this makes you the player closest to the Grosvenor Casino Triple Crown, how does that sound to you? 
Well when you put it like that it sounds rather good I won't lie. I guess Coventry is a must stop next year to actually secure it!
GUKPT Blackpool – Winners Interview: https://t.co/3dF7jkYnm2 via @YouTube

— Grosvenor Poker (@GrosvenorPoker) 13 November 2017
How long have you been playing poker for?
12 years on and off.
How did you first get in to poker?
I first learned how to play on a school trip in France. I won like €60 not knowing what I was doing, and from then I was hooked.
Do you have a profession or do you play poker full time?
I have been playing poker full time for the past 18 months or so.
What do you have planned for the money? I noticed you mention your mum needs a new bathroom and you also spoke of a holiday. Do you have anything in mind?
It was said jokingly before the start of day 3 about the new bathroom. But now it's becoming a reality…. In January, I'll be going to Mauritius with my girlfriend for 2 weeks for her mother's wedding. Prague in December is a possibility then of course Vegas next year with the potential for other trips in between.
How did you celebrate last night / today and do you have any more plans to celebrate?
My brother and mates did more celebrating than me… I just had a pint and drove them home. On Wednesday we will sup a few at the weekly pub quiz.
What are your ambitions both on and off the felt?
At the moment I mainly have plans to continue grinding and working on my game. I've had coaching sessions over the past few months from some of the best in the world and it's starting to pay dividends. Away from poker I think I'll try to do something smart with my spare money and invest or start a business but not making any hasty decisions.
Take your shot at qualifying for the biggest GUKPT event of the year, the £2,125 Grand Final, by playing in GUKPT Grand Final Super Satellite tonight at  9pm. 3 seats guaranteed every Sunday and Tuesday until the event. Qualify from as little as £0.25 using the Grosvenor Live Step  Satellites, only on grosvenorpoker.com
Comments
comments