The Goliath is quickly becoming my favourite event held in the UK….mind I'm not alone, as over 5200 people joined me in making it the biggest live tournament ever held outside Las Vegas!
Talking of Vegas, this was my first time playing since seven weeks in Sin City, and I wouldn't change it for the world.
Goliath is what every poker tournament should be – a huge range of people from all walks of life coming together to play a game in a fun environment, and all of it superbly organised by the Grosvenor Poker team and their excellent dealers.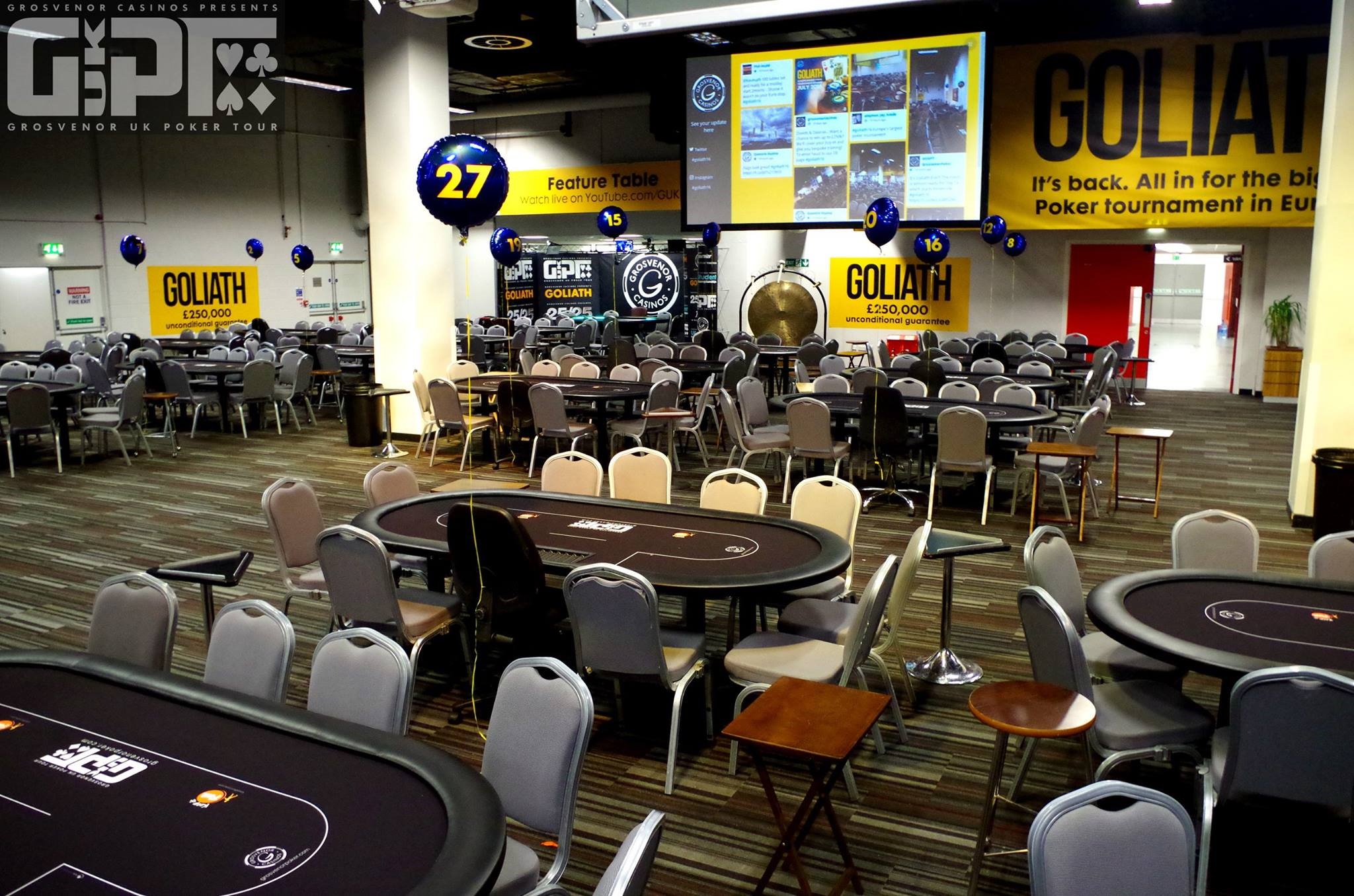 I sat at tables with many people playing their first live comp, as well as some old stagers who have been around the circuit for 20 years and more, even WSOP bracelet holders.
For the newbies, a gentle introduction. At Goliath, everyone has plenty of patience as they all know there's a wide range of players. If the person beside you doesn't know what an ante is, or doesn't know not to look at his cards and walk off for a cigarette before the action is on him, the rules are explained in a 'this is why you shouldn't do it again' way, rather than bash them with a penalty!
I met players I'd sat with on day one last year who came over again this year to see how I was getting on, having not seen them since, where else does that happen? Shout out to Arfan the local cabbie and Ray from Newcastle, and they're just the two whose names I remember!
The Grosvenor Casino at the Ricoh Arena really is a grand setting for a game of cards, as plenty found out with Ruben from the Vic running 24/7 cash games, a mixture of £1/£2, £2/£5 and £5/£5. At one stage there was 30-odd tables running, plenty of choice if you don't fancy the tournaments, or the tournaments didn't fancy you!
Talking of tournaments, there was plenty of them to play over a great week-long festival. This year the 25/50 was held as the warm-up event, same as the hugely successful Grosvenor 25/25 series, but with £50k guaranteed (it made over £100k!).
Not bad as a taster of the Goliath fun to come!
I had to have a re-entry in this one, getting 30bb in preflop with QQ in a good squeeze spot from the big blind and getting called by two fellas who'd left the oven on, losing to A5 off.
First hand of my second bullet I got the full double up with kings though, so no dramas, and I fancied a deep run!
We made the money but that seemed to bring with it a bit of gambling for stacks, and probably helped Pete Wigglesworth call me light for half his stack after I shoved 15bb over his early position open with TT. His AJ won the race and to be fair to Pete, he rode his good luck all the way to first place for over £25k, one for the good guys who support all the Grosvenor events.
Next up was the Goliath Main event, £120 buy in, £250k Guaranteed, a number that was smashed to smithereens when 5232 people (3168 uniques) ponied up their £120 to created a £523,200 prize pool!
What a tournament, I was determined to get through, and on day 1C, my first effort after playing the 25/50 all weekend, it looked like I was building a big stack…before I dusted it off!
I'd built up to 120k at 1k/2k, and made it 4500 for the third hand running.
I could see the other big stack, Daz Hickman, a tour reg I recognised from years back, was getting restless with me trying to run the table over.
He struggled to pass his big blind after a long dwell the previous hand, and it was no surprise when next hand he made it 14k from the small blind when I raised again.
I had QJ suited and decided I knew that he knew that I knew that he knew and he'd fold to a four-bet all in. What I didn't know and he did know was that he had aces! He won the 200k pot and went on to finish 42nd for £1400, nice one Daz.
Off I popped to the 4/5/6 PLO side event. Last year this was a £75 buy-in, but this year they dropped it to £30+6 and what a response, 177 runners!
Again, loads were playing their first PLO comp, taking advantage of being able to try it out in a proper structured, well run comp without having to spend too much, it was great!
I say it was great, I only last one orbit!
I raised with 5789 and got four callers. The flop came T67 to give me the nuts and a diamond redraw, but my opponent flopped top set and by the time we saw a fourth 10 on the turn to give him quads, I was dead and gone!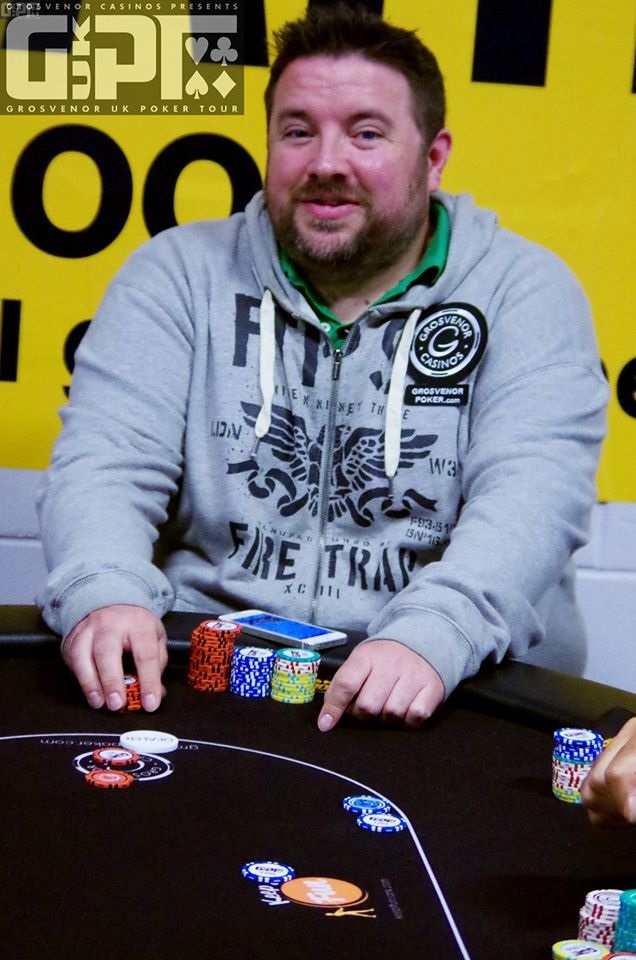 Strangely enough, I reentered Goliath late the next day, at 200/400, and after passing the first three hands, I played my first and last hand of the day, and it was a strange case of deja vu!
It was raised to 1400 and three people called before I found pocket tens on the button. I made it 4100, and the raiser and first and last caller passed, with just the second caller coming along.
The flop, just as it did the hand I'd played previously the night before, fell T67, and somehow I had top set against a fella playing the old 89, which held up for him! Funny old game.
If at first you don't defeat Goliath, keep on trying, that's what I say! I got up to 130k on Wednesday, before slipping back a bit to about 80k when my AK hand happened.
I raised under the gun to 6500 at 1500/3k and everyone passed to the big blind, who called. The flop fell AJ4 rainbow and he open shoved 60k into the 15k pot!
I called, he showed me AT and the dealer delivered the 10 on the turn to send me spinning, getting the scratch in next hand from the big blind!
There was no Goliath for me on Thursday as the much anticipated Jokers is Wild comp, with thousands added by those good chaps at Grosvenor Online, was the big side event of the week.
Myself and Joe Beevers, the two Grosvenor sponsored pros, were bounties, as well as three other natural jokers, online legend (and GUKPT Blackpool champ) Rick Trigg, last year's Goliath runner-up Katie Swift, and Grosvenor Online's Rory Cartwright.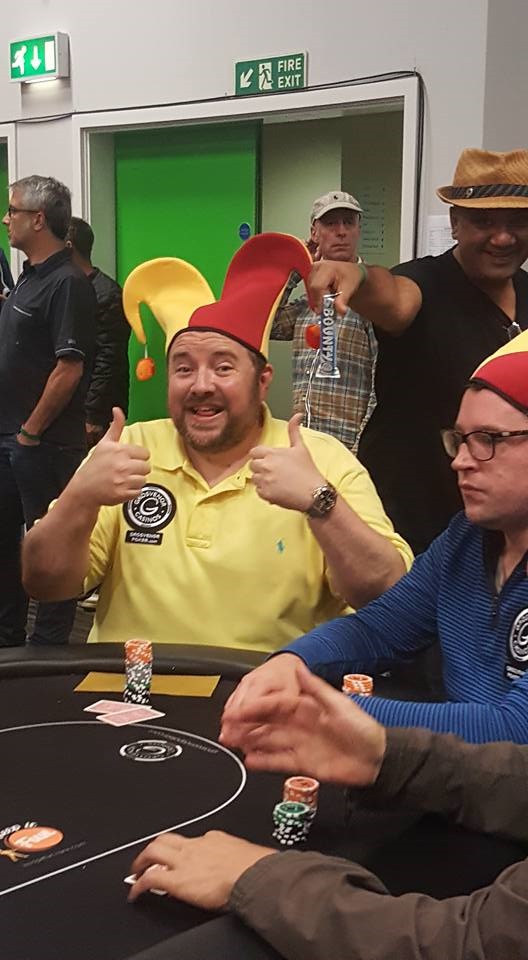 Why those three? Well, Rory was stepping in for another joker who was unavailable, but there is a reason Rick, Katie and A.N.other were chosen along with Joe and me, and I'm not sure how much I'm allowed to reveal.
Let's just say you'll be hearing a lot more about this infamous 5 in the coming weeks, and it will all be good news, with loads of giveaways, added money, fun events and more and more reasons to play with Grosvenor!
Anyway, the Joker is Wild basically entailed us five sticking a Joker/Jester hat on (although Joe looked more like the Archbishop of Canterbury) and being random bounties, from a Bounty chocolate bar to a £550 GUKPT seat.
All you had to do was knock one of us out and open the envelope in front of us to see what you'd won. If you knocked out all five, you won a £10k Grosvenor Passport live sponsorship…all this in a £25+6 side event!
The difference with this game is we had a joker in each pack acting as a wild card. It's not as easy as it sounds, trying to work out what the nuts is, what flushes or straights there might be, when there should be a joker in one of the 10 hands at the table roughly every other hand!
What it does do is add even more fun to the game, and with the Grosvenor Online guys running around handing out prizes and keeping the drinks flowing, it felt more like a home game!
Add in that the first 20 people to get quads won £50 cash, and everyone was loving it.
I wanted a few of the nice guys I met on my tables to knock me out, but I also didn't want the ignominy of being the first of us five to depart, so I dug in.
I had one hand where I was dealt the joker with the 4 of hearts.I just called an early position raise, as did half the table, before the small blind min reraised and the original raiser now four-bet.
It's difficult to work out if Joker-4 is beating the big pair I assumed he had, but what else could I do but move all in?
He called and I was definitely ahead of his AK, and stayed there! Now I had the most chips on the table, it wasn't such fun trying to chase my bounty!
I quickly found that it was definitely shrewd just to wait for the joker in the early stages, and maybe try and bluff to represent it later.
Meanwhile Rory was all in every other hand on the table beside me and somehow doubling up every hand, and the other Jokers were putting up a good fight too!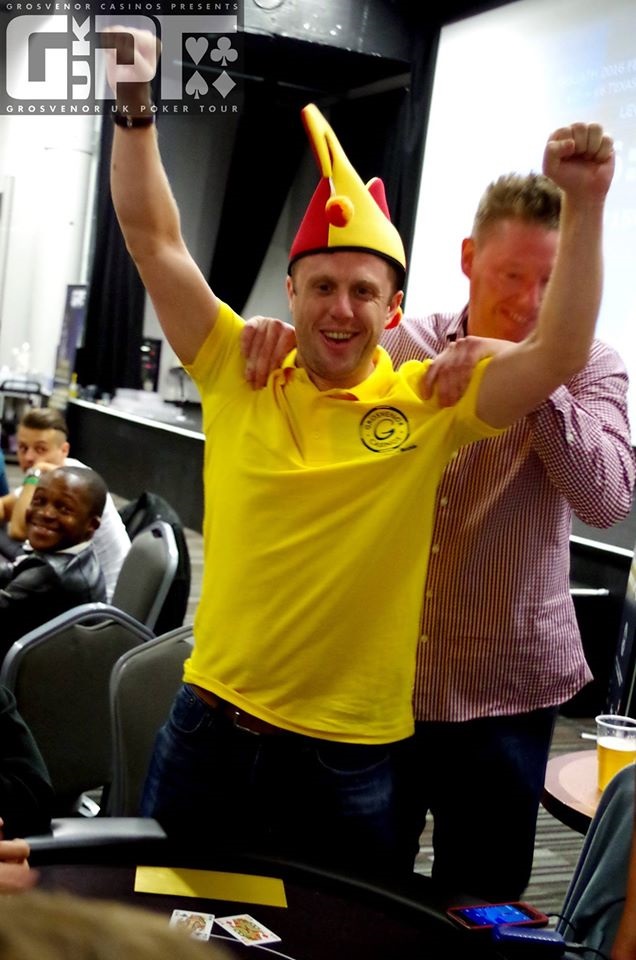 Joe was first out, and his conqueror got the great news she'd won the star prize, a £550 GUKPT seat. Of course as well as the chocolate bar, there were other decent prizes, 2x£220 25/25 seats and £100 online cash.
We all made it pretty deep, and with one eye on the last day one of the Goliath the next day, I decided it was time to gamble….with what even Will Kassouf would agree was the nuts with a redraw to the coconuts!
I had Joker-10 on a KJ9 flop, meaning I had the nuts, using the Joker as a queen.
My opponent held bottom two pairs, J-9 of clubs  and while it was a rainbow board, running clubs meant my bounty was claimed!
Of course he won the chocolate bar, which took the edge off of the big pot he'd just won, but he didn't moan half as much as me!
I headed off to bed to get a good sleep in before the Goliath, but I hear Katie flew the flag highest, some trick from her height, and lastest longest of the bounties!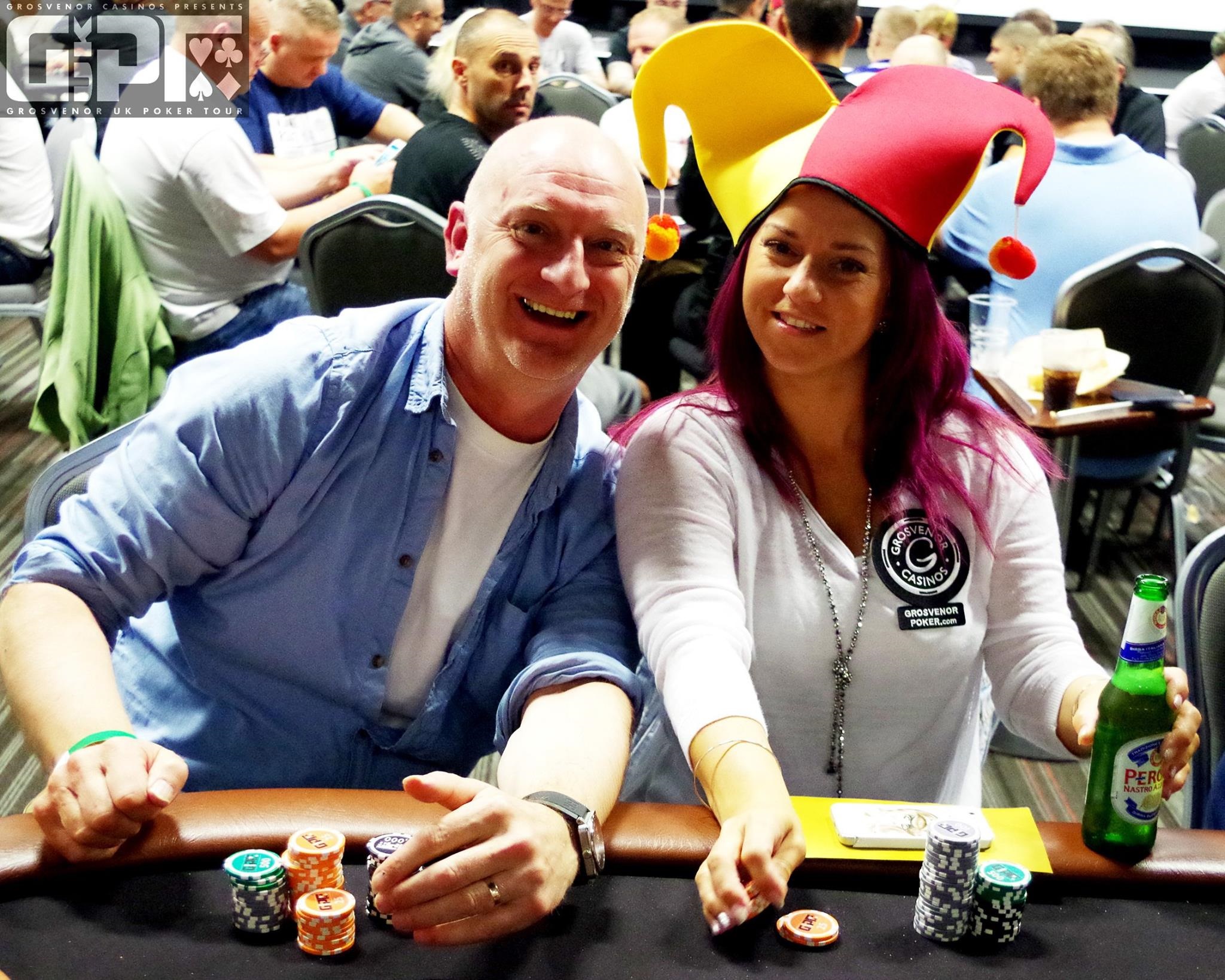 Onto my Goliath day one last chance, and I just had to make it through to day 2 in this great comp, £500k prizepool for £120 for goodness sake!
I started well, and rather than play any big pots, kept chipping away, winning the odd pot and stealing a few when the cards weren't helping me out.
I had 120k as the last level, 2500/5k started, but just as we were 15 minutes from the end of the day, disaster struck as I ran AK into AA!
Down to 50k, it was action time, and I shoved every hand (apart from the walk I was given) from then until the end, picking up the blinds and antes every time, eventually bagging up 100k, not too bad.
My day two table seemed pretty tough, and without any cards, my stack quickly went south.
The only hand of note I picked up was AQ of clubs first hand. I wasn't sure whether to shove over the raise from the guy in mid-position, but with no reads of history to go with, I just called.
We both checked the flop, I picked up the nut flush draw on the turn so called a bet, and folded when I bricked the river.
It was a crawl to the money, and after one of the most fun bubbles I've ever heard or seen, when all the other players were cheering for the hands set to knock people out and booing the shortstacks (all in good fun) I'd made the cash.
I hung on as long as possible, but eventually it had to go in, and my pocket sevens were no match for jacks and kings!
As ever at Goliath, going into commentary is a pleasure. We have huge numbers watching the live stream every day, and often people who don't watch the other streams from GUKPTs etc, while you can see how much winning big money means to a lot of the players who make the final.
You might think the final of such an event would be dragged out, but these guys were here to gamble, and after a three-way deal leaving nearly £13k extra for the winner and £50k each for the last three, we were all done by just after 6pm!
Vamshi Vandanapu, a regular at the Vic Poker Room, was the man who came out on top after a fearless final table performance, following in the footsteps of some great previous champions.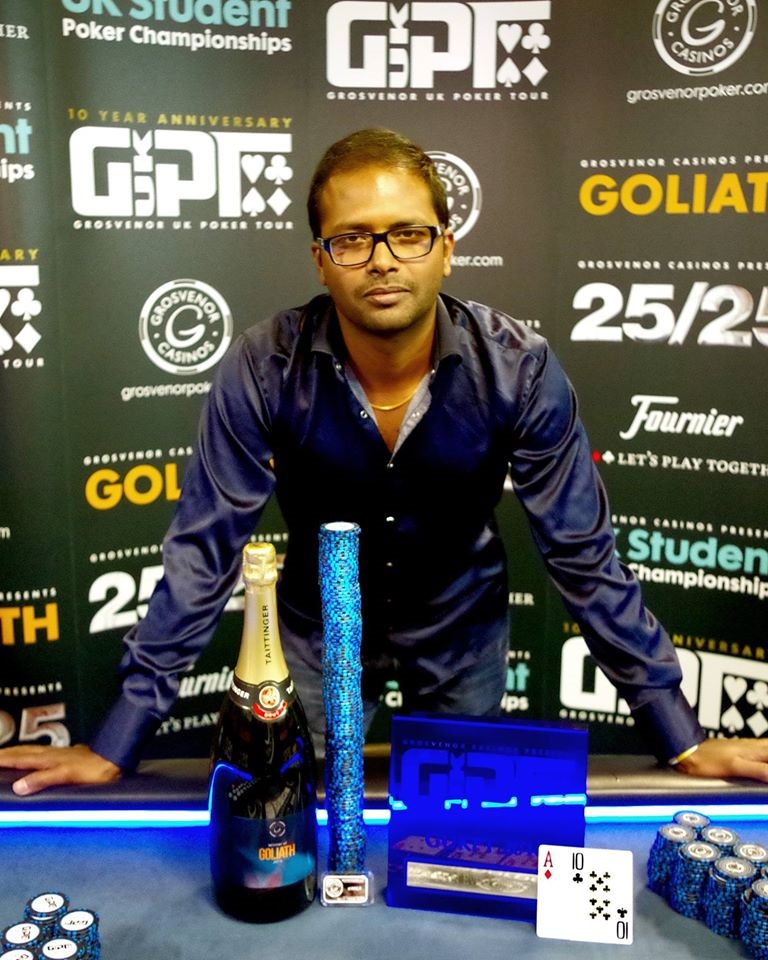 It's a long week and a bit down in Coventry, but it's the Goliath is the greatest tournament on the UK poker calendar, and the side events are both great fun and great value.
Talking of value, a week later, we had the Post-Goliath Giveaway on Grosvenor Poker Online, a great £10 +1r +1a tournament with £5k added and another £2k in Grosvenor live seats for the finalists.
There was one last chance to win a decent chunk, and after I cracked some poor sap's aces with 78o all in pre, I thought it might be my time.
With 23 left and 20 paid, I was second in chips with 105k. The only guy in the whole comp who covered me was button to my big blind and was playing aggressively.
I'd three-bet him once and he'd four-bet, so I fancied I'd have to have something to go to war.
He raised again and this time I found two beautiful aces in the big blind.
At 1k/2k, he'd made it 6k, I made it 17k and this time he just called. The board ran out T43Q7 and I bet every street, shoving the river. Of course he had those magical pocket tens for one last kick in the unmentionables by Goliath!
Still, I love this tournament and I can't wait for next year, see you there!
Comments
comments