The live poker scene is as exciting as it's ever been.
Despite starting out as an online tournament player in 2008, with neither any particular inclination nor the confidence to play face-to-face, when I did pluck up the courage to go inside a casino I caught the live poker bug very quickly.
The first ever live competition I played was a £10 rebuy in Reading. I was anxious and frankly, scared money. I phoned the casino in advance and asked lots of questions, which is the kind of person I am. It transpired the tournament was 'self-deal' so I bought a deck of proper plastic playing cards and taught myself to perform a basic riffle shuffle.
The week leading up to my first visit to the casino, every night I practised shuffling in front of the TV for an hour or two. By the end of the week I had blisters on both my thumbs and index fingers—and I could just about shuffle. I might make a fool of myself by being bad at poker, but at least I probably wouldn't drop the cards.
With hindsight it's funny I was worried about everyone being better than me. I recall opening AJ in early position, being called in one spot and check-folding a dry 9-high board facing a shove for several times the pot. In my mind, I had a niggling feeling he was attacking my weak check and I was being outplayed, bullied out of the pot. In reality it's pretty likely he had just peeled with 9-7 and was making a ridiculous "protection" overbet.
Some months later, it was only when I played my fourth ever live comp, a £270 buy-in—a real punt, dwarfing anything I'd ever played before, but hey I'd had a great couple of months grinding online—that the penny dropped. The confidence exuded my many of these chip-riffling, smart-talking players, sitting across the baize from me (I still can't riffle my chips by the way) was not proportional to their actual poker abilities.
I won that tournament.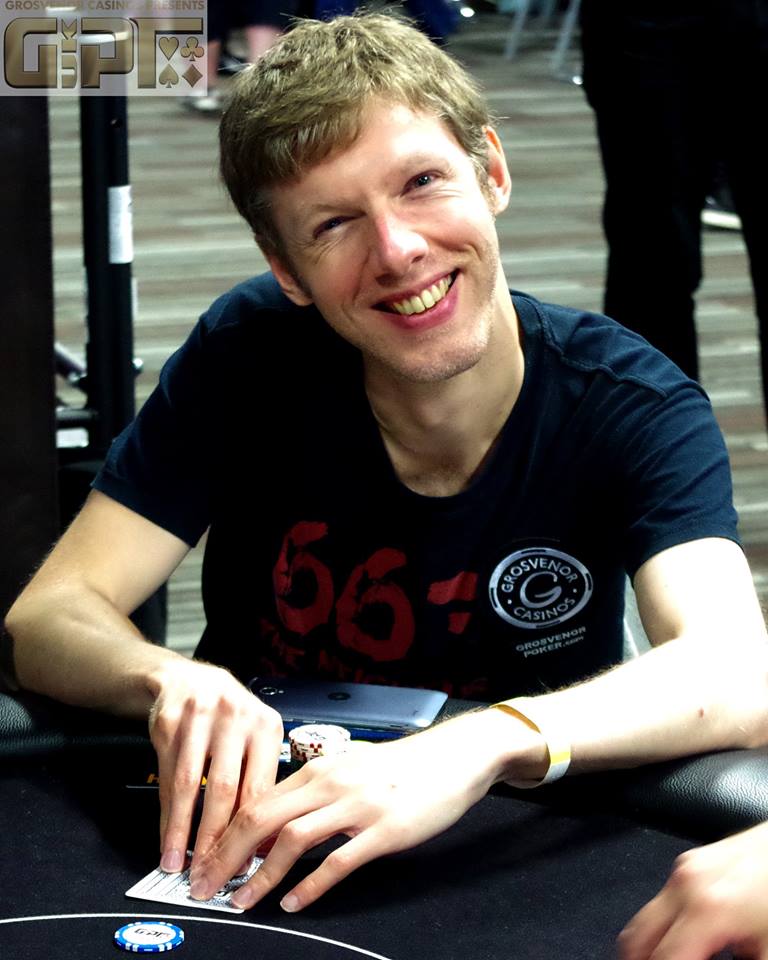 Gradually I've become more ambitious, going further afield and occasionally dabbling in bigger games. But I'm a grinder at heart—when I busted the WSOP Main Event this year I was itching to play some more cards, so jumped straight in the Rio $235 Daily Deepstack… which I took seriously, despite the buy-in being 2% of that of the Main. People often say "you REALLY love the game don't you Andy!"
I still get a childlike buzz signing up in a casino somewhere new, playing against people from different parts of the world, the excitement of my first tournament cash in a different country…
Small things please me—I love my trophies, I love my online 'Triple Crown' (one day, when I'm not so busy grinding live tourneys, I'll win a second!) and my inner magpie likes collecting the different flags on my HendonMob profile. It's all kind of silly and trivial, but we play tournaments for a bit of a thrill, right?
Vegas in Coventry
After a fruitful month in Las Vegas this summer (I clocked up eight tournament cashes, my most profitable US trip to date) I headed to Coventry for the Grosvenor 'Goliath'. It's one of the most fun weeks of the year—this is coming from someone who plays poker nearly every day.
If you haven't played poker outside of the UK, you might not realise how good we have it here. Favourable gambling laws and healthy competition between tournament brands makes a great experience for players, with ambitious guarantees left and right, and superb structures (40/45 min clock in '25/25 Series' tournaments; and full 60 min clocks in every GUKPT Main Event, including the £550 buy-ins). Rake in the UK is reasonable too (overseas, effective 12%-20% rake is not unusual once you deduct 'stealth rake' commonly hidden in the small print).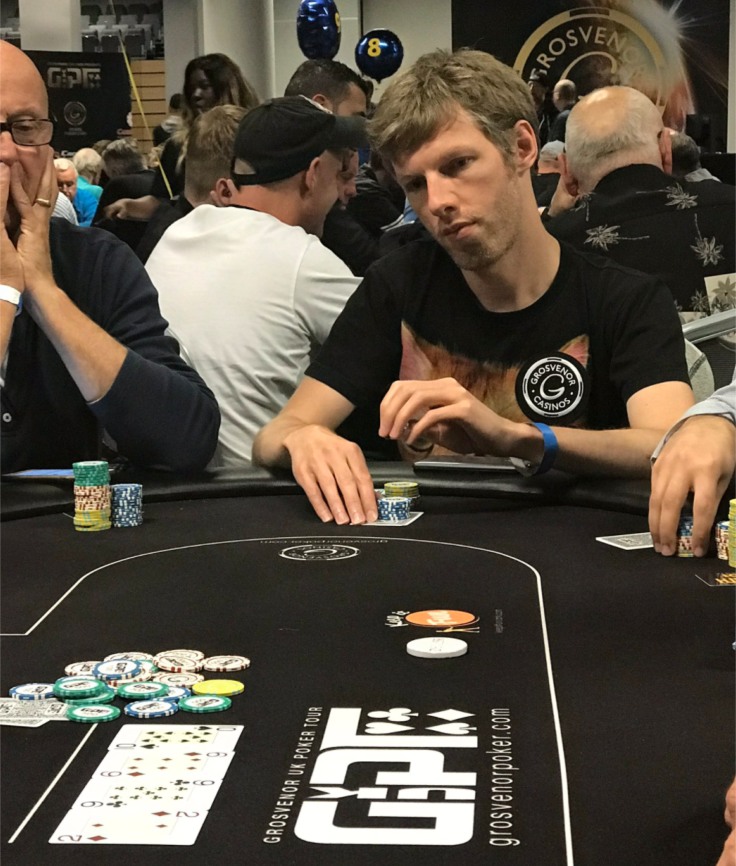 Little wonder Goliath draws such huge fields and a wide spectrum of players, from pub league players to absolute tournament bosses. Oodles of chips, 40 minute blind levels (almost unheard of at the £100 buy-in level) and perhaps most importantly, a great crowd and lively festival atmosphere, make it a must-play. There was a feature table throughout ('cards up', streamed over the internet with commentary), a great selection of side events, and a food court. Oh yeah, and the small matter of an £85,760 first prize in the main event!!! 714 times your buy-in!
Goliath is the biggest tournament outside of Las Vegas and has beaten its own attendance record year on year. Unfortunately I couldn't beat my own record: in 2016 I managed to place 101/5232 in the main event, but this year I played three different days ones and alas didn't make it to day two. There were 6385 entries, an impressive 22% increase on 2016's numbers. It was fantastic fun and I'd do it all over again. Well, except for the bit where I finally jammed AQ into KK. Oopsie.
Lots more exciting things coming up… here are my next few events:
25/25 Blackpool
(£220 buy-in)
Thu 7 Sep—Sun 10 Sep (if you live in the south, 25/25 London takes place in The Poker Room the same weekend.)
These events invariably smash their $25k guarantees.
40 min clock and three day ones—what's not to like?
I have a half-decent track record in the 25/25 Series and never like to miss my local leg.
Satellites are held online on grosvenorpoker.com on Mondays and Wednesdays, with 10 seats GTD every week.
GUKPT Leeds
(various side event buy-ins circa £100; £550 Main Event). Highlights:
Sun 10 Sep—Tue 12 Sep: £110 Mini Main (two day ones, day two on Tues)
Thu 14 Sep—Sun 17 Sep: £550 Main Event (two days ones; 3-day tournament)
I love playing in Yorkshire and I'll be arriving on Thursday to play day 1A of the Main. I can't overemphasise how good GUKPT Mains are. The structure is better than you get in €2k EPT events (and the rake lower). Loads of play for your money and a £100k prize pool guarantee.
If you don't fancy forking out £550, there is the satellite route. Get on Grosvenor Poker online and play the Super Satellites on Sunday or Tuesday nights. Seriously—I implore you to play! (I've won a spare ticket via this route, in case I need a second bullet.)
The side event schedule is improved this year too, with a two-day £165 event, as well as £110 "Bounty" and "Win the Button" events.
UCOP online on Grosvenor Poker
(various buy-ins from €5.50 to €320)
Sun 10 Sep—Sun 24 Sep
In between all my live events I'll be squeezing in a few UCOP tourneys online. The series culminates in a €75k gtd Main Event. There are satellites too, so no reason not to get involved. Now how do I put this… there are some very special players on Grosvenor Poker online!
See you at the tables.
Comments
comments