Best Games to Learn Your Way Around a Casino
Casinos can be daunting spaces for a newcomer. There are so many different games that you've never heard of, and those that you have, you can't quite remember how to play. Deciding where to begin can be an intimidating decision. Do you follow the lights and sounds of the machines, or do you move straight to the table games?
The same can be said for online establishments. When you first try to play online casino games, you can feel overwhelmed looking at the flashing banners and hundreds of games on offer. You might also feel uncomfortable not being in a brick-and-mortar place. Knowing where to click first is anything but a simple task.
In both cases, you might also feel led by lady luck towards a certain game, promising you that this is the chance to win big if you choose wisely. But looking at the name of the game, you're unsure whether you actually know how to play properly.
Thankfully, there are some games that are better suited to beginners or inexperienced gamers. They are easy to learn, and can be played without losing too much of your bankroll. These games are:
Slots
Blackjack
Roulette
Video poker
These games will help you to feel more comfortable and grow your confidence to venture further in. In an online casino, they will help you to familiarise yourself with the layout of the platform and help you get a feel for the pace of the games.
Let's take a closer look at these games, and get a better idea of what makes them great for beginners.
Slots
Slot games are perhaps the easiest game to start with. To play slots is as simple as placing a bet and spinning the reels. Some slots have a lever to spin the reels, while others just have a button to push. The reels will spin, and come to a stop. The combination that the reels end on will determine whether you win anything or not.
With online games, it's the same concept except that you click to spin the reel. The reels are randomly stopped thanks to a Random Number Generator running in the background of the program. If you get the winning combinations, you can win big.
Online also has the ability to host unique and entertaining types of slots games. Some are based on famous movies and novels, while others are based on famous board games.
With slots being so simple to play, it's a great way to settle into the environment. Each spin goes by quickly which means you can leave or change games whenever you want. There are often quite a few different combinations that offer winnings, and some slots have a progressive jackpot with a big payout.
One thing to consider though is that slots are often where the house will make a lot of its income. The reason for this is that it is a game with one of the higher house edges. This means that they confidently expect to earn more than they pay out, especially over a long period of time. The house edge is based on the odds of the combinations displaying. The odds aren't great, which is why the jackpot is often so high.
Nevertheless, slots are a great way to ease into the environment. You can't really do anything incorrectly, and there are no human opponents or dealers to feel embarrassed in front of if you win nothing.
Blackjack
If you're ready to get a proper feel for the tables, blackjack is the best entry-level game for you. It's easy to learn: you just need to try to get a combined card value of as close to 21 as possible without going over 21.
There is, of course, more to the game in terms of betting strategy and hand signals, but those are pretty straightforward as well. You are only competing against the dealer. and you can ask for another card or to keep your cards as they are if you think you're closer to 21 than the dealer is.
Blackjack is one of the most popular card games both for beginners and experienced gamers. For those playing online, blackjack is just as popular. The reason for this is because of the low house edge. Whereas slots have a high house edge, blackjack has one of the lowest. What this means is that, if you learn to play well, you stand almost a 50% chance of winning.
Blackjack is always played against the dealer, even when you see more than one person sitting at the table. They're all playing individual games against the dealer's hand. You could approach the table and wait for the hand to end before finding out if there is space at the table for another player. In online games, this is not a consideration of course. You can log in and access a table immediately.
The bets in blackjack are higher than the slots. Often there is a minimum amount that you need to bet to be able to play. In slots, the amount is minimal. Try out a hand or two of blackjack to get a feel for the intensity of card games.
Roulette
Roulette is a game made famous by the James Bond series. So much so that there is even a roulette strategy named after him. Roulette is not that mysterious though — in fact, it's fairly easy to play.
Roulette involves a table of either red of black numbers. At the head of a table is a roulette wheel with red and black numbers. The croupier will spin the wheel in the opposite direction. The basis of the game is that you pick a number, or a range of numbers, that you think the dice will settle on. You can also bet on what colour it will settle on.
As with any game, there is strategy involved. You can learn which types of bets give a better chance of winning, and which ones would give the highest payout. This is something you could learn as you play though.
Roulette is also available online, although those who play will often try out a live roulette table instead. Both can be found on the Grosvenor Casinos site, but the live roulette game is conducted online with a human croupier. This helps to allay fears that a computer croupier is programmed to make you lose. It also creates an exciting live experience.
Trusted online establishments are independently regulated along with their games. It is unlikely that they would be rigged for you to fail, especially if the game uses a Random Number Generator to decide which number the dice lands on.
What might be coming into stark relief is that the roulette odds are against you, the same as they would be in a land-based spot. The house edge favours the house, not as much as in slots, but certainly more than in blackjack.
Video poker
If you're not confident enough to join a poker table, then perhaps video poker is a great way to refresh your memory about the poker hand values. Instead of playing against other players, you just have to focus on building as strong a hand as possible. You place a bet before each hand and win depending on the strength of your hand.
Video poker is also available in online formats. The format is the same. As with the video poker machine, online video poker also uses a Random Number Generator to ensure that the cards dealt are correctly shuffled and fair.
Video poker has a lower house edge than roulette and slots, but not as low as blackjack. It's an enjoyable game to play, and you shouldn't lose all your money in a few bad hands. With your memory of the poker hands refreshed, you might just have the confidence to go play poker against other players.
Sports betting
An alternative to these beginner games is to explore the sports betting facilities. Not all places will have sports betting facilities, so it's best to enquire before arriving. Sports betting is as straightforward as it gets. Simply pick the winner and enjoy the game.
Most online casinos have a sports betting portal. Online sports betting continues to grow in popularity, especially as team and player data becomes more accessible.
Casino experience
Games like slots, blackjack, roulette and video poker offer a great way to familiarise yourself with the environment, both in land-based and online. From there you might branch out to craps, baccarat or any other game that looks interesting.
For some, the social and financial aspects of going to a casino are what causes stress, not the games themselves. Online games offer an excellent experience from the comfort of your home. Some offer live games, where you can stream in and play the games like live roulette, with other online players and a live dealer or croupier. It offers the experience specifically focused around the game you want to play. Register with Grosvenor Casinos to explore the different live games available.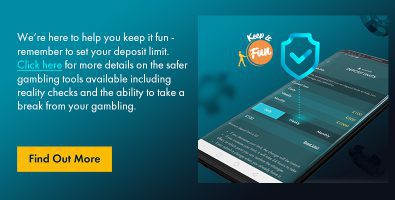 Comments
comments