I've been asked to list the top five matches I felt I refereed and why – no mean feat choosing from 1,245 professional matches during a 22 year career – but here I go.
It's not surprising that four of the five occurred during the mid 1990s. My halcyon years were 1994-96 where my career really took off. It was littered with Champions League matches, internationals and prestigious finals.
That was to come to an unfortunate halt when I ruptured my Achilles during the Euro 1996 match between France and Bulgaria at St James's Park, Newcastle, taking me out of action for nine months.
Shall we see what matches I picked? And allow myself the luxury of strolling down Memory Lane.
Number Five – Borussia Dortmund v Ajax, Champions League quarter final, March 4, 1996
We flew to Germany on the Tuesday and the following evening I led out the two best teams in Europe in front of a full house.

I say the two best, as that's what they were, and the following season would line up against each other in the final.
Stood in the tunnel, awaiting the signal for the gladiatorial entrance, I glanced down the lines of players.
Dortmund's captain was Matthias Sammer, joined by Stefan Freund who played at Spurs and Karl-Heinz Reidle, who later joined Liverpool.
Opposite them, in the Dutch team, were Van der Sar, Edgar Davids, Patrick Kluivert and a 19-year-old Kanu, who would have further success at Arsenal.
Was it any wonder I was set for such a great evening?
In an end to end encounter Davids scored after only eight minutes and for nearly an hour the teams went head to head in an amazing display of football.
On 66 minutes Sammer flew into an opponent bringing him to ground, a yellow card emerged from my right hand pocket. It already had a 6 on it and a red quickly followed. As he trooped off I remember thinking, I've just sent off the world player of the year and National captain in his own back yard and he still shook my hand before exiting – massive respect to him.
In the last minute Kluivert made it 0-2 and set Ajax up for a place in the semi final, ironically, I was to do the other between Juventus and Nantes.
Number Four – Sao Paolo v Palmeiras, Brazilian State Play Off, April 1996
Imagine my surprise and excitement to pick up the phone and be asked 'would you be available to fly to Brazil and referee what is their equivalent to the FA Cup Final.' Did they, for one second, think I'd say no!

I flew out on a Thursday morning and acclimatised, as best I could, for a Sunday afternoon kick off.
It turned surreal Saturday evening when my hosts began to prepare me for the following day's events.
What time is kick off – 4pm; what time do we leave – 12.30pm; and for some unknown reason I asked how far is it – 550km was the answer.
550km, that's about 350 miles, we won't get there!
No problem, I was told. We take off in an eight seater jet with your assistants and arrive around 2pm – wow, that was different.
We flew over the packed stadium two hours prior to the match and instead of heading for the dressing rooms we were taxied to the Mayor's house for a pre-match reception – they certainly did things differently in Brazil.
When I eventually got to kick off a thrilling Derby encounter, their equivalent of an Arsenal v Spurs match, it saw underdogs, Palmeiras, triumph 3-2.
On the following Tuesday I flew back to Heathrow with so many brilliant memories of not just a match but an occasion I could never have imagined.
Number Three – Brazil v Argentina, World Cup U20 Final, April 28, 1995 in Qatar
When I found out I'd been appointed to the U20 World Cup finals I couldn't believe it. Arriving in Doha ahead of the tournament the magnitude of it all began to sink in.
I refereed Qatar's opening fixture in the National Stadium. 60,000 packed into The Kalifha to witness their defeat by rivals Syria. A tough, physical match which saw two Home players dismissed.
For me though, it was the heat. Games kicked off at 5.15pm and the temperature was in the high 30s. It was direct sunlight with no shade and drained you so quickly. To counteract this, on non playing days, I trained 7.30-8.45am and was never without my cap during the days.
My next appointment was Costa Rica v Cameroon, another very tough game, but it set me up for my third game as a referee in the competition – I was also a fourth official twice.
My third match was the final. If you ever dreamed of refereeing a World Cup Final would you have had the temerity to dream it would be Brazil v Argentina? Well, for me, it was.
In front of 65,000 spectators and millions around the world I led the South American rivals onto the field. It was 41C and within the next two hours I was to lose close to 10 pounds in weight competing with the world's best in this age group.
The game raced by. It was fast, it was physical but it was impossible to take your eye off.
Biagini gave Argentina a 25th minute lead; Cesar Belli followed his 58th minute yellow card with another after 78 and was dismissed. It led to a frenetic ending with Guerrero lobbing home a second a minute from time to give his side the spoils.
For me it was a long flight back to Heathrow, knowing I'd joined a very exclusive club, as referee of a World Cup Final.
Number Two – Ireland v Russia, Lansdowne Road, Dublin, February 13, 2002.
Imagine my surprise when Joe Guest at the English FA rang me to say I'd been appointed to referee Ireland's pre-World Cup warm up v Russia.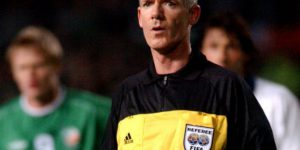 That's impossible I told him. I was born in Dublin, brought up about 400m from the ground and hold an Irish passport.
No worries, he told me. The Irish FA have gained permission for you to be the referee as a way of thanking you for all the help and support you give their referees when you're back Home and the Russian FA are fine with it.
I flew to Dublin the day before and couldn't believe the papers with pages being written of a home grown boy going to referee his National team in an A international.
Arriving at the stadium with Paddy Daly, referees' international liaison officer for the FAI, and one of my dearest friends, I was overwhelmed by so many people coming to congratulate me and wishing me well for what was ahead – it really was surreal.
When I went out to warm up I received another shock – but one that just added to my pleasure. Niall Quinn came over and told me he was having a testimonial at Sunderland in May. They were playing Ireland before they flew to Japan for the World Cup and the gate receipts would be split between the Sunderland and Dublin hospitals. He told me he wanted me to be the referee – right place, right time? – the luck of the Irish? – call it what you like, it was an invitation that just added to what Bono described as 'a beautiful day!'
Both Niall and I had been born in a Dublin hospital so I was absolutely delighted to be both asked and able to contribute to Niall's magnificent gesture.
As the National Anthem began I looked to the sky thinking of my Dad. I cast my mind back to when we'd stood together on the terraces watching our National heroes in action. I thought of when we made the short walk home post match and me telling him I'd be out there one day. I could almost here him chuckle. 'You can always dream, Dermot!'
The tears ran down my cheeks and how I wished he was in the stand to watch.
Ireland went on, thanks to Steven Reid and Robbie Keane, to run out winners.
Showered, dressed and walking back to Paddy's car, I looked up to the skies again and thought of Dad. I did it Dad, I thought. I really did make my dream come true.
Well, thank you all. It's very rare I step into the past but I have enjoyed reminiscing. I hope you have too.
But now the sting in the tail; you'll have to wait until next week for match number one.
It will be worth it, I hope. It'll be described in detail and will have the most amazing shock I've ever had on a football field. Don't miss it.
Comments
comments