Hello again, it's Dermot Gallagher and I'm about to reveal the number one match I refereed and why.
Before that though, I have to say, I've been overwhelmed by the feedback from last week's blog listing matches 2-5.
David from Lincoln asks: 'what could possibly be better than refereeing a World Cup final?' And Matt from Dublin questioned: 'Are you seriously saying refereeing your own country in the National stadium in an A international can be surpassed?'
Well let's see, I think so.
South Africa v Germany, December 15, 1995, Soccer City Stadium, Johannesburg 
A few weeks prior I'd received a phone call from the Football Association saying I'd been invited to referee The Mandela Cup and would I be available for the six days it would entail? I had to fly out Thursday overnight, referee Saturday evening and return the following Monday overnight to land Tuesday morning.
It took my breath away – an invite to referee in one of the most football fanatical areas of the world and another continent to add to Europe, Asia, North and South America I would referee in.
I met my colleagues, Phil Joslin and Dave Horlick, at Heathrow airport on the Thursday evening prior to the Saturday evening game.
Sitting in the lounge we were so excited, each wondering what it would be like to referee in such conditions, due to the altitude, and what an adventure the trip would be.
The overnight flight saw us arrive breakfast time Friday morning. Passing through arrivals we were met by local international referee, Petros Metabela. He was to be our liaison officer, chauffeur and also act as fourth official. A truly wonderful person and one that made our trip so special.
Petros took us to our hotel, The Holiday Inn in the city centre. What a shock, it was walled off, surrounded by barbed wire to stop trespassers, and had guarded barriers to entry.
The day was spent by touring the city before Saturday morning dawned and an unbelievable day unfolded.
Following breakfast we were taken to the organisers' headquarters and went through the itinerary and protocol.
It all seemed straightforward until right at the end a verbal bombshell was dropped. 'The match dignitary tonight is Nelson Mandela.' I couldn't believe my ears and had to have it confirmed again.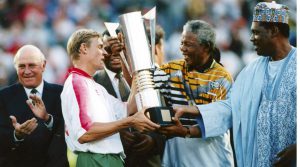 After lunch I returned to my room. My normal routine was to lay on my bed for an hour, then up to shower, shave and put my contact lenses in. This would be followed by some toast and jam and leaving to arrive at the stadium two hours prior to kick off.
The news had stunned me and my head was spinning. I was going to meet Mandela, the icon of the 20th century. I wanted it to be special. I wanted to remember it for eternity.
My father's words as I was making my way in life was 'always prepare 100 per cent properly and you'll have a 95 per cent chance of succeeding – there is always the five per cent variable you can't control.'
I acted on his advice. Instead of resting I sat on the end of the bed, looked into the wardrobe mirror, and practised all the questions Mandela may throw at me – where are you from? What was your last match? How long have you been an international referee?
The list was extensive but I had all my answers and I was confident I'd not freeze and respond with 'aaah!'
Entering the stadium later that day we were taken to the dressing room. A quick walk on the pitch, changed and with ball in hand we walked to the top of the tunnel. The teams stood in two lines. The signal was given and we made the gladiatorial entrance before standing in a long line, South Africa to my right and Germany to the left.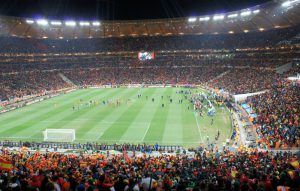 What happened next was like something from a film. Mandela strode across the turf towards us, he was flanked by numerous armed guards and stopped about two yards in front of myself.
What struck me first was his attire. Not in a designer suit but a South Africa replica football shirt and a navy baseball cap. Never in my wildest dreams.
I was beckoned towards him but didn't realise and it was Jurgen Klinnsman, the German captain, who leant towards me and told me I was the referee and had to go to Mandela first!
As I did he extended his hand, it linked with mine, his left hand gripped my arm, locking us in what seemed an eternal handshake. My brain raced, all the answers were there, my moment on The Broadway stage was going to be perfect, as my preparation had been.
Mandela said: 'Dermot,' – not Mr Gallagher or referee – he went on, 'thank you for giving up your valuable time to come to Johannesburg and referee this match, I know what a busy schedule you have, but we are all most grateful.' With our hands still locked, he went on: 'I have to leave first thing in the morning so won't be able to see you but if you call at my offices on your way to the airport when leaving, there is a small gift by way of thanks.'
Dad, you were right, I responded with 'aaah!' Nothing I could have done had prepared me for that and the five per cent variable had won!
Ok Derm, lets switch on now and get back to what you're really here for I reminded myself, still reeling in shock at what had just happened.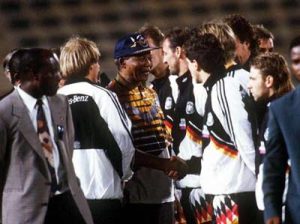 30,000 people were packed into the stadium to see their heroes play one of Europe's finest managed that day by legendary Berti Vogts, who was later to manage Scotland. Also in the German ranks was Freddie Bobic who Sam Allardyce brought to the Premier League for Bolton Wanderers.
It was incredible refereeing at such an altitude and took nearly 20 minutes before my breathing seemed to come easy. The match ended in a goalless draw and seemed almost an anti climax after the surreal preliminaries.
The next day I had my second shock. Petros invited us to his home in Soweto. What an experience – 1.27 million people occupying 355,000 households within 200 sq km – it was breathtaking to see.
Petros was the perfect host, welcoming us to his home he shared with his wife, daughter and mother. You could see in his face, the pride he it brought to him to have us there. Looking at the density of the households around was hard to comprehend but everyone was happy.
We were given a guided tour of the area and stopped alongside a house to be told that's where Mandela grew up as a boy – it capped my trip.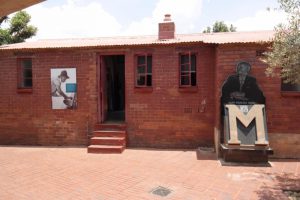 On the long flight back to England I closed my eyes and re-ran my mental video. Yes, without doubt it had surpassed the tears at the National Anthem in Dublin and it had also eclipsed the World Cup final.
When I took the field at Hook Norton for my first game in charge all those years before, if you'd told me Nelson Mandela would shake my hand and call me Dermot I'd have responded, 'never in your wildest dreams.' But he did!
Next week I've been asked to describe which five matches would I have liked to have refereed and why? I hope you'll find it equally interesting.
And, with football temporarily suspended, I'd like to ask you to send in your own questions for me to answer. Just add them to the comments below
Thank you for allowing me once more to drift down Memory Lane.
Comments
comments