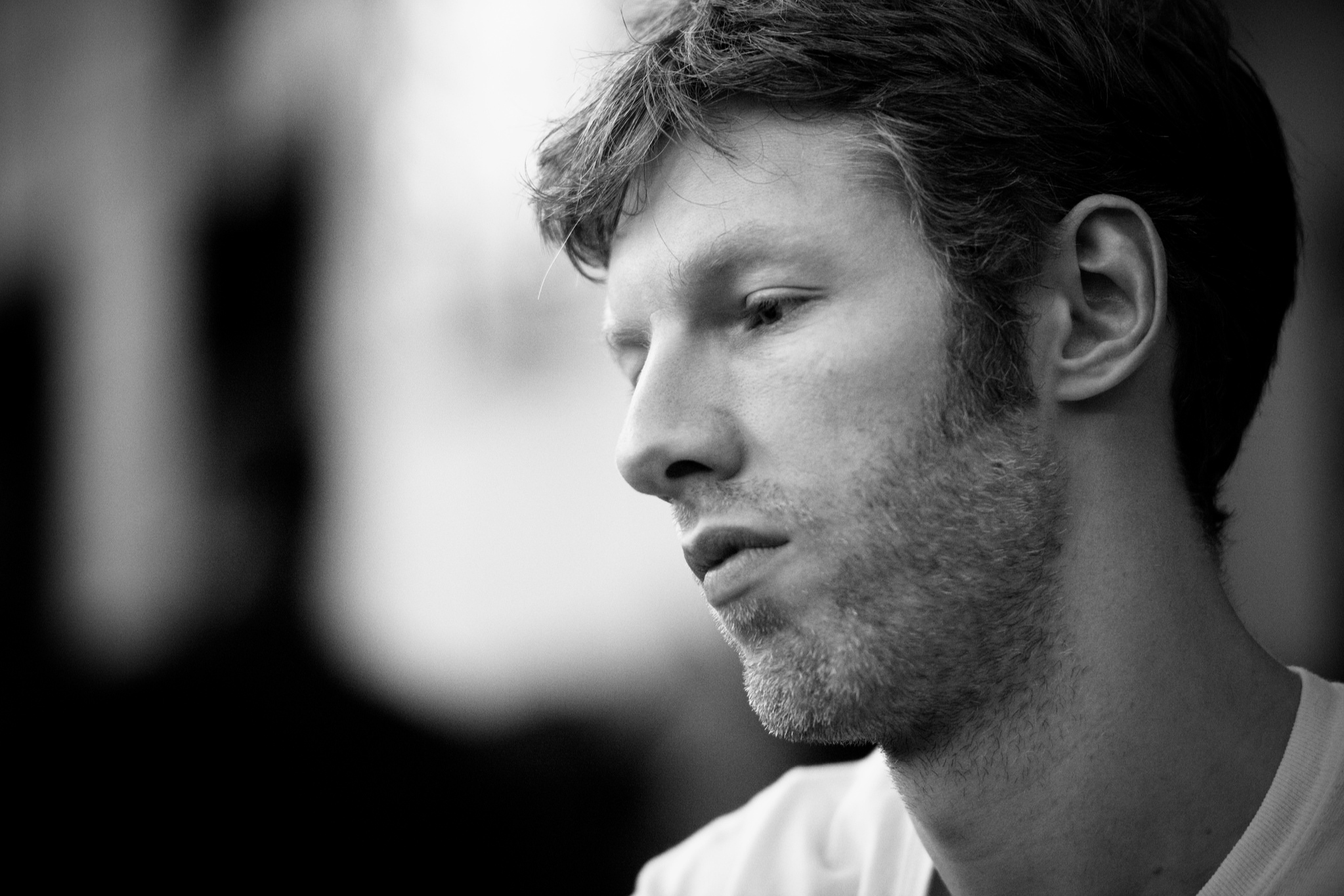 Andrew "LogJam" Hills steamrolls the £10,000 GUKPT Passport promotion.
After two months of serious battling on the felt, the new face of Grosvenor Poker has been born. Seriously impressive online results and a third in the Salford 25/25. His final table conversion rate was nothing short of astounding, with 13 final tables resulting in no less than 7 outright victories. Here are his thoughts on the passport and his victory.
A brief bit about myself
I have a computer programming background and I'm also a classically trained musician. Over the years I have dabbled in house/techno DJing and music production. What else… oh I love eating curry. I know roughly how to boil an egg. I kinda like card games too. As a child I learned to play variants of whist and rummy with my parents but, despite an aptitude for maths, for some reason never touched poker. I didn't even learn the rules of the game until my late twenties, at which point I had a career developing artificial intelligence software.
My interest in poker was piqued after watching the late night TV shows with Vicky Coren, Devilfish, Phil Hellmuth et al, prompting me to take the plunge and make my first ever online poker deposits (plural—I wasn't one of these people that won from the outset and never had to make a second deposit!).
Poker began as a solitary pursuit; I never even dreamt that there would be a social side to it. It was just me happily clicking buttons in front of my PC. I bought introductory strategy books and taught myself to beat very low-stakes tournaments online. People speak of the glory years of online poker in the early noughties, when reportedly even the highest stakes cash games were populated by numpties, but alas I missed that particular boat. Nevertheless back in 2008, online tournaments were beatable in a relatively formulaic way.
At the outset I was blissfully aware of any poker 'scene', and it never occurred to me that one day I might make friends through poker, with whom I'd travel to live events and spend time studying the game and reviewing hands.
I'm now a regular on the Grosvenor UK circuit, and a huge fan of the GUKPT and '25/25 Series'. The first live competition I ever won was at my local 'G' Casino, so I could seem a little biased!
The tournaments are professionally run and the prize pools these days are fantastic. There was a period where the GUKPT was overshadowed by another poker tour in terms of sheer popularity, but Grosvenor has made a comeback and their events have the best structures and low rake. I've been lucky enough to play poker tournaments in a number of different countries and Grosvenor's UK tourneys compare extremely favourably on the important metrics.
I have played poker 'seriously' for eight years, mostly online but increasingly on the live circuit, and of course I always look out for good value promotions. Grosvenor ran a leaderboard promo back in 2012, which was the first year I actively decided to get off my backside and play a bit more live poker. I had a number of cashes in Grosvenor side events, but unfortunately didn't find out about the leaderboard until about halfway through the year. I began really grinding the GUKPT circuit once I discovered I was in the top-five. If only I'd started sooner—after eight live final tables, and a couple of wins in qualifying tournaments on Grosvenor Poker online, I finished 2nd on the leaderboard. So close!
Fast forward to 2016. In November a friend drew my attention to the new 'GUKPT Passport' promotion and it immediately jumped out at me.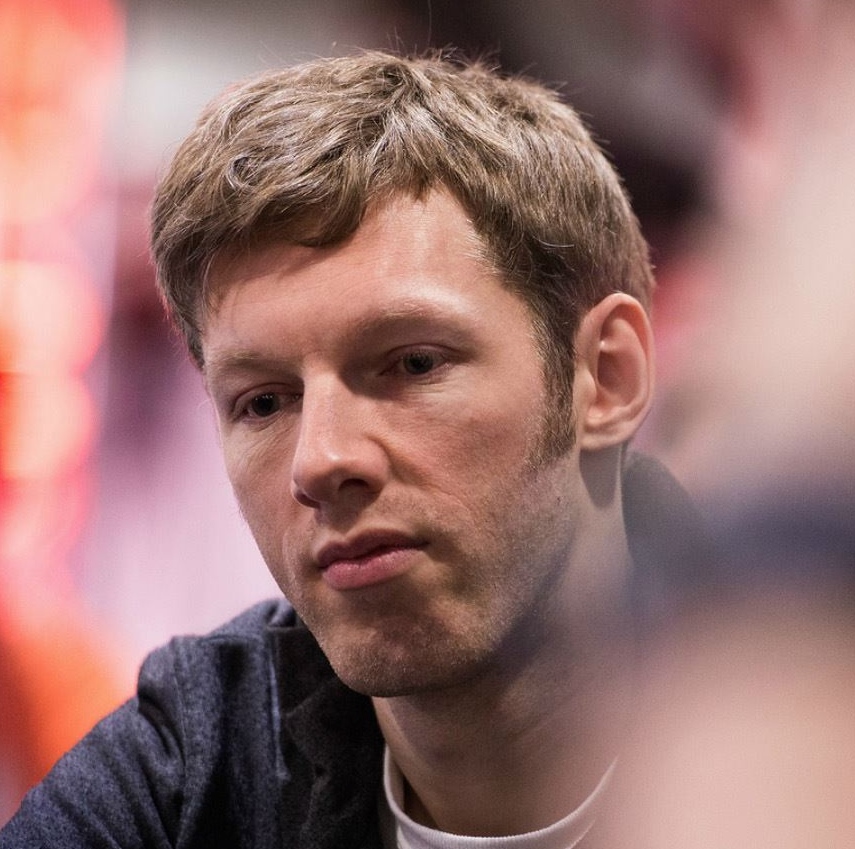 Participants had two months to earn as many leaderboard points as possible, with only their best five scores counting. This was a great idea because it gave non-pro players a chance to compete; leaderboard promotions on other poker sites are invariably dominated by full-time players who are able to put in more raw volume than recreationals.
Obviously volume does give one an advantage, and I focused hard on the promotion, apart from a week where I was out of the country.
The first thing I did was study the leaderboard points formula, then I looked at the upcoming schedule of poker tournaments to make sure I game-selected optimally. It was important not to waste time playing games that probably would not count towards my final leaderboard score.
Three key factors became apparent:
* Field size was more important than buy-in (for example: winning a €10 tournament with 200 entries was better than winning a €100 game with 100 entries), although buy-in was still relevant.
* Live poker tournaments carried greater weightings than online. In particular, final-tabling a regional 'Christmas Cracker' was potentially worth colossal points; in combination with some reasonable online results, winning one of those events could almost equate to a slam-dunk leaderboard victory.
* Unless you got lucky and binked one of the big games, you really needed to win a bunch of regular games online. Runner-up finishes would not generally cut it, what with 1st place awarding 40% more leaderboard points than 2nd.
I sat down with a friend and we brainstormed our approach to the leaderboard. He made some accurate predictions:
* He reckoned the ultimate winner of the Passport promo would have in a ballpark of 1500 points.
* Since only the top-five scores would be counted, most 'leaderboard grinders' like us would begin to plateau in points in the middle of the promotional period. Therefore there was a good chance the Passport champion would be determined by whoever managed to get a standout score, for example a strong finish in a key live event, or one of the Sunday online games with huge fields.
Thus my approach was two-pronged: (1) Do the groundwork—try to finish 1st or 2nd in as many of the regular daily games as possible, focusing on games where 1st place awarded at least 250 points, to achieve a solid 'base' score; (2) Put myself in a position where it was possible to score that huge 'bink'! I.e. attack the Christmas Crackers, 25/25 Series, be willing to re-enter those events, and—on any Sunday where there wasn't a crucial live event taking place—grind all the big fields on Grosvenor Online.
As it happens I sort of failed on the live poker front. I fired a lot of bullets at the Christmas Cracker yet didn't even cash. I came 3rd in the £220 '25/25 Salford' tournament winning £3k, but the field was on the small side so I didn't get so many leaderboard points for that.
Online however was a different story. If there was ever a time to run good, this was it. And I did. By the end of December I'd taken a convincing lead, on account of SIX online wins. This culminated in a 1st place finish in the €20 rebuy 'Mosh Pit', which attracted a decent 185 runners despite it being Christmas Eve and was worth 313.7 points. (Oh, and €2500—a pretty decent Xmas present.)
By this point I had notched up wins in a variety of games, including a six-max, a €110 freeze-out and some turbos.
I spent New Year's Eve partying at my friend's flat in Manchester, but took my laptop so that I could play on New Year's Day, which was a Sunday, my penultimate chance to nail a killer score for the leaderboard. Make up your own mind whether this is "a bit sad" or "dedication to the cause"…
I bricked every tournament except one, managing to outlast 766 other players to take down the 'Mini Masters' tournament online, worth 476.4 points—a killer blow against the other online grinders. From the start of the promotion I was acutely aware this was THE tournament to win online, attracting the largest fields and so awarding the biggest points. As the final river card was dealt and my pocket sevens held up versus the J-8 of hearts, all-in pre-flop for my foe's last 9 big blinds, the shockwave from my fist-pump was no doubt felt around the northwest of England.
A Happy New Year indeed!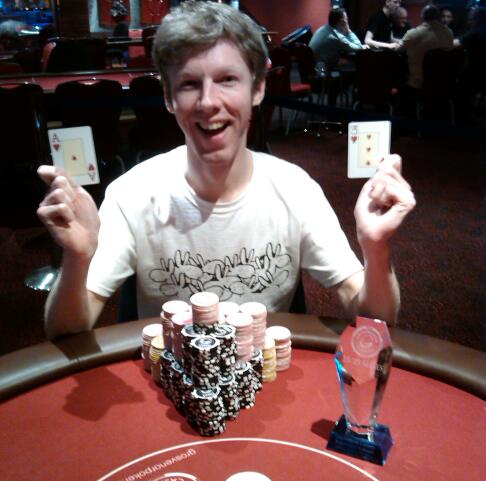 Now the only sweat was waiting for the 'Christmas Cracker' results to come in—theoretically I could still be usurped by a player who had racked up a pile of points online and also managed to final-table a Cracker.
Luckily, that did not happen. I'm absolutely thrilled to win the leaderboard and the Passport prize is amazing. It's not an exaggeration to say this is a career highlight, and I feel very privileged to represent my favourite UK poker tour.
All at Grosvenor Poker would like to congratulate Andrew on his accomplishment and keep your eyes peeled for a similar promotion coming up, where you could win a shot at the most prestigious tournament in the world….
Comments
comments