If you're a fussy ale drinker, take a trip to one of these brewery bars and experience a true taste straight from the tap.

Founded by an Australian who just couldn't find a beer he liked, Camden Town Brewery is the home of Camden Hells, arguably one of the best pints in North London. Not content with supplying some of the best pubs in the capital, every Thursday, Friday and Saturday you can drop by the brewery bar on site to get your fill. With the addition of street food from loved locals like Smoking Buns Burgers and Born & Raised Pizza, it's a place you can definitely spend the whole night.

On the ground floor of The White Building in Hackney lies Crate Brewery Bar. The canal side venue has been furnished with upcycled materials and palettes, creating a cool, contemporary space that's perfect for a few beers (or more).  Crate's Golden Brew is worth a try, and if you're after something more refreshing, their cider is top of our list. Feeling hungry? Nibble on their delicious homemade thin crust pizza.

Bermondsey plays host to the Kernel Brewery, where the packaging may be simple but the beer is not. The brewery was founded by Londoner Evin O'Riordain, who is said to be exceptionally fussy about his brews and won't sell beer more than eight weeks old, because he believes it loses it's special something. Every Saturday between 9am and 2pm the Kernel welcomes visitors to try their flagship 7.8% stout, and more!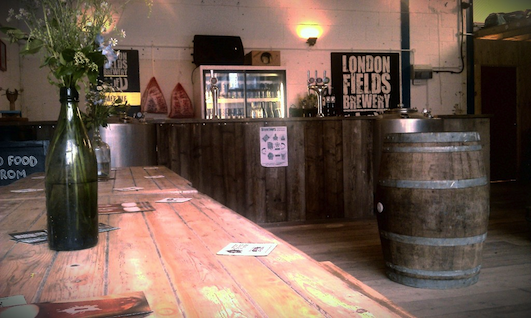 Visit the Tap Room to taste homegrown, handcrafted beers in the heart of Hackney. Between 11am and midnight, you can visit and taste one of their acclaimed brews including the Hackney Hoppster, Shoreditch Triangle IPA and Love Not War. If you plan on dropping by at the weekend, the brewery tours are well worth it, as are the Sunday night Jazz sessions. There's also a pub quiz and regular daytime beer festivals, so be sure to check ahead and see what's going on.

The Meantime Old Brewery is really outdoing the others on this list. They brew a wider range of beers than any other brewer in the UK, and have over 50 beers you can try in their café, bar or restaurant – not to mention a huge beer garden. They also offer wines and spirits, and the food ranges from homemade doorstop sandwiches to traditional pub fare. Naturally, beer features in some of their best dishes, including the stout-marinated oysters and beer cured salmon.
Comments
comments