After last weekend's 'The Fight of the Century,' we've got another busy weekend of boxing to enjoy. Starting with Anthony Joshua on Sky Sports from 20:30 on Saturday in the UK, with a stop in Germany in between, before finishing the night in Texas, live on Box Nation around 2am, with Saul Alvarez v James Kirkland.
Anthony Joshua vs Rafael Zumbano Love Tale of the Tape 
Anthony Joshua: 11-0 (11 KO)
As you will likely know, 24-year-old Anthony Joshua MBE is an Olympic Gold medallist after winning the super heavyweight title in 2012 and the current WBC International heavyweight champion. Tall, strong, well-muscled and hard-hitting, Joshua has all of the tools needed to compete at the elite level of heavyweight boxing and seems set to be a future professional world champion.
Rafael Zumbano Love: 36-10-1 (29 KO)
Born in Sao Paulo, 34-year-old Rafael Zumbano Love is a Brazilian boxer who's most notable bout was a points loss to former world heavyweight champion Shannon Briggs in June 2014. Briggs, who held a version of the world title long before he fought Zumbano Love last year, is well past his prime, but still won virtually every round of their bout. Otherwise, Zumbano Love has won championships in his native Brazil and is the current WBC interim Latin heavyweight belt holder.
Joshua vs Zumbano Love Betting
WBC International heavyweight champ Joshua is priced around 1/100, opponent Zumbano Love is offered at 22/1 and you can bet on an unlikely draw at 40/1. As for method of victory betting, Joshua is 1/10 to win by KO/TKO or DQ and 7/1 on points, while Zumbano Love is 25/1 to stop his opponent and around 66/1 to emerge victorious by a scorecard verdict.
The Joshua vs Zumbano Love Betting Verdict
Unless Joshua trips up and injures himself when walking to the ring, or Zumbano Love lands a lucky punch, the British heavyweight is going to win by KO/TKO within a few rounds. However, we're stumped for a bet as 1/10 for a Joshua KO/TKO is too way too short and there isn't an over/under rounds bracket to bet on.
Chris Eubank Jr vs Les Sherrington Tale of the Tape
Chris Eubank Jr: 19-1 (14 KO)
The son of former middle and super-middleweight world champion Chris Eubank Sr, Chris Eubank Jr has a lot less to say in comparison to his talkative father, but then the confident youngster does his talking in the ring by throwing some brutal shots, which helped him land the WBA Interim middleweight title after stopping Dimitry Chudinov in February 2015. Eubank Jr has lost once, to Billy Jo Saunders, but he won the last few rounds of that bout after allowing his more experienced opponent to outbox him in the early stages and gained a lot of credit in the process.
Les Sherrington: 35-7 (19 KO)
Not well known at all to British fight fans, Les Sherrington is a 32-year-old Australian boxer that's been stopped in six of his seven losses. Achievement wise, Sherrington is the current WBA Oceania champion, with little success outside of his continent.
Eubank Jr vs Sherrington Betting
WBA Interim middleweight belt holder Eubank Jr is priced around 1/16, opponent Sherrington is offered at 7/1 and you can bet on an unlikely draw at 33/1. As for method of victory betting, bookmakers have yet to release this market.
The Eubank Jr vs Sherrington Betting Verdict
We've seen Eubank Jr toy with opponents before occasionally winning on points in the past, but fourteen of his nineteen wins have come inside the distance and since Sherrington has been stopped six times in his career, I expect that to become seven on Saturday evening.
Sadly for us, after pushing the release of this article to the deadline, there isn't a price available on Eubank Jr to win by KO/TKO or DQ. However, should prices be released, i'd recommended betting on Eubank Jr winning by the chosen method if 4/9 or better is available.
Felix Sturm vs Fedor Chudinov Tale of the Tape
Felix Sturm: 39-4-3 (18 KO)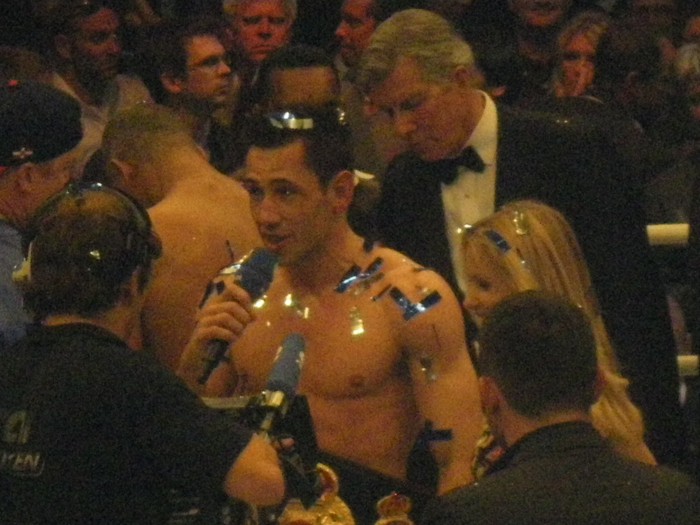 Real name Adnan Catic, Felix Sturm is German boxer of Bosnian origin. Now 36-years-of-age, the four-time world middleweight champion is past his prime, but defeated England's Darren Barker for his fourth world title in late 2013. A crowd favourite in Germany, Sturm gets another chance to become a champion, of sorts, when facing Fedor Chudinov for the WBA Interim super-middleweight title this weekend.
Fedor Chudinov: 12-0 (10 KO)
The brother of Dimitry Chudinov, who was beaten by Chris Eubank Jr recently, Russian boxer Fedor Chudinov is unbeaten as professional and won the WBA Interim super-middleweight title when knocking out Australia's Ben McCulloch in late 2014. Although he hasn't yet fought anyone of note, Chudinov is rated as having a strong punch with ten of his twelve victories coming within the distance.
Sturm vs Chudinov Betting
Sturm is priced around 2/5, WBA Interim belt holder Chudinov is offered at 9/4 and you can bet on an unlikely draw at 22/1. As for method of victory betting, Sturm is 3/1 to win by KO/TKO or DQ and 11/10 on points, while Chudinov is 10/3 to stop his opponent and around 11/2 to emerge victorious by a scorecard verdict.
The Sturm vs Chudinov Betting Verdict
It's not an easy decision choosing a winner in this bout as on one side we have an untested up-and-coming fighter like Chudinov who carries a big punch, while on the other we have a multiple time ex-world champion who's the better boxer out of the two and has experience and home advantage on his side, but looks to be a fading force.
After losing his IBF title to the lightly regarded Sam Soliman and drawing with Robert Stieglitz in recent bouts, Sturm looks to be in decline. So, if he fights like he did against those two when facing Chudinov, the Russian is catching Sturm at the right time, so to speak, and should win by KO/TKO.
However, Chudinov needs to get in close in order to land the big punches needed to win, and what Sturm does best is boxing from distance, holding when necessary to stop his opponent landing up close, and eventually winning on points.
If he is to face WBO super-middle belt holder Arthur Abraham in the German super-fight that promoters want, Sturm has to beat Chudinov – it's that simple. He knows this, looks to be in great shape in the training video's I've seen and also enjoys a height and reach advantage over his Russian opponent.
In conclusion, It is my guess that a must win mindset, those height and reach advantages, home advantage and a referee who's sure to let him hold, will allow a revitalized Sturm to eventually carry out his game plan, win a points decision and become the WBA's 'Interim' champion. We're taking a reduced stake on this one, though, and I think that Alvarez to win by KO over Kirkland is a 'surer' bet.
Worth a punt: Sturm on points at 11/10
Saul Alvarez vs James Kirkland Tale of the Tape
Saul Alvarez: 44-1-1 (31 KO)
Nicknamed 'El Canelo' for his ginger hair, Mexican Saul Alvarez is a protégé of the legendary world champion turned promoter Oscar De La Hoya and a two-time world light-middleweight boxing champion. With boyish looks just like De La Hoya, 24-year-old Alvarez is very popular amongst Mexican boxing fans – male and female alike – and has fought several notable boxers like Shane Mosley and Floyd Mayweather Jr in the past, losing to the latter on points in his only professional defeat.
James Kirkland: 32-1 (28 KO)
A hard-hitting boxer, James Kirkland is a 31-year-old American fighter that's nicknamed 'Mandingo Warrior.' A good amateur who had the opportunity of fighting in the Olympics, a 15-year-old at the time Kirkland instead turned pro and began his professional boxing career in 2001. A series of highlight reel KO wins followed, before Kirkland was surprisingly stopped in one round by Japanese boxer Nobuhiro Ishida in 2011. With prison time in between, Kirkland rebounded by winning his next five fights to set up this clash with Alvarez.
Alvarez vs Kirkland Betting
Alvarez is priced around 1/5, Kirkland is offered at 9/2 and you can bet on an unlikely draw at 25/1. As for method of victory betting, Alvarez is 4/6 to win by KO/TKO or DQ and 5/2 on points, while Kirkland is 6/1 to stop his opponent and around 20/1 to emerge victorious by a scorecard verdict.
The Alvarez vs Kirkland Betting Verdict
Whilst the famous Mexican day of May 5th has already passed, this bout was rearranged to avoid clashing with last weekend's 'Fight of the Century' between Mayweather Jr and Pacquiao and is still effectively a boxing 'Cinco de Mayo' celebration.
As such, Alvarez will want to put on a good, Mexican-like go for the stoppage display, and since Kirkland is a come-forward, slugger type boxer who likes to trade punches, I think that 'El Canelo' will stop an opponent whose style is made for him and win within the distance.
Recommendation: Alvarez to win by KO/TKO or DQ at 4/6.
Of course, whether you do or don't opt for a wager, have a great weekend and feel free to contact me on Twitter via @JCLaLiga if you have any questions or feedback.
Photo credits – Wikimedia (Creative Commons – Attribution-ShareAlike 3.0 Unported (CC BY-SA 3.0))
Comments
comments