Eat like a caveman at one of these Paleo-friendly restaurants, which serve up foods that mimic the types of foods our hunter-gatherer ancestors ate: think meat, seafood, nuts, seeds, eggs, fruit and vegetables.    

Set in upmarket Notting Hill, Pure Taste is the UK's first Paleo restaurant that caters for diners on a variety of diets, including gluten-free, dairy-free, vegan and low carbohydrate.
With a key to inform you which dish fits which diet, the menu excludes all processed foods, grains, dairy, refined sugar, artificial sweeteners and white potatoes.
Dishes are protein-rich and high-fibre at this fine dining eatery, with stand-out mains including sea bass, fennel and capers; and ox cheek braise, orange, celeriac and spring greens. Heavenly puds include the chocolate lava cake and the gin panna cotta.

Get your teeth stuck into dictionary-thick steaks cooked over real charcoal at this popular British steakhouse and cocktail bar, which has branches in Knightsbridge, Spitalfields, Seven Dials, Guildhall and Air Street. Hyped as the "best steak in London" by those in the know, there are eight steak options on the menu, from a 300g fillet to a 500g sirloin, a D-Rump aged 55 days to a 400g Rib-eye, all of which hail from mighty Yorkshire Longhorn reared by renowned butchers The Ginger Pig.

Paleo-friendly dishes are clearly marked on the menu at this down-to-earth restaurant which has branches in Greenwich and Shoreditch. Menus change daily, but sample dishes include Hunter-gatherer options like Hereford beef carpaccio and Whole roasted sea bass.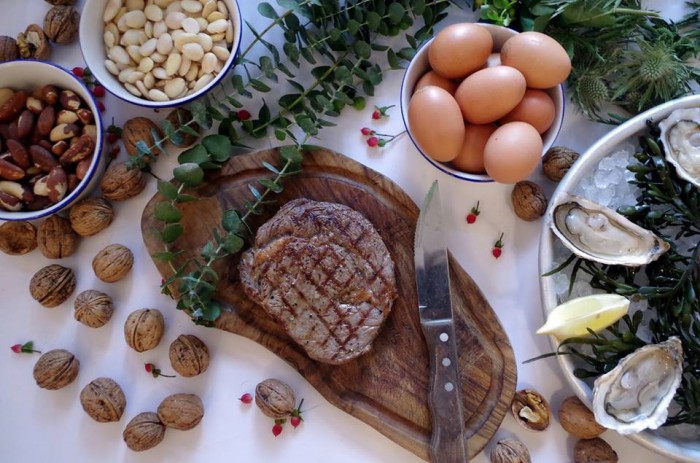 Food is sourced from across the UK, produce is seasonal and is harvested responsibly from the ocean, forest and farm. Set up by Mark Hix, executive chef for Caprice Holidings, which owns the Ivy, the decor is all white walls and contemporary art (there's a Tracy Emin light installation in the Shoreditch restaurant).

Celebs like Hugh Grant and Eva Herzigova are flocking to this hip and healthy Sloane Avenue cafe and deli, which has nourishing cold pressed juices and healthy salads in abundance.
Cleanse your innards by munching on croissants made with spelt and burgers made from quinoa.
Bedecked with exposed brick walls, glazed wood counters and a hint of greenery, diners can also expect a range of tempting bakes on the menu, including vegan Creole cakes – chocolate mud cake, mango muffins and banana bread, and gluten-free brownies.
In the heart of Hackney hipster-land near Columbia Road Flower Market is this Kiwi cafe and gallery space that serves up free-range, fair trade and locally-sourced fare.
Although not exclusively Paleo, there's loads of caveman options to choose from.
The cracking breakfast menu includes mackerel with free-range scrambled eggs, egg white omelettes and vegetarian frittata, and the counter growns with tasty baked goods.
Visit on a Thursday night for live jazz. 
Comments
comments