After a clean sweep with last weekend's boxing picks I'm back with more! This time, I've got bets throughout the weekend, starting with Paul Butler's historic attempt to become the IBF world super-bantamweight champion, in Liverpool, on Box Nation from 19:00 on Friday, and finishing with Keith Thurman's stateside bout with Robert Guerrero from 01:30 in the early hours of Sunday morning on the same channel.
Tete v Butler Tale of the Tape
South African Zolani Tete has a professional boxing record of 19-3 (16 KO) and is 26 years-of-age. Nicknamed 'Last Born,' Tete is the current IBF world super-bantamweight champion, having won the belt via a points victory over Teiru Kinoshita in his last bout.
Born in Chester, England, 26-year-old Paul Butler enjoyed success as an amateur boxer before entering the professional ranks and eventually compiling a 17-0 (8 KO) record. On his way to seventeen straight wins, the undefeated Butler won British and Commonwealth titles at super-flyweight, along with the IBF world bantamweight belt.
After relinquishing the IBF belt to move down to his more natural weight of super-flyweight, Butler can make history if he beats Tete as the Englishman would become the first professional British boxer to win a second world title in a lighter category than his first since Bob Fitzsimmons in 1911.
Tete v Butler Betting
Defending champion Tete is offered around 5/2 and Butler is available at 2/5. In terms of method of victory, Tete is priced at 5/1 to win by KO/TKO or DQ, or 6/1 to win on points, while Butler is 5/1 to win by KO/TKO or DQ, or 8/11 to win by a scorecard verdict.
The Tete v Butler Betting Verdict
Tete is the bigger man and, and despite one of his three losses coming by KO, should prove hard to be bullied into submission by the smaller Butler who's only stopped roughly half of his opponents. But I do think that the Englishman has a strong enough chin to withstand Tete's punching power, is the superior boxer and can use his speed advantage to box his way to a points victory.
Worth a small punt: Butler to win on points at 8/11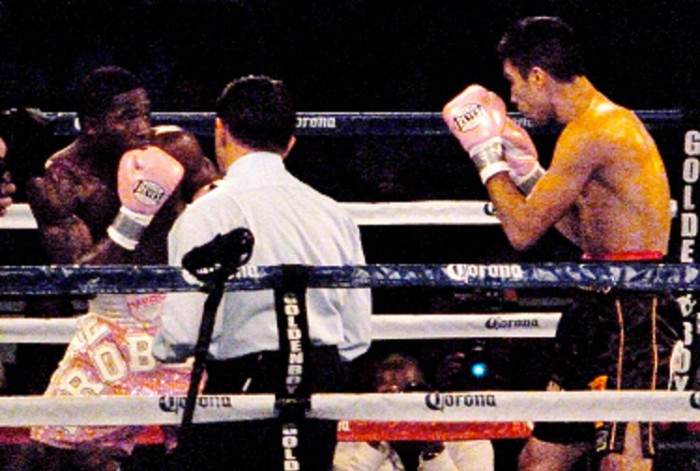 Broner v Molina Tale of the Tape
29-1 (22 KO) Adrian Broner is a cocky but talented 25-year-old American fighter that craves attention and is a three-weight world champion. Nicknamed 'The Problem,' Broner is more of a come-forward fighter compared to Floyd Mayweather, but nevertheless uses the same shoulder-rolling defence and models his style on the pound-for-pound king.
Big for his weight and a constant KO artist, Broner dominated as a world champion in the super-featherweight and lightweight divisions, but wasn't able to carry his punching power into the welterweight category, unimpressively beating the then WBA champion, Paulie Malignaggi, on points before being knocked down several times in a crushing defeat to Marcos Maidana in his first defence of that title.
After the Maidana defeat, Broner dropped down to light-welterweight to defeat Carlos Molina and Emmanuel Taylor – each time via a scorecard division and each time unimpressively.
Nicknamed 'The Gladiator,' 32-year-old John Molina has a 27-5 (22 KO) professional boxing record and can definitely be defined as a come-forward fighter, but is a far less skilled boxer in comparison to Broner. Beaten twice in his last three fights, Molina nevertheless had the heavy hitting Lucas Mathysse in real trouble before the Argentine rallied to stop him in the 11th round of their bout.
Broner v Molina Betting
Broner is offered around 1/8 and Molina is available at 7/1. In terms of method of victory, Broner is available at 4/5 to win by KO/TKO or DQ, or 6/4 to win on points, while Molina is 10/1 to win by KO/TKO or DQ, or 16/1 to win by a scorecard verdict.
The Broner v Molina Betting Verdict
The always talkative Broner seems to suffer from delusions of grandeur with regards to his achievements, even after losing, but the come-forward one-dimensional fighter that Molina is looks tailor made for 'The Problem' to beat with ease.
Broner has promised to knock Molina out, and he's said things like that before and failed to deliver, but I think that he'll either earn a late stoppage or win on points against a durable opponent. Certainly, however, Molina can't be dismissed, is a very live underdog and I'll take a slightly safer over rounds bet instead.
Worth a small punt: Over 9.5 total rounds at 4/5
Thurman v Guerrero Tale of the Tape
Twenty-six seems to be a popular age for boxers fighting this weekend and American boxer Keith Thurman is no different. Holding an undefeated 24-0 (21 KO) record, including one no contest, Thurman is a hard-hitting up-and-coming star in the welterweight division and has recently seen his status as WBA interim champion raised to full world champion.
Nicknamed 'The Ghost,' Robert Guerrero is a tough and competent boxer that's a two-time IBF featherweight champion and one-time IBF super-featherweight belt holder. The 31-year-old Guerrero holds an overall professional boxing record of 32-2-1 (18 KO), with two no contests. Most notably, he was very easily outboxed by Floyd Mayweather in 2013.
Thurman v Guerrero Betting
Thurman is offered around 1/6, while Guerrero is available at 11/2. In terms of method of victory, Thurman is priced at 11/8 to win by KO/TKO or DQ, or 5/4 to win on points, while Guerrero is 10/1 to win by KO/TKO or DQ, or 10/1 to win by a scorecard verdict.
The Thurman v Guerrero Betting Verdict
I wouldn't blame you for betting on a Guerrero victory at a massive 11/2 in what looks like a close fight on paper – it really does seem too big a price – but Thurman is the bigger, harder-hitting younger fighter on the up and Guerrero looks to be on the slide.
Albeit a points victory, but on the slide looked to the case when Guerrero went through a bruising war in his last bout, against Yoshihiro Kamegai, while inactivity has to be a concern since that was his only bout since the Mayweather defeat nearly two years ago.
For my money the only question is whether Thurman wins within the distance or not. For some time, he looked like a wrecking machine, knocking opponent after opponent out, but then reverted to cautiously ouboxing his last opponent, Leonard Bundu.
Still, it's fair to say that Bundu's an awkward opponent and a good fighter, and Thurman spoke along those lines in his post match interview, also stating that he wanted to show he could win by boxing.
Now, It really is a tough choice and a lot depends on how shot Guerrero is, but he's never been stopped as a professional and, as such, my guess is that Thurman will win on points. However, I do fear a late Thurman stoppage after and it's therefore safer to back over 10.5 rounds compared to at least 12, so that's my bet.
Worth a small punt: Over 10.5 total rounds at 4/5
Of course, whether you do or don't opt for a wager, have a great weekend and feel free to contact me on Twitter via @JCLaLiga if you have any questions or feedback.
Photo credits – Flickr (Creative Commons – Attribution-ShareAlike 2.0 Generic (CC BY-SA 2.0))
Comments
comments