Satellite entry: £30 and a dream
It is 8PM at and I am sitting at my computer scrolling through the poker lobby on grosvenorcasinos.com, looking for something fun to play. A link reading '£30 satellite to the 25/25 series' pops up on the screen. I am not entirely sure what a '25/25' is but it is only £30 so I hop in anyway. After a couple of hours I win the satellite and discover what I have qualified for. The 25/25 is a tournament series with events at Grosvenor Casinos around the country. The buy-in is £225, the starting stack £25K and there is a guaranteed prize pool of £25K. Like many tournament series you can play online satellites to win entry to the tournament. Somewhat surprisingly you also have the option to play day 1 of the event online, returning for day 2 at a live casino.
The art of triple barrel bluffing
I decide to play day 1 online, partly because I enjoy the fast pace of online poker and partly because I was feeling too lazy to leave the comfort of my home computer. Although the starting stack and blinds are the same as in the live day 1, each blind level lasts only half as long because online poker plays much faster. Early on in day 1 I get into a slightly scary spot after I 3-bet with AK, bet the flop, bet the turn and shove the river with just Ace-high. My opponent used up their entire time-bank deliberating on the river before finally folding, to my immense relief. After that it was smooth sailing. I played aggressively, ran hot and by the end of the evening I was chipleader, having turned my £25K starting stack into £134K. Easy game.
Chipping up like a boss
Day two took place on 27th May at The Vic in London. The £25K guarantee had been smashed with over £90K in the prize pool and £24K up top. My virtual chip stack from the day 1 online had magically been converted into a bag full of actual physical chips. I didn't get off to the best of starts on the live felt, within the first hour I lost a flip with AK against 99 which cost me half my stack! I coasted with around average stack for a few hours, eventually limping into the money.
At this point the cards turned and suddenly I was winning all the pots. Will Kassouf moved to my table, helpfully doubling me up when he found AK against my KK. I raised KQ in early position and Kassouf shipped in his final 1 big blind with J6 suited 'for bants'. The board offered no help and Will was sent packing. There was no sympathy to be had though, as he walked out there was a cry of 'Taxi! Taxi for Will Kassouf!'
With two tables left I was knocking out players in quick succession. I called a shove blind vs blind with K3, hitting a King on the river to beat A7. I then shoved with AJ in the SB and was instantly called by the big blind who held pocket kings. The flop and turn change nothing but I find an ace on the river to send another opponent home. At this point I have well over a million chips and soon after we are at the final table. I take it easy for a level and let the chiplead bust some of the shorter stacks until we are 4 handed.
 The final table: Deal or no deal?
With four players left we discussed doing a deal for the remaining money instead of playing out the tournament. Based on my stack at the time the deal would be meant walking away with around £12K. On the other hand, I was playing my A-game and felt comfortable playing shorthanded. Most importantly however, I was simply having too much fun to stop after coming this far. I declined the deal and we played on.
I was playing exceptionally loose and aggressive four handed, opening 100% of hands when it folded to me and trying to put maximum pressure on the other players. Obviously, this is a high-risk strategy and I think the other players saw me as a bit of a maniac. However, for a while everyone just folded to me and I chipped up until I had around 33% of the chips in play. At this point the cooler of the tournament occurred when I was dealt AA to beat the chip leader's KK. I doubled up in a gigantic pot, giving me 2/3 of the chips in play.
A short stack pushed with AT, I called with AQs and made a flush to take us down to 3 handed. Soon after I won with T9 vs 52 to get to HU. At this point I had roughly a 7-1 chiplead. After a brief heads up battle I pushed with T8 and was called by AJ. The board ran out Q85T3 and it was all over. I stumbled out of The Vic at 3AM, exhausted from the 15 hours of play but elated to have clinched the trophy and the £24,390 first place money.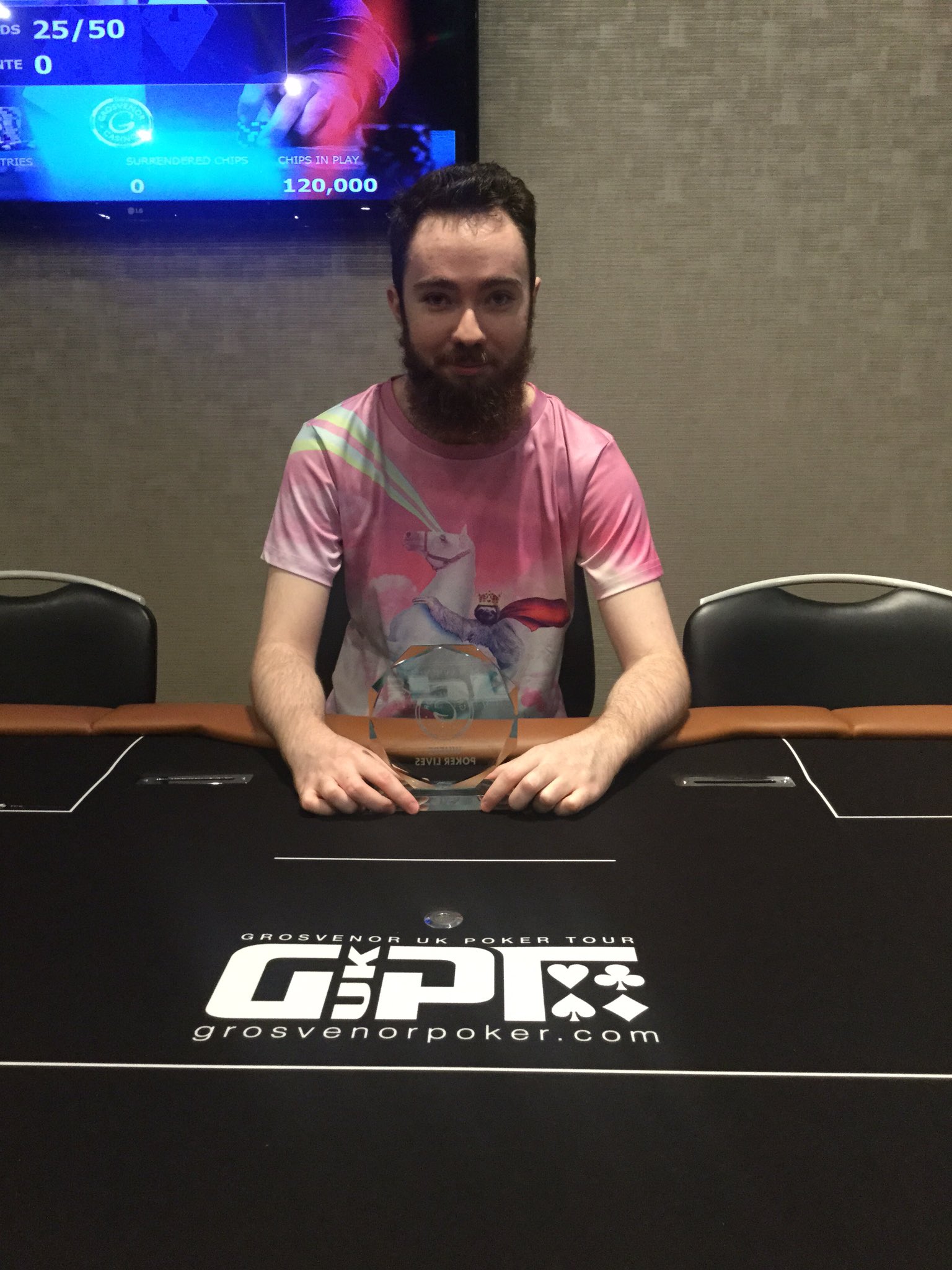 The next 25/25 events start in Bolton and London on 8th August. You can qualify online and play day 1s online at grosvenorcasinos.com.
Good Luck!
Conor Nocher
Comments
comments