Live on Box Nation from 20:00 on Saturday, Tyson Fury meets Dereck Chisora in a rematch for the European and British heavyweight titles.
Billy Jo Saunders defends his European, Commonwealth and British middleweight belts in a WBO world title eliminator against Chris Eubank jnr on a hotly anticipated card of boxing from London's ExCeL Arena.
Fury v Chisora 2 Tale of the Tape
Born within Greater Manchester in 1988, Tyson Fury is a 6ft 8 inch heavyweight boxer of Irish traveller descent who fought a politically complicated, relatively short amateur career that resulted in 31 wins and 4 losses. Having represented both England and Ireland in the unpaid ranks, and unwilling to wait until 2012 after failing to secure a berth at the 2008 Olympics, Fury turned pro in late 2008.
Rated as the best active British heavyweight by many boxing experts and fans, Fury looks like a legitimate heavyweight world title contender and has compiled an undefeated 22-0 professional boxing record with 16 knockouts.
30-year-old 24-4 (13 KO) Zimbabwean pro Derek 'Del Boy' Chisora, on the other hand, stands at 6ft 1 and is considered to be a lesser but credible fighter in comparison to Fury. Chisora has fought at the very top level and impressed, though, proving that he had a good chin in a 12-round world title shot defeat to Vitali Klitschko.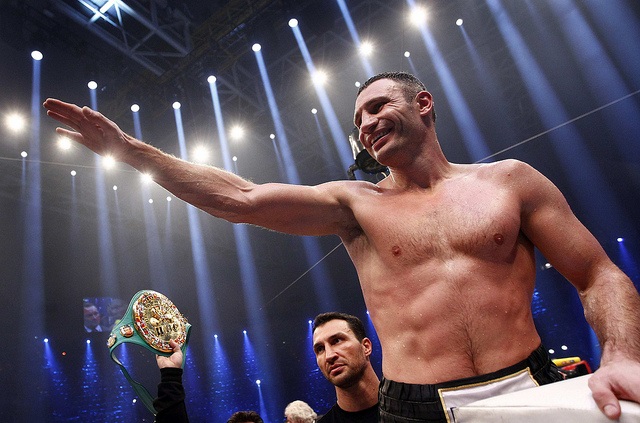 Chisora has slapped, punched, spat on and thrown objects at opponents in press conferences throughout his career – resulting in plenty of fines. Fury, though more likely to let his mouth do the talking in such situations, has been relatively similar in terms of bad behaviour and fines received. Therefore, press conferences between Fury and Chisora have been anything but boring!
Fury v Chisora 1
Coming in at career high weight of 18st 9lb, Chisora wobbled Fury with a hard left hook in the second round of their July 2011 contest and briefly had his opponent in trouble, but faded thereafter and was easily outboxed in the remaining 10 rounds, losing a unanimous decision 117-112, 117-112 and 118-111.
Fury v Chisora 2 Betting
Fury is available around 2/5, while Chisora is priced at 12/5. The former can be backed at 9/4 to win on points or 11/8 by KO/TKO, with the latter 7/1 for a scorecard victory or 9/2 by stoppage.
In conclusion, Chisora will be lighter and more mobile than he was in his first bout with Fury and has fought at a high level in recent years while his opponent has largely suffered from inactivity due to cancelled bouts over the same period, but I still think that Fury is the better boxer and fully expect him to defeat the man nicknamed 'Del Boy' for a second time.
However, with Fury only best priced at 2/5 to win, and that too short a price for a betting recommendation, I'll go with Chisora lasting the distance with Fury for a second time. After all, while the 6ft 8 Fury can certainly hit hard, he doesn't have the same punching power that David Haye – the only man who's stopped Chisora in the pro ranks – has.
Recommendation: Fury to win on points at 9/4
Saunders v Eubank Jnr Tale of the Tape
A former Olympian and boxer of great pedigree, 25-year-old Billy Jo Saunders amassed an impressive record of 49 senior amateur wins in a row on his way to winning the 2007 Commonwealth Championships and 2008 Strandya cup.
After making the decision to turn pro in December 2008, Billy Jo signed with promoter Frank Warren and has since compiled a professional record of 20-0 with 11 stoppages.
Saunders has been the British and Commonwealth middleweight title holder for a few months shy of two years and most recently defeated Emanuele Blandamura, via an 8th round stoppage, to add the then vacant EBU (European) Middleweight title to his collection of belts.
Notably, all three of Saunders' titles will be on the line when he fights the 25-year old 18-0 (13 KO) Chris Eubank Jnr in London this weekend. Eubank Jnr, who – both in his boxing style and general behaviour – has all the mannerisms and characteristics of his charismatic ex-world champion dad, began his career in America after he was 'given up for adoption' at 16-years-of-age in order to secure dual-citizenship without need to marry and to increase his chances of a sporting career stateside.
From 2007 onwards, Eubank Jnr became Nevada's Golden Gloves Amateur Champion and the Western States of the United States Golden Gloves Amateur Champion, before signing with Mick Hennessy and making his professional debut in 2011. Like his father, Eubank Jnr is trained by Ronnie Davies.
While Eubank looks like a vicious, emotionless puncher, he hasn't fought anyone of note in the pro ranks and goaded Saunders into this bout via general and social media.
Saunders v Eubank Jnr Betting
Defending champion Saunders is rated as a 5/6 shot, while Eubank is priced at 6/5. In terms of method of victory, Saunders is offered at 7/4 to win on points and 9/2 by KO/TKO, while Eubank Jnr is 4/1 for a scorecard victory and 5/2 to emerge victorious by stoppage.
All in all, this really is a hard fight to call because Eubank has only fought vastly inferior opponents in his professional career and we don't, therefore, know how he'll cope with a clever boxer like Saunders, or if he can take a punch.
We've been told that the Brighton man hits hard and held his own with fighters like Carl Froch and George Groves in sparring camps, and Eubank – bar a few boring bouts – has looked impressive with some vicious looking stoppages in his short career, but there's too much guessing involved in backing him.
I'm instead inclined to side with Saunders on points at 7/4 because he has a sparkling amateur background, is a better technical boxer who's consistently fought at a higher level and seems smart enough to keep his distance and simply box his way to victory.
Granted – as mentioned above – I don't know how well Eubank can take a punch, but Saunders isn't a big puncher and if he is to maximise his chances of winning it's surely by playing to his strengths as a boxer and not playing into his harder-hitting opponents hands by getting drawn into a brawl.
After all, Saunders has an established reputation, three belts and world title shot on the line in this bout, so everything to lose really. Indeed, the Olympian claims that he'll retire if he loses to Eubank, so he understands what's at stake and that his opponent has, conversely, everything to gain and nothing, bar his unbeaten record, to lose.
For sure, Eubank can come again if he tastes defeat, principally with the argument that the bout came too soon in his short pro career. Given his obvious talent and 'villain' marketability, Chris Eubank jnr is going to be around for a long, long time.
Recommendation: Saunders to win on points at 7/4
Of course, whether you do or don't opt for a wager, have a great weekend and feel free to contact me on Twitter via @JCLaLiga if you have any questions or feedback.
Photo credits –  Flickr (Creative Commons – Attribution-NoDerivs 2.0 Generic (CC BY-ND 2.0))

Comments
comments