Sure, it's a bit cold and even the donkeys aren't on the beach in this weather, but there's something special about playing poker in Blackpool and it's traditional November stop of the GUKPT.
We've been coming here for eight years with the GUKPT, but even before then, the Northern Lights Festival was one of the highlights of the UK calendar, and really all the GUKPT did was bring these great festivals together under one tour title.
I remember Neil Channing and I took an early flight home after cheering on James Akenhead in 2009 when he made the WSOP November Nine, so keen were we to head north for the Blackpool GUKPT.
Of course it's a great time for poker players, and there's plenty of choice out there for us to play wherever we want, but I'm in Blackpool for the full festival and loving seeing all the old faces.
Howard Plant, larger than life, is around, his backgammon board under his arm in case any high stakes games break out. Looks like he got a lift here with the A Team too.
The Nugget, Gareth Jones, is still going strong here, and of course Blackpool is home of the Tower.
Not the Blackpool Tower, THE Tower, Phil Heald, the voice of the GUKPT.
Up here he's a like a celebrity. We went out with him on Sunday night and I swear he was signing autographs in between busting his Chubby Brown dance moves.
On Sunday Tanya, the Cardroom manager at the G Casino in Blackpool, qualified another 17 players in her 10 seat guaranteed satellite, adding to the huge effort she has made along with her team.
I was determined to win a seat, but managed to do a couple of buy ins despite turning up deliberately late.
First of all five people limped for 200 on my big blind, and with 2k, it seemed the right thing to move all-in with my Q9 off.
I was called by the first and last limper, and after the board was checked down, limper one showed jack high, and the last guy the mighty 63, which rivered a six.
Next hand I ran AQ into two queens from the small blind and all of a sudden I was in for £150, double rebuying and adding on as the break started!
From there though I played pretty well, especially picking on 63 guy, and getting the better of him.
The Tower and the boys were urging me to join them on a night out, but I was determined to play well, and let them get on organising, building my stack to 13k at 100/200.
That was as good as it got however as I got a pretty brutal beat.
An early positon player raised, 63 guy three bet and I found two aces behind. I made it 3500 and after the original raiser got out of the way, my nemesis stuck it all in with his AK off.
It felt good to have got him, and with similar stacks, a double up here would put me in the box seat to win a seat.
The poker Gods had other ideas however, and two diamonds on the flop were followed by another on the turn and a killer fourth diamond on the river gave my opponent the nut flush and me less than a big blind.
Off into the Blackpool night with the boys it was, and what an experience!
They don't have bars like that where I live in London, it was like a 1970s theme night out, but it was great fun, with Tower leading the way as our celebrity tour guide.
Fuzzy heads soon cleared on Monday morning, with the traditional Blackpool weather joining us for GUKPT week.
It wouldn't be a Blackpool festival without sheeting rain flying in horizontally as you scuttle down to the casino from the Big Blue hotel.
Monday's event was a £100 freezeout, and again the locals supported it superbly, with a great atmosphere inside the casino.
It was a card dead outing for me, winning one hand in the five levels I played.
I worked out the best hand I had all night was AT, without ever getting a pair, and as the blinds caught up with me and my stack had been reduced to half the 7.5k starting, I shoved A3 over two limps at 150/300 and was looked up by the second of them with two sevens, which held.
Despite its reputation as THE night to go out in Blackpool, we decided better of it and headed home for an early night.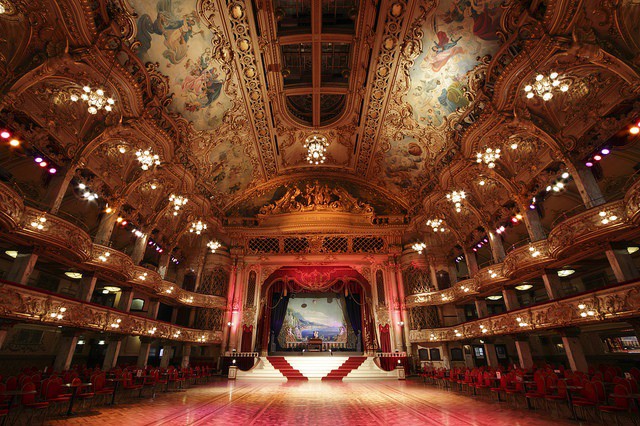 The Tuesday £300 comp in Blackpool, beginning at 7.30pm with 10k chips and a great structure, is just about my favourite side event of the whole GUKPT tour.
There's always a great turnout, a big pot to play for and some great players to battle against. It's time I went deep, and there's no time like the present to do it, and no place like Blackpool to do it!
Photo credits – Panaramio (Creative Commons Attribution 3.0 Unported (CC BY 3.0))
Comments
comments