Although it was surprising to see a 2014/15 Barcelona side that had not only failed to concede a goal but also lose 3-2 away to PSG in the UEFA Champions League, it was very much the opposite in terms of Messi and Neymar both scoring in Paris midweek.
Messi and Neymar In Form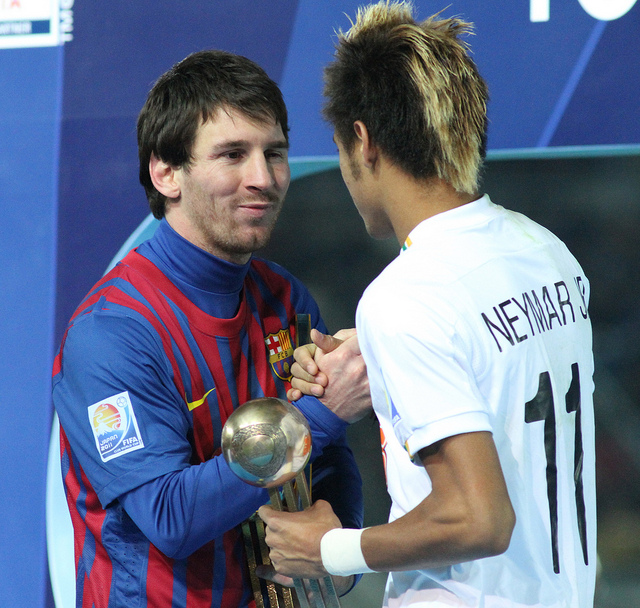 FIFA 15 cover star and four-time World Player of the Year Lionel Messi showed what he was made of when he scored his 402nd career goal in just 526 games on Tuesday night. Likely FIFA World Player of the Year, Neymar also showed his worth by scoring for the seventh time in just seven games.
65% of Barca Goals Scored by FIFA 15 Star Messi & Neymar
The sublimely gifted tandem of Messi and Neymar accounted for Barcelona's shockingly low t  ally of two shots on target against Lauren Blanc's Paris St-Germain, and have been responsible for 13 of the Catalan club's 20 goals in 2014/15.
Therefore, at present, when Barcelona score a goal, it's around 65% likely to be netted by one of those two. Otherwise, bar the odd goal from centre-back Pique or youth players Sandro and Munir it's more than likely the two main guys. It must be said that new signing Ivan Rakitic has contributed with two strikes so far and looks set to be a key player in Barca's midfield, but it cannot be ignored that Barcelona are largely dependent on Messi and Neymar for goals, particularly if the other team can score.
Argentine Messi and Brazilian Neymar are playing very well together right now, often setting each other up for goals, and are reportedly good friends off the pitch – which must help with affairst.
But it wasn't always this way.
Indeed, when Neymar first signed for the club many people doubted how a player dubbed 'football's next big thing' would get on with a more established player that had repeatedly been voted as the best in the world and was the adored and powerful 'star man' at Barcelona.
Who's the Boss now?
Was there really room for two individual players who were used to being the focal point of their respective teams, it was asked?  Would a (then) 21-year-old Neymar who'd already been a South American Player of the Year, Copa do Brazil and Copa Libertadores winner for Pele's old club, Santos, and regular starter in Brazil's national team be able to accept that Messi is 'the boss' at Barcelona. Could his ego play second fiddle?
With Messi often injured and out of form, an answer to the above question was unclear in its embryonic stages, but once the Argentine returned to full fitness it became apparent that Neymar had accepted Messi as being the man whom play went through on the pitch, and was the beating heart of Barcelona.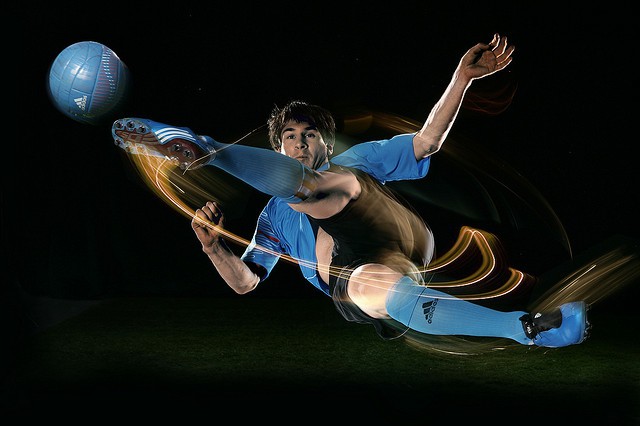 A picture tells a thousand words, some say, and just like when Messi scored his first goal for Barca and searched out Ronaldinho – the then star player – who'd bent over to embrace and lift the leaping youngster in a moment of celebration that said 'you're one of us and the future star' on Ronaldinho's part and 'you're the boss and leader right now' on Messi's, the same thing happened with Messi, and Neymar and they've gradually improved on the pitch since.
Of course, record signing Luis Suarez will soon be available to play for Barcelona, and that adds another enlarged ego to the mix. But, before the serial-biter can make his debut for the Catalan giants, Messi and Neymar have a date with Rayo Vallecano on Saturday.
Can Messi equal the all-time La Liga goalscoring record this weekend?
With 248 goals in 283 league appearances, Lionel Messi is only three goals short of equalling Telmo Zarra's all-time record tally of 251 La Liga goals and four shy of beating it.
Now, it would be better if Barcelona hadn't played an extra game and been forced to travel to and from another country midweek, because that increases the chances of a deflated, jet-lagged performance and could lead to Messi or Neymar being substituted early or even not starting the game, but the Catalan club's players only travelled to Paris and back, and after losing 3-2 they should have a point to prove against an opponent they've beaten six times in a row by heavy margins.
Indeed, the last six results have been 6-0, 4-0, 3-1, 5-0, 7-0 and 4-0, and while the Rayo squad always sees a raft of changes each season, their coach, Paco Jemez, remains committed to attractive, eye-catching  wide-open attacking football, with ten goals scored and ten conceded in 2014/15 so far. That, perhaps crucially, should give Messi an above average chance of scoring his first hat-trick of the season to join Telmo Zarra at the top of the all-time La Liga scorers chart.
Lots of goals and a comfortable Barcelona win, then, seem to be on the agenda this weekend and betters should look to exploit that.
Rayo v Barcelona betting:
Rayo are available around 11/1, the draw is 11/2 and a Barcelona win is offered at 3/10. In terms of Asian handicaps, the main line is Rayo + 1.75 at 15/16 and Barcelona – 1.75 at even money.
Of course, given the Messi and Neymar theme of this article, I've got to mention that the former is best priced at a generous 10/11 to score at anytime with one firm, while the latter is 11/10.
At the time of writing, Messi is offered at 9/2 to score two goals or more and Neymar is 11/2. Both prices are much bigger than they should be and could likely be layed off for profit closer to game time.
Now, if you fancy Messi to equal the aforementioned goalscoring record, the Argentine is best priced at 14/1 with one firm – much bigger than normal. However, if you do take the plunge, I recommend that you also take a bet on Barca's number ten scoring two or more to cover that punt.
All in all, I'm betting just beneath the regular Asian handicap line with Barcelona – 1.5 at an 11/14 price. This means that the Catalans must win by two clear goals, which I think, all things considered, is very, very likely.
Of course, whether you do or don't opt for a wager, have a great weekend and feel free to contact me on Twitter via @JCLaLiga if you have any questions or feedback.
Photo credits: Flickr (Creative Commons – Attribution-ShareAlike 2.0 Generic (CC BY-SA 2.0))
, Flickr (Creative Commons – Attribution-ShareAlike 2.0 Generic (CC BY-SA 2.0))
Comments
comments