This summer will be my tenth visit to Las Vegas, a 10 year anniversary, if you like. Since when I turned 21 my Grandmother gave me the exact Birthday present I'd been pleading for; a flight to Vegas and a two week stay at MGM Grand.
Since that trip I've managed to get out to Vegas every year and whilst my excitement and love for the city has peaked and troughed throughout the years (moreso during the longer stays), my enthusiasm for this year's visit couldn't be higher. A lot might have changed since my Vegas cherry was popped 10 years ago but my appreciation for being able to go to such an intense, vibrant and addictive city never will.
I rarely stay in hotels anymore, much preferring to rent a house with friends. Gone are the days of grinding $1/$2 no limit cash and worrying about losing. My outlook whilst in Vegas is now more to enjoy the opportunity whilst it's available to you, try and win that life changing money.. this isn't the place for cautious Carols, you've gotta go for it whilst you still can!
Las Vegas is the most unique place I've ever been to. It has everything from the best shows and restaurants in the world to awesome tourist attractions like the Grand Canyon & Lake Mead. I've been to all sorts of shows over the years but a few quick favourites that id recommend, should you get the chance are; Absinthe, Cirque Zumanity, Michael Jackson ONE and, if you're lucky enough to have him in town, Jim Jefferies – man that guy is side splittingly funny. Watching a half cut Jim royally roast Donald Trump was like nothing I've ever seen before and I enjoyed every last minute of it. It really was a Vegas highlight I'll never forget, nor will I forget the vast amount of Americans walking out of the late night show with a look of total disgust on their faces.
Vegas also has the best music festival I've been to – Electric Daisy Carnival (EDC) and one I'd love to go to next – Burning Man. That's the beauty of the place, the fact there's so many different things to do and even if you have no desire to gamble til your hearts content, there's plenty of other distractions to keep you entertained.
'Memories that'll stay with me for a lifetime…'
I've many memories from Vegas, everything from big winning days and memorable meals / nights out with friends to doing your coconuts and ordering two Earl of Sandwiches for you and.. yourself.. alone in your hotel room. Jon Kalmar (Skalie) taking me to a pool hall off strip as a random act of kindness after I'd just lost my biggest ever cash pot was fun. He was being the nice guy I'd always heard about and wanted to cheer me up.. surely. A naive 23 year old me asks him in the car on the way there if hes any good at pool? His reply of "I'm OK" was an understatement to say the least – maybe he's just really modest? I later thought. Ahh more of my 23 year old naivety to look back on and laugh at there.
"Shall we kick it off at $20 a man?" was a strange question to hear before you've even got the barmaids attention for a beer. "Umm okay Jon. By the way, why is your friend already here?", "Is that your own Cue mate?", "I don't know where I am, how do I get back to the strip?" were all questions that followed. It was only after we were moving on to the bowling alley, (the stakes increasing by the minute) and he pulled out his own Bowling Ball that the penny dropped I should probably feign an injury and find the nearest exit. He'd probably say now he was doing me a favour and call it a life lesson, I'll stick with calling it a hustle! I respect a good hustler though and it was a friendly one (if there is such a thing!) so hats off to you Skal. Thanks for the education.
Some of my fondest poker memories though have come in recent years. Firstly, running deep in the WSOP Main Event back in 2014 was incredible (Martin Jacobson's winning year). There really is no greater feeling in Poker than running deep in a live event. I've been fortunate enough to have several deep runs in recent years and the buzz I got from each one will live with me forever. None more so than that 2014 Main though. I was staying at Palms Place with good friends Tim 'TheMexi' Hickling and Andrew 'Stato1' Hulme and we were all still in by Day 4. I'd never experienced a tournament like it before and everyday was more exciting than the last. The excitement and adrenaline being added to by the fact that two of the most likeable guys in poker were right there next to me. I'll never forget walking into the 'Amazon room' for the start of Day 4, the WSOP music blaring out, still hundreds of players left but that was when the adrenaline really started to kick in. I take my seat and low and behold Tim and I are seated back to back on adjacent tables – it was a nice feeling knowing if the day went badly I could turn to my buddy behind me and chew his ear off about it 🙂
Poker tournaments will always be cruel mistresses however and Stato went out close to the money whilst Tim cashed for $25k. I went on to Day 5 and finished 182nd for $45k. I told a non-poker friend about my result about an hour after I'd been eliminated, his first reply was "Blimey! $45,000 for coming 182nd. How is such a rubbish finish worth so much money? What did the good players win?". Still makes me laugh now. Easy to keep your feet on the ground having mates like that.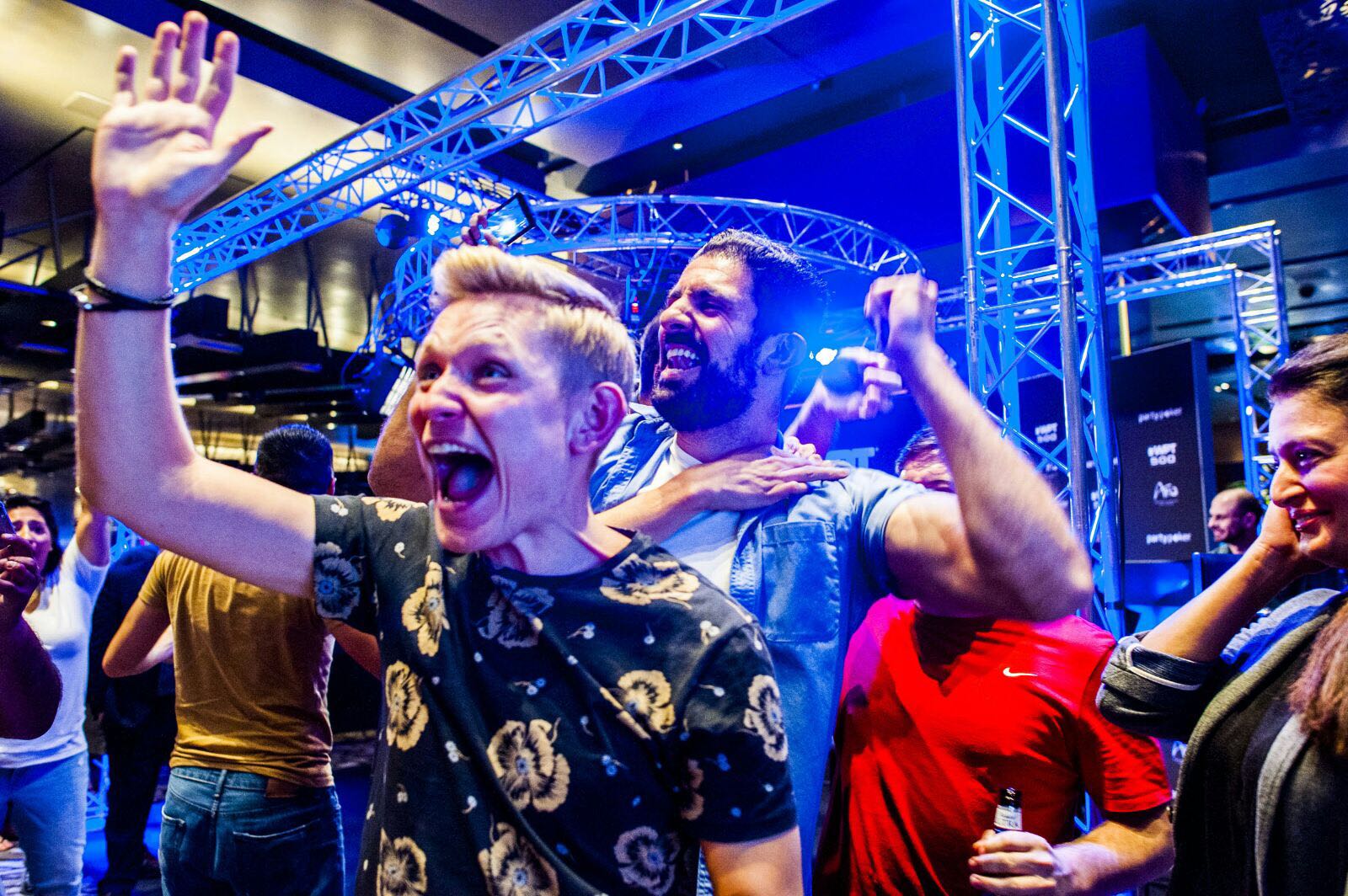 This was the first time I'd ever actually played the most famous and arguably most prestigious tournament in the world. The $10,000 buy-in had always put me off (I also, at the time, didn't care much for Tournament Poker). I was almost exclusively a cash game pro and the variance of MTT's wasn't to my liking. I remember people saying things like "but it's the WSOP MAIN, how can you not play?!" and laughing it off thinking it was just another tournament. To some extent it is just 'another tournament' but I definitely look back now knowing I was wrong and regret not entering it more often.
A more recent best memory happened last Summer. I'd had a pretty lousy trip overall, both my own results and others I had a financial incentive in staking or buying pieces of other players. I couldn't seem to get going and was running pretty badly. In addition, one of the downsides of staking is that the swings during the WSOP are a lot bigger and happen a lot quicker. You've got to be very mentally strong to deal with it and its hard enough dealing with your own downswings! Also, as a group sharing a house together, we hadn't had much to shout about, no-one was doing that well and we needed a boost from somewhere. Losing the last of my dollars the night before Brexit kinda summed it all up!
In typical Vegas style though it all changed in the blink of an eye. My good buddy Andreas (Dre) had flicked in a $500 turbo tournament, it was the WPT 500 at Aria. To say it was a turbo was an understatement, more of a hyper, super, lets get this over with I've got a train to catch turbo. One minute I was getting a message saying he was down to under one big blind, a day later he's made the final table. Incredible and so awesome. Morale was pretty low and the trip was coming to an end.. it was the House's one and only FT that Summer so we were going to make the most of it. We all headed down to the Aria and witnessed what I can only describe as the best Tournament FT I've ever seen. Stacks were pretty shallow so it was super intense and there were a lot of all ins.. Now, all ins are notoriously quite difficult to win, especially in a row. Not for Dre though! He must've won 7/7 all in showdowns to take down the $260,000 and the WPT Title. What a hero. The rail was a lot of fun and really made that day, with so many knife edge moments that brought a lot of excitement and when everything is going your way it's difficult to not be screaming at the top of your voice/dancing/kissing people.. for me anyway. There was lots of deal talk when the tournament got shorthanded and at times it got quite awkward as everyone else was keen to split the money but I especially was a keen and vocal advocator of Dre carrying on and winning it outright. He was the most focused I'd ever seen him and with the legion of UK fans on the rail how could he possibly lose?! We (alright I) made up a story about having backers in the UK telling us we weren't allowed to deal (seemed to convince the mob to leave us alone) and on he went smashing his way through the remaining players to glory. It really was a perfect day. What a perfect night of celebratory mess that followed…a Vegas trip to not be forgotten but hopefully repeated in years to come.
If you don't get a chance to go to Vegas this year, the next closest thing in the UK is the Goliath, being held at the Ricoh Arena, with an expected prize pool of £500,000 and over 5000 entries expected. With a reasonable buy-in and huge money up top, this is the perfect proving ground for anyone aspiring to take on huge fields.
Warbs
Comments
comments