Slow rolling (the act of taking excessive time to call a large final bet, when you have the strongest hand) is a part of poker games that certainly divide opinion.
For some, it's an easy way of tilting or upsetting an opponent, while for others, it's an egregious breach of poker etiquette that's unsportsmanlike and unnecessary.
Whatever your opinion, it's fair to say that we've seen some memorable slow rolls over the years. Here are some of the most controversial!

---
2016 Aussie Millions Main Event
Deep into the Aussie Millions Main Event, Mikel Habb put on a performance worthy of an Oscar after Samantha Abernathy raised him all-in. The audience would have been forgiven for thinking that Habb had been deliberating something like a small to medium pocket pair, when in fact, he had pocket kings against Abernathy's pocket 6's.
After a Q, 9, 10 flop, followed by another 10 on the turn, it looked like justice wasn't going to be served. However, a 6 came to the rescue for Abernathy on the river and left Habb looking very, very silly indeed.
---
WSOP 2009 Main Event
What does it feel like to be slow rolled by a 96 year old? Just ask Steven Friedlander. At the WSOP 2009 Main Event, Friedlander was already compiling his big-win shopping list when he made a full-house on the flop.
However, what he didn't know was that 96 year old Jack Ury had made an improved full-house. Wise to his monster hand, Ury taunts his opponent by refusing to turn over the nuts.
---
Final Table of the 2015 Irish Open
Picture the scene: you're down to around 10 big blinds and you wake up with suited king and queen. Not only that, but when the flop comes, you make a king-high flush – and your opponent puts you all-in!
While most of us would instantly call, German-born poker player, Andreas Gann, decided to calculate his options, much to the annoyance of the table. Luckily, justice was served to Donnacha O'Dea on the river.
---
WSOP Europe 2009 Caesars Cup
Phil Hellmuth, or the 'Poker Brat', as he is more commonly known, is famous in the poker world for regularly having televised temper tantrums. At the WSOP Caesars Cup, he teamed up with Daniel Negreanu to take on Grospeller and Harvey.
In this video, the Negreanu-Hellmuth team make two funny slow rolls with aces, but it doesn't quite go according to plan…
---
Swedish Poker Challenge
The slow roll isn't just a by-product of British and American poker, it's also present across the globe. One instance of the much-maligned practice cropping up on foreign soil was during the Swedish Poker Challenge.
Much to the disgust of Per Warren, Leon Lindback decided to tank with pocket Aces, after being raised all-in. Not cool, Leon.
---
Celebrity Poker Showdown
It isn't just pro poker players who sometimes toy with their opponents, as was shown at the 2005 Celebrity Poker Showdown. In a tournament which saw the likes of Bryan Cranston, Meat Loaf, Ricki Lake and more battle it out at the felt, Anthony Anderson was involved in a hand that really made use of his acting skills.
Dealt quad 5's on the turn, against Michael Vartan's 5's full of kings, Anderson decided to trap the French-American actor in style.
---
World Cup of Poker
As the name suggests, the World Cup of Poker is a tournament that sees countries battles it out for national poker prestige. When the tournament was held in 2010, something very strange happened. Sascha Cornils, for Germany, wakes up with AA and re-raises the pot to 8,000 chips.
So far, so good. Meanwhile, Darius Suharto, for Canada, finds he is holding pocket kings and moves all-in for 76,000 chips. Still, pretty standard.
At this point, if you are envisaging Cornils snap-calling and turning his hand over with delight, you're wrong. After deliberating for a while, he then calls a time-out, allowing him to converse with the rest of the German team. Let us reiterate, he has AA! You really have to see it to believe it.
---
Poker Night in America
Mike 'The Mouth' Matusow is renowned for blowing up when things don't go his way, and it's fair to say he was left teetering on the edge in this video.
Holding pocket JJ's against Shaun Deeb's pocket 5's, Mike makes a continuation bet of 1000 when the flop comes. Unfortunately for him, the flop shows 10, 5, 5, giving Shaun Deeb quads!
Not one to scare the opponent off, Deeb keeps Mike on a short lead and calls.
When Matusow shoves all-in on the turn, Deeb decides to make Mike sweat, much to the enjoyment of the table.
---
WSOP 2015
For those of you who thought slow-rolling was just reserved for the nuts, you're wrong. Neuville showed that it can even be done when folding, although, we wouldn't recommend it!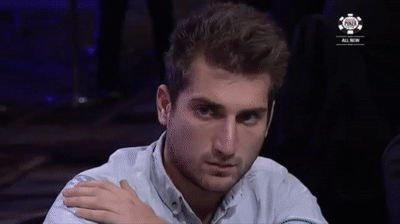 make like this at MakeaGif
---
Esfandiari vs Laak
Off the table, Antonio Esfandiari and Phil Laak are good friends, but on the felt, anything goes. This was certainly the case when the pair went heads up during the Premier League.
Phil Laak, who was short-stacked and in the big blind, decided to raise all-in with Q9, only to find that Esfandiari was holding pocket kings.
Rather than snap-calling, Antonio decided to toy with his friend by pretending to deliberate the decision, showing others his cards before calling.
What's your opinion on slow rolling? Have you ever been slow rolled? Let us know in the comment section!
Comments
comments